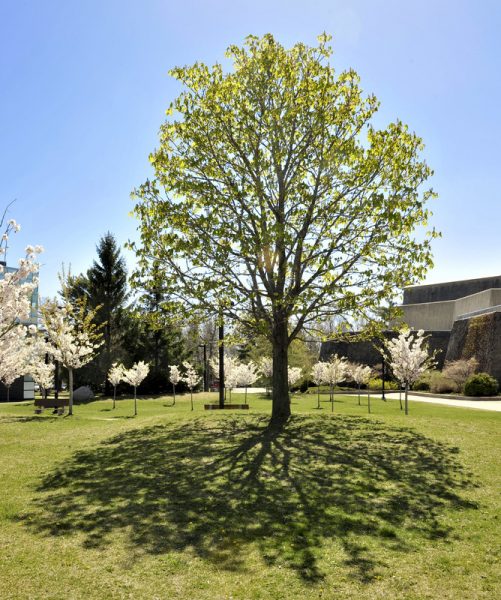 President's Welcome
Universities have a crucial and unique role to play in helping to meet the global challenges of sustainability.
Motivated by the United Nations' Sustainable Development Goals
The 2030 Agenda for Sustainable Development was adopted by all members of the United Nations in 2015, placing the seventeen Sustainable Development Goals at the centre of a global sustainability accord. Universities have a crucial role to play in achieving these goals.
The University of Toronto has made major contributions to advancing research and education, and to informing concrete actions and public policy – not just in the sphere of climate change, but throughout the broad and varied field of sustainability more generally.

Faculty, staff, and students across our three campuses are working on – and learning about – every aspect of sustainability, in the sciences, social sciences, humanities, and professional disciplines.
A Low Carbon Action Plan
Moreover, we have dramatically increased the number and scope of sustainability-focussed operational initiatives on our campuses over the past decades. U of T is now recognized as a leader among our North America peers – in everything from design standards and retrofitting to waste reduction and composting.
An important highlight in this effort is the University's new Low Carbon Action Plan aims to reduce the institution's greenhouse gas emissions by 37 per cent from 1990 levels by the year 2030 and put it on a path to becoming a "net-zero" institution. It is a remarkable and ambitious initiative.
A global citizen
The University is taking an ever more significant leadership role as an influential local, national, and global citizen. Our academic community is contributing to coalitions, partnerships, and collective actions all with the aim of averting or mitigating the catastrophic threats we face from climate change and advancing global sustainability.

Similarly, the University of Toronto Asset Management Corporation (UTAM) has assumed a prominent role in the global investment community incorporating environmental, social, and governance (ESG) factors in its investment decisions.
The President's Advisory Committee on the Environment, Climate Change and Sustainability
The President's Advisory Committee on the Environment, Climate Change and Sustainability (CECCS), is helping to lead, catalogue, or coordinate many of these efforts.

This site collects together examples of the University's commitment to the environment, climate change, and sustainability and organizes them around the headings you see at the top of the page. As I hope you will find, the University's is a valuable and effective partner in the global pursuit of sustainability.
---
Links to key resources
Committee on the Environment, Climate Change, & Sustainability Sustainability St. GeorgeSustainability UTMSustainability UTSC
---