Universities have a crucial and unique role to play in helping to meet the global
challenges of sustainability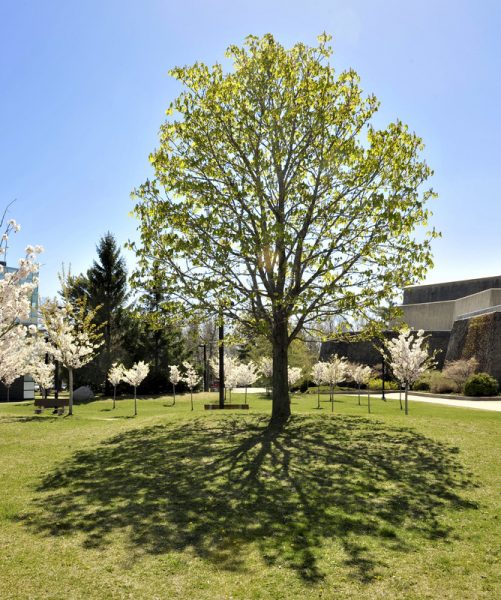 The United Nations' Sustainable Development Goals
The United Nations Sustainable Development Goals (SDGs) framework plays a prominent and vitally important role at the University of Toronto. Sustainability in the broad sense set out by the SDGs is at the heart of our teaching and learning, research, scholarship, university operations, investments, engagement, and partnerships. Our twin missions in higher education and advanced research are informed by a third mission: to advance sustainability within our institution and beyond.
This site is a point of departure for investigating sustainability initiatives and ideas on each of our three campuses and across the University as a whole. As I hope you will find, the University of Toronto is a valuable and effective partner in the global pursuit of sustainability.
President's Advisory Committee on the Environment, Climate Change and Sustainability
The President's Advisory Committee on the Environment, Climate Change and Sustainability (CECCS) was established in February 2017 as one of 14 recommendations in my report, Beyond Divestment: Taking Decisive Action on Climate Change. Since then, it has pioneered many important initiatives to advance its goals.
Tri-Campus Sustainability Offices
The Sustainability Offices on the three campuses are on a mission to develop and promote a culture of sustainability and a broad range of initiatives through the engagement of each local community. They act as hubs of sustainability awareness, services, and collaboration, empowering students, faculty, and staff to be agents of positive change both on and off-campus.
Four Flagship Sustainability Programs at U of T
Divestment from fossil fuel investments
With the climate crisis occupying center stage, it is imperative that citizens, businesses, institutions, and governments work with urgency to respond to this global threat. As owners of numerous financial assets, universities have both an economic imperative and a moral obligation to manage these assets in bold new ways. In announcing our divestment strategy, University of Toronto Asset Management Corporation (UTAM) has committed to a three-part plan in addressing this challenge:
UTAM will divest from investments in fossil fuel companies in the endowment fund beginning immediately. It will divest from its investments in fossil fuel companies no later than 2030, and sooner if possible.
UTAM will commit to achieving net zero carbon emissions associated with the endowment portfolio no later than 2050
UTAM will allocate 10 percent of the endowment portfolio to sustainable and low-carbon investments by 2025.
Climate Positive Plan
In the 2019 Low-Carbon Action Plan, U of T set an ambitious target to reduce our GHG emissions by 37 percent by 2030 relative to 1990 levels. Now, we are taking our commitment to a new level by announcing our goal of achieving a climate positive St. George campus by 2050 – thereby reducing more GHG emissions than we emit. Working towards this goal, we are building Canada's largest urban geoexchange system, currently under construction as part of the Landmark Project at King's College Circle.
Sustainability Pathways
U of T Sustainability Pathways are clusters of courses and co-curricular activities with a common theme of sustainability that allow students to explore sustainability from various disciplinary, methodological, and practical perspectives. We aim to develop and offer these pathways to all undergraduate students to provide opportunities to incorporate sustainability learning, regardless of degree program.
Campus as a Living Lab and Community Engaged Learning Projects
CECCS has continued its focused efforts on increasing sustainability in community-engaged learning (CEL) and Campus as a Living Lab (CLL) courses. The SDG-based CLL and CEL Project Database contains over 200 on-and-off campus student projects at U of T. These ventures offer students the opportunity to undertake group projects on real-world sustainability topics proposed by operational and academic staff at U of T, or practitioners in the community.