Hosted by the Committee on the Environment, Climate Change, and Sustainability (CECCS), the Adams Sustainability Celebration is a tribute to the growing community of sustainability-minded students, faculty, and staff at the University of Toronto (U of T).
The purpose of this annual event series is to celebrate successes, inspire new activities, build relationships, and collaboratively deepen campus engagement around sustainability. We would like to acknowledge our progress, envision our future, and celebrate sustainability at U of T with you! This event was made possible by the generous donation from Wendy Adams.
Applications are now being accepted for the 2022-23 Adams Sustainability Student Grants, Faculty Grants, Staff Grants, and the Innovation Prize Competition.
The third annual Celebration will run from October 2022 to March 2023. It will feature panel discussions on each of the three campuses (UTSC on October 17 from 3:00-4:30pm, UTM in November and UTSG in January) in addition to Student-Led Events and Showcase booths. The Innovation Prize Pitch Competition and Awards Ceremony will take place at the Hart House Great Hall on Friday, March 3, 2023. Click here for details on upcoming events.
Students are encouraged to submit applications for up to $300 in award funding for Student-Led Events that will be promoted as part of our 2022-23 Adams Celebration event programming. See our Call Out for Student-Led Events here for more information.
We are also calling for submissions for Sustainability Showcase exhibit booths that will be outside our UTSC panel event on October 17, our UTM panel event in November, and at our UTSG Award Ceremony on March 3. See our Sustainability Showcase Submission Form for more details.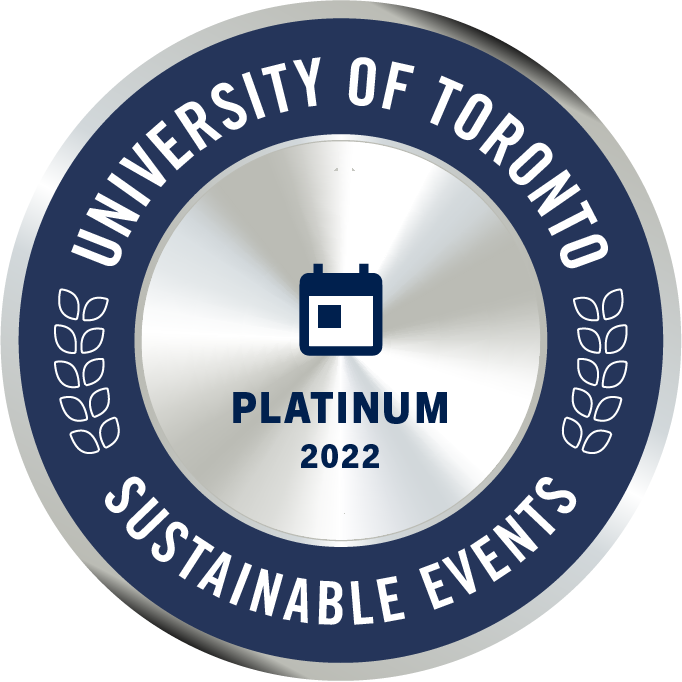 The 2022-23 Adams Sustainability Celebration has been certified as Platinum via the Sustainable Change Programs.
---
Upcoming Events
Student-Led Event: 2023 SEA Conference – Back to the Future of Sustainable Urban Development
DATE: Saturday, January 28, 2023
TIME: 9:00-5:30pm
LOCATION: Medical Science Building
DESCRIPTION: The Sustainable Engineers Association at University of Toronto and Toronto Metropolitan University welcome you to their first in-person conference since 2020! This event is sponsored by Climate Positive Energy with support from CECCS and will take place Saturday, January 28th 2023, from 9:00AM -5:30PM. Breakfast and lunch will be provided as well as the exclusive opportunity to network with some of the top leaders and academics within the sustainability industry.
This year the theme is Back to the Future of Sustainable Urban Development to highlight initiatives, policies, and perspectives that positively impact sustainable urban living. To assist in creating meaningful dialogue, there will be a variety of speakers, including research leaders and industry professionals from different backgrounds, speaking on topics surrounding green infrastructure, transportation, sustainability from an indigenous perspective and so much more.
This event is open to all undergraduate and graduate students, as well as industry professionals who are looking to gain professional development experience and insight into the industries at the forefront of the shift to sustainable practices.
REGISTRATION: UoFT x TMU SEA: Back to the Future of Sustainable Urban Development Tickets, Sat, 28 Jan 2023 at 9:00 AM | Eventbrite
---
Student-Led Event: Interactive Workshop: Futuring Sustainability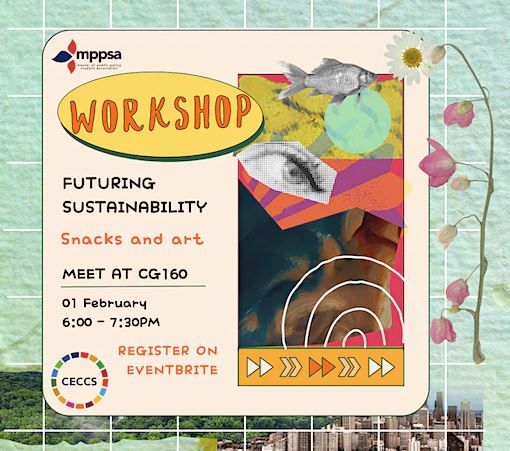 DATE: Wednesday, February 1, 2023
TIME: 6:00-7:30pm
LOCATION: CG160, 14 Queen's Park Crescent
DESCRIPTION: Presented by the Master of Public Policy Student Association (MPPSA), this workshop introduces sustainable arts-based methodology as a basis for policy dialogue and community engagement. By cultivating a space to share stories and collectively imagine alternative futures through explorative arts processes, participants provide unique insights into the impacts of climate change policies, how they are responding to current realities and/or integrating sustainable development goals into their daily lives, and what their communities need to build a better future for people and the planet.
In this interactive session, participants will generate reflection through guided discussions and explorative arts processes from collage making, upcycling, photovoice and/or digital media as part of a qualitative inquiry about our environment to stimulate new forms of public dialogue drawing attention to storytelling for systems change and collective narratives. This space will provide students the platform to share the complexity of their lived experiences, empowering participants by 1) acquiring new knowledge and developing critical awareness of their built environment and the nuances of sustainability; and 2) integrating art and design in an attempt to demystify public policy.
Food and art supplies will be provided.
REGISTRATION: Interactive Workshop: Futuring Sustainability Tickets, Wed, 1 Feb 2023 at 6:00 PM | Eventbrite
---
Student-Led Event: Fossil Free Research Teach-In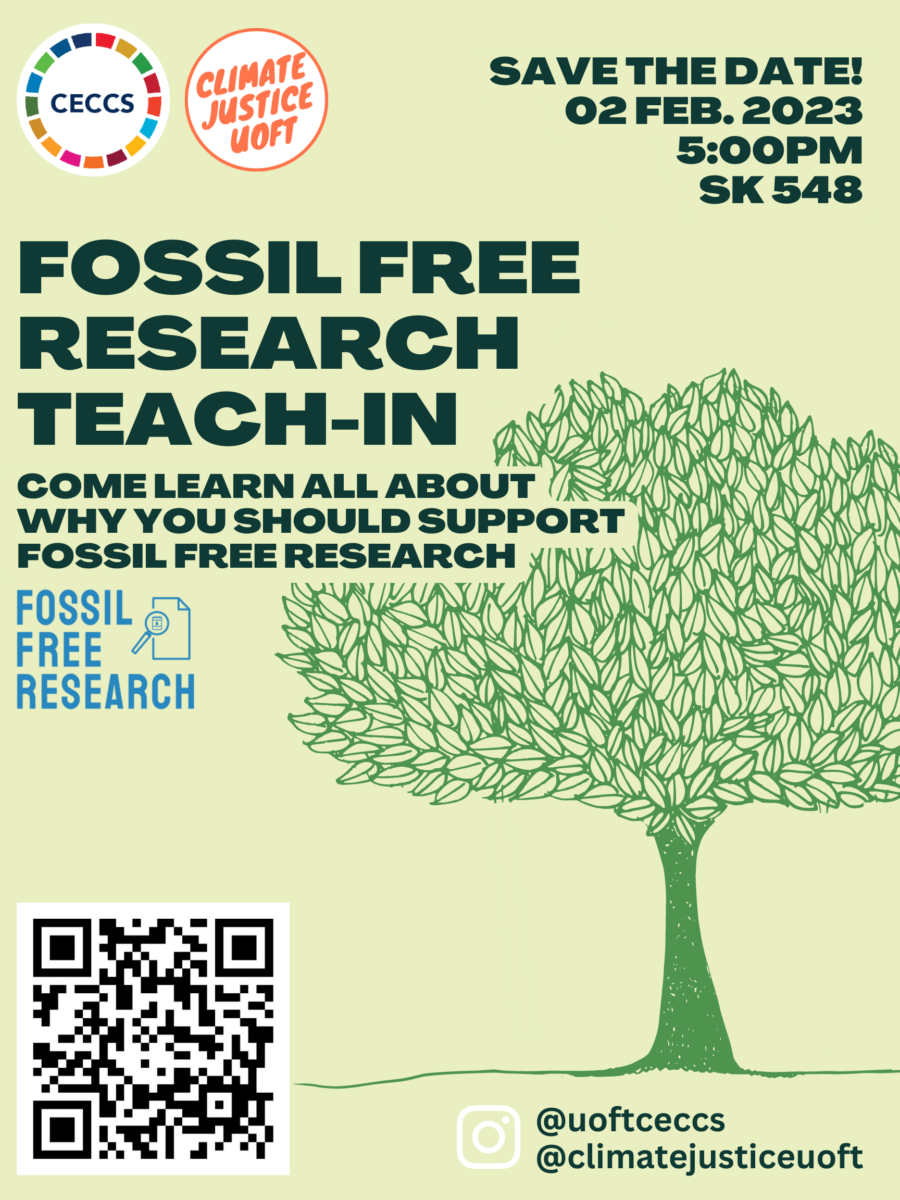 DATE: Thursday, February 2, 2023
TIME: 5:00-6:30pm
LOCATION: SK 548, 246 Bloor St. West
DESCRIPTION: Climate Justice U of T hosts this presentation on the Fossil Free Research movement, the progress that has been made by the movement at U of T, and current plans for reducing the influence of fossil fuel companies on campus. Following the presentation, attendees can ask questions and engage in discussion with club members about the fossil free research movement and the role that the university can play in addressing the climate crisis.
Climate Justice U of T is dedicated to raising awareness about the role that fossil fuel companies and the university have in contributing to the climate crisis. We aim to revoke the social license of these companies on campus by organizing events and campaigns encouraging the divestment of fossil fuels, the rejection of funding from fossil fuel companies, and the adoption of renewable energy.
Fossil Free Research is a new international campaign to end the toxic influence of fossil fuel money on climate change-related research in universities. The campaign includes an Open-Letter with over 750 signatories across 130 academic institutions in the US, UK, and Canada. Climate Justice UofT has created a one-pager with answers to commonly asked questions regarding the campaign. Any additional questions not addressed can be directed to climatejusticeuoft@gmail.com.
REGISTRATION: RSVP to the Fossil Free Research Teach-In using this google form.
---
Exploring the Potential of Transformative Sustainability Pedagogy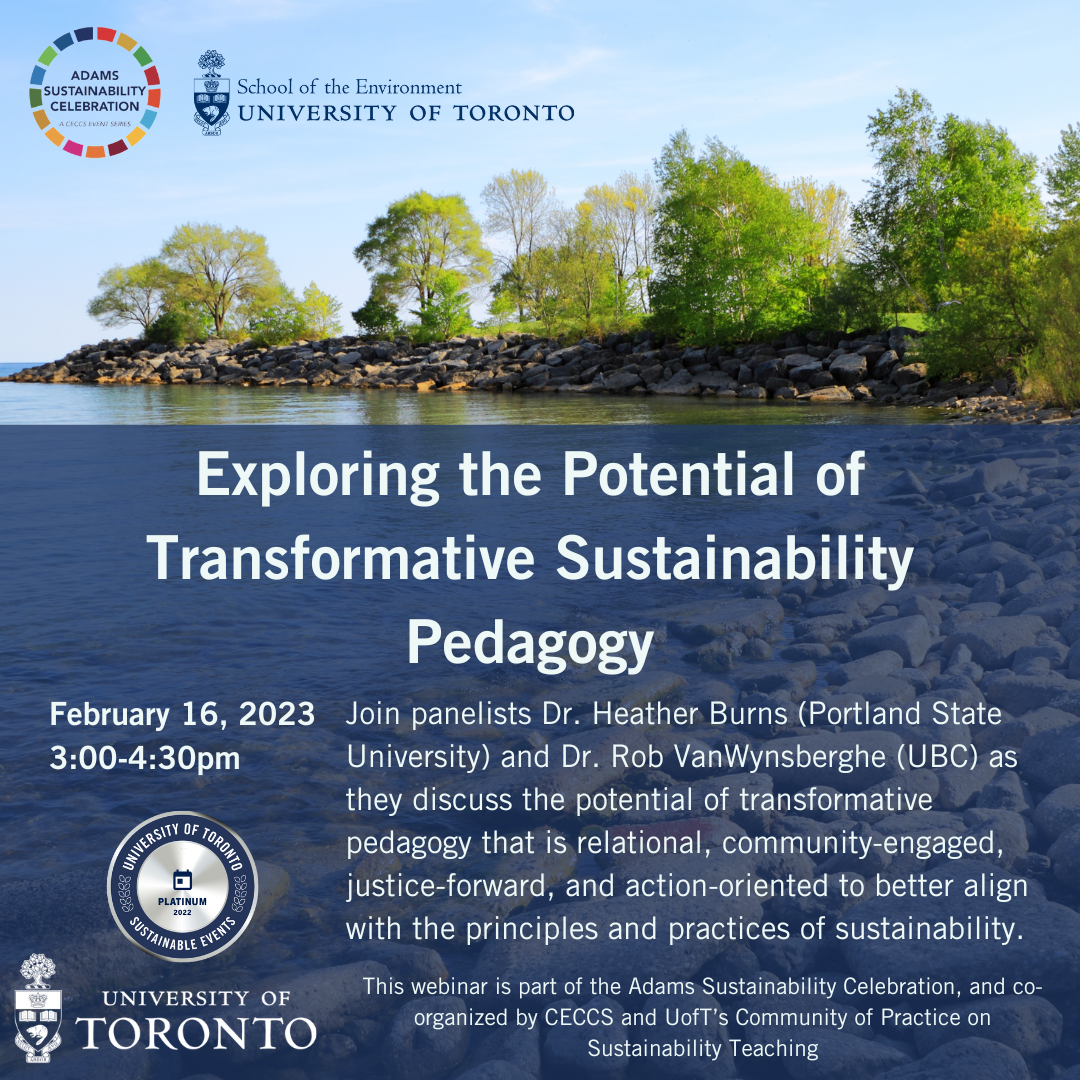 DATE: Thursday, February 16, 2023
TIME: 3:00-4:30pm
LOCATION: Online
DESCRIPTION: Universities worldwide are considering the transformative role they can play in shifting their communities towards sustainability, but what commitment is higher education making to transform its approaches to teaching to align with this? Reflecting on curriculum and pedagogy in university courses focused on sustainability will help to avoid replicating the same approaches to teaching and learning that have contributed to the climate crisis in the first place.
Join panelists Dr. Heather Burns (Portland State University) and Dr. Rob VanWynsberghe (UBC) as they discuss the potential of transformative pedagogy that is relational, community-engaged, justice-forward, and action-oriented to better align with the principles and practices of sustainability.
This webinar is co-organized with UofT's Community of Practice on Sustainability Teaching that focuses on aligning sustainability pedagogies with equity and inclusion. This free webinar is open to all but requires advance registration.
REGISTRATION: Exploring the Potential of Transformative Sustainability Pedagogy Tickets, Thu, 16 Feb 2023 at 3:00 PM | Eventbrite
---
2022-23 Adams Sustainability Celebration Award Ceremony and Innovation Pitch Prize Competition
SAVE THE DATE: Friday, March 3, 2023
1:00-5:00pm, Hart House Great Hall. Refreshments will be served.
Featuring the CECCS Innovation Prize Pitch Competition, Faculty, Staff and Student Grant Announcements, the Sustainability Office's Sustainable Action Award Announcements, networking and Sustainability Showcases.
REGISTRATION: Adams Sustainability Award Ceremony & Innovation Prize Pitch Competition Tickets, Fri, 3 Mar 2023 at 1:00 PM | Eventbrite
---
2021-22 Adams Sustainability Celebration Highlights
The 2021-2022 Adams Sustainability Celebration ran from February-April 2022. For the second iteration of this annual celebration, we hosted seven live virtual panels over Zoom, and housed virtual showcases and student group exhibits on our event website. We distributed $55,500 in sustainability grants and prizes at the Adams Sustainability Innovation Prize Pitch Competition and Sustainability Awards Ceremony on March 31.
A welcome message from U of T President Meric Gertler
A welcome message from the CECCS Co-Chairs Prof. John Robinson and Ron Saporta
2022 Adams Sustainability Celebration Recap Info Graphics