University of Toronto's 2022-2023 Sustainability-Related Graduate Program Inventory
The Graduate Programs Inventory gathers information about graduate and PhD programs offered by U of T which have sustainability-related content or focus.The inventory contains programs identified from the comprehensive professional graduate programs list on the School of Graduate Studies website and has been prepared by conducting a keyword search based on the United Nations' Sustainable Development Goals (SDGs) keywords (below) in the program titles and descriptions.The 2021 Graduate Programs inventory includes 119 of a total of 171 programs/areas of study (70%). For degree and diploma programs (including dual degree), 94 of 131 programs (72%) had sustainability related content. For collaborative specialization programs, 25 of 40 programs (63%) had sustainability related content.

The search results were manually reviewed for accuracy with some limitations due to the lack of detailed program descriptions on the source website. This search did not look at combined degree programs.

If you feel any program should be deleted or added to this list, please contact CECCS at ceccs@utoronto.ca.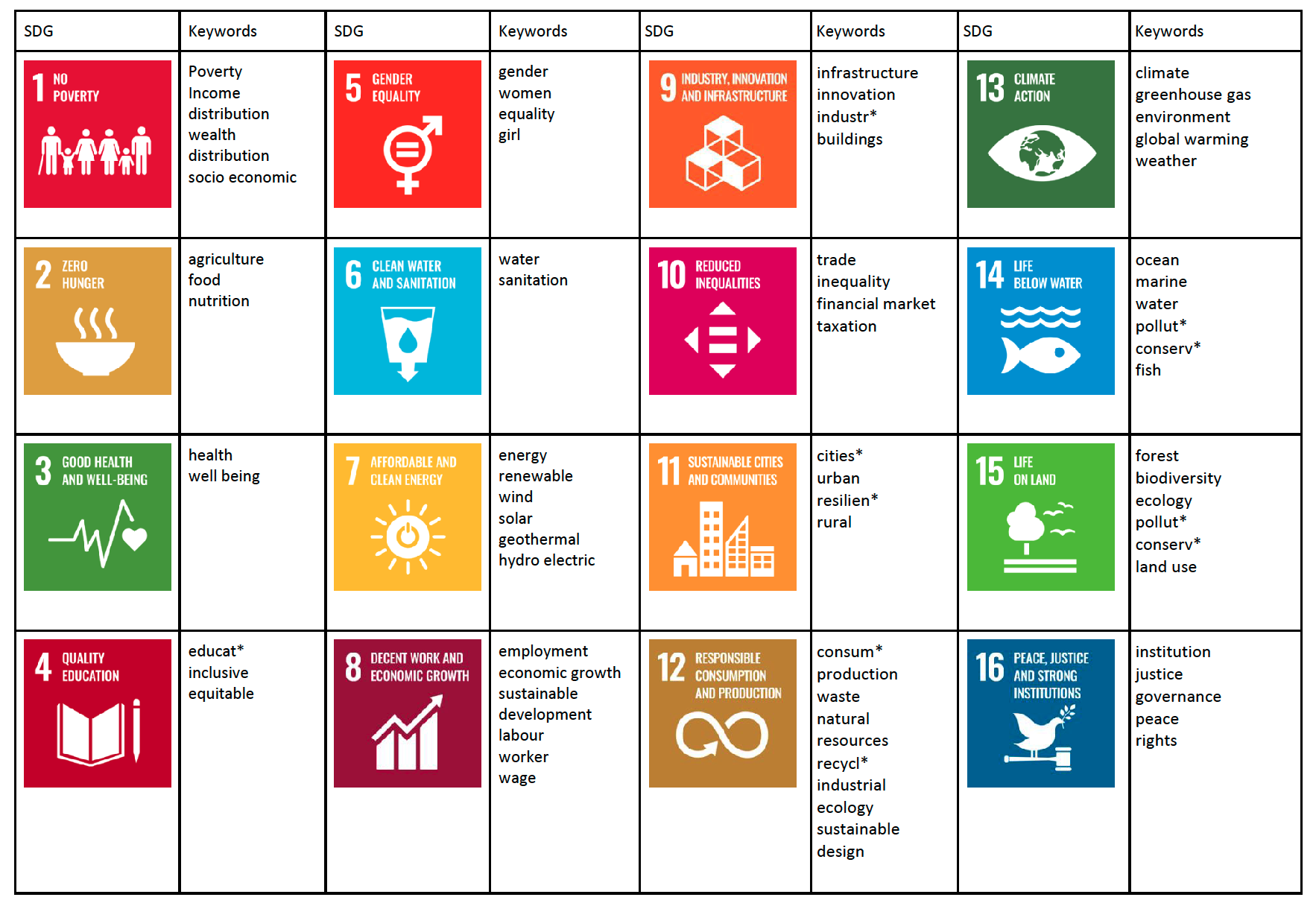 Program Name
Graduate Unit
Department Website
SGS URL
Faculty Affiliation
Campus
Degree(s)
Program Description
Keyword(s)
SDGs Covered
SDG1
SDG2
SDG3
SDG4
SDG5
SDG6
SDG7
SDG8
SDG9
SDG10
SDG11
SDG12
SDG13
SDG14
SDG15
SDG16
Addiction Studies
***Collaborative Specialization***
https://www.dlsph.utoronto.ca/program/collaborative-specialization-in-addiction-studies/
https://sgs.calendar.utoronto.ca/collaborative/Addiction-Studies
Public Health
Tricampus
Master's, Doctoral
The graduate programs listed above, in collaboration with the Centre for Addiction and Mental Health and the Ontario Tobacco Research Unit, participate in the Collaborative Specialization in Addiction Studies at the University of Toronto. The purpose of the Addiction Studies specialization is to develop and integrate graduate training in the multidisciplinary field of addictions, an area that includes the use and abuse of alcohol, tobacco, and psychoactive substances, as well as gambling and other addictive behaviours. Master's programs requiring a thesis, practicum, or research paper, and doctoral programs are included. Upon successful completion of the degree requirements of the participating home graduate unit and the collaborative specialization, students will receive the notation "Completed Collaborative Specialization in Addiction Studies" on their transcript.
health
SDG3
X
Adult Education and Community Development
Leadership, Higher and Adult Education
https://www.oise.utoronto.ca/lhae/
https://www.sgs.utoronto.ca/programs/adult-education-and-community-development/
https://sgs.calendar.utoronto.ca/degree/Leadership,-Higher-and-Adult-Education
Ontario Institute for Studies in Education (OISE)
UTSG
Master of Arts, Master of Education, Doctor of Philosophy, PhD Program (Full-Time Option), PhD Program (Flexible-Time Option)
Program Overview
The Department of Leadership, Higher and Adult Education at the Ontario Institute for Studies in Education (OISE) offers the Adult Education and Community Development program, leading to the Master of Arts, Master of Education, and Doctor of Philosophy degrees.The MA is a research-based degree and can be taken on a full-time or part-time basis. During their program of study, MA students are expected to have exposure to both qualitative and quantitative approaches to research.The MEd is a non-thesis degree program which can be taken on either a full-time or part-time basis.The PhD degree program is designed to provide opportunities for advanced study in the theoretical foundations of adult education and community development and in the application of such knowledge to practice. This program offers both full-time and flexible-time options. To be admitted to the flexible-time option, applicants should be active professionals who demonstrate connections between their professional work and their proposed course program, and/or between their professional work and their proposed research.

Program Description
The MA is a research-based thesis degree program which can be taken on a full-time or part-time basis. The MA program focuses on learning that happens individually and collectively among adults in communities, workplaces, social movements, the street, and the virtual world - any place where people come together to create social change. The program serves individuals seeking to develop skills for education, community, and organizational roles in a wide range of settings in public, private, and voluntary sectors. Graduates work with newcomers, youth, women's groups, LGBTQ agencies, organized labour, racialized people, and disenfranchised communities in positions that involve community engagement and education, policy development, leadership, mentorship, and organizational development. The department welcomes applicants with diverse but relevant backgrounds.

Program Description
The MEd is a non-thesis, course-based professional degree program which can be taken on a full-time or part-time basis. The MEd program focuses on learning that happens individually and collectively among adults in communities, workplaces, social movements, the street, and the virtual world - any place where people come together to create social change. It serves individuals seeking to develop skills for education, community, and organizational development roles in a wide range of settings in public, private, and voluntary sectors. Graduates work with newcomers, youth, women's groups, LGBTQ agencies, organized labour, racialized people, and disenfranchised communities in positions that involve community engagement and education, policy development, leadership, mentorship, and organizational development. The department welcomes applicants with diverse but relevant backgrounds.

Program Description
The PhD is a research-based thesis degree program which can be taken on a full-time or flexible-time basis. Designed to provide opportunities for advanced study in the theoretical foundations of adult education and community development and in the application of such knowledge to practice, the PhD focuses on learning that happens individually and collectively among adults in communities, workplaces, social movements, the street, and the virtual world - any place where people come together to create social change.Except for the time to completion, requirements for both the full-time and flexible-time programs are the same. The department welcomes applicants with diverse but relevant backgrounds.
institut, labour, women, educat
SDG4, SDG5, SDG16
X
X
X
Aerospace Science and Engineering
Aerospace Studies
https://www.utias.utoronto.ca/
https://www.sgs.utoronto.ca/programs/aerospace-and-engineering/
https://sgs.calendar.utoronto.ca/degree/Aerospace-Studies
Applied Science and Engineering
UTSG
Master of Applied Science, Master of Engineering, Full-Time Option, Extended Full-Time Option, Part-Time Option, Doctor of Philosophy, PhD Program, PhD Program (Transfer), PhD Program (Direct-Entry), PhD Program (Flexible-Time), Emphasis: Advanced Manufacturing (MEng only), Emphasis: Aerial Robotics (MASc, MEng, PhD), Emphasis: Engineering and Globalization (MEng only), Emphasis: Entrepreneurship, Leadership, Innovation and Technology in Engineering (ELITE) (MEng only), Emphasis: Robotics (MASc, MEng, PhD), Emphasis: Sustainable Aviation (MASc, MEng, PhD), Emphasis: Sustainable Energy (MASc, MEng, PhD)
Program Overview
Graduate programs in Aerospace Science and Engineering are offered by the University of Toronto Institute for Aerospace Studies (UTIAS), leading to research-intensive Master of Applied Science (MASc) and Doctor of Philosophy (PhD) degrees and a professionally oriented Master of Engineering (MEng) degree.Faculty research areas include aircraft flight systems and control, flight simulation, computational fluid dynamics, combustion and propulsion, aerodynamic shape optimization, experimental fluid dynamics, flow control, structural mechanics, advanced composite materials, multidisciplinary optimization of aircraft, multifunctional systems, spacecraft dynamics and control, autonomous space robotics, microsatellites, space mechatronics, plasma-materials interactions, and materials for fusion reactors.The full-time MASc program is research oriented and includes a major thesis.The MEng program is oriented towards professional engineering practice and consists primarily of coursework. It is available on a full-time and part-time basis.The PhD program requires advanced graduate research.

Program Description
The MASc degree is a research-based program focused on the completion of a research thesis. The MASc is considered to provide basic training in research for students subsequent to an undergraduate program. Under the direction of a faculty supervisor, students will select a research topic, perform experiments, computation, or analysis relevant to the topic, and report their results in a thesis. Upon completion of the thesis, students will be prepared for further academic research or employment in industry, including in research and development settings. Top students may have the opportunity to transfer directly to the PhD program after their first year of MASc studies.

Program Description
The Master of Engineering (MEng) is a course-based program designed to lead to employment in the aerospace industry. Students select from the wide range of UTIAS courses, as well as courses offered by other University of Toronto departments, to create a personalized curriculum. Students can also opt to follow one of several emphases, which provide more concentrated teaching in a specific area, and which are recorded on the student 's transcript.The MEng program can be taken on a full-time, extended full-time, or part-time basis. Transfer between the full-time, extended full-time, and part-time options is not permitted after registration. The default registration is the extended full-time option.

Program Description
The Doctor of Philosophy degree is a research-based program leading to the production of a research thesis. Doctoral research at UTIAS is expected to be internationally recognized for its originality, rigour, and importance. Supervised by a faculty member, students select a research topic, develop a plan to address the topic, and implement this plan, leading to a major research thesis and contributions to the academic literature. This is the pinnacle of academic achievement, and holders of the PhD are well prepared for academic positions and leadership roles in industrial research and development.Applicants may enter the PhD program via one of two routes: 1) following completion of an MASc degree in engineering, mathematics, physics, or chemistry; 2) transfer from the University of Toronto MASc program. The program can also be taken on a flexible-time basis.
institut, production, industr, innovat, employment, energy
SDG7, SDG8, SDG9, SDG12
X
X
X
X
Applied Computing
Computer Science
https://web.cs.toronto.edu/graduate/mscac
https://www.sgs.utoronto.ca/programs/applied-computing/
https://sgs.calendar.utoronto.ca/degree/Computer-Science
Arts and Science
UTSG
Master of Science in Applied Computing, MScAC General Program (No Concentration), MScAC Program (Applied Mathematics Concentration), MScAC Program (Data Science Concentration), MScAC Program (Quantum Computing Concentration)
Program Overview
The Master of Science in Applied Computing (MScAC) program is a 16-month applied research program designed to prepare students for life-long success as a technical/innovation leader, primarily in the information technology space. The program begins with eight months of advanced graduate research courses focusing on computer science or data science, studying with Canada's leading researchers. This is followed by an eight-month applied research internship at a firm where students will apply research results to real-world problems.Graduate faculty in the Department of Computer Science are interested in a wide range of subjects related to computing, including programming languages and methodology, software engineering, operating systems, compilers, distributed computation, networks, numerical analysis and scientific computing, financial computation, data structures, algorithm design and analysis, computational complexity, cryptography, combinatorics, graph theory, artificial intelligence, neural networks, knowledge representation, computational linguistics, computer vision, robotics, database systems, graphics, animation, interactive computing, and human-computer interaction.

Program Description
The MScAC program is offered as a general Computer Science program (i.e., no concentration) or as a concentration in Applied Mathematics, Data Science, or Quantum Computing.The Applied Mathematics concentration is offered jointly by the Department of Computer Science and the Department of Mathematics. The Data Science concentration is offered jointly by the Department of Computer Science and the Department of Statistical Sciences. The Quantum Computing concentration is offered jointly by the Department of Computer Science and the Department of Physics.
innovat
SDG9
X
Architecture
Architecture, Landscape, and Design
https://www.daniels.utoronto.ca/programs/graduate
https://www.sgs.utoronto.ca/programs/architecture/
https://sgs.calendar.utoronto.ca/degree/Architecture,-Landscape,-and-Design
Architecture, Landscape, and Design
UTSG
Master of Architecture, MArch Program (3-Year Option), MArch Program (2-Year: Second-Year Advanced-Standing Option), MArch Program (1-Year: Post-Professional Advanced-Standing Option)
Program Overview
The professional Master of Architecture (MArch) is a rigorous and comprehensive program, preparing graduates for the full range of activities in architecture. It provides a thorough base of knowledge in history, theory, technology, ecology, society, and professional practice, while developing skills in design through an intensive sequence of design studio courses.The Daniels Faculty also offers a Master of Architecture Second-Year Advanced-Standing Option (2 years). The advanced-standing option is offered to applicants who demonstrate advanced capabilities, as determined through review of academic background and design portfolio. Advanced-standing students join the curriculum outlined below at the beginning of the second year of study.Both the MArch and the advanced-standing option are intended for those who do not already hold a professional degree in architecture. Individuals already holding a professional degree are encouraged to consider the post-professional Master of Architecture option or the Master of Urban Design program.

Program Description
The Master of Architecture (MArch) is a professional degree program and provides a thorough base of knowledge in history, theory, technology, ecology, society, and professional practice, while developing skills in design through an intensive sequence of design studio courses. These are supported by courses in visual communication and architectural representation including computer modelling and other new media. The program aims to develop critical, creative, and independent thinking and research that responds to current design issues and societal changes. The greater Toronto region is used as an urban laboratory for the development of new knowledge and forms of practice.In Canada, the Canadian Architectural Certification Board (CACB) is the sole agency authorized by the Canadian Architectural Licensing Authorities (CALA) to accredit Canadian professional degree programs in architecture for the purposes of architectural licensure.
ecolog, urban, labor
SDG11, SDG15
X
X
Architecture, Landscape, and Design
Architecture, Landscape, and Design
https://www.daniels.utoronto.ca/programs/graduate/doctor-philosophy-architecture-landscape-and-design-phd
https://www.sgs.utoronto.ca/programs/architecture-landscape-and-design/
https://sgs.calendar.utoronto.ca/degree/Architecture,-Landscape,-and-Design
Architecture, Landscape, and Design
UTSG
Doctor of Philosophy
Whether focusing on the displacement of coastal dwellers as a result of project sea level rises, refugee crises produced by political unrest, or cities in need as water becomes an increasingly scarce resource, it is apparent that the engagements of architecture, landscape architecture, and urban design with the world are increasingly complex and warrant critical thinking and ethical action guided by innovative advanced research. The Daniels program prepares students to address the challenges facing architecture, landscape architecture, and urban design in the 21st century by going beyond the individual disciplinary lines and exploiting the synergies between these fields through the lenses of history and theory, computation and fabrication, health and society, and technology and environment. The program goes beyond the traditional divide between practice and theory that one broadly finds in Ph.D. studies which exclusively focus on either applied research or text-based scholarship.
environment, urban, cities, innovat, water, health
SDG9, SDG11
X
X
Bioethics
Public Health Sciences
https://jcb.utoronto.ca/education-training/mhsc-in-bioethics/
https://www.sgs.utoronto.ca/programs/bioethics/
https://sgs.calendar.utoronto.ca/degree/Public-Health-Sciences
Public Health
UTSG
Master of Health Science
Program Overview
The Master of Health Science (MHSc) in Bioethics is offered by the Department of Public Health Sciences in collaboration with the Joint Centre for Bioethics. This professional master's program is designed for health practitioners, researchers, and administrators. The goal of the program is to develop students' knowledge and skill competencies in bioethics education, research, and practice in order to strengthen ethics capacity in health organizations. The majority of MHSc graduates use their training to enhance their existing clinical/research/administrative role, for example through participating as a chair/co-chair of an ethics committee, a research ethics board member, or a contributor to bioethics education and scholarship. Some MHSc graduates pursue the role of a practising health-care ethicist in a health-care organization by completing a formal practice-based training program (for example, a fellowship) in clinical/organizational ethics. The MHSc in Bioethics is conducted in a modular format and has no thesis requirement, allowing high-achieving professionals to earn a master's degree without interrupting their careers. Students are exposed to the breadth of clinical, organizational, and research ethics issues facing our health system today, with a strong emphasis on interprofessional exchange and practical experience informed by theory (including a practicum component). Students interested in an interdisciplinary research program may wish to consider the Collaborative Specialization in Bioethics.

Program Description
The MHSc in Bioethics is a two-year, course-based program with no thesis requirement. It is conducted in modular format to allow high-achieving professionals to earn a master's degree without interrupting their careers. The program's interactive, problem-based learning approach provides students with knowledge and skills that can be applied to a variety of health, health care, and health research contexts. Expert faculty and guest lecturers help students bring theory and practice together to address real-world ethical challenges. Students interested in a research-stream program should consider the Collaborative Specialization in Bioethics.


health, educat, labor
SDG3
X
Bioethics
***Collaborative Specialization***
http://jcb.utoronto.ca/
https://sgs.calendar.utoronto.ca/collaborative/Bioethics
Public Health
Tricampus
Master's, Doctoral
The CSB prepares you for specialization in bioethics, with an emphasis on innovative research drawing from themes in the humanities, law, social sciences, natural and health sciences. It offers an enriched interdisciplinary learning experience in bioethics, outside of your home unit's graduate degree. Other aims of the specialization include: Developing and enriching educational and research opportunities in bioethics for students within the disciplines represented by the collaborating graduate units Providing experience in multidisciplinary, interdisciplinary and interprofessional education and research Providing students interested in bioethics with a common learning experience and a network of mentors and peers Preparing students who will specialize in bioethics with an emphasis on innovative interdisciplinary research and scholarship in bioethics The ultimate goal is for you to be able to contribute original research by applying the methods of empirical, legal and/or philosophical scholarship to bioethical issues related to health and the delivery of health care, to the practices of health care professions, to the conduct of health research, or to the development of health policy.
innovat, health
SDG3, SDG9
X
X
Biomedical Communications
Medical Science
http://bmc.med.utoronto.ca/bmc/
https://www.sgs.utoronto.ca/programs/biomedical-communications/
https://sgs.calendar.utoronto.ca/degree/Medical-Science
Medicine
UTM
Master of Science in Biomedical Communications, Field: Biomedical Media Design, Field: Biomedical Visualization Design
Program Overview
Interdisciplinary, research-based, and unique. The Master of Science in Biomedical Communications (MScBMC) is unique in Canada and is one of four accredited programs of its kind. This two-year professional graduate program prepares students for careers in the visual communication of science, medicine, and health.Students in this interdisciplinary program explore the use of images, interactive technologies, and animation/simulation to effectively communicate complex science and health topics to a range of audiences. Graduates of the program are leaders in biocommunications across a number of fields, including pharma and biotech visualization, medical-legal visualization, health communication, research dissemination, textbook publishing, and more. There are two fields:Biomedical Media Design andBiomedical Visualization Design.This program is offered by the Institute of Medical Science, which serves as the primary graduate unit for the clinical departments of the Faculty of Medicine.

Program Description
The MScBMC is a two-year, course-based professional graduate program that prepares students for careers in the visual communication of science, medicine, and health. Students in this interdisciplinary program explore the use of images, interactive technologies, and animation/simulation to effectively communicate complex science and health topics to a range of audiences.The program offers two fields: Biomedical Media Design and Biomedical Visualization Design. Students take the same courses in Year 1 and then choose their field at the start of the Summer session between Year 1 and Year 2.
institut, health
SDG3
X
Biomedical Engineering
Biomedical Engineering
https://bme.utoronto.ca/
https://www.sgs.utoronto.ca/programs/biomedical-engineering/
https://sgs.calendar.utoronto.ca/degree/Biomedical-Engineering
Applied Science and Engineering
UTSG
Master of Applied Science, Master of Engineering , Full-Time Option, Extended Full-Time Option, Part-Time Option, Doctor of Philosophy, Fields:, 1) Biomaterials, Tissue Engineering and Regenerative Medicine;
2) Engineering in a Clinical Setting;
3) Nanotechnology, Molecular Imaging and Systems Biology;
4) Neural/Sensory Systems and Rehabilitation, PhD Program, PhD Program (Transfer), PhD Program (Direct-Entry), Doctor of Philosophy, Field: Clinical Engineering, PhD Program, PhD Program (Transfer), PhD Program (Direct-Entry), Emphasis: Engineering and Globalization (MEng only), Emphasis: Entrepreneurship, Leadership, Innovation and Technology in Engineering (ELITE) (MEng only), Emphasis: Forensic Engineering (MEng only)
Program Overview
The Institute of Biomedical Engineering (BME) offers facilities for research in biomedical engineering and for three educational programs leading to master's and doctoral degrees: the Master of Applied Science (MASc), Master of Engineering (MEng), and Doctor of Philosophy (PhD). Students interested in the Collaborative Specialization in Biomedical Engineering may register through one of the collaborating graduate units.Biomedical engineering is a multidisciplinary field that integrates engineering and biology/medicine. It uses methods, principles, and tools of engineering, physical sciences, and mathematics to solve problems in the medical and life sciences for the study of living systems; the enhancement and replacement of those systems; the design and construction of systems to measure basic physiological parameters; the development of instruments, materials, and techniques for biological and medical practice; and the development of artificial organs and other medical devices. By its nature, the majority of the institute's work is interdisciplinary.

Program Description
The MASc program is a research-stream, thesis-based program which provides a strong academic foundation for students who want to become immersed in the discipline of biomedical engineering. This program is designed to offer students challenging and rewarding research opportunities within the context of using engineering principles to enhance the quality of our health-care system.The MASc program is offered in the fields of 1) Biomaterials, Tissue Engineering and Regenerative Medicine; 2) Engineering in a Clinical Setting; 3) Nanotechnology, Molecular Imaging and Systems Biology; and 4) Neural/Sensory Systems and Rehabilitation.

Program Description
The MEng program is an accelerated, professional program with a focus on the design and commercialization of biomedical devices. Students will have the opportunity to take on applied design challenges and meet the growing demands of this industry through a four-month practical experience through internships, research projects, or practical course activities.The MEng program is offered in the fields of 1) Biomaterials, Tissue Engineering and Regenerative Medicine; 2) Engineering in a Clinical Setting; 3) Nanotechnology, Molecular Imaging and Systems Biology; and 4) Neural/Sensory Systems and Rehabilitation.The MEng program can be taken on a full-time, extended full-time, or part-time basis.

Program Description
The PhD program offers courses and a strong research thesis component. Students emerge from this program ready to pursue careers in academia, medicine, industry, and government. Students with a particular interest in conducting biomedical engineering research with a primary clinical focus may pursue a field in clinical engineering within the Biomedical Engineering PhD program.Applicants may enter the PhD program via one of three routes: 1) following completion of an appropriate master 's degree; 2) transfer from the University of Toronto MASc or MHSc program; or 3) direct entry following completion of an appropriate bachelor 's degree.

Program Description
The PhD program offers courses and a strong research thesis component. Students emerge from this program ready to pursue careers in academia, medicine, industry, and government. Students with a particular interest in conducting biomedical engineering research with a primary clinical focus may pursue a field in clinical engineering within the Biomedical Engineering PhD program.Applicants may enter the PhD program via one of three routes: 1) following completion of an appropriate master 's degree; 2) transfer from the University of Toronto MASc or MHSc program; or 3) direct entry following completion of an appropriate bachelor 's degree.
institut, industr, innovat, labor, educat, health
SDG3, SDG4, SDG9
X
X
X
Biotechnology
Management & Innovation
https://www.utm.utoronto.ca/mbiotech/
https://www.sgs.utoronto.ca/programs/biotechnology/
https://sgs.calendar.utoronto.ca/degree/Management-and-Innovation
University of Toronto Mississauga (UTM)
UTM
Master of Biotechnology (Fields: Biopharmaceutical, Digital Health Technologies)
The Biopharmaceuticals (BioPh) stream teaches stages of drug development, drug and medical device regulation (with a drug emphasis), clinical trial design and drug action through the molecular biology laboratory and courses in biotechnology in medicine and biomaterials and protein chemistry theory. The Digital Health Technologies (DHT) stream covers similar content by looking at regulation (with a medical device/software emphasis), drug development to provide a framework to understand major steps in medical device/software development, clinical trial design to provide the context for data output that will be analyzed (emphasis on data analysis), and drug action basics (not as technically detailed as the BioPh stream), through courses in Data Science & Digital Health Technologies, Data Sciences I & II and Digital Ethnography in Health.
health
SDG3
X
Chemical Engineering and Applied Chemistry
Chemical Engineering and Applied Chemistry
https://chem-eng.utoronto.ca/graduate-studies/
https://www.sgs.utoronto.ca/programs/chemical-engineering-and-applied-chemistry/
https://sgs.calendar.utoronto.ca/degree/Chemical-Engineering-and-Applied-Chemistry
Applied Science and Engineering
UTSG
Research-Based Programs, Professional Master's Program, Master of Applied Science, Master of Engineering, Full-Time Option, Extended Full-Time Option, Part-Time Option, Doctor of Philosophy, PhD Program, PhD Program (Transfer), PhD Program (Direct-Entry), PhD Program (Flexible-Time), Emphasis: Advanced Manufacturing (MEng only), Emphasis: Advanced Soft Materials (MEng only), Emphasis: Advanced Water Technologies (MEng only), Emphasis: Analytics (MEng only), Emphasis: Biomanufacturing (MEng only), Emphasis: Engineering and Globalization (MEng only), Emphasis: Entrepreneurship, Leadership, Innovation and Technology in Engineering (ELITE) (MEng only), Emphasis: Forensic Engineering (MEng only), Emphasis: Sustainable Energy (MASc, MEng, PhD)
Program Overview
Research-Based Programs: The research-intensive Master of Applied Science (MASc) and Doctor of Philosophy (PhD) degree programs will challenge and reward students looking for the best education available. A wide variety of courses are offered in both fundamental and applied areas of chemical engineering. There are excellent computational and experimental facilities where students generally have both office and lab space to call their own. Research supervisors cover all research costs. Please see the research clusters​ section of the Chemical Engineering website for further details on available research areas. Professional Master's Program: The Master of Engineering (MEng) program provides students with advanced professional training in chemical engineering. In as little as one year of study, students can obtain a degree respected by employers that differentiates them in a crowded marketplace. Students have the opportunity to complete a well-rounded program covering a variety of topics or to further their expertise in areas such as advanced water technology, energy, environmental engineering, health and safety management, as well as core chemical engineering concepts.

Program Description
The MASc program is ideal for students who aspire to a rewarding career in research, whether in academia or industry. It is a stepping stone to a doctoral (PhD) degree.

Program Description
The MEng program is designed for engineers who wish to enhance their career opportunities in as little as one year of full-time study. Students undergo advanced professional training that is respected by employers and differentiates them in a crowded marketplace. The MEng program differs from the MASc and PhD programs in that it is oriented to learning through prescribed courses rather than through research. The MEng program can be taken on a full-time, extended full-time, or part-time basis. The part-time option is intended primarily for engineers in full-time professional practice.

Program Description
The PhD program is designed for students who wish to become an expert in a specific research area and is a stepping stone to a career in academia. Students work alongside world-renowned researchers while gaining profound depth and experience in their field of study. Applicants may enter the program via one of three routes: 1) following completion of an MASc degree; 2) transfer from the University of Toronto MASc program after completing one year; or 3) direct entry following completion of a bachelor's degree, in exceptional cases. The program can also be taken on a flexible-time basis.
institut, environment, waste, production, industr, innovat, infrastructure, energy, sanita, water, educat, health
SDG6, SDG7, SDG9, SDG12, SDG13
X
X
X
X
X
Chemistry
Chemistry
https://www.chemistry.utoronto.ca/graduate
https://www.sgs.utoronto.ca/programs/chemistry/
https://sgs.calendar.utoronto.ca/degree/Chemistry
Arts and Science
UTSG
Master of Science, Doctor of Philosophy, Field: Analytical Chemistry, Field: Environmental Chemistry, Field: Inorganic Chemistry, Field: Organic and Biological Chemistry, Field: Physical Chemistry and Chemical Physics, Field: Polymers and Materials Chemistry, Field: Interdisciplinary
Program Overview
Graduate students may conduct research in modern facilities leading to the Master of Science (MSc) and Doctor of Philosophy (PhD). The areas of interest cover a wide variety of topics in analytical, biological, environmental, inorganic, organic, materials, physical, polymers, and theoretical chemistry and their related interdisciplinary areas.The Department of Chemistry, established in 1859, is one of the leading and recognized institutions in the world. It takes pride in its teaching excellence, advanced research facilities, and its development of distinguished scientists in the past and for the future. Collaborative specializations include Biomedical Engineering and Environmental Studies. Students are guaranteed full, competitive, graduate student funding through a combination of research assistantships, teaching assistantships, and fellowship support. The department offers substantial top-ups for scholarship holders.Students benefit from rich collaborations with nearby hospitals, industry, and government laboratories. They use state-of-the-art research labs and equipment and work at the interface of chemistry with biology, medicine, nanotechnology, and the environment.

Applicants may enter the PhD program via one of three routes: 1) following completion of an appropriate master's degree; 2) transfer from the University of Toronto master's program; or 3) direct entry following completion of an appropriate BSc degree.
PhD students select one of the following fields:
Analytical Chemistry
Environmental Chemistry
Inorganic Chemistry
Organic and Biological Chemistry
Physical Chemistry and Chemical Physics
Polymers and Materials Chemistry
Interdisciplinary, which allows combinations with the other fields, or with other disciplines
institut, environment, industr, labor
SDG9
X
X
Child Study and Education
Applied Psychology and Human Development
https://www.oise.utoronto.ca/jics/
https://www.sgs.utoronto.ca/programs/child-study-and-education/
https://sgs.calendar.utoronto.ca/degree/Applied-Psychology-and-Human-Development
Ontario Institute for Studies in Education (OISE)
UTSG
Master of Arts, Field: Practice-Based Inquiry (PBI) in Psychology and Educational Practice, Field: Research-Intensive Training (RIT) in Psychology and Education, Doctor of Education, Emphasis: Early Learning and Early Years, Emphasis: Mental Health and Wellbeing, Emphasis: Special Education
Program Overview
Child Study and Education has two programs (MA [Teaching] and EdD) offered by the Department of Applied Psychology and Human Development (APHD) at the Dr. Eric Jackman Institute of Child Study at the Ontario Institute for Studies in Education (OISE). Students who complete the MA in Child Study and Education are recommended to the Ontario College of Teachers for a Certificate of Qualification, which qualifies the holder to teach in the primary and junior divisions (junior kindergarten to grade 6) of Ontario school.Jackman ICS is a centre of professional teacher training and research in childhood and education, which includes an award-winning nursery-through-Grade-6 Laboratory School. Emphasis on the child and development, special education, wellbeing, and the early years frame the Child Study and Education program. Our aim is to provide knowledge, practical skills, and awareness to meet the needs of diverse learners, schools, and systems.Globally renowned Jackman ICS faculty teach the majority of program courses. Laboratory School teachers supervise MA practicum placements and internships in their classrooms, making direct links between research and practice. Other APHD faculty teach elective courses; students in the CSE programs thus profit from participating in a research-oriented department.

Program Description
The Master of Arts in Child Study and Education Program is offered at the Dr. Eric Jackman Institute of Child Study, a centre of professional teacher training and research in childhood and education, which includes a Nursery through Grade 6 Laboratory School.The philosophy of this program is based on the belief that successful teaching requires an understanding of how children's capacities, concerns, and behaviour change with age, how individual differences reflect developmental changes, and how social and physical environments influence children's development.The program introduces students to educational and developmental theory and research relevant to educational settings, showing how this research can inform classroom practice. Students also learn how to objectively study children, using both practical assessment and formal methods of inquiry. These areas of knowledge combined with knowledge of effective teaching methods (such as an inquiry-based approach) and learning environments result in educational practices that build on children's current levels of development.The non-thesis program requires two years of full-time study leading to a Master of Arts degree. Graduates are recommended to the Ontario College of Teachers for a Certificate of Qualification, which qualifies the holder to teach in the primary and junior divisions (junior kindergarten to grade 6) of Ontario schools. Research is embedded throughout the courses and the program.This program offers two fields: Practice-Based Inquiry (PBI) in Psychology and Educational Practice Research-Intensive Training (RIT) in Psychology and Education (admissions have been administratively suspended)

Program Description
This professional doctorate is designed to prepare professionals working in the field of education (or a highly related area) to extend their professional knowledge and practice to further develop their ability to be scholar-practitioners within child study. This program aims to provide practitioners with an advanced degree to enable them to engage in innovation, advanced professional practice, and understand how the field of child study can inform decision making in multiple contexts including the classroom.This degree is designed for practitioners who are working within contexts in which children are served or supported and/or with individuals who support or guide those who work with children (e.g., parents, families, and teachers).The Doctor of Education (EdD) program is only available on a full-time basis.
institut, environment, cities, innovat, labor, educat, wellbeing, health
SDG3, SDG4, SDG11
X
X
X
Cinema Studies
Cinema Studies
https://www.cinema.utoronto.ca/graduate
https://www.sgs.utoronto.ca/programs/cinema-studies/
https://sgs.calendar.utoronto.ca/degree/Cinema-Studies
Arts and Science
UTSG
Master of Arts, Doctor of Philosophy
Program Overview
The Cinema Studies Institute offers a program leading to the Master of Arts and Doctor of Philosophy degrees in Cinema Studies. Faculty members have expertise in several areas, including film history, film theory, film analysis, and film and cultural practices. The course-based, one-year MA program offers students the option of a professional internship or a major research paper.Launching in September 2013, the Doctor of Philosophy program in Cinema Studies addresses the changing role of moving image media within global culture. Past and present configurations of cinema are studied through a constellation of theoretical, textual, social, and historical rubrics. The core curricular offerings engage with debates and questions that persist within the scholarship while also examining how the field contends with emerging disciplinary issues and new intermedial formats. Throughout, the synthesis of history and theory, textual analysis, and cultural study is emphasized.

Program Description
The course-based, one-year MA program offers students the option, during their third term, of pursuing either a professional internship or a major research paper of roughly 40 to 50 pages written under the supervision of a faculty advisor elected by the student. Students have the option to concurrently enrol in one of the collaborative specializations at U of T, such as Sexual Diversity Studies, Women and Gender Studies, or Transnational and Diaspora Studies, which entails also registering for their specific core courses. The MA in Cinema Studies is a full-time program.

Program Description
Launched in September 2013, the Doctor of Philosophy program in Cinema Studies addresses the changing role of moving image media within global culture. Past and present configurations of cinema are studied through a constellation of theoretical, textual, social, and historical rubrics. The core curricular offerings engage with debates and questions that persist within the scholarship while also examining how the field contends with emerging disciplinary issues and intermedial formats today and at earlier historical junctures. Throughout the program of study, the synthesis of history and theory, textual analysis, and cultural study is emphasized.
institut, labor, women, gender
SDG5
X
Cities Engineering and Management
Civil and Mineral Engineering
http://civmin.utoronto.ca/home/programs/graduate-programs/master-of-engineering-in-cities-engineering-and-management
https://www.sgs.utoronto.ca/programs/cities-engineering-and-management/
https://sgs.calendar.utoronto.ca/degree/Civil-and-Mineral-Engineering
Applied Science and Engineering
UTSG
Master of Engineering in Cities Engineering and Management, Full-Time Option, Extended Full-Time Option
Program Overview
Cities are the economic engines of the world. With over 50% of the world's population now living in cities, the health and wealth of nations depend strongly on how well cities function. With global urbanization trends, climate change, limitations of natural resources, and sustainability concerns, urban centres around the world will encounter increasing challenges in managing their infrastructure and in delivering high levels of service to ensure the well-being of their citizens.What is needed are professionals with both technical expertise and a fundamental understanding of the complex and cross-disciplinary issues facing cities. To proactively respond to this growing need, the Department of Civil and Mineral Engineering offers the Master of Engineering in Cities Engineering and Management (MEngCEM) degree program.

Program Description
Cities are the economic engines of the world. Highly skilled professionals, armed with both technical expertise and a fundamental understanding of the cross-disciplinary issues, are needed to help our cities tackle challenges to ensure the well-being of their inhabitants and economies. In the Master of Engineering: Cities Engineering and Management (MEngCEM) program, students prepare for rewarding careers in government and the private sector, addressing the critical issues and growing needs of urban centres.To proactively respond to the changing needs of cities, the MEngCEM program offers students a practicum to apply what they have learned in the classroom.The MEngCEM program can be completed through full-time studies over three continuous sessions or through an extended full-time (EFT) option over six sessions.
climate, natural resource, urban, cities, infrastructure, well-being, health
SDG9, SDG11, SDG12, SDG13
X
X
X
X
Civil Engineering
Civil and Mineral Engineering
http://civmin.utoronto.ca/home/programs/graduate-programs/
https://www.sgs.utoronto.ca/programs/civil-engineering/
https://sgs.calendar.utoronto.ca/degree/Civil-and-Mineral-Engineering
Applied Science and Engineering
UTSG
Master of Applied Science, Master of Engineering, Full-Time Option, Extended Full-Time Option, Part-Time Option, Doctor of Philosophy, Emphasis: Advanced Water Technologies (MEng only), Emphasis: Analytics (MEng only), Emphasis: Building Science (MEng only), Emphasis: Concrete (MEng only), Emphasis: Construction Management (MEng only), Emphasis: Engineering and Globalization (MEng only), Emphasis: Entrepreneurship, Leadership, Innovation and Technology in Engineering (ELITE) (MEng only), Emphasis: Environmental Engineering (MEng only), Emphasis: Forensic Engineering (MEng only), Emphasis: Geomechanics (MEng only), Emphasis: Structural Engineering (MEng only), Emphasis: Sustainable Energy (MASc, MEng, PhD), Emphasis: Sustainable Urban Systems (MEng only), Emphasis: Transportation Engineering and Planning (MEng only)
Program Overview
The Department of Civil and Mineral Engineering offers graduate programs leading to the Master of Applied Science (MASc), the Master of Engineering (MEng), and the Doctor of Philosophy (PhD). Qualified students are accepted for advanced studies in one of the following fields: Building Engineering, Environmental Engineering, Geomechanics, Structural Engineering, and Transportation Engineering.Students registered in a graduate degree program involving research are required to participate in the non-credit seminar course JDE 1000H Ethics in Research during their first or second session of registration.The department also offers a graduate program in Cities Engineering and Management leading to the Master of Engineering in Cities Engineering and Management (MEngCEM).Students may also be interested in combined degree programs:Environmental Biology (Specialist), Honours Bachelor of Science / Civil Engineering, Master of EngineeringEnvironmental Biology (Specialist Co-op), Honours Bachelor of Science / Civil Engineering, Master of EngineeringEnvironmental Chemistry (Specialist), Honours Bachelor of Science / Civil Engineering, Master of Engineering Environmental Chemistry (Specialist Co-op), Honours Bachelor of Science / Civil Engineering, Master of EngineeringEnvironmental Geoscience (Specialist), Honours Bachelor of Science / Civil Engineering, Master of EngineeringEnvironmental Geoscience (Specialist Co-op), Honours Bachelor of Science / Civil Engineering, Master of EngineeringEnvironmental Physics (Specialist), Honours Bachelor of Science / Civil Engineering, Master of EngineeringEnvironmental Physics (Specialist Co-op), Honours Bachelor of Science / Civil Engineering, Master of Engineering

Program Description
The MASc program includes a foundational base of graduate courses followed by a research thesis. Many research projects involve industrial partnerships and networking opportunities, project management experience, and collaboration with leading experts.

Program Description
The MEng program is course based and intended to provide continuing and advanced education for recent graduates and civil engineers in professional practice. The program can be taken on a full-time, extended full-time, or part-time basis.

Program Description
The PhD program is designed for outstanding individuals interested in a rewarding career in fundamental or applied research. This program involves advanced courses and an intensive research program culminating in a thesis.Applicants may enter the PhD program via one of three routes: 1) following completion of an MASc degree in engineering, mathematics, physics, or chemistry; 2) transfer from the University of Toronto MASc program; 3) direct entry following completion of a bachelor's degree.
environment, urban, cities, industr, innovat, labor, energy, water, educat
SDG6, SDG7, SDG9, SDG11, SDG13
X
X
X
X
X
Clinical Engineering
Biomedical Engineering
https://ibbme.utoronto.ca/prospective-students/master-of-health-science-mhsc/
https://www.sgs.utoronto.ca/programs/clinical-engineering/
https://sgs.calendar.utoronto.ca/degree/Biomedical-Engineering
Applied Science and Engineering
UTSG
Master of Health Science
Program Overview
The Master of Health Science (MHSc) in Clinical Engineering is offered by the Institute of Biomedical Engineering (IBME). It is a two-year, full-time program consisting of academic courses, internships, and a research thesis. Through a balanced combination of instruction, interdisciplinary research, and practical hands-on training, the program prepares talented engineers to innovate new solutions to clinical challenges, enhance patient safety, and optimize the delivery, integration, and management of contemporary technology-mediated health care.Established in 1984, the MHSc program in Clinical Engineering at the University of Toronto was the first of its kind in Canada and continues to be the leading program in the country.

Program Description
The MHSc program educates students on how to apply and implement medical technologies to optimize modern health-care delivery. This professional degree program consists of academic courses and a research thesis and provides students with real-world exposure through a practical experience course with a private sector company, a hospital, or a research facility.
institut, innovat, educat, health
SDG3, SDG4, SDG9
X
X
X
Community Health
Public Health Sciences
http://www.dlsph.utoronto.ca/program-type/masters/
https://www.sgs.utoronto.ca/programs/community-health/
https://sgs.calendar.utoronto.ca/degree/Public-Health-Sciences
Public Health
UTSG
Master of Science in Community Health
Program Overview
The Master of Science in Community Health (MScCH) degree is offered by the Graduate Department of Public Health Sciences at the Dalla Lana School of Public Health. This professional master's program is restricted to practising health professionals and/or individuals who can demonstrate significant experience in the health care field. Five fields are offered:Addictions and Mental HealthFamily and Community MedicineHealth Practitioner Teacher EducationOccupational Health CareWound Prevention and CareStudents in the MScCH program have the option of completing an emphasis in Global Public Health.

Program Description
The MScCH is an innovative program designed to meet the needs of experienced health professionals who wish to enhance their knowledge and skills in public health. It is intended for practising health professionals and/or individuals who can demonstrate significant experience in the health-care field. Five fields are offered: Addictions and Mental Health Family and Community Medicine Health Practitioner Teacher Education Occupational Health Care Wound Prevention and Care The program may be taken on a full-time or part-time basis.
innovat, educat, health
SDG3, SDG4, SDG9
X
X
Comparative, International and Development Education
***Collaborative Specialization***
http://www.oise.utoronto.ca/cidec
https://sgs.calendar.utoronto.ca/collaborative/Comparative,-International-and-Development-Education
Ontario Institute for Studies in Education (OISE)
Tricampus
Master's, Doctoral
Comparative, International and Development Education (CIDE) is one of the world's largest, most diverse and dynamic graduate specializations in the field of comparative education. Research interests span an exciting range of theoretical and practical issues, from the study of ethnicity and identity to the issues of globalization and global governance, from non-formal learning and citizenship education to concrete problems of educational reform, social equality, language education, conflict resolution, and community development. These issues are approached from a range of theoretical and disciplinary frames including: economic, political, sociological, historical, and philosophical approaches taught alongside vibrant interpretations of feminist, critical, post-structuralist, and cultural theories. The broad and diverse scope of the CIDE graduate specialization will appeal to both Canadian and international students interested in applying a comparative and international lens in their professional and scholarly work at home or abroad. CIDE students can take courses in multiple fields within education, political science, feminist studies, sociology, and geography. The CIDE collaborative specialization is linked with events and programming at the Munk School of Global Affairs and Public Policy at the University of Toronto.
governance, equality, educat
SDG4, SDG5, SDG16
X
X
X
Contemporary East and Southeast Asian Studies
***Collaborative Specialization***
https://munkschool.utoronto.ca/ai-maps/
https://sgs.calendar.utoronto.ca/collaborative/Contemporary-East-and-Southeast-Asian-Studies
Arts and Science
Tricampus
Master's
The Collaborative Master's Specialization in Contemporary East and Southeast Asian Studies (CESEAS) is designed to provide graduates with advanced training in a particular discipline and in the historical and social science studies of modern East and Southeast Asia. The major topics of emphasis are political economy, modern and contemporary social history, international relations, gender, political and social change, economic development, and cultural studies. The collaborative specialization contributes to the development of an integrated and interdisciplinary research community in Contemporary East and Southeast Asian Studies at the University.
gender
SDG5
X
Counselling and Clinical Psychology – Field in Clinical and Counselling Psychology (OISE)
Applied Psychology and Human Development
https://www.oise.utoronto.ca/aphd/Home/Current_Students/About_CCP/index.html
https://www.sgs.utoronto.ca/programs/counselling-and-clinical-psychology-oise-field-clinical-and-counselling-psychology/
https://sgs.calendar.utoronto.ca/degree/Applied-Psychology-and-Human-Development
Ontario Institute for Studies in Education (OISE)
UTSG
Master of Arts, Doctor of Philosophy, PhD Program, PhD Program (Flexible-Time)
Program Overview
Clinical and Counselling Psychology is one of two fields offered in the Counselling and Clinical Psychology program, leading to the Master of Arts and Doctor of Philosophy degrees. This program is intended for students seeking to pursue careers in research, teaching, and clinical practice. At the time of application, prospective students will be required to identify a preference for this field and a potential supervisor with whom they would work if admitted to the program.The Clinical and Counselling Psychology field is offered primarily by the Department of Applied Psychology and Human Development (of the Ontario Institute for Studies in Education [OISE] at the downtown St. George campus). The other field, Clinical Psychology, is offered primarily by the Department of Psychological Clinical Science at the University of Toronto Scarborough (UTSC) campus.

Program Description
The Counselling and Clinical Psychology program offers studies leading to the MA and PhD degrees. It is offered by the graduate Department of Applied Psychology and Human Development at the Ontario Institute for Studies in Education (OISE), St. George campus, and the graduate Department of Psychological Clinical Science at the University of Toronto Scarborough (UTSC).This graduate program is intended for students seeking to pursue careers in research, teaching, and clinical practice. At the time of application, students will be required to identify a preference for a specific field as well as for a potential supervisor with whom they would work if admitted to the program.The program has two fields: Clinical and Counselling Psychology, offered primarily by OISE; Clinical Psychology, offered primarily by UTSC. The field in Clinical and Counselling Psychology is offered primarily by the OISE Department of Applied Psychology and Human Development. This field is based on a bio-psycho-social model with an emphasis on diversity. It shares an emphasis with the Clinical Psychology field on assessment and the treatment of psychopathology in adults.This MA program is designed for applicants interested in working as researchers or practitioners in a variety of psychological and educational settings. This program enables students to apply for registration with the College of Psychologists of Ontario (CPO) as a Psychological Associate. It also fulfils the requirements of students who plan to apply to the PhD program, Clinical and Counselling Psychology field.The MA is taken on a full-time or part-time basis. However, students in the part-time option will be required to complete one year of full-time study to fulfil their degree requirements.For 2021-22 and further extension to the 2022-23 academic year, admissions to the part-time option have been administratively suspended.

Program Description
The Counselling and Clinical Psychology program offers studies leading to the MA and PhD degrees. It is offered by the graduate Department of Applied Psychology and Human Development at the Ontario Institute for Studies in Education (OISE), St. George campus, and the graduate Department of Psychological Clinical Science at the University of Toronto Scarborough (UTSC).This graduate program is intended for students seeking to pursue careers in research, teaching, and clinical practice. At the time of application, students will be required to identify a preference for a specific field as well as for a potential supervisor with whom they would work if admitted to the program.The program has two fields: Clinical and Counselling Psychology, offered primarily by OISE; Clinical Psychology, offered primarily by UTSC. The field in Clinical and Counselling Psychology is offered primarily by the OISE Department of Applied Psychology and Human Development. This field is based on a bio-psycho-social model with an emphasis on diversity. It shares an emphasis with the Clinical Psychology field on assessment and the treatment of psychopathology in adults.The principal aim of this PhD program is the development of research and theoretical knowledge in counselling and clinical psychology, assessment skills, and knowledge and training in professional issues. Students are expected to conduct advanced research and to develop professional knowledge and skills. Graduates will be prepared to assume a variety of positions in psychological teaching, research, and practice in universities, community settings and agencies offering psychological services, and in university or college counselling centres.The Counselling and Clinical Psychology program offers both a full-time and flexible-time PhD, and progress in the program will be reviewed annually. The program in Clinical and Counselling Psychology at OISE was accredited by the Canadian Psychological Association (CPA) in 2015-2016 for a six-year term.For 2021-22 and further extension to the 2022-23 academic year, admissions to the flexible-time PhD option have been administratively suspended.
institut, educat
SDG4
X
Counselling and Clinical Psychology – Field in Clinical Psychology (UTSC)
Psychological Clinical Science
https://www.utsc.utoronto.ca/psych/clinical-psychology
https://www.sgs.utoronto.ca/programs/counselling-and-clinical-psychology-utsc-field-clinical-psychology/
https://sgs.calendar.utoronto.ca/degree/Psychological-Clinical-Science
University of Toronto Scarborough (UTSC)
UTSC
Master of Arts, Doctor of Philosophy
Program Overview
Clinical Psychology is one of two fields offered in the Counselling and Clinical Psychology program, leading to the Master of Arts and Doctor of Philosophy degrees. This program is intended for students seeking to pursue careers in research, teaching, and clinical practice. At the time of application, prospective students will be required to identify a preference for this field and a potential supervisor with whom they would work if admitted to the program.The Clinical Psychology field is offered primarily by the Department of Psychological Clinical Science at the University of Toronto Scarborough (UTSC) campus.The other field, Clinical & Counselling Psychology, is offered primarily by the Department of Applied Psychology and Human Development (of the Ontario Institute for Studies in Education [OISE] at the downtown St. George campus). Please note: the Department of Psychological Clinical Science will now consider international applicants during the 2021-22 application cycle for admission in September 2022.

Program Description
The field in Clinical Psychology is offered primarily by the Department of Psychological Clinical Science at UTSC. Clinical Psychology at UTSC adheres to a Clinical Science model of training and is accredited by the Canadian Psychological Association (CPA). The primary and overriding objective of graduate training in Clinical Psychology at UTSC is to foster exceptional clinical scientists according to the highest standards of research and professional practice.Graduate training in Clinical Psychology at UTSC has primary research strengths in the areas of: clinical and cognitive neuroscience, psychological assessment and clinical neuropsychology, psychopathology, personality, and mindfulness- and acceptance-based psychotherapies.The field in Clinical Psychology adheres to a generalist model of training, with a primary focus on adults. A unifying theme of faculty research in Clinical Psychology at UTSC is to advance knowledge of the etiology and assessment and treatment of mental disorders. Instruction is provided in psychopathology, assessment, and intervention, and students are trained to practise with a variety of adult populations. The field also boasts strength in neuropsychology.The full-time, two-year MA program is designed for applicants interested in working as researchers or practitioners in a variety of psychological and academic settings. This program enables students to apply for registration with the College of Psychologists of Ontario (CPO) as a Psychological Associate. It also meets the needs of students who plan to apply to the PhD program in Counselling and Clinical Psychology.

Program Description
The field in Clinical Psychology is offered primarily by the Graduate Department of Psychological Clinical Science at UTSC. Clinical Psychology adheres to a Clinical Science model of training and is accredited by the Canadian Psychological Association (CPA). The primary and overriding objective of graduate training is to foster exceptional clinical scientists according to the highest standards of research and professional practice. Graduate training in Clinical Psychology at UTSC has primary research strengths in the areas of: clinical and cognitive neuroscience, psychological assessment and clinical neuropsychology, psychopathology, personality, and mindfulness- and acceptance-based psychotherapies.The field in Clinical Psychology adheres to a generalist model of training, with a primary focus on adults. A unifying theme of faculty research in Clinical Psychology at UTSC is to advance knowledge of the etiology and assessment and treatment of mental disorders. Instruction is provided in psychopathology, assessment, and intervention, and students are trained to practise with a variety of adult populations. The field also boasts strength in neuropsychology.The PhD program is designed for applicants interested in a career as a clinical psychologist based on a Clinical Science model of training. Graduate training in Clinical Psychology at UTSC prepares graduates primarily for research and clinical careers as clinical scientists in university and medical and psychological settings.The field is distinguished by its innovative cross-disciplinary approach that emphasizes scientific innovation through novel research collaborations that push traditional boundaries in clinical psychology. Importantly, the program meets the needs of students who plan to engage in research, teaching, and/or evidence-based clinical practice. This program is intended to meet the registration requirements of the College of Psychologists of Ontario (CPO) at the doctoral level.The Counselling and Clinical Psychology program (Clinical Psychology field) is offered on a full-time basis, and progress in the program will be reviewed annually.
institut, innovat, labor, educat
SDG4
X
Counselling Psychology
Applied Psychology and Human Development
http://www.oise.utoronto.ca/aphd/Prospective_Students/Programs/Counselling_Psychology/
https://www.sgs.utoronto.ca/programs/counselling-psychology/
https://sgs.calendar.utoronto.ca/degree/Applied-Psychology-and-Human-Development
Ontario Institute for Studies in Education (OISE)
UTSG
Master of Education, Master of Education, Dual Degree Program: Master of Education (University of Toronto) / Master of Medicine (China Medical University), Master of Education, Doctor of Education, Doctor of Education
Program Overview
The Counselling Psychology program is offered by the Department of Applied Psychology and Human Development at the Ontario Institute for Studies in Education (OISE), leading to the Master of Education (MEd) and Doctor of Education (EdD) degrees.There are three fields:Counselling and Psychotherapy (MEd, EdD)Global Mental Health and Counselling Psychology (MEd)Guidance and Counselling (MEd)In the field of Counselling and Psychotherapy, the MEd program provides individuals with the opportunity to learn and develop counselling skills appropriate for a variety of work settings. Students are encouraged to develop their courses and practicum learning experiences to suit their own goals. Examples of the types of goals for which suitable programs of study could be developed are adult counselling and psychotherapy, college and university counselling centres, career counselling, geriatrics counselling, multicultural counselling, and community mental health and family life centres. The program of study provides students with the basic preparation for certification as a Certified Canadian Counsellor (CCC) with the Canadian Counselling Association (CCA).Counsellor training in the EdD program emphasizes the role of the counsellor in the educational system, the acquisition of effective supervisory and consultative skills, and the development and assessment of student counselling services in addition to the advanced study of counselling theory and practice. Graduates will be prepared to take leadership positions in the field of educational counselling; as educators in colleges and institutes of education; as directors and coordinators of school guidance programs; as specialists in the provision of counselling-related, in-service training for school personnel; and as providers of advanced levels of personal counselling to school, college, and related populations. This option will be especially attractive to individuals who have demonstrated a career commitment to the provision of counselling services in an educational and community setting.In the field of Guidance and Counselling, the MEd program helps meet the need for well-prepared practitioners in the field of guidance and counselling in the schools. Therefore, strong preference for admission to this degree program is given to experienced teachers who are interested in specializing in guidance and counselling in the schools. The program of study provides students with the basic preparation for certification as a Certified Canadian Counsellor (CCC) with the Canadian Counselling Association (CCA). Students completing this MEd program may have their degree credited toward Parts I and II of the Ontario College of Teachers (OCT) Specialist Certificate in Guidance. Students may pursue the MEd degree on a full-time or part-time basis.

Program Description
The field in Counselling and Psychotherapy, within the Counselling Psychology MEd degree program, provides individuals with the opportunity to learn and develop counselling skills appropriate for counselling individuals across a variety of work settings. Students are encouraged to tailor their courses and practicum learning experiences to meet their particular learning goals. Examples of the types of goals for which suitable programs of study could be developed include counselling and psychotherapy with adults, college and university students, or older adults: career counselling; counselling with diverse clients; and counselling and psychotherapy in community mental health and family service settings. The program of study provides students with the basic preparation for certification as a Certified Canadian Counsellor (CCC) with the Canadian Counselling and Psychotherapy Association (CCPA) and as a Registered Psychotherapist with the College of Registered Psychotherapists of Ontario (CRPO).The MEd program is typically offered on a full-time basis with a limited number of part-time spots available.

Program Description
This dual degree program creates a pathway between U of T 's Master of Education (MEd) in Counselling Psychology, Global Mental Health and Counselling Psychology (GMHCP) field and China Medical University (CMU) 's Master of Medicine (MMed) in Psychiatry and Mental Health programs.In Year 1, students complete MMed coursework at CMU, Liaoning Province, China. In Year 2, students complete MEd coursework at U of T in Toronto, Canada. In the Fall session of Year 3, students complete the last course of the MEd requirement, a practicum, in China along with the Year 3 MMed coursework. In Year 3, students will also complete a master 's thesis at CMU as part of the dual degree requirements.Students will gain both degrees in three years rather than the four years it would take to acquire the degrees independently.ContactMaster of Education / Master of Medicine ProgramWeb: www.oise.utoronto.ca/aphd/Home/Future_Students/Master_s_Degrees/MEd_Global_Mental_Health_Dual_Degree_Program/Master of Education ProgramDepartment of Applied Psychology and Human Development, University of TorontoEmail: admissions.oise@utoronto.caMaster of Medicine ProgramDepartment of Medical Psychology and Mental Health, China Medical UniversityEmail: mqu@cmu.edu.cnApplication Process Applicants must apply directly to both the Department of Applied Psychology and Human Development at U of T and the Department of Medical Psychology and Mental Health at CMU. Applicants must apply through U of T's School of Graduate Studies online admissions application system.

Program Description
The field in Guidance and Counselling, within the Counselling Psychology MEd degree program, provides individuals with the opportunity to learn and develop skills appropriate for the field of guidance and counselling in the schools. Strong preference for admission to this field is given to experienced teachers who are interested in specializing in guidance and counselling in the schools. The program of study provides students with the basic preparation for certification as a Certified Canadian Counsellor (CCC) with the Canadian Counselling and Psychotherapy Association (CCPA).The MEd program is typically offered on a full-time basis with a limited number of part-time spots available.

Program Description
Counsellor training in this degree program emphasizes the role of the counsellor in educational and community settings with expertise in supervisory and consultative skills and advanced counselling theory and practice. Graduates will be prepared to take leadership positions in the field of counselling and psychotherapy as educators in colleges and institutes of education; as directors and coordinators of school guidance programs; as specialists in the provision of counselling-related, in-service training for school and college personnel; and as providers of advanced levels of personal counselling in community and educational settings.The field in Counselling and Psychotherapy will be especially attractive to individuals who have demonstrated a career commitment to the provision of counselling-related services in an educational and community setting. This professional doctorate is designed to prepare students to refine and build on professional knowledge and practice to support the development of scholar-practitioners to be leaders in their fields of professional practice.The Doctor of Education (EdD) program is only available on a full-time basis.
institut, educat, health
SDG3, SDG4
X
X
Criminology and Sociolegal Studies
Criminology and Sociolegal Studies
https://www.crimsl.utoronto.ca/
https://www.sgs.utoronto.ca/programs/criminology-and-sociolegal-studies/
https://sgs.calendar.utoronto.ca/degree/Criminology-and-Sociolegal-Studies
Arts and Science
UTSG
Master of Arts, Doctor of Philosophy
Program Overview
The primary aim of the graduate program at the Centre for Criminology and Sociolegal Studies is to provide students with opportunities for advanced multi-disciplinary study and supervised research experience in the areas of crime, the administration of criminal justice, and social studies of law and regulation.The program familiarizes students with existing bodies of criminological and sociolegal research, and develops critical, analytical and methodological skills. It is not a training program in forensic science, nor in professional legal studies. Rather, it is designed to educate students for careers in teaching or research, as well as jobs in which the ability to evaluate criminological or sociolegal research critically is necessary or desirable.The graduate program is identified with two fields: criminology and sociolegal studies.The criminology field includes the study of patterns in crime, criminal behaviour, and the administration of criminal justice. Subject areas include, for example, theories of crime and order, politics and crime, the psychology of criminal behaviour, policing, the criminal process, sentencing, penology, youth crime and justice, and criminal justice history.The sociolegal studies field includes the study of how various types of law (e.g., criminal, civil, administrative, regulatory), as well as different mechanisms of social regulation, are used to prevent manage and sanction harmful conduct and effect security. Subject areas include, for example, theoretical perspectives on law and society; regulation, law, crime, and the economy; and, risk, regulation, and security.Students may also be interested in the combined degree program in Law, Juris Doctor / Criminology, Master of Arts (JD/MA).

Program Description
The MA program encompasses two related disciplinary and interdisciplinary fields.The first is criminology, which can be briefly defined as the study of all aspects of crime, including its definitions, causes, and intellectual genealogy, as well as the policy and institutional responses to it. Although criminology features some aspects of a separate discipline, including its own theoretical schools, journals, and university departments, it also draws heavily on related social science disciplines.The field of sociolegal studies, also known as the law and society movement, is a related interdisciplinary research tradition that investigates a broad range of legal phenomena using the techniques and approaches of social science. Examples of such phenomena that the faculty have studied include citizenship and immigration policy, urban planning, and the regulation of alcohol and sex work.The program is distinctive in that these bodies of knowledge are treated as closely related, and both of them are incorporated into the program of study. Broad intellectual exploration of these fields is incorporated by limiting the number of required courses and encouraging students to select courses (both in this and other graduate programs) that reflect their own intellectual and professional priorities. Likewise, students are given the option of meeting their degree requirements by completing eight taught half-courses or by completing six taught half-courses and writing a "master's research paper" that allows them to develop an independent research project under the supervision of a faculty member. While specialized professional or technical training meant to be directly transferable into criminal justice occupations is not provided, we welcome applications by criminal justice professionals who wish to pursue part-time studies.The MA program enjoys an excellent national and international reputation, and graduates are sought by employers in both the public and private sectors who appreciate the theoretically and academically rigorous interdisciplinary social science training that is provided.

Program Description
Similar to the MA program, the PhD program reflects the same emphasis on interdisciplinarity and flexibility, as well as an integrated, inclusive approach to criminology and sociolegal studies.The primary mission of the doctoral program is to prepare future professional academics for a career in teaching and research; graduates hold faculty positions throughout Canada, in the United States, and around the world.Over the years, PhD students have pursued dissertation projects on extremely varied research questions involving aspects of crime, criminal justice institutions, and a range of sociolegal topics. Regardless of their specific focus, they have found the Centre a supportive and interactive environment. The Centre promotes such collegiality by offering students shared office space in the Centre and encouraging them to work on site and participate in the lively intellectual life and shared scholarly activities. Likewise, although PhD students work closely with a primary supervisor, they also benefit from opportunities to learn from other core and cross-appointed faculty members. In short, the goal is to train broadly educated, thoughtful scholars with a research agenda in criminology or sociolegal studies.Students are normally paired with a prospective supervisor at the time of admission. Therefore, applicants are encouraged to identify one or more possible supervisors, as well as possible dissertation committee members, and should indicate on their application whether they have made contact with particular core or cross-appointed members of the graduate faculty for these purposes.
justice, institut, environment, urban, inclusiv, educat
SDG4, SDG11
X
X
Curriculum and Pedagogy
Curriculum, Teaching and Learning
https://www.oise.utoronto.ca/ctl/
https://www.sgs.utoronto.ca/programs/curriculum-and-pedagogy/
https://sgs.calendar.utoronto.ca/degree/Curriculum,-Teaching-and-Learning
Ontario Institute for Studies in Education (OISE)
UTSG
Master of Arts, Master of Education, MEd General Program (No Field), Master of Education, Field: Online Teaching and Learning, Doctor of Philosophy, PhD Program, PhD Program (Flexible-Time), Emphasis: Arts in Education, Emphasis: Critical Studies in Curriculum and Pedagogy, Emphasis: Digital Technologies in Education, Emphasis: Indigenous Education and Decolonization, Emphasis: Qualitative Methodologies, Emphasis: Science, Mathematics and Technology (SMT), Emphasis: Wellbeing
Program Overview
The Curriculum and Pedagogy (C&P) program is a forum for systematic reflection on curriculum and pedagogy, viewed in the broadest sense as educational experiences and the learning and teaching experiences that occur in both formal and informal settings. This includes a critical examination of the substance (subject matter, courses, programs of study), purposes, and the practices and relationships through which teaching and learning happen in educational settings. Given the diverse academic and research interests of faculty members, the program is organized into seven constituent but optional program emphases.The C&P program offers the following seven program emphases:Arts in EducationCritical Studies in Curriculum and PedagogyDigital Technologies in EducationIndigenous Education and DecolonizationQualitative MethodologiesScience, Mathematics and Technology (SMT)WellbeingPhD, MA, and MEd students enrolled in C&P emphases are required to take three courses from a list of courses affiliated with the emphasis. Students who successfully complete emphasis coursework as part of their C&P degree requirements may request a letter of completion in the emphasis.
educat, wellbeing
SDG3, SDG4, SDG5, SDG10, SDG16
X
X
X
X
X
Dentistry (Research)
Dentistry
http://www.dentistry.utoronto.ca/
https://www.sgs.utoronto.ca/programs/dentistry-research/
https://sgs.calendar.utoronto.ca/degree/Dentistry
Dentistry
UTSG
MSc Program (Dental Biomedical Sciences): Thesis-Only Option, PhD Program (Dental Biomedical Sciences), PhD Program (Dental Biomedical Sciences): Transfer
Our researchers cover a large range of basic, translational, and clinical research, and have a deep-rooted belief in the importance and value of basic research for patient outcomes, dental education and advancing the profession. From stronger, 'smarter' fillings to advances in nanotechnology and wound healing, and from cardiovascular testing to advances in dental implants and stem cell therapies, our researchers cross boundaries between oral and overall health, forging innovations in biomedical, cancer, and pain management research.
innovat, health
SDG3, SDG9
X
X
Dentistry (with Specialty Training)
Dentistry
http://www.dentistry.utoronto.ca/
https://www.sgs.utoronto.ca/programs/dentistry-with-specialty-training/
https://sgs.calendar.utoronto.ca/degree/Dentistry
Dentistry
UTSG
MSc Program (Dental Biomedical Sciences): Thesis-Only Option, MSc Program (Dental Anaesthesia Specialty), MSc Program (Dental Anaesthesia Specialty): Thesis-Only Option, MSc Program (Dental Anaesthesia Specialty): Coursework-Only Option, MSc Program (Dental Public Health Specialty), MSc Program (Dental Public Health Specialty): Thesis-Only Option, MSc Program (Dental Public Health Specialty): Coursework-Only Option, MSc Program (Endodontics Specialty), MSc Program (Endodontics Specialty): Thesis-Only Option, MSc Program (Endodontics Specialty): Coursework-Only Option, MSc Program (Oral and Maxillofacial Pathology Specialty), MSc Program (Oral and Maxillofacial Pathology Specialty): Thesis-Only Option, MSc Program (Oral and Maxillofacial Pathology Specialty): Coursework-Only Option, MSc Program (Oral and Maxillofacial Pathology and Oral Medicine Specialty), MSc Program (Oral and Maxillofacial Pathology and Oral Medicine Specialty): Thesis-Only Option, MSc Program (Oral and Maxillofacial Pathology and Oral Medicine Specialty): Coursework-Only Option, MSc Program (Oral and Maxillofacial Radiology Specialty), MSc Program (Oral and Maxillofacial Radiology Specialty): Thesis-Only Option, MSc Program (Oral and Maxillofacial Radiology Specialty): Coursework-Only Option, MSc Program (Oral and Maxillofacial Surgery Specialty): Thesis-Only Option, MSc Program (Oral and Maxillofacial Surgery Specialty): Coursework-Only Option, MSc Program (Oral Medicine Specialty), MSc Program (Oral Medicine Specialty): Thesis-Only Option, MSc Program (Oral Medicine Specialty): Coursework-Only Option, MSc Program (Orthodontics and Dentofacial Orthopedics Specialty), MSc Program (Orthodontics and Dentofacial Orthopedics Specialty): Thesis-Only Option, MSc Program (Orthodontics and Dentofacial Orthopedics): Coursework-Only Option, MSc Program (Pediatric Dentistry Specialty), MSc Program (Pediatric Dentistry Specialty): Thesis-Only Option, MSc Program (Pediatric Dentistry Specialty): Coursework-Only Option, MSc Program (Periodontics Specialty), MSc Program (Periodontics Specialty): Thesis-Only Option, MSc Program (Periodontics Specialty): Coursework-Only Option, MSc Program (Prosthodontics Specialty), MSc Program (Prosthodontics Specialty): Thesis-Only Option, MSc Program (Prosthodontics Specialty): Coursework-Only Option, PhD Program (Dental Biomedical Sciences), PhD Program (Dental Biomedical Sciences): Transfer, PhD Program (Dental Anaesthesia Specialty), PhD Program (Dental Anaesthesia Specialty): Transfer, PhD Program (Dental Public Health Specialty), PhD Program (Dental Public Health Specialty): Transfer, PhD Program (Endodontics Specialty), PhD Program (Endodontics Specialty): Transfer, Program Description , PhD Program (Oral and Maxillofacial Pathology Specialty), PhD Program (Oral and Maxillofacial Pathology Specialty): Transfer, Program Description , PhD Program (Oral and Maxillofacial Pathology and Oral Medicine Specialty), PhD Program (Oral and Maxillofacial Pathology and Oral Medicine Specialty), Program Description , PhD Program (Oral and Maxillofacial Radiology Specialty), PhD Program (Oral and Maxillofacial Radiology Specialty): Transfer, Program Description , PhD Program (Oral and Maxillofacial Surgery Specialty), PhD Program (Oral and Maxillofacial Surgery Specialty): Transfer, Program Length, Program Description , PhD Program (Oral Medicine Specialty): Transfer, Program Description , PhD Program (Orthodontics and Dentofacial Orthopedics Specialty), PhD Program (Orthodontics and Dentofacial Orthopedics Specialty): Transfer, Doctor of Philosophy, PhD Program (Pediatric Dentistry Specialty), PhD Program (Pediatric Dentistry Specialty): Transfer Option, Program Description , PhD Program (Periodontics Specialty), PhD Program (Periodontics Specialty): Transfer, Program Description , PhD Program (Prosthodontics Specialty): Transfer
Program Overview
The Faculty of Dentistry offers graduate programs leading to either a Master of Science or Doctor of Philosophy degree combined with one of the 10 nationally recognized dental specialties (Dental Public Health, Endodontics, Oral and Maxillofacial Radiology, Oral and Maxillofacial Surgery, Oral Pathology and Oral Medicine, Orthodontics, Paediatric Dentistry, Periodontics, Prosthodontics) and Dental Anaesthesia, which is recognized in the province of Ontario.These graduate programs appeal to applicants who have a degree in dentistry and who are pursuing research training and advanced clinical education leading to qualification in one of 10 dental specialty disciplines.Consequently, both the MSc and the PhD degrees have a common core of coursework, with each having varying additional research and training requirements.See the Master of Science sections below:2. Specialist Dental Training: Thesis Option and3. Specialist Dental Training: Coursework-Only.See the Doctor of Philosophy sections below:2. Full-Time Program Combined with Dental Specialty Training Option and3. Flexible-Time Option.For students interested in the MSc and PhD research programs: please see the Quick Facts page for those programs.

Program Description
The Dentistry MSc, Dental Anaesthesia specialty is a three-year full-time program. The specialty in Dental Anaesthesia is designed to prepare dentists with a full range of sedation and anaesthetic techniques for dental patients with the focus on deep sedation and general anaesthesia. The teaching facilities for this program are provided by the combined resources of Dental Anaesthesia in the Faculty of Dentistry and the Department of Anaesthesia in the Temerty Faculty of Medicine. Training is given both at the Faculty of Dentistry and at teaching hospitals associated with the University.Upon completion of all program requirements, students are eligible for the MSc degree and certification in the chosen dental specialty. Note: coursework-only students are ineligible to enrol in the PhD in Dentistry program at a later date.

Program Description
The Dentistry MSc, Dental Public Health specialty is a two-year program. The specialty in Dental Public Health consists of core subjects, with optional subjects chosen by students in consultation with the program director. Courses are given by the Faculty of Dentistry as well as other units, such as the Dalla Lana School of Public Health and the Institute of Health Policy, Management and Evaluation.This program is offered both full-time and part-time. Part-time students have up to five years to complete all requirements. Note: part-time students are ineligible to transfer to the PhD in Dentistry program.The coursework-only option of this specialty is also available to dental hygienists. Students in the coursework-only option are ineligible to transfer to the PhD in Dentistry program.Upon completion of all program requirements, students are eligible for the MSc degree and certification in the chosen dental specialty.

Program Description
The Dentistry MSc, Endodontics specialty is a three-year full-time program. The specialty in Endodontics is designed to provide students with opportunities to acquire excellent clinical skills and comprehension of the underlying biology. Its components include patient care, providing all aspects of endodontic treatment; topic-specific and current literature seminars; clinical conferences; core curriculum courses; rotation programs; research at the MSc level, including application for funding, preparation of manuscripts for publication, presentation at national and international research forums; and guest lectures.Students must complete a dental clinic rotation as part of the Endodontics specialty requirements.Students start the program in the Summer session. Upon completion of all program requirements, students are eligible for the MSc degree and certification in the chosen dental specialty.Note: coursework-only students are ineligible to enrol in the PhD in Dentistry program at a later date.

Program Description
The Dentistry MSc, Oral and Maxillofacial Pathology specialty is a three-year full-time program. The specialty in Oral and Maxillofacial Pathology focuses on the identification and management of diseases of the oral and maxillofacial regions through microscopic, clinical, biochemical, or other forms of examination. Oral and Maxillofacial Pathology includes histopathologic analysis of tissue samples, the investigation of, causes, and effects of diseases.Students start the program in the Summer session. Upon completion of all program requirements, students are eligible for the MSc degree and certification in the chosen dental specialty.Note: coursework-only students are ineligible to enrol in the PhD in Dentistry program at a later date.

Program Description
The Dentistry MSc, Oral and Maxillofacial Pathology and Oral Medicine specialty is a four-year full-time program. The specialty in Oral and Maxillofacial Pathology and Oral Medicine is concerned with the diagnosis, nature, and primarily non-surgical management of oral, maxillofacial, and temporomandibular diseases and disorders, including dental management of patients with medical complications.Students start the program in the Summer session. Upon completion of all program requirements, students are eligible for the MSc degree and certification in the chosen dental specialty.Note: coursework-only students are ineligible to enrol in the PhD in Dentistry program at a later date.

Program Description
The Dentistry MSc, Oral and Maxillofacial Radiology specialty is a three-year full-time program. The specialty in Oral and Maxillofacial Radiology is concerned with the prescription, production, and interpretation of diagnostic images of diseases and disorders of the craniofacial complex.Upon completion of all program requirements, students are eligible for the MSc degree and certification in the chosen dental specialty. Note: coursework-only students are ineligible to enrol in the PhD in Dentistry program at a later date.

Program Description
The Dentistry MSc, Oral Medicine specialty is a three-year full-time program. The specialty in Oral Medicine focuses on nonsurgical management of oral diseases including the management of oral mucosal and salivary gland diseases, temporomandibular disorders, and orofacial pain, the oral complications of systemic disease, and dental management of medically complex patients.Students start the program in the Summer session. Upon completion of all program requirements, students are eligible for the MSc degree and certification in the chosen dental specialty.Note: coursework-only students are ineligible to enrol in the PhD in Dentistry program at a later date.

Program Description
The Dentistry MSc, Orthodontics and Dentofacial Orthopedics specialty is a three-year full-time program. The specialty in Orthodontics and Dentofacial Orthopedics is concerned with the supervision, guidance, and correction of the growing or mature dentofacial structures and the diagnosis, prevention, and treatment of any abnormalities associated with these structures.Students start the program in the Summer session. Upon completion of all program requirements, students are eligible for the MSc degree and certification in the chosen dental specialty.Note: coursework-only students are ineligible to enrol in the PhD in Dentistry program at a later date.

Program Description
The Dentistry MSc, Pediatric Dentistry specialty is a three-year full-time program. Pediatric dentists provide primary and comprehensive preventive and therapeutic oral health diagnosis, care, and consultative expertise for infants and children through adolescence, including those of all ages with special care needs. The didactic program is centered at the Faculty of Dentistry, while the clinical program will be divided between the Faculty of Dentistry, the University-affiliated teaching hospitals and community-based Toronto Public Health dental clinic.Students start the program in the Summer session. Upon completion of all program requirements, students are eligible for the MSc degree and certification in the chosen dental specialty.Note: coursework-only students are ineligible to enrol in the PhD in Dentistry program at a later date.

Program Description
The Dentistry MSc, Periodontics specialty is a three-year full-time program. The specialty in Periodontics is concerned with the diagnosis, prevention, and treatment of diseases and conditions of the supporting and surrounding tissues of the teeth or their substitutes and the maintenance of the health, function, and aesthetics of these structures and tissues.Students start the program in the Summer session. Upon completion of all program requirements, students are eligible for the MSc degree and certification in the chosen dental specialty.Note: coursework-only students are ineligible to enrol in the PhD in Dentistry program at a later date.

Program Description
The Dentistry MSc program, Prosthodontics specialty is a three-year full-time program. The specialty in Prosthodontics is concerned with the diagnosis, restoration, and maintenance of oral function, comfort, appearance, and health of the patient by the restoration of the natural teeth and/or the replacement of missing teeth and contiguous oral and maxillofacial tissues with artificial substitutes.Upon completion of all program requirements, students are eligible for the MSc degree and certification in the chosen dental specialty. Note: coursework-only students are ineligible to enrol in the PhD in Dentistry program at a later date.

Program Description
The Dentistry PhD, Pediatric Dentistry specialty is a six-year full-time program. Pediatric dentists provide primary and comprehensive preventive and therapeutic oral health diagnosis, care, and consultative expertise for infants and children through adolescence, including those of all ages with special care needs. The didactic program is centered at the Faculty of Dentistry, while the clinical program will be divided between the Faculty of Dentistry, the University-affiliated teaching hospitals and community-based Toronto Public Health dental clinic.Students start the program in the Summer session. Upon completion of all program requirements, students are eligible for the PhD degree and certification in the chosen field of dental specialty. Program completion will be contingent upon completion of all requirements for the research and specialty training components of the program.
institut, production, educat, health
SDG3, SDG4
X
X
Development Policy and Power
***Collaborative Specialization***
https://ccdscsutoronto.wixsite.com/ccds
https://sgs.calendar.utoronto.ca/collaborative/Development-Policy-and-Power
University of Toronto Scarborough (UTSC)
Tricampus
Master's
The Collaborative Specialization in Development Policy and Power is designed to provide master's students with a critical and historicized understanding of the nature of some of the main policy debates within the field of international development. These include: power dynamics and their shifts over time within particular development policy domains at the global, national, and local levels of analysis; the role of the power struggles around development policy making in the processes of program design and implementation; and the ways in which these power struggles shape the institutionalization of policies that are equitable and social justice oriented. In addition to examining contestations around the development field's major historical and theoretical threads, students will be immersed in thematic discussions around development policy fields such as: trade, financialization, and illicit financial flows; agriculture and land struggles; political ecology and extraactivism; the politics of sustainability and environmental survival; health governance and health inequities; displacement, immigration, and citizenship; foreign aid and South-South cooperation; indigenous, racial justice, and gender equity struggles; political economy of knowledge production; commodity booms, poverty reduction, and the exercise of state power; and neoliberal globalization and corporate power, and associated resistance and popular mobilization, writ large.
governance, justice, institut, ecolog, environment, production, trade, gender, equitable, health, agricultur, poverty
SDG1, SDG2, SDG3, SDG4, SDG5, SDG10, SDG12, SDG13, SDG15, SDG16
X
X
X
X
X
X
X
X
X
X
Developmental Psychology and Education
Applied Psychology and Human Development
https://www.oise.utoronto.ca/aphd/Home/index.html
https://www.sgs.utoronto.ca/programs/developmental-psychology-and-education/
https://sgs.calendar.utoronto.ca/degree/Applied-Psychology-and-Human-Development
Ontario Institute for Studies in Education (OISE)
UTSG
Master of Arts, Master of Education, Emphasis: Program Evaluation, Doctor of Philosophy, PhD Program, PhD Program (Flexible-Time), Emphasis: Early Learning
Program Overview
The Developmental Psychology and Education program is offered by the Department of Applied Psychology and Human Development at the Ontario Institute for Studies in Education (OISE), leading to the Master of Arts (MA), Master of Education (MEd), and Doctor of Philosophy (PhD) degrees. Students have an opportunity to construct an overall perspective on developmental psychology and human development and their implications for practice with children in educational and other applied settings.Students take foundation courses in human development and research methodology. Elective courses cover a range of areas including cognitive, social, and emotional development; cognition and instruction (language, literacy, and mathematics); special education and adaptive instruction; developmental neuroscience; advanced research methodology and evaluation; and early childhood policy and programs, including child care.The MA and PhD programs are designed for students wishing to pursue an academic or research-based career. The MEd program is designed for the reflective teacher or other practitioner in education or related fields.

Program Description
The Developmental Psychology and Education program offers studies leading to the MA, MEd, and PhD degrees. Students have an opportunity to construct an overall perspective on developmental psychology and human development and their implications for practice with children in educational and other applied settings.Students take foundation courses in human development and research methodology in consultation with their advisor. Elective courses cover a range of areas including cognitive, social, and emotional development; cognition and instruction (language, literacy, and mathematics); special education and adaptive instruction; developmental neuroscience; advanced research methodology and evaluation; and early childhood policy and programs, including child care. The MA program is designed for students wishing to pursue an academic or research-based career.

Program Description
The Developmental Psychology and Education program offers studies leading to the MA, MEd, and PhD degrees. Students have an opportunity to construct an overall perspective on developmental psychology and human development and their implications for practice with children in educational and other applied settings. The Master of Education (MEd) program is designed for the reflective teacher or other practitioner in education or related fields. This is a degree primarily designed for those working in applied settings and it does not require a research thesis.Students take foundation courses in human development and research methodology. Elective courses cover a range of areas including cognitive, social, and emotional development; cognition and instruction (language, literacy, and mathematics); special education and adaptive instruction; developmental neuroscience; advanced research methodology and evaluation; and early childhood policy and programs, including child care.The MEd program can be taken on a full-time or part-time basis.

Program Description
Within the MEd program in Developmental Psychology and Education, the emphasis in Program Evaluation is designed to engage students in an exploration of program evaluation used in education, psychology, and social sciences. Program evaluation is a systematic analysis of the process, effectiveness, and outcomes of programs. The primary purpose of program evaluation is to assess what components of a program is working or not and why. Students will learn to understand the concepts and theories needed to be a critical reviewer of evaluation designs and develop core components of program evaluation proposals and reports. As such, students will develop the basic competencies needed for program evaluation, including critically appraising evaluation research; assessing program needs; developing a logic model; evaluating process and outcomes of the program; evaluating efficiency; dealing with ethical issues; warranting evaluation claims; and communicating with stakeholders. Furthermore, students will develop an understanding of how social, cultural, and political factors impact program evaluation.

Program Description
The Developmental Psychology and Education program offers studies leading to the MA, MEd, and PhD degrees. Students have an opportunity to construct an overall perspective on developmental psychology and human development and their implications for practice with children in educational and other applied settings.Students take courses in human development and research methodology. Elective courses, chosen in consultation with their advisor, cover a range of areas including cognitive, social, and emotional development; cognition and instruction (language, literacy, and mathematics); special education and adaptive instruction; developmental neuroscience; advanced research methodology and evaluation; and early childhood policy and programs, including child care. The PhD program is designed for students wishing to pursue an academic or research-based career.The Developmental Psychology and Education program offers both a full-time and a flexible-time PhD program option. Applicants must declare the option for which they are interested in applying. The flexible-time PhD degree program is designed to accommodate demand by practising professionals for a PhD degree that permits continued employment in areas related to their fields of research. Degree requirements for the full-time and flexible-time options are the same.PhD students have the option of completing an emphasis in Early Learning. Please see details below.
institut, employment, educat
SDG4, SDG8
X
X
Diaspora and Transnational Studies
***Collaborative Specialization***
https://cdts.utoronto.ca/
https://sgs.calendar.utoronto.ca/collaborative/Diaspora-and-Transnational-Studies
Arts and Science
Tricampus
Master's, Doctoral
Diaspora in contemporary thought involves the shifting relations between homelands and host nations from the perspective of those who have moved, whether voluntarily or not. Diaspora emphasizes the inescapable lived translocal experiences of many migrant communities that exceed the boundaries of the nation-state. Questions of nostalgia, of the dynamics of co-ethnic identification, of the politics of homeland and host nation, and of the inter-generational shifts in responses to all these are central to studies of diaspora. Transnationalism, on the other hand, focuses on flows and counterflows and the multistriated connections to which they give rise. It encompasses in its ambit not just the movement of people but also concepts of citizenship and multinational governance, the resources of information technology, and the realities of the global marketplace, among others. Taken together, the two concepts of diaspora and transnationalism enable our understanding of the complex realities of vast movements of people, goods, ideas, images, technologies, and finance in the world today. This collaborative specialization is designed to bring together both social science and humanities perspectives to augment our existing tri-campus undergraduate program and to contribute to increased research collaboration between participants in the collaborative specialization.
governance
SDG16
X
Drama, Theatre and Performance Studies
Drama, Theatre and Performance Studies
https://www.cdtps.utoronto.ca/graduate
https://www.sgs.utoronto.ca/programs/drama-theatre-and-performance-studies/
https://sgs.calendar.utoronto.ca/degree/Drama,-Theatre-and-Performance-Studies
Arts and Science
UTSG
Master of Arts, Doctor of Philosophy, PhD Program, PhD Program (Direct-Entry)
Program Overview
The Centre for Drama, Theatre and Performance Studies offers graduate programs leading to the Master of Arts and Doctor of Philosophy degrees. The centre's own core courses focus on the program fields of Dramatic Theory, Dramaturgy, and Theatre History. Within the parameters of these fields, the centre supports research in such areas as performance analysis and reception; Canadian, American, feminist, and post-colonial theatre; Elizabethan and Restoration staging; historiography and performance; acting and modern staging theories and practices; and play development. Through affiliations with other graduate units, students may also take courses in drama and theatre from the other departments, centres, and institutes across the Faculty.Graduate students build on the kind of foundation that would normally be laid in four years of undergraduate study with a concentration in dramatic literature. Theatre is an integral part of graduate work in the centre and it takes place, for the most part, in the context of workshops, student productions, and co-productions at the Robert Gill and Studio Theatres.

Program Description
The graduate program of the Centre for Drama, Theatre and Performance Studies is an interdisciplinary program that intersects research in the fields of drama, theatre and performance studies including research in dramatic literature, cross-cultural theory and histories of theatre and performance, conceptual and applied models of dramaturgy and methodologies of practice-based research. Graduating students will be well equipped to pursue doctoral studies, serve as innovative leaders in cultural institutions and the performing arts, or become creative entrepreneurs.Based on faculty research, we offer support for studies in Canadian theatre; Indigenous and East Asian theatre; dance and physical theatre; popular theatre; cross-cultural communication through performance and media; studies of experimental and avant-garde theatre in North America, Asia, and Europe; early modern theatre and archival studies; queer and feminist performance theory, ethics, and equity in theatre and performance; theatre and globalization; and digital humanities in performance. In addition to courses in the program, students are encouraged to take advantage of cross-listed courses and research opportunities across the humanities, sciences and social sciences. Bi-linguality or multi-linguality is an asset as well as creative artistic experience and a developed level of digital literacy.Students entering the MA program can choose between the coursework-only option and thesis-based option. Applicants interested in the part-time MA option should contact the Associate Director (graduate) to obtain specific information prior to application.

Program Description
The graduate program of the Centre for Drama, Theatre and Performance Studies is an interdisciplinary program that intersects research in the fields of drama, theatre and performance studies including research in dramatic literature, cross-cultural theory and histories of theatre and performance, conceptual and applied models of dramaturgy and methodologies of practice-based research. Graduating students will be well equipped to pursue academic careers, serve as innovative leaders in cultural institutions and the performing arts, or become creative entrepreneurs.Based on faculty research, support is offered for studies in Canadian theatre; Indigenous and East Asian theatre; dance and physical theatre; popular theatre; cross-cultural communication through performance and media; studies of experimental and avant-garde theatre in North America, Asia, and Europe; early modern theatre and archival studies; queer and feminist performance theory, ethics, and equity in theatre and performance; theatre and globalization; and digital humanities in performance. In addition to courses in the program, students are encouraged to take advantage of cross-listed courses and research opportunities across the humanities, sciences, and social sciences. Bilinguality or multi-linguality is an asset as well as creative artistic experience and a developed level of digital literacy.Applicants may be accepted into the PhD program via one of two routes: 1) following completion of an MA degree or 2) direct entry with a BA degree. The doctoral program is not available as a part-time option. The direct-entry option is a rare exception to the rule; interested applicants interested should contact the Associate Director (graduate) to obtain specific information prior to application.
institut, production, innovat, queer
SDG5
X
Earth Sciences
Earth Sciences
https://www.es.utoronto.ca/programs/graduate/
https://www.sgs.utoronto.ca/programs/earth-sciences/
https://sgs.calendar.utoronto.ca/degree/Earth-Sciences
Arts and Science
UTSG
Master of Applied Science, Master of Science, Doctor of Philosophy, PhD Program, PhD Program (Transfer), PhD Program (Direct-Entry)
Program Overview
The Department of Earth Sciences accepts students for advanced degrees-Master of Applied Science (MASc), Master of Science (MSc), and Doctor of Philosophy (PhD)-in a broad range of topics in the Earth Sciences. Students may also undertake studies in interdisciplinary areas by arrangement with other departments such as Civil Engineering, Ecology and Evolutionary Biology, School of the Environment, Physics, Chemistry, and Materials Science and Engineering.In recent years, research by staff and graduate students has been carried out in all parts of North America and other parts of the world, both on land and at sea. In addition to field-based studies, the department has a wide range of modern laboratories; advanced studies are encouraged in a broad spectrum of geological problems. Further details of research emphases, facilities, detailed degree requirements, and graduate courses are available on the departmental website.

Program Description
Students perform a two-year, focused research project in a broad range of topics in the earth sciences. Students may also undertake studies in interdisciplinary areas by arrangement with other departments such as Chemistry, Civil Engineering, Ecology and Evolutionary Biology, Materials Science and Engineering, Physics, and the School of the Environment.

Program Description
Students conduct research in a broad range of topics in the earth sciences. Students may also undertake studies in interdisciplinary areas by arrangement with other departments such as Chemistry, Civil Engineering, Ecology and Evolutionary Biology, Materials Science and Engineering, Physics, and the School of the Environment.There are two streams: a) the Doctoral-Stream (also known as Research-Based) Master's, which involves a one-year research project that culminates in a research report (shorter than a formal thesis) and a presentation; and b) the All-Course Master's Program.The program can be taken on a full-time or part-time basis.

Program Description
PhD students carry out a program of original research and perform a thesis defence. Students may also undertake studies in interdisciplinary areas by arrangement with other departments such as Chemistry, Civil Engineering, Ecology and Evolutionary Biology, Materials Science and Engineering, Physics, and the School of the Environment.Applicants may enter the PhD program via one of three routes: 1) following completion of an MSc degree; 2) transfer from the University of Toronto MSc program; or 3) direct entry following completion of a bachelor's degree.
ecolog, environment, labor
SDG13, SDG15
X
X
Ecology and Evolutionary Biology
Ecology and Evolutionary Biology
https://eeb.utoronto.ca/education/graduate/
https://www.sgs.utoronto.ca/programs/ecology-and-evolutionary-biology/
https://sgs.calendar.utoronto.ca/degree/Ecology-and-Evolutionary-Biology
Arts and Science
UTSG
Master of Science, Doctor of Philosophy, PhD Program, PhD Program (Transfer), PhD Program (Direct-Entry)
Program Overview
The graduate program in Ecology and Evolutionary Biology leads to the Master of Science and Doctor of Philosophy degrees.The disciplines of ecology and evolutionary biology involve complementary perspectives on biological systems. Individual and collaborative research within the department covers the range of both disciplines and often involves study and synthesis across multiple levels of organization. Professors' research interests include anatomy/physiology, behaviour, behaviour genetics, bioinformatics, community/population/ecosystem/landscape/evolutionary ecology, conservation biology, developmental biology, genetics/genomics, microbiology, molecular evolution, plant biology, taxonomy/systematics, and theoretical biology.Professors who supervise graduate students are located on all three campuses of the University (St. George, Mississauga, Scarborough) as well as the Royal Ontario Museum.

Program Description
The main goal of the MSc program is to provide students with the opportunity to design, conduct, and write up a substantial independent research project. Students' projects cover the full range of topics listed in the Overview (above) and may include field work, lab work, bioinformatics, computer simulations, and/or theory. MSc students must demonstrate competence in independent research and will do research with the goal of authoring or co-authoring a scientific publication. Graduates go on to a wide range of careers including jobs in government agencies, teaching, and higher education.

Program Description
The main goal of the PhD program is to provide students with the opportunity to design, conduct, and write about a series of substantial, inter-related, independent research projects. Students' projects cover the full range of topics listed in the Overview (above) and may include field work, lab work, bioinformatics, theory, computer simulations, or some combination of these approaches. PhD students are expected to complete an original independent research program that makes substantial and innovative contributions to their field of research. It is expected that PhD candidates will publish a number of primary scientific papers based on their research. A thesis is completed under the direction of the student 's supervisor(s), assisted by a supervisory (advisory) committee, and defended at an oral examination. he average time to completion is 5.5 years. Applicants may enter the PhD program via one of three routes: 1) following completion of an MSc degree; 2) transfer from the University of Toronto MSc program; or 3) direct entry following completion of a BSc degree.
ecolog, conserv, innovat, labor, educat
SDG9, SDG14, SDG15
X
X
X
Economics
Economics
https://www.economics.utoronto.ca/index.php/index/graduate/home
https://www.sgs.utoronto.ca/programs/economics/
https://sgs.calendar.utoronto.ca/degree/Economics
Arts and Science
UTSG
Master of Arts, Doctor of Philosophy, PhD Program, PhD Program (Direct-Entry)
Program Overview
The Department of Economics offers degree programs leading to the Master of Arts and Doctor of Philosophy. The ultimate goal of the graduate programs in Economics is to further the student's capacity for economic analysis through rigorous instruction in theory, econometrics, and a wide variety of fields. Graduates of the programs have obtained desirable university positions, responsible employment in the public sector, and in private industry. Because of the size and diversity of the department's faculty, students can readily specialize in almost any area of interest in economics.Students may also be interested in a combined degree program:Law, Juris Doctor / Economics, Master of Arts orLaw, Juris Doctor / Economics, Doctor of Philosophy The degree program, Financial Economics (MFE), is jointly offered by the Department of Economics and the Rotman School of Management.

Program Description
The MA is a coursework-only program (i.e., has no thesis requirement) that may be taken on a full-time or part-time basis. It is designed for individuals who wish to work in the public, private, and not-for-profit sectors, and also for students intending to pursue a PhD in economics.

Program Description
The Department of Economics offers two PhD programs: a regular-entry program for students who have completed a master's degree in economics or a closely related field, and a direct-entry program for students with only an undergraduate degree. Both are full-time programs.
industr, employment
SDG8
X
Education, Francophonies and Diversity
***Collaborative Specialization***
http://crefo.oise.utoronto.ca/
https://sgs.calendar.utoronto.ca/collaborative/Education,-Francophonies-and-Diversity
Ontario Institute for Studies in Education (OISE)
Tricampus
Master's, Doctoral
The Collaborative Specialization in Education, Francophonies and Diversity will critically examine educational issues in the context of Francophone linguistic minorities in Ontario, in Canada, and in the world, with the notions of equity, diversity, and minoritization at the core of this critical examination. The emphasis will be on understanding social practices in education, looking specifically at how difference gets constructed, problematized, and transformed.
educat
SDG4
X
Educational Leadership and Policy
Leadership, Higher and Adult Education
https://www.oise.utoronto.ca/lhae/Educational_Leadership_and_Policy/index.html
https://www.sgs.utoronto.ca/programs/educational-leadership-and-policy/
https://sgs.calendar.utoronto.ca/degree/Leadership,-Higher-and-Adult-Education
Ontario Institute for Studies in Education (OISE)
UTSG
Master of Arts, Master of Education, MEd Program (Coursework Only Option [Regular Delivery]), MEd Program (Coursework Only Option [Online/Hybrid Delivery, Part-Time Only]), MEd Program (Coursework Plus Major Research Paper Option), Doctor of Education, EdD Program, Doctor of Education (Field: International Education Leadership and Policy, Doctor of Philosophy, PhD Program, PhD Program (Flexible-Time)
Program Overview
The Department of Leadership, Higher and Adult Education at the Ontario Institute for Studies in Education (OISE) offers the Educational Leadership and Policy graduate program, representing the application of cognate scholarship to domains of practice. This program leads to the Master of Arts (MA), Master of Education (MEd), Doctor of Education (EdD), and Doctor of Philosophy (PhD) degrees.MA program: fosters the study of problems in the administration and leadership of educational programs. It will best serve students who have a commitment to scholarship and research as a means of deepening their understanding of administrative action in schools or in other educational and service institutions. While experience in teaching and administration is not an essential prerequisite for admission, such experience provides a desirable background. The MA is available through both full-time and part-time studies.MEd program: designed primarily for students who are interested in learning the nature and practice of leadership and policy, especially with respect to social diversity and change. The MEd degree may be pursued either full-time or part-time.EdD program: intended to develop highly competent leaders for administrative positions in school systems, colleges, universities, and other educational institutions. The program is specifically designed to help working professional educators develop the intellectual and research skills to refine their practice as leaders in school systems and in higher education.PhD program: fosters the study of problems in the administration and leadership of educational programs. It best serves students who are committed to scholarship and research as a means for deepening their understanding of administrative action in schools or in other educational and service institutions. While experience in teaching and administration is not an essential prerequisite for admission, such experience provides a desirable background. Both full-time and flexible-time PhD options are offered. To be admitted to the flexible-time option, applicants should be active professionals who demonstrate connections between their professional work and their proposed course program, and/or between their professional work and their proposed research.

Program Description
The MA program in Educational Leadership and Policy fosters the study of problems in leadership and policy with respect to educational programs, with an emphasis on elementary and secondary schools. It will best serve students who have a commitment to scholarship and research as a means of deepening their understanding of leadership action in schools or in other educational and service institutions.The MA is available through both full-time and part-time studies. While experience in teaching and administration is not an essential prerequisite for admission, such experience provides a desirable background. The department welcomes applicants with diverse but relevant backgrounds.

Program Description
The MEd program in Educational Leadership and Policy is designed primarily for students who are interested in learning the nature and practice of leadership and policy, especially with respect to social diversity and change in elementary and secondary schools. The MEd degree can be pursued on a part-time or full-time basis. While experience in teaching and administration is not an essential prerequisite for admission, such experience provides a desirable background. The department welcomes applicants with diverse but relevant backgrounds.There are two MEd options available: Coursework Only Option and Coursework Plus Major Research Paper Option. Students initially apply to and register in the Coursework Only Option. For registration in the Coursework Plus Major Research Paper Option, department permission is required.The Coursework Only Option is available in two delivery models: Regular MEd stream: students are accepted every year and can register on a full-time or part-time basis. Online/Hybrid (part-time) Cohort-based stream: available in select years. Students move through the program as a cohort and register part-time. Applicants who are interested in the Online/Hybrid Cohort must specify their interest in this cohort in their Statement of Intent. However, due to limited space, admission to the MEd degree program does not guarantee membership in this cohort.

Program Description
The EdD program in Educational Leadership and Policy is intended to shape highly competent leadership positions in school systems and other educational institutions. The program is specifically designed for working professional educators who want to develop the intellectual and research skills that will help them refine their practice as leaders in educational systems.The EdD program is offered full-time in a cohort format. The department welcomes applicants with diverse but relevant backgrounds. Program Description Within the Educational Leadership and Policy EdD program, the field in International Education Leadership and Policy offers a robust, world-class program of study structured for professionals working within international settings in positions of leadership and policymaking who want to create impact in their field and mobilize new solutions to real-world problems.The EdD program is offered full-time in a cohort format and will be delivered in a hybrid modality with short on-campus Institutes. The majority of courses will be offered online. The department welcomes applicants with diverse but relevant backgrounds.
institut, educat
SDG4, SDG16
X
X
Educational Policy
***Collaborative Specialization***
http://www.oise.utoronto.ca/lhae/Programs/Collaborative_Specializations/Educational_Policy.html
https://sgs.calendar.utoronto.ca/collaborative/Educational-Policy
Ontario Institute for Studies in Education (OISE)
Tricampus
Master's, Doctoral
The Collaborative Specialization in Educational Policy serves students interested in developing an understanding of the factors associated with educational policy development and implementation, with particular emphasis on developing theoretical and practical strategies for improving educational processes. The collaborative specialization's intellectual objectives include providing students with exposure to cross-field and cross-disciplinary approaches to educational problem framing and problem solving in order to broaden the possibilities for innovative and effective policy analysis; helping students understand how to apply theoretical concepts to particular social and educational problems in particular settings; and understanding the broader social, institutional, and policy contexts within which educational policy processes occur. There are two required courses and an annual lecture series.
institut, educat
SDG4, SDG16
X
X
Electrical and Computer Engineering
Electrical and Computer Engineering
https://www.ece.utoronto.ca/graduates/welcome/
https://www.sgs.utoronto.ca/programs/electrical-and-computer-engineering/
https://sgs.calendar.utoronto.ca/degree/Electrical-and-Computer-Engineering
Applied Science and Engineering
UTSG
Master of Applied Science, Master of Engineering, Full-Time Option, Extended Full-Time Option, Part-Time Option, Doctor of Philosophy, PhD Program, PhD Program (Transfer), PhD Program (Direct-Entry), Emphasis: Analytics (MEng only), Emphasis: Biomedical Engineering (MEng only), Emphasis: Communications (MEng only), Emphasis: Computer Engineering (MEng only), Emphasis: Electromagnetics (MEng only), Emphasis: Electronics (MEng only), Emphasis: Energy Systems (MEng only), Emphasis: Engineering and Globalization (MEng only), Emphasis: Entrepreneurship, Leadership, Innovation and Technology in Engineering (ELITE) (MEng only), Emphasis: Identity, Privacy and Security (IPS) (MEng only), Emphasis: Photonics (MEng only), Emphasis: Robotics (MASc, MEng, PhD), Emphasis: Sustainable Energy (MASc, MEng, PhD), Emphasis: Systems Control (MEng only)
Program Overview
The Edward S. Rogers Sr. Department of Electrical and Computer Engineering offers graduate courses and research opportunities in three programs of study. The Master of Applied Science (MASc) and Doctor of Philosophy (PhD) are research-based degree programs and require the completion of a thesis. The Master of Engineering (MEng) is a course-based degree program and may be taken on a full-time or part-time basis.The MASc program provides students with an opportunity to pursue advanced studies in the particular field of major interest and an opportunity to engage in research. The program requires full-time study for a minimum of one year, coursework, and a thesis on a research project. The MEng program is designed to provide professional training beyond the undergraduate level and to accelerate careers with specialized engineering expertise needed in business, government, and industry. The degree requirements, consisting of courses and an optional MEng project, are structured to be completed in one year by a full-time student.The PhD program is designed for those exceptional individuals who intend to pursue a career in fundamental or applied research. The program requires coursework and the successful completion of a research thesis.The department offers research in the following areas:Biomedical EngineeringCommunicationsComputer EngineeringElectromagneticsElectronicsEnergy SystemsPhotonicsSystems Control

Program Description
The MASc provides students with an opportunity to pursue advanced studies in the particular area of interest and an opportunity to engage in research.

Program Description
The MEng program is designed to provide professional training beyond the undergraduate level and to accelerate careers with specialized engineering expertise needed in business, government, and industry.The MEng program can be taken on a full-time, extended full-time, or part-time basis.

Program Description
The PhD program is designed for exceptional individuals who intend to pursue a career in fundamental or applied research.Applicants may enter the PhD program via one of three routes: 1) following completion of the University of Toronto master 's degree in Electrical and Computer Engineering or its equivalent from a recognized university; 2) transfer from the University of Toronto MASc program; or 3) direct entry for exceptionally qualified students with an appropriate bachelor 's degree from a recognized university.
industr, innovat, energy
SDG7, SDG9
X
X
Engineering Education
***Collaborative Specialization***
https://gradstudies.engineering.utoronto.ca/research-degrees/collaborative-program-engineering-education
https://sgs.calendar.utoronto.ca/collaborative/Engineering-Education
Applied Science and Engineering
Tricampus
Master's, Doctoral
The Collaborative Specialization in Engineering Education is an interdisciplinary initiative designed for students within home programs in engineering or education who are interested in pursuing courses and research in engineering education. This collaborative specialization allows students to join a small community of scholars interested in research and learning at the nexus of education and engineering practice. A core course provides students with an introduction to engineering learning, knowledge, assessment, and culture and community, while the theoretical foundations, methods, and topics related to engineering education research are explored in a seminar course. Research is supervised by a graduate faculty member in the student's home graduate unit. Opportunities exist to assess and apply research findings as part of instructional initiatives within the Faculty of Applied Science and Engineering.
educat
SDG4
X
Environment and Health
***Collaborative Specialization***
https://environment.utoronto.ca/graduate/
https://sgs.calendar.utoronto.ca/collaborative/Environment-and-Health
Arts and Science
Tricampus
Master's, Doctoral
The graduate degree programs listed above participate in the Collaborative Specialization in Environment and Health (CSEH), which is offered through the School of the Environment. Graduate students admitted to a participating graduate degree program in a degree-granting unit, also called the home department or home unit, can apply to the CSEH and pursue coursework and research in areas related to environment and health. The School of the Environment currently has graduate students from across the disciplinary spectrum. The study of environment and health recognizes that human health is fundamentally dependent on a healthy environment. With a focus on understanding the human health implications of chemical, biological, and physical hazards in our environment, it encompasses topics such as the health impacts of air and water quality, climate change, contaminated lands and urban design, and the need for interdisciplinary approaches to address them. The CSEH exposes students in the health sciences to broader environmental perspectives on related health issues, while students in environmental studies and sciences can have the opportunity to gain insight about the health implications of environmental quality. This specialization may also be of interest to students who are concerned with ethical, pedagogical, and policy approaches to understanding and addressing environment and health issues.
environment, climate, urban, water, health
SDG3, SDG6, SDG11, SDG13, SDG14
X
X
X
X
X
Environmental Science
Physical and Environmental Sciences
https://www.utsc.utoronto.ca/gradpes/
https://www.sgs.utoronto.ca/programs/environmental-science/
https://sgs.calendar.utoronto.ca/degree/Physical-and-Environmental-Sciences
University of Toronto Scarborough (UTSC)
UTSC
Master of Environmental Science, Field: Climate Change Impacts and Adaptation, Field: Conservation and Biodiversity, Field: Terrestrial and Aquatic Systems, Doctor of Philosophy, PhD Program, PhD Program (Direct-Entry)
Program Overview
The Graduate Department of Physical and Environmental Sciences offers opportunities for graduate studies in environmental science, leading to the degrees of Master of Environmental Science (MEnvSc) and Doctor of Philosophy (PhD) in Environmental Science.The Master of Environmental Science program is a twelve-month professional program that is largely course based for two sessions. Students spend their third session in a work place internship or carrying out environmentally related research with a faculty member. A part time option is available.Students choose this degree program following undergraduate training in environmental science or one of its foundational disciplines such as geology, biology, chemistry, or engineering. Graduates are well positioned to assume positions in government, industry, or non-governmental organizations that impact environmental policy and practice. Students can specialize in Conservation and Biodiversity, Climate Change Impacts and Adaptation, or choose our general program, Terrestrial and Aquatic Systems.See video: Master of Environmental Science programStudents may also be interested in combined degree programs.The Doctoral Program in Environmental Science attracts students from various disciplines who are interested in research on the causes of or solutions to the pressing environmental problems of our time, using perspectives from different disciplines. It prepares students for careers in teaching and research within universities and colleges, and also in government laboratories or private organizations where fundamental research on the environment is carried out. The program is designed to provide a broad knowledge of current environmental research issues, and specific training in the most appropriate research methodologies to address questions that lie at the interface between traditional science disciplines.See video: Doctoral Program in Environmental Science

Program Description
The MEnvSc is a 12-month degree program committed to the development of well-trained practitioners in environmental science in all fields, primarily to meet the needs of industry, governments, and environmental policy/education organizations.The MEnvSc offers three enrolment options - research, internship, and part-time studies - in each of the three fields. The three designated fields of study are: Climate Change Impacts and Adaptation: Students are trained in the science, data analysis, and rigorous assessment process for the impacts of climate change on a wide range of natural and human systems. Conservation and Biodiversity: A major focus is the application of ecological theory and principles to real-world conservation challenges. errestrial and Aquatic Systems: A major focus is understanding the flux of contaminants and excess nutrients through surface and sub-surface environments and the methods/solutions needed to remediate contaminated or damaged environmental systems. In all three fields, students can opt for an internship or a research option after eight months of coursework. The Department of Physical and Environmental Sciences has the support of two dedicated internship coordinators who help students find and successfully complete an internship by providing them with professional skills training and in-class workshops on topics that include job search preparation and skills such as: environmental labour market, workplace expectations, professionalism, networking, and more. The MEnvSc program works closely with a broad employer base for internship opportunities. Research-stream MEnvSc students receive intensive and individualized academic and research support from mentors of their choice.Full-time and part-time study options are available in all fields of study.

Program Description
Research and teaching are focused on the interfaces between traditional disciplines in dealing with fundamental scientific issues. Faculty members are cross-appointed from several departments including: chemistry, earth sciences, geography, ecology and evolutionary biology, cell and systems biology, engineering, forestry, physics, and social sciences. Research is clustered into six major concentrations: Climate Change and the Environment Contaminant Flux Environmental Science in Transitional Economies Great Lakes Ecosystems Remediation and Restoration of Degraded Environmental Systems Urban Geoscience Applicants may be accepted into the PhD program via one of three routes: 1) following completion of an appropriate master's degree; 2) transfer from an appropriate master 's program; or 3) direct entry following completion of an appropriate BSc degree.
ecolog, biodivers, forest, conserv, environment, climate, urban, industr, labor, labour, educat
SDG9, SDG11, SDG13, SDG14, SDG15
X
X
X
X
X
Environmental Studies
***Collaborative Specialization***
https://environment.utoronto.ca/graduate/
https://sgs.calendar.utoronto.ca/collaborative/Environmental-Studies
Arts and Science
Tricampus
Master's, Doctoral
The graduate degree programs listed above participate in the Collaborative Specialization in Environmental Studies (CSES), which is offered through the School of the Environment. Students admitted to a graduate degree program in a participating degree-granting unit, also called the home department or home unit, can apply to the CSES and pursue coursework and research on topics related to the environment. The School of the Environment currently has graduate students from across the disciplinary spectrum. The CSES provides interested students an opportunity to examine environmental-related issues from different disciplinary perspectives and gain insights about the importance of understanding and applying interdisciplinary approaches and methodological concepts and tools in environmental decision making. The purpose is to complement the discipline-based learning and research focus of their home units by providing students an interdisciplinary forum to examine, discuss, and address environmental issues. With participating students from as many as 20 different disciplines, the core course, ENV1001H Environmental Decision Making, gives students a unique opportunity to engage with faculty and peers coming from a range of academic backgrounds and perspectives.
environment
SDG13
X
Ethnic, Immigration and Pluralism Studies
***Collaborative Specialization***
https://harneyprogram.ca/portfolio/collaborative-program/
https://sgs.calendar.utoronto.ca/collaborative/Ethnic,-Immigration-and-Pluralism-Studies
Arts and Science
Tricampus
Master's, Doctoral
Each participating faculty provides a distinctive perspective and knowledge-base for the study of topics such as ethnic and race relations, international migration and immigration, cultural and linguistic communities, inter-group dynamics, nationalist movements, aboriginal affairs, and human rights. The program also features a basic interdisciplinary seminar on "Ethnic Relations Theory, Research, and Policy." This wide range of program opportunities makes it valuable for students planning careers in academic research and teaching, policy research, and professional practice and administration. Ethnic, Immigration and Pluralism Studies at the University of Toronto offers students with interests in ethnic, immigration, and pluralism studies the opportunity to widen their horizons, to expand their knowledge beyond a single disciplinary base, and to take advantage of the wealth and diversity of academic resources available at the University of Toronto — a great university situated in a large and culturally cosmopolitan city.
rights
SDG16
X
European and Russian Affairs
European, Russian, and Eurasian Studies
https://munkschool.utoronto.ca/ceres/
https://www.sgs.utoronto.ca/programs/european-and-russian-affairs/
https://sgs.calendar.utoronto.ca/degree/European,-Russian,-and-Eurasian-Studies
Arts and Science
UTSG
Master of Arts
Program Overview
The Master of Arts program in European and Russian Affairs (MA ERA) is designed to provide a well-rounded, multidisciplinary education in European, Russian, and Eurasian affairs for students who wish to pursue professional, non-academic careers in government and diplomacy, journalism, business, research, and teaching. The program also enriches and broadens the base of knowledge for graduate students considering PhD-level study with a specialization in the European, Russian, and Eurasian area. The MA can also be combined with the collaborative specializations in Jewish Studies or Ethnic, Immigration and Pluralism Studies.The Centre for European, Russian, and Eurasian Studies (CERES) is the home for students pursuing an MA in European and Russian Affairs. It provides generous funding to qualified MA students through fellowships or financial support for internships, language training, and study abroad opportunities. The MA has a required field component: in this two-year program, students typically spend a summer or session engaged in research or training internationally, with advisory and logistical support from CERES.CERES is one of North America's leading academic institutes for the study of the member states of the European Union, the countries of the former Soviet Union, and Central and Eastern Europe. CERES promotes interdisciplinary scholarship and teaching in the social sciences and humanities and provides a rich academic environment for graduate students. Apart from access to the country's largest group of faculty experts on the region, students also benefit from the presence of a number of visiting scholars, past and current leaders and policymakers from the region of study, and a full roster of lectures, workshops, and conferences in all the related disciplines throughout the academic year.CERES is also home to the Petro Jacyk Program for the Study of Ukraine, the Joint Initiative in German and European Studies, and the Centre for the Study of France and the Francophone World/Centre des études de la France et du Monde Francophone. Through its intensive relations with the European Commission, the German Academic Exchange Service, the wider local community in Toronto, and institutions of higher learning across Europe, Ukraine, and Russia, CERES supports the exchange of ideas and scholars across the Atlantic.Students may also be interested in the combined degree program in Law, Juris Doctor/European and Russian Affairs, Master of Arts (JD/MA), which provides specialized professional training for those seeking a career in law in the changing environment of the post-communist world. Firms selling or manufacturing in the region need the services of well-informed specialists who can navigate the legal pitfalls of emergent legal systems and deal with lawyers and government officials in the area. Best equipped to meet this demand are people with dual expertise in law and European, Russian, and Eurasian studies.

Program Description
The Master of Arts program in European and Russian Affairs (MA ERA) is designed to provide a well-rounded education in European, Russian, and Eurasian affairs for students who wish to pursue professional, non-academic careers in areas such as government and diplomacy, journalism, business, and teaching. The programs also enrich and broaden the base of knowledge of graduate students considering any PhD-level study with a specialization in the European and Russian areas.The MA in European and Russian Affairs offers students: he opportunity to study at the leading research university in Canada; he chance to work with outstanding faculty in a wide range of disciplines with a research specialization on Europe, Russia, and Eurasia; internships, exchanges, summer study programs, and research experience in the region; access to one of North America's largest research libraries; participation in the rich academic programs of the Centre for European, Russian, and Eurasian Studies and the Munk School of Global Affairs and Public Policy including specialized graduate workshops and courses offered by visiting professors; a strong and vibrant learning community with individualized academic and financial support; leadership roles in graduate student conferences, blogs, and journals. The program requires a minimum of two academic years of full-time graduate study. For further information about graduate programs and study grants, please contact the Graduate Coordinator.
institut, environment, labor, educat
SDG4
X
Financial Economics
Economics
https://mfe.economics.utoronto.ca/
https://www.sgs.utoronto.ca/programs/financial-economics/
https://sgs.calendar.utoronto.ca/degree/Financial-Economics
Arts and Science; Management
UTSG
Master of Financial Economics
Program Overview
The Master of Financial Economics (MFE) program is a full-time, limited-enrolment professional program offered jointly by Canada's top Economics Department and top business school, Rotman School of Management.MFE is a five-semester (S/F/W/S/F) program: four semesters of coursework across Rotman and the Department of Economics, plus a one semester, full-time mandatory internship at a financial services firm.In the program's academic-experiential curriculum students take Rotman MBA-level courses (such as Corporate Financing, Options and Futures, Security and Portfolio Analysis) and graduate economics courses (such as Financial Economics, Macroeconomics, Microeconomics, Financial Econometrics), and get real-world work experience in a paid internship at a top financial institution.The MFE program provides a broad understanding of financial theory and the economics framework upon which that theory is based. It has an excellent track record of placing its graduates in investment banking, corporate banking, sales and trading, private equity, asset/portfolio management, economic/strategy consulting, hedge funds, risk management and the public sector.Best suited to the MFE program are those with a strong quantitative background and undergraduate degree in finance, economics, commerce, math or statistics. Entry is highly competitive. Applicants are admitted on a rolling basis and candidates should apply as early as possible.
institut
SDG8
X
Financial Insurance
Statistical Sciences
http://www.mfi.utoronto.ca/
https://www.sgs.utoronto.ca/programs/financial-insurance/
https://sgs.calendar.utoronto.ca/degree/Statistical-Sciences
Arts and Science
UTSG
Master of Financial Insurance
Program Overview
The Department of Statistical Sciences offers a Master of Financial Insurance (MFI), a full-time professional program focused on producing students who will become leaders in the global financial insurance industry. The program stands on three pillars: statistical methods, financial mathematics, and insurance modelling. It provides students with education at the interface of these domains with suff icient depth and breadth so that students can provide both detailed analysis of specific financial insurance risks as well as provide a bird's-eye perspective on how the embedded risks affect the firm enterprise wide. This program is particularly appropriate for students with backgrounds in statistics, actuarial science, economics, and mathematics, but students with a quantitative background (such as those in physics and engineering) and sufficient statistical training are also encouraged to apply. The program welcomes applications from international students. For more information, visit the program website .

Program Description
The MFI is a full-time professional program based on three pillars: data science, financial mathematics, and insurance modelling. This program is appropriate for students with backgrounds in statistics, actuarial science, economics, and mathematics. Students with a quantitative background (such as physics and engineering) and sufficient statistical training are also encouraged to apply.
industr, educat
SDG8
X
Financial Risk Management
Management, Rotman School of
http://www.rotman.utoronto.ca/Degrees/MastersPrograms/MFRM
https://www.sgs.utoronto.ca/programs/financial-risk-management/
https://sgs.calendar.utoronto.ca/degree/Management,-Rotman-School-of-Management
Management, Rotman School of Management
UTSG
Master of Financial Risk Management
Over the past decade, changes across the global financial system have created a growing demand for professionals who can define, assess and manage risk. The Rotman Master of Financial Risk Management is a focused degree designed for quantitatively-strong students eager to hone their skills for the innovation-focused economy.
innovat
SDG9
X
Food Studies
***Collaborative Specialization***
https://www.utsc.utoronto.ca/culinaria/
https://sgs.calendar.utoronto.ca/collaborative/Food-Studies
University of Toronto Scarborough (UTSC)
Tricampus
Master's, Doctoral
Food Studies is an interdisciplinary field dedicated to understanding where our food comes from and how it shapes our bodies and identities. The production and consumption of food has gone through tremendous changes in the past few hundred years. Before industrialization, most food was grown in the place where it was eaten. With the rise of global commodity agriculture, it is often hard to find out exactly what our food is and where it comes from. Then, famine was a constant spectre, whereas today, over-eating has become a significant health problem. Particular attention will be given to the material nature of food, the way it tastes and smells, and the changes it undergoes through natural decomposition and through the human intervention of preservation and cooking. Students will learn the importance of food in religion, society, the family, gender roles, the environment, agriculture, urbanization, immigration, colonialism, and race and ethnicity. Food Studies will leverage the University's urban location and its proximity to Canada's agricultural heartland to broaden students' experience. The study of food provides both theoretical understanding and practical knowledge for professional careers in health care, business, government service, non-governmental organizations, and educational and community programs. This specialization will draw on a variety of disciplinary approaches emphasizing different knowledge and skills.
environment, production, consum, urban, gender, health, food, agricultur
SDG2, SDG3, SDG5, SDG11, SDG12, SDG13
X
X
X
X
X
X
Forest Conservation
Architecture, Landscape, and Design
https://academic.daniels.utoronto.ca/forestry/master-of-forest-conservation/
https://www.sgs.utoronto.ca/programs/forest-conservation/
https://sgs.calendar.utoronto.ca/degree/Forestry
Architecture, Landscape, and Design
UTSG
Master of Forest Conservation, Full-Time Option, Extended Full-Time Option, Part-Time Option
Program Overview
Forestry provides a focused lens through which to understand, influence, and practise sustainable resource management. A degree in Forest Conservation leads you into careers which have a profound impact on the sustainability of human, social and economic systems. The Master of Forest Conservation (MFC) program is accredited by the Canadian Forestry Accreditation Board. Careers requiring a Registered Professional Forester (RPF) are possible with an MFC degree. If you are looking for an innovative, interdisciplinary course-based program that includes a guaranteed internship, the MFC program could be for you!

Program Description
The professionally oriented Master of Forest Conservation (MFC) is an intensive 16-month course-based program with a strong focus on field and laboratory practical training, Canadian and international field courses, practical internships, and individual and group research. It provides a strong, coherent professional education in forest conservation to students from diverse educational backgrounds. The MFC is accredited by the Canadian Forestry Accreditation Board. Graduates are eligible to begin the process of licensure to become a Professional Forester.The MFC program can be taken on a full-time, extended full-time, or part-time basis.
forest, conserv, innovat, labor, educat
SDG9, SDG14, SDG15
X
X
X
Forestry
Architecture, Landscape, and Design
https://academic.daniels.utoronto.ca/forestry/mscf-and-phd/
https://www.sgs.utoronto.ca/programs/forestry/
https://sgs.calendar.utoronto.ca/degree/Forestry
Architecture, Landscape, and Design
UTSG
Master of Science in Forestry, Doctor of Philosophy, PhD Program, PhD Program (Transfer), PhD Program (Direct-Entry)
Program Overview
The Master of Science in Forestry (MScF) and Doctor of Philosophy (PhD) programs are research/thesis-based degrees in areas of specialization relevant to faculty expertise and funding. These areas include, but are not limited to, forest conservation biology and wildlife ecology, forest biosphere science, invasive species and threats to forest health, environmental sustainability of managed forests, fire and ecosystem management, forest conservation planning, sustainable development and economics, political ecology and governance of forests, social and cultural ecology of forest ecosystems, urban forestry, and forest biomaterials science and engineering.

Program Description
The Master of Science in Forestry (MScF) is a research- and thesis-based program in areas relevant to faculty expertise and funding. These include forest conservation biology and wildlife ecology, forest biosphere science, invasive species and threats to forest health, environmental sustainability of managed forests, fire and ecosystem management, forest conservation planning, sustainable development and economics, political ecology and governance of forests, social and cultural ecology of forest ecosystems, urban forestry, and forest biomaterials science and engineering.The department considers applicants from a variety of undergraduate backgrounds including forestry; applied science and engineering; and social, physical, and biological sciences.

Program Description
The PhD is a research- and thesis-based program in areas relevant to faculty expertise and funding. These include forest conservation biology and wildlife ecology, forest biosphere science, invasive species and threats to forest health, environmental sustainability of managed forests, fire and ecosystem management, forest conservation planning, sustainable development and economics, political ecology and governance of forests, social and cultural ecology of forest ecosystems, urban forestry, and forest biomaterials science and engineering.The department considers applicants from a variety of backgrounds including forestry; applied science and engineering; and social, physical, and biological sciences.Applicants may enter the PhD program via one of three routes: 1) following completion of an appropriate master's degree; 2) transfer from the University of Toronto MScF program; or 3) direct entry following completion of an appropriate bachelor's degree.
governance, ecolog, forest, conserv, environment, urban, sustainable development, health
SDG8, SDG11, SDG13, SDG14, SDG15, SDG16
X
X
X
X
X
X
French Language and Literature
French Language and Literature
https://www.french.utoronto.ca/graduate
https://www.sgs.utoronto.ca/programs/french-language-and-literature/
https://sgs.calendar.utoronto.ca/degree/French-Language-and-Literature
Arts and Science
UTSG
Master of Arts, Field: French Linguistics, Master of Arts, Field: French Literature, Doctor of Philosophy, Field: French Linguistics, PhD Program, PhD Program (Direct-Entry), Doctor of Philosophy, Field: French Literature, PhD Program, PhD Program (Direct-Entry)
Program Overview
The Master of Arts (MA) program provides advanced academic development in either literature or linguistics, as well as outstanding training in research and communication skills in French, preparing students for doctoral studies and careers in such fields as teaching, government administration, and communications.Doctor of Philosophy (PhD) students receive rigorous research training in either literature or linguistics, culminating in original research for their doctoral thesis. While primarily training students for academic careers at the university or community college levels, the PhD in French can also lead to employment opportunities in editorial work and professions outside academia.

Program Description
The Master of Arts program is both a self-contained program and the first stage towards doctoral studies. It has two objectives: o allow the student to develop a thorough knowledge of the discipline through a program of coursework in French linguistics and o develop an aptitude for research. It is a 12-month program for full-time students; the program is available on a part-time basis.At the beginning of their course of study, students meet individually with the Associate Chair, Graduate in order to determine course selection with a view to ensuring that the student has a well-rounded program and, considered in conjunction with the undergraduate degree, has a broad knowledge of the discipline.

Program Description
The Master of Arts program is both a self-contained program and the first stage towards doctoral studies. It has two objectives: o allow the student to develop a thorough knowledge of the discipline through a program of coursework in French literary studies and o develop an aptitude for research. It is a 12-month program for full-time students; the program is available on a part-time basis.At the beginning of their course of study, students meet individually with the Associate Chair, Graduate in order to determine course selection with a view to ensuring that the student has a well-rounded program and, considered in conjunction with the undergraduate degree, has a broad knowledge of the discipline.

Program Description
The Doctor of Philosophy is necessary preparation for a career in higher education in Canada and abroad which will include teaching and research at an advanced academic level. The PhD includes a combination of advanced seminars, field examinations, a high amount of embedded professional experience in teaching and research, and the presentation of the results of a significant contribution to the discipline in the form of an original dissertation.The PhD program engages students in a program of study and research in the field of French Linguistics approved by the department. At the beginning of their course of study, students meet individually with the Associate Chair, Graduate in order to determine course selection with a view to ensuring that the student has a well-rounded program and, considered in conjunction with the undergraduate degree, has a broad knowledge of the discipline.Admission to the PhD program is available via one of two routes: 1) an appropriate master's degree or 2) direct entry with an appropriate bachelor's degree with high academic standing.

Program Description
The Doctor of Philosophy is necessary preparation for a career in higher education in Canada and abroad which will include teaching and research at an advanced academic level. The PhD includes a combination of advanced seminars, field examinations, a high amount of embedded professional experience in teaching and research, and the presentation of the results of a significant contribution to the discipline in the form of an original dissertation.The PhD program engages students in a program of study and research in French literature approved by the department. At the beginning of their course of study, students meet individually with the Associate Chair, Graduate in order to determine course selection with a view to ensuring that the student has a well-rounded program and, considered in conjunction with the undergraduate degree, has a broad knowledge of the discipline.Admission to the PhD program is available via one of two routes: 1) an appropriate master's degree or 2) direct entry with an appropriate bachelor's degree with high academic standing.
employment, educat
SDG4
X
Genetic Counselling
Molecular Genetics
https://www.moleculargenetics.utoronto.ca/genetic-counselling#msc-genetic-counselling-program
https://www.sgs.utoronto.ca/programs/genetic-counselling/
https://sgs.calendar.utoronto.ca/degree/Molecular-Genetics
Medicine
UTSG
Master of Science
Program Overview
The Master of Science program in Genetic Counselling is a full-time degree program that prepares students with the academic and clinical skills to provide genetic counselling. Graduates may work as part of a health-care team to gather relevant medical and family histories, to guide further investigations, and to communicate probable or established diagnoses, mode of inheritance, natural history, risk of recurrence, and associated options. This program has been accredited by the American Board of Genetic Counseling.This program is offered by the Department of Molecular Genetics located in the Medical Sciences Building. The department has nearly 100 faculty members whose labs are located within the Medical Science Building, the Best Institute, the Donnelly Centre for Cellular and Biomolecular Research, the FitzGerald Building, the Hospital for Sick Children, Mount Sinai Hospital, the Ontario Institute for Cancer Research, and Princess Margaret Hospital.See video: Explore Graduate Programs at the Faculty of Medicine.

Program Description
The MSc program is a full-time degree program (non-thesis) that prepares students with relevant academic knowledge and clinical skills so that upon graduating, they may work as highly competent genetic counsellors in a variety of practice settings. Genetic counsellors are employed in many areas of healthcare, providing genetic assessment and counselling to individuals and families with, or at risk for, a genetic disorder. There is also an increasing demand for genetic counsellors to join genetic/genomic testing laboratories, industry, public health settings, etc. Genetic counsellors are often involved in academic activities including teaching and research, administrative leadership roles, advisory roles for government and/or support organizations, and other precision medicine leadership capacities. This program is accredited by the Accreditation Council for Genetic Counseling.
institut, cities, industr, labor, health
SDG3
X
Geography
Geography and Planning
https://geography.utoronto.ca/graduate-geography/
https://www.sgs.utoronto.ca/programs/geography/
https://sgs.calendar.utoronto.ca/degree/Geography-and-Planning
Arts and Science
UTSG
Master of Arts, MA Program (Thesis Option), MA Program (Research Paper Option), Master of Science, MSc Program (Thesis Option), MSc Program (Research Paper Option), Doctor of Philosophy, Fields:
Physical Geography and Natural Systems;
Spatial Information Systems, PhD Program, PhD Program (Direct-Entry), Doctor of Philosophy, Fields:
Environmental Geography and Resource Management;
Historical/Social/Cultural Geography;
Urban/Economic Geography, PhD Program, PhD Program (Direct-Entry)
Program Overview
The Department of Geography and Planning offers facilities for research leading to the degrees of Master of Arts, Master of Science, and Doctor of Philosophy. The PhD program prepares students for academic careers in teaching and research. Some may also pursue an advanced career in the public or non-profit sectors, given the rising demand outside of academia for people with a PhD credential.In Geography, faculty members conduct research in the following areas: geomorphology, climatology, hydrology, biogeography, pedology, environmental assessment and sustainable natural resource management, international development, industrial innovation, urban and economic geography, cultural and historical geography, gender studies, social geography, regional analysis, the history and philosophy of geography, remote sensing, computer cartography, spatial statistics, topics in land/geographic information systems, and quantitative analysis. The territories of special concern are Canada, the United States, Latin America, the Caribbean, Northwestern and Central Europe, East Asia, South Asia, and the former Soviet Union.

Program Description
The MA program offers studies in areas of human geography, including historical/social/cultural geography, urban/economic geography, environmental geography and resource management and some areas of spatial information systems. Applicants should apply to the MA degree program (rather than the MSc) if their planned research contains a substantial human geography component and if two-thirds of their planned coursework comprises Geography courses accepted by the department as social science courses.

Program Description
The MSc program offers studies in the areas of physical geography, spatial information systems and some areas of environmental studies. Applicants should apply to the MSc degree program (rather than the MA) if their planned research contains a substantial physical science component and if two-thirds of their planned coursework comprises Geography courses accepted by the department as physical science courses.

Program Description
The PhD is primarily a research degree. A program of study is designed for each student to ensure competence in a field of research and to facilitate the preparation of a dissertation.Applicants may enter the PhD program via one of two routes: 1) following completion of a master's degree or 2) direct entry after completing a bachelor's degree.

Program Description
The PhD is primarily a research degree. A program of study is designed for each student to ensure competence in a field of research and to facilitate the preparation of a dissertation.Applicants may enter the PhD program via one of two routes: 1) following completion of a master's degree or 2) direct entry after completing a bachelor's degree.
environment, natural resource, urban, industr, innovat, gender
SDG5, SDG9, SDG11, SDG12, SDG13
X
X
X
X
X
Germanic Literature, Culture and Theory
Germanic Languages and Literatures
https://german.utoronto.ca/graduate-programs/
https://www.sgs.utoronto.ca/programs/germanic-literature-culture-and-theory/
https://sgs.calendar.utoronto.ca/degree/Germanic-Languages-and-Literatures
Arts and Science
UTSG
Doctor of Philosophy, PhD Program, PhD Program (Direct-Entry)
Program Overview
The Department of Germanic Languages and Literatures at the University of Toronto is the oldest and largest department of German in Canada. In addition to the department's traditional strength in literary and intellectual history, faculty and students are conducting research in German cinema, critical theory, language pedagogy, medieval studies, travel literature, as well as postcolonial, psychoanalytic, and transnational studies.The department offers a graduate program of study in the field of Germanic Literature, Culture and Theory, leading to a Doctor of Philosophy. The PhD degree is normally completed in four to five years.

Program Description
The PhD program in Germanic Literature, Culture, and Theory is taken on a full-time basis and is fully funded for five years. The curriculum engages debates and questions salient to the discipline of German Studies while also forging generative ties with other disciplines to facilitate a synthesis of history and theory, textual analysis, and cultural study. Students have the option to concurrently enrol in one of the collaborative specializations at U of T, such as Women and Gender Studies, Jewish Studies, Transnational and Diaspora Studies, or Book History and Print Culture. This also requires registration in their respective core course(s).Applicants may enter the PhD program via one of two routes: 1) following completion of an appropriate master's degree or 2) direct entry following completion of an appropriate bachelor's degree.
labor, women, gender
SDG5
X
Global Affairs
Global Affairs and Public Policy
https://munkschool.utoronto.ca/mga/
https://www.sgs.utoronto.ca/programs/global-affairs/
https://sgs.calendar.utoronto.ca/degree/Global-Affairs-and-Public-Policy
Arts and Science
UTSG
Master of Global Affairs, Emphasis: Development, Emphasis: Global Justice and Human Rights, Emphasis: Global Policy and Asia, Emphasis: Global Policy in Europe and Eurasia, Emphasis: Global Security, Emphasis: Innovation Policy, Emphasis: Markets, Emphasis: The Digital World, Dual Degree Program: Master of Global Affairs (University of Toronto) / Master of International Affairs (Hertie School of Governance),

Dual Degree Program: Master of Global Affairs (University of Toronto) / Master of Public Administration (London School of Economics)

, Dual Degree Program: Master of Global Affairs (University of Toronto) / Master of Public Policy (Sciences Po)
Program Overview
The Master of Global Affairs (MGA) is a two-year professional program, consisting of four sessions of coursework and a compulsory summer internship. The purpose of this program is to provide an outstanding professional, multidisciplinary education to train the next generation of global leaders of international institutions, global civil society, and business. The MGA will equip students with a sophisticated understanding of the larger political, economic, and social contexts of global affairs and with the skills necessary to work strategically and effectively within the evolving global system.The MGA integrates the study of global institutions, global civil society, and the global economy and markets into the same program, and requires that students learn about each area and about the interconnections between them.In offering a curriculum that provides both breadth and depth, the MGA draws on the scholarly strength of faculty from a range of disciplines and subject areas. Students lacking backgrounds in basic economics will be required to take courses in micro- and macroeconomics for policy analysis.Students may also be interested in combined degree programs:Law, Juris Doctor / Master of Global Affairs (JD/MGA) orMaster of Business Administration / Master of Global Affairs (MBA/MGA)

Program Description
The Master of Global Affairs (MGA) is a two-year professional program, consisting of four sessions of coursework and a compulsory summer internship. The purpose of this program is to provide an outstanding professional, multidisciplinary education to train the next generation of global leaders of international institutions, global civil society, and business. This program is open to applicants from all disciplinary backgrounds.

Program Description
This dual degree program creates a pathway between the U of T Master of Global Affairs and the Hertie School Master of International Affairs (MIA) programs. In Year 1, students complete MIA coursework at the Hertie School of Governance in Berlin, Germany. In the Summer session of Year 1, students complete an internship that is part of the MGA and MIA degree programs. In Year 2, students complete MGA coursework in Toronto and in the final Summer session, complete a master 's thesis as part of the dual degree requirements.Students will gain both degrees in two years (24 months) rather than the four years it would take to acquire the degrees consecutively. The pattern of registration is F/W/S/F/W/S with students completing both programs in August of Year 2. This dual degree program is open to applicants from all disciplinary backgrounds.ContactMaster of Global Affairs / Master of International Affairs ProgramWeb: munkschool.utoronto.ca/mga/dual-degree-with-the-hertie-schoolMaster of Global Affairs ProgramMunk School of Global Affairs and Public Policy, University of TorontoEmail: mga@utoronto.caMaster of International Affairs ProgramHertie School of GovernanceEmail: grad-admissions@hertie-school.orgApplication Process Applicants must apply through the Hertie School admissions website. Applicants are then jointly selected and admitted by the MGA at the University of Toronto and the MIA at the Hertie School. All applicants must complete the Hertie School online admissions application. All applicants who are admitted to the dual degree program must then also complete the application on U of T's School of Graduate Studies online admissions application system.

Program Description
This dual degree program creates a pathway between the U of T Master of Global Affairs (MGA) and the London School of Economics Master of Public Administration (MPA) programs. In Year 1, students complete MPA coursework at the London School of Economics and Public Policy in the United Kingdom. In the Summer session of Year 1, students complete an internship that is part of the MGA program. In Year 2, students complete MGA coursework in Toronto and in the final Summer session, complete a policy paper as part of the dual degree requirements.Students will gain both degrees in two years (21 months) rather than the four years it would take to acquire the degrees consecutively. The pattern of registration is F/W/S/F/W/S with students completing both programs by the end of June in Year 2. This dual degree program is open to applicants from all disciplinary backgrounds.ContactMaster of Global Affairs / Master of Public Administration ProgramWeb: munkschool.utoronto.ca/mga/joint-degreesMaster of Global Affairs ProgramMunk School of Global Affairs and Public Policy, University of TorontoEmail: mga@utoronto.caMaster of Public Administration ProgramSchool of Public Policy, London School of Economics and Political ScienceEmail: mpa@lse.ac.ukApplication Process Applicants must apply through the London School of Economics and Political Science admissions website. Applicants are then jointly selected and admitted by the MGA at U of T and the MPA at the London School of Economics. All applicants must complete the London School of Economics online admissions application. All applicants who are admitted to the dual degree program must then also complete an application on the U of T School of Graduate Studies online admissions application system.

Program Description
This dual degree program creates a pathway between the U of T Master of Global Affairs (MGA) and the Sciences Po Master of Public Policy (MPP) programs. In Year 1, students complete MPP coursework at Sciences Po in Paris, France. In the Summer session of Year 1, students complete an internship that is part of the MGA degree program. In Year 2, students complete MGA coursework in Toronto and in the final Summer session, complete a Grand Oral Exam as part of the dual degree requirements.Students will gain both degrees in two years (24 months) rather than the four years it would take to acquire the degrees consecutively. The pattern of registration is F/W/S/F/W/S with students completing both programs in August of Year 2.This dual degree program is open to applicants from all disciplinary backgrounds.ContactMaster of Global Affairs / Master of Public Policy ProgramWeb: munkschool.utoronto.ca/mga/joint-degrees/dual-degree-sciences-po-school-public-affairs-parisMaster of Global Affairs ProgramMunk School of Global Affairs and Public Policy, University of TorontoEmail: mga@utoronto.caMaster of Public Policy ProgramSchool of Public Affairs, Sciences PoEmail: sophie.rivieredufour@sciencespo.frApplication Process Applicants must apply through the Sciences Po admissions website. Applicants are then jointly selected and admitted by the MGA at the University of Toronto and the MPP at Sciences Po. All applicants must complete the Sciences Po online admissions application. All applicants who are admitted to the dual degree program must then also complete the application on U of T's School of Graduate Studies online admissions application system.
rights, governance, justice, institut, innovat, educat
SDG4, SDG16
X
X
Global Executive Master of Business Administration for Healthcare and the Life Sciences (GEMBA-HLS)
Management, Rotman School of
http://www.rotman.utoronto.ca/Degrees/MastersPrograms/MBAPrograms/GEMBA-Health
https://www.sgs.utoronto.ca/programs/global-executive-master-of-business-administration-for-healthcare-and-the-life-sciences/
https://sgs.calendar.utoronto.ca/degree/Management,-Rotman-School-of-Management
Management, Rotman School of Management
UTSG
Field: Global Executive Master of Business Administration for Healthcare and the Life Sciences
Program Overview
The Global Executive MBA for Healthcare and the Life Sciences (GEMBA-HLS) is an intensive 18-month program designed for working professionals in the healthcare and life sciences industries. The program immerses students in key healthcare and life sciences clusters around the world. By learning from leading faculty and experienced sector leaders, students gain the knowledge and skills needed for success. While exploring current and future best practices globally, students are guided through an in-depth assessment of their own capabilities with a view to becoming more impactful leaders.The program leverages the strengths of the Rotman School of Management, as well as relationships with the University of Toronto and the global healthcare and life sciences communities. Located on the edge of Toronto's medical discovery district, Rotman is uniquely positioned to play a leading role in the management innovations taking place in pharmaceuticals and biotechnology, medical technology, medical informatics, telemedicine, insurance, patient engagement, long-term care, and health system design.

Program Description
The intensive 18-month Global Executive MBA for Healthcare and the Life Sciences (GEMBA-HLS) is designed for working professionals in the healthcare and life sciences industries. This field of study immerses students in key healthcare and life sciences clusters around the world. By learning from leading faculty and experienced sector leaders, students gain the knowledge and skills needed for success. While exploring current and future best practices globally, students are guided through an in-depth assessment of their own capabilities with a view to becoming more impactful leaders.Over the 18 months of the program, students will partake in six international modules in some of the world 's key healthcare and life sciences markets (currently three in Toronto, and one each in the San Francisco Bay area; London, United Kingdom area; and Singapore). The program is delivered in a blended model, primarily face-to-face, supplemented with online learning. It leverages the strengths of the Rotman School, as well as relationships with the University of Toronto and the global healthcare and life sciences communities. Located on the edge of Toronto 's medical discovery district, Rotman is uniquely positioned to play a leading role in the management innovations taking place in pharmaceuticals and biotechnology, medical technology, medical informatics, telemedicine, insurance, patient engagement, long-term care, and health system design.
industr, innovat, health
SDG3, SDG9
X
X
Global Health (U of T Global Scholar)
***Collaborative Specialization***
http://www.dlsph.utoronto.ca/institutes/centre-for-global-health/
https://sgs.calendar.utoronto.ca/collaborative/Global-Health
Public Health
Tricampus
Master's, Doctoral
The graduate programs listed above participate in the Collaborative Specialization in Global Health (U of T Global Scholar). This specialization offers students collaborative and interdisciplinary graduate education and research opportunities in global health. Global health is viewed as an integrative construct that focuses on the inter-relationships between local, regional, national, and international factors influencing health and health equity and effective programs and policies that will address these factors. The Collaborative Specialization in Global Health (U of T Global Scholar) enhances the student experience by exposing students to a broad base of faculty expertise and an opportunity to share research ideas and results from multiple disciplinary perspectives. This specialization signals the University's commitment to improving the well-being of people in Canada and around the world through higher education and advanced research in global health.
well-being, health
SDG3
X
Global Professional Law
Law
https://gpllm.law.utoronto.ca/
https://www.sgs.utoronto.ca/programs/global-professional-law/
https://sgs.calendar.utoronto.ca/degree/Law
Law
UTSG
Global Professional Master of Laws, Concentration: Business Law, Concentration: Canadian Law in a Global Context, Concentration: Innovation, Law and Technology, Concentration: Law of Leadership
Program Overview
The Faculty of Law draws upon a rich array of intellectual resources and offers an unparalleled learning opportunity for students seeking graduate degrees in law. More than 55 full-time faculty members and approximately 20 distinguished visiting scholars from around the world enable the Faculty to offer a wide range of courses and serve a broad spectrum of research interests. The graduate program is small, attracting law students to the master's and doctoral programs from across Canada and around the world. Competitive scholarships are offered to strong candidates.The Global Professional Master of Laws (GPLLM) degree program is designed for lawyers, business executives, and government professionals. It is completed through an intensive 12-month delivery model with classes offered in the evenings and on weekends.

Program Description
The Global Professional Master of Laws (GPLLM) program is an executive graduate degree in law designed for (1) executives who wish to become more conversant in the substance and methodology of law; and (2) internationally trained lawyers who wish to become licensed to practise law in Canada. Courses are offered on alternating weekends: Friday evenings and all day Saturday.The program may be completed in one year (three sessions with a F/W/S registration sequence) or through an extended full-time option that allows students to complete the program requirements over two years (six sessions with a F/W/S/F/W/S registration sequence).The GPLLM offers the following concentrations: Business Law Canadian Law in a Global Context Innovation, Law and Technology Law of Leadership
innovat
SDG16
X
Health Administration
Health Policy, Management and Evaluation
https://ihpme.utoronto.ca/academics/pp/mhsc/
https://www.sgs.utoronto.ca/programs/health-administration/
https://sgs.calendar.utoronto.ca/degree/Health-Policy,-Management-and-Evaluation
Public Health
UTSG
Master of Health Science
Program Overview
The Institute of Health Policy, Management and Evaluation (IHPME) trains Canada's future health leaders and researchers through its research and professional graduate degree programs and its involvement in a range of collaborative specializations. Its unique interdisciplinary approach is ideally suited to today's complex and rapidly changing health-care landscape.IHPME's professional degree programs provide individuals with the knowledge, skills, and strategic perspective necessary to assume leadership roles in the health-care system. Faculty members are the foremost thinkers, researchers, and practitioners influencing our health-care system today. Students are exposed to the latest evidence-informed research, thinking, and practice in the Health Administration program, leading to a Master of Health Science (MHSc) degree.The MHSc program is geared to health managers and professionals who wish to acquire a graduate education in health administration. The program's modular format allows learners to complete the degree without interrupting their careers. The learning experience is further enhanced by practicum placements and a curriculum shaped by strong relationships with leaders and top-performing organizations.

Program Description
The MHSc program is geared to health managers and professionals who wish to acquire a graduate education in health administration. The program 's modular format allows learners to complete the degree without interrupting their careers.
institut, labor, educat, health
SDG3, SDG4
X
X
Health Care, Technology, and Place (admissions have closed)
***Collaborative Specialization***
http://www.hctp.utoronto.ca/
https://sgs.calendar.utoronto.ca/collaborative/Health-Care,-Technology,-and-Place
Medicine
Tricampus
Doctoral
The graduate programs listed above participate in the Collaborative Doctoral Specialization in Health Care, Technology, and Place (HCTP). The objectives of this collaborative specialization are to: • Prepare doctoral students to understand, explain, and improve health outcomes associated with technologically mediated health care. • Bridge knowledge gaps among doctoral students working in the life sciences, physical sciences, social sciences, and humanities who are concerned with innovative technologies, diverse settings, and complex work and personal practices of modern health in Canada. • Provide mentorship in interdisciplinary research and scholarship, including leadership skills, negotiation and collaboration, grant writing, and knowledge transfer. Ultimately, the goal is to facilitate research conducted by scientifically informed humanists and philosophically informed physical and social scientists.
innovat, health
SDG3, SDG9
X
X
Health Informatics
Health Policy, Management and Evaluation
https://ihpme.utoronto.ca/academics/pp/mhi/
https://www.sgs.utoronto.ca/programs/health-informatics/
https://sgs.calendar.utoronto.ca/degree/Health-Policy,-Management-and-Evaluation
Public Health
UTSG
Master of Health Informatics, Regular MHI Option, Executive MHI Option
Program Overview
The Institute of Health Policy, Management and Evaluation (IHPME) trains Canada's future health leaders and researchers through its research and professional graduate degree programs and its involvement in a range of collaborative programs. Its unique interdisciplinary approach is ideally suited to today's complex and rapidly changing health care landscape.IHPME's professional degree programs provide individuals with the knowledge, skills, and strategic perspective necessary to assume leadership roles in the health-care system. The faculty members are the foremost thinkers, researchers, and practitioners influencing our health-care system today. Students are exposed to the latest evidence-informed research, thinking, and practice in the Health Informatics program, leading to the Master of Health Informatics (MHI) degree.This professional program provides graduates with expertise in clinical information and communication technologies (ICTs) required to lead organizational and health system change. The MHI degree program prepares health informaticians to bridge the gaps between clinicians and ICT specialists. The learning experience is further enhanced by practicum placements and a curriculum shaped by strong relationships with leaders and top-performing organizations.

Program Description
The Master of Health Informatics (MHI) is a professional program which provides graduates with expertise in clinical information and communication technologies (ICTs) required to lead organizational and health system change. The MHI degree program prepares health informaticians to bridge the gaps between clinicians and ICT specialists.There are two options available to complete the MHI: Regular MHI option: This is designed for individuals who are not currently in a health informatics profession and are seeking a career in the field. Applicants to this option should not be employed full-time. Executive MHI option: This is designed for individuals who are currently employed in the health informatics profession and are interested in pursuing leadership positions and other career development. Applicants to this option must be employed in the health informatics sector and have an executive sponsor at their place of employment.
institut, labor, employment, health
SDG3, SDG8
X
X
Health Policy, Management and Evaluation
Health Policy, Management and Evaluation
https://ihpme.utoronto.ca/academics/
https://www.sgs.utoronto.ca/programs/health-policy-management-and-evaluation/
https://sgs.calendar.utoronto.ca/degree/Health-Policy,-Management-and-Evaluation
Public Health
UTSG
Master of Science, Concentration: Clinical Epidemiology and Health Care Research, Concentration: Health Services Research, Concentration: Quality Improvement and Patient Safety, Concentration: System Leadership and Innovation, Doctor of Philosophy , PhD Program, Concentration: Health Services Research, PhD Program (Flexible-Time)
Program Overview
The Institute of Health Policy, Management and Evaluation (IHPME) is training Canada's future health leaders and researchers through its outstanding degree programs:Doctor of Philosophy (PhD) in Health Policy, Management and Evaluation concen trations:Clinical Epidemiology and Health Care ResearchHealth Professions Education ResearchHealth Services ResearchMaster of Science (MSc) in Health Policy, Management and Evaluation concen trations:Clinical Epidemiology and Health Care ResearchHealth Services ResearchQuality Improvement and Patient Safety System Leadership and Innovation Multidisciplinary collaborative specializations with other University of Toronto graduate departments allow further specialization.See a complete description of all IHPME programs. Please note the application deadlines.

Program Description
The HPME graduate program offers the following concentrations leading to the MSc degree: Clinical Epidemiology and Health Care Research; Health Services Research; Quality Improvement and Patient Safety; and System Leadership and Innovation. The MSc program can be taken on a full-time or part-time basis.

Program Description
The HPME graduate program offers three concentrations leading to the PhD degree: 1) Clinical Epidemiology and Health Care Research; 2) Health Professions Education Research; and 3) Health Services Research.Applicants may enter the PhD program via one of three routes: 1) following completion of an MA or MSc degree; 2) transfer from the University of Toronto MSc/PhD transfer program; 3) direct entry following completion of a health professional (MD) degree.The PhD program can be taken on a full-time or flexible-time basis. Some applicants may be admitted to a flexible-time PhD option with the approval of the Graduate Chair. The flexible-time PhD option benefits mature students with career and/or familial obligations.
institut, innovat, labor, educat, health
SDG3, SDG4, SDG9
X
X
X
Health Services and Policy Research
***Collaborative Specialization***
http://ihpme.utoronto.ca/academics/collaborative/
https://sgs.calendar.utoronto.ca/collaborative/Health-Services-and-Policy-Research
Public Health
Tricampus
Master's, Doctoral
The Collaborative Specialization in Health Services and Policy Research began in 2001 as a consortium of six Ontario universities, called the Ontario Training Centre. It was established in a response to the need for increased numbers of health services researchers to address critical issues in effective and efficient health-care delivery (which has been identified as a top priority by national research funding agencies). The Ontario Training Centre was part of a pan-Canadian initiative involving other provincial centres. After its first decade of operations, funding for the centre has concluded. However, the Collaborative Specialization in Health Services and Policy Research continues to attract graduate students from the University of Toronto from a variety of disciplines. The overall goal of the collaborative specialization is to increase health research capacity in Ontario through an innovative training program that builds on existing strengths in university and decision-making environments. Partnering with a number of health-care organizations, the Collaborative Specialization in Health Services and Policy Research offers graduate training leading to a Diploma in Health Services and Policy Research. Specific objectives of the collaborative specialization include: • providing training in health services research for graduate students; • enhancing the quality and breadth of transdisciplinary training in health services research; and • including decision makers as active partners in teaching, program and curriculum planning, and the provision of field placements for students. This competency-based collaborative specialization focuses on the following five areas: • understanding the Canadian health-care system; • ability to carry out health services research; • understanding theories regarding how the health of populations is produced; • understanding theories of health and health services knowledge production; and • knowledge exchange and development of research partnerships.
health
SDG3
X
Higher Education
Leadership, Higher and Adult Education
http://www.oise.utoronto.ca/lhae/Programs/Higher_Education
https://www.sgs.utoronto.ca/programs/higher-education/
https://sgs.calendar.utoronto.ca/degree/Leadership,-Higher-and-Adult-Education
Ontario Institute for Studies in Education (OISE)
UTSG
Doctor of Education (Field: International Education Leadership and Policy, Master of Arts, Master of Education, Master of Education (Field: Education in the Professions), Master of Education (Field: Higher Education), Master of Education (Field: Higher Education Leadership), Master of Education (Field: Student Development and Student Services in Higher Education), Doctor of Education, Doctor of Philosophy, PhD Program (Full-Time Option), PhD Program (Flexible-Time Option)
Program Overview
The Higher Education program is offered by the Department of Leadership, Higher and Adult Education at the Ontario Institute for Studies in Education (OISE). Courses of study lead to the Master of Arts (MA), Master of Education (MEd), Doctor of Education (EdD), and Doctor of Philosophy (PhD) degrees.Three fields are offered:Education in the Professions (MEd)Higher Education (MA, MEd, EdD, PhD)Student Development and Student Services in Higher Education (MEd)Applications must be made to one of these fields according to the degree level of interest.

Program Description
Within the Educational Leadership and Policy EdD program, the field in International Education Leadership and Policy offers a robust, world-class program of study structured for professionals working within international settings in positions of leadership and policymaking who want to create impact in their field and mobilize new solutions to real-world problems.The EdD program is offered full-time in a cohort format and will be delivered in a hybrid modality with short on-campus Institutes. The majority of courses will be offered online. The department welcomes applicants with diverse but relevant backgrounds.

Program Description
The MA in Higher Education is a research-stream program that focuses on higher education as a field of study. It best serves students seeking the knowledge and research skills needed to pursue administrative and policy careers related to higher education. The MA program also prepares students to pursue doctoral studies in higher education and related fields.The MA is available through both full-time and part-time studies. The department welcomes applicants with diverse but relevant backgrounds.

Program Description
The Master of Education is a course-based, professional degree designed primarily for higher education professionals seeking to advance their understanding of the issues confronting their institution and the postsecondary system. It best serves students seeking research-informed knowledge on how colleges and universities work in order to pursue or advance administrative and policy careers related to higher education.The program can be pursued on a full-time or part-time basis. Note that the field in Higher Education Leadership is offered part-time only.The Master of Education is offered in four fields: 1) Education in the Professions; 2) Higher Education; 3) Higher Education Leadership and 4) Student Development and Student Services in Higher Education.Field: Education in the ProfessionsThe Education in the Professions field is a course-based professional master's designed for individuals working in areas such as the health professions, law and law enforcement, engineering, and public services, who are planning a career in educational administration, teaching, and leadership. This field introduces the broader area of higher education as well as current issues and research methods in education research in the professions.Two options are offered: 1) Coursework Only Option; and 2) Coursework Plus Major Research Paper Option. Students initially apply to and register in the Coursework Only Option. For registration in the Coursework Plus Major Research Paper Option, departmental permission is required.Field: Higher EducationThe Higher Education field is focused on the issues confronting higher education institutions and the postsecondary education system. It is intended for students seeking research-informed knowledge on how colleges and universities work in order to pursue and advance their administrative and policy careers in higher education. Students are accepted every year and can register on a full-time or part-time basis.Field: Higher Education LeadershipThe Higher Education Leadership field is specifically designed for professionals working in higher education at entry to mid-levels, who seek to build their careers in higher education. With a focus on leadership skills for both the college and university contexts, the field is aimed to bridge the understanding and collaboration of leaders across both sectors. Students move through the Higher Education field as a cohort and register part-time. Classes are generally offered in a compressed format to suit working professionals. Applicants are accepted to the field every other year.Field: Student Development and Student Services in Higher EducationThe Student Development and Student Services in Higher Education field is designed for student development and student services professionals who are seeking to acquire the knowledge and skills that are evidence- and experientially based to provide leadership in various types of postsecondary institutions.

Program Description
The Master of Education in Higher Education is a course-based, professional degree designed primarily for higher education professionals seeking to advance their understanding of the issues confronting their institution and the postsecondary system. It best serves students seeking research-informed knowledge on how colleges and universities work in order to pursue or advance administrative and policy careers related to higher education. The program can be pursued on a full-time or part-time basis.Within the MEd program, the field in Education in the Professions is a course-based professional master's designed for individuals working in areas such as the health professions, law and law enforcement, engineering, and public services, who are planning a career in educational administration, teaching, and leadership. This field introduces the broader area of higher education as well as current issues and research methods in education research in the professions.Two options are offered: 1) Coursework Only Option; and 2) Coursework Plus Major Research Paper Option. Students initially apply to and register in the Coursework Only Option. For registration in the Coursework Plus Major Research Paper Option, departmental permission is required.Application

Program Description
The Master of Education in Higher Education is a course-based, professional degree designed primarily for higher education professionals seeking to advance their understanding of the issues confronting their institution and the postsecondary system. It best serves students seeking research-informed knowledge on how colleges and universities work in order to pursue or advance administrative and policy careers related to higher education. The program can be pursued on a full-time or part-time basis.Within the MEd program, the field in Higher Education focuses on the issues confronting higher education institutions and the postsecondary education system. It is intended for students seeking research-informed knowledge on how colleges and universities work in order to pursue and advance their administrative and policy careers in higher education. Students are accepted every year and can register on a full-time or part-time basis.Application

Program Description
The Master of Education in Higher Education is a course-based, professional degree designed primarily for higher education professionals seeking to advance their understanding of the issues confronting their institution and the postsecondary system. It best serves students seeking research-informed knowledge on how colleges and universities work in order to pursue or advance administrative and policy careers related to higher education.Within the MEd program, the field in Higher Education Leadership is specifically designed for professionals working in higher education at entry to mid-levels, who seek to build their careers in higher education. With a focus on leadership skills for both the college and university contexts, the field is aimed to bridge the understanding and collaboration of leaders across both sectors. Students move through the Higher Education field as a cohort and register part-time. Classes are generally offered in a compressed format to suit working professionals.Applicants are accepted every other year. This field is offered part-time only.Application

Program Description
The Master of Education in Higher Education is a course-based, professional degree designed primarily for higher education professionals seeking to advance their understanding of the issues confronting their institution and the postsecondary system. It best serves students seeking research-informed knowledge on how colleges and universities work in order to pursue or advance administrative and policy careers related to higher education. The program can be pursued on a full-time or part-time basis.Within the MEd program, the field in Student Development and Student Services in Higher Education is designed for student development and student services professionals who are seeking to acquire the knowledge and skills that are evidence- and experientially based to provide leadership in various types of postsecondary institutions.Application

Program Description
The EdD Program in Higher Education is intended to shape highly competent professionals in leadership positions in higher education administration or policy. It best serves students seeking the knowledge and research skills needed to pursue research-grounded professional careers in colleges, universities, government agencies, professional associations, and international organizations.The EdD program can be pursued either on a part-time or full-time basis. The department welcomes applicants with diverse but relevant backgrounds.Students cannot transfer between the EdD and PhD programs.

Program Description
The PhD Program in Higher Education fosters research-grounded study of higher education administration and policy. It best serves students seeking the knowledge and research skills needed to pursue careers in colleges, universities, government agencies, professional associations, and international organizations as a higher education expert. The program offers both full-time and flexible-time options.The Doctor of Philosophy is available in two delivery models: Regular PhD stream: students are accepted every year into the full-time or flexible-time program. he Community College Leadership (CCL) Cohort: available in select years. The CCL Cohort is designed for emerging college leaders and focuses specifically on the college system. The CCL is mostly offered in compressed mode, mainly on weekends, to suit working professionals pursuing a flexible-time program. Applicants must specify their interest in the CCL Cohort in their Statement of Intent. The department welcomes applicants with diverse but relevant backgrounds.
institut, labor, educat, health
SDG4, SDG16
X
X
History
History
https://history.utoronto.ca/graduate
https://www.sgs.utoronto.ca/programs/history/
https://sgs.calendar.utoronto.ca/degree/History
Arts and Science
UTSG
Master of Arts, MA Program, Field: Contemporary International History, Doctor of Philosophy, PhD Program, PhD Program (Direct-Entry)
Program Overview
The Department of History at the University of Toronto offers a broadly diversified program of graduate studies leading to the Master of Arts and Doctor of Philosophy degrees. Instruction is offered in all major areas of historical scholarship by a graduate faculty of approximately 70 members. Courses are offered in the history of Canada; the United States; Medieval, Early Modern, and Modern Europe and Britain; Eastern Europe; Russia; Latin America; Africa; South Asia; East Asia; Southeast Asia; International Relations; the History of Medicine; and Women's History.The University of Toronto also offers rich resources outside the department to support the study of history. The Robarts Research Library in the Humanities and Social Sciences, unrivalled in Canada and among the leading university libraries in North America, provides a foundation for a wide range of study. Specialized collections are located elsewhere in the University, including in a number of centres and research institutes. The Centre for Medieval Studies and the Pontifical Institute of Mediaeval Studies have particularly strong resources for European and British medieval history. The Munk School of Global Affairs; the Institute for the History and Philosophy of Science and Technology; the Centre for Criminology and Sociolegal Studies; the Institute for Urban and Community Studies; as well as the Centre for European, Russian, and Eurasian Studies afford additional opportunities for interdepartmental work. The department participates in a number of interdisciplinary collaborative specializations.

Program Description
The Department of History offers a broadly diversified program of graduate studies leading to the Master of Arts degree. There are opportunities to study and research several geographic, chronological, and thematic areas of history. Visit the departmental website for descriptions of specific fields. The requirements vary for the field in Contemporary International History; see the admission and program requirements below.The MA program can be taken on a full-time or part-time basis.

Program Description
The Department of History offers a broadly diversified program of graduate studies leading to the Doctor of Philosophy degree. There are opportunities to study and research several geographic, chronological, and thematic areas of history. Visit the departmental website for descriptions of specific fields.Applicants may enter the PhD program via one of two routes: 1) following completion of an appropriate MA degree or 2) direct entry following completion of an appropriate bachelor's degree.
institut, urban, labor, women
SDG5, SDG11
X
X
History and Philosophy of Science and Technology
History and Philosophy of Science and Technology
https://hps.utoronto.ca/graduate-studies/
https://www.sgs.utoronto.ca/programs/history-and-philosophy-of-science-and-technology/
https://sgs.calendar.utoronto.ca/degree/History-and-Philosophy-of-Science-and-Technology
Arts and Science
UTSG
Master of Arts, Doctor of Philosophy, PhD Program, PhD Program (Direct-Entry), PhD Program (Flexible-Time)
Program Overview
The Institute for the History and Philosophy of Science and Technology (IHPST) offers two degree programs: Master of Arts and Doctor of Philosophy. IHPST conducts research, offers advanced studies programs, and serves as a focus for University-wide interest in its field.Courses are open to all graduate students and are suitable complements for specialists in science or the humanities. Students participate in the IHPST colloquia, which are open to the U of T community.Admission is highly selective and competitive. Acceptance is based on a combination of grades, references, academic and professional accomplishments, areas of interest, and a sample of written work. All the forms required for application, including the standard application form, can be downloaded from the institute's website. The website also contains detailed instructions for completing applications. Applications must be accompanied by transcripts, a statement of interest, letters of reference, and a writing sample of no more than 3,000 words. The application deadline is January 15. Applicants who wish to take one or more of the courses offered by the institute as non-degree students should apply for admission as Special Students. The application procedures are the same as for those of the MA program, but the deadline for applications is May 1.

Program Description
Admission to the MA is highly selective and competitive. Acceptance is based on a combination of grades, references, academic and professional accomplishments, areas of interest, and a sample of written work. The IHPST website contains detailed instructions for completing admission applications. Applications must be accompanied by transcripts, a statement of interest, letters of reference, a curriculum vitae, and a writing sample.Applicants who wish to take one or more of the courses offered by IHPST as non-degree students should apply for admission as Special Students. The application procedures are the same as for those of the MA program, but the deadline for applications is May 1.The MA program can be taken on a full-time or part-time basis.

Program Description
Admission to the PhD program is highly selective and competitive. Acceptance is based on a combination of grades, references, academic and professional accomplishments, areas of interest, and a sample of written work. The IHPST website contains detailed instructions for completing admission applications. Applications must be accompanied by transcripts, a statement of interest, letters of reference, a curriculum vitae, and a writing sample. The application deadline is January 15 of every year.Applicants must be admitted via one of the following routes: 1) following completion of a master 's degree in History and Philosophy of Science and Technology or 2) direct entry following completion of an appropriate bachelor 's degree.With the approval of the Director of Graduate Studies, some applicants may be admitted to a flexible-time PhD option. This option will benefit mature students who remain active in their professional careers during the PhD, such as physicians, engineers, educators, and IT professionals. The option will enable them to engage in supervised research in the history and/or philosophy of their profession.Applicants who wish to take one or more of the courses offered by IHPST as non-degree students should apply for admission as Special Students. The application procedures are the same as for those of the MA program, but the deadline for applications is May 1.
educat
SDG4, SDG16
X
Immunology
Immunology
http://www.immunology.utoronto.ca/graduate-program-information
https://www.sgs.utoronto.ca/programs/immunology/
https://sgs.calendar.utoronto.ca/degree/Immunology
Medicine
UTSG
Master of Science, Field: Applied Immunology, Field: Applied Immunology (Advanced-Standing Option), Master of Science, Field: Fundamental Immunology, Doctor of Philosophy, Field: Fundamental Immunology, PhD Program, PhD Program (Transfer), PhD Program (Direct-Entry)
Program Overview
The Department of Immunology offers graduate programs leading to the Master of Science and Doctor of Philosophy degrees in a wide range of immunological disciplines. These disciplines include molecular mechanisms of lymphocyte development and selection, T-cell and B-cell receptors, cell interactions, growth factor receptors, cytokine networks, antigen processing and presentation, signal transduction in lymphocytes, V(D)J recombination, anergy, apoptosis, transgenic and knock-out models, immuno-targe ting and vaccine design, autoimmunity, AIDS, diabetes, and transplantation. The department provides a common forum for investigators in many areas of U of T and an interdisciplinary research experience in immunology. Members and students in the department are located at the Medical Sciences Building, at the Ontario Cancer Institute, and at the Research Institutes of Mt. Sinai Hospital, Toronto General Hospital, Toronto Western Hospital, The Hospital for Sick Children, and Sunnybrook Hospital. The purpose of the MSc in the field of Applied Immunology is to provide advanced training in designing, implementing, and evaluating immunological techniques that measure immune responses. To qualify for the degree, each student must complete specified coursework and a Major Research Project. Performed in a host laboratory, the Major Research Project will comprise research that designs and validates a novel technical approach that will be summarized in a proposal document, a report document, and an oral presentation.Students may also be interested in the combined degree program in Medicine, Doctor of / Doctor of Philosophy (MD/PhD). Please note: the Department of Immunology will not be able to consider international applicants for the MSc in Applied Immunology at this time. International students are encouraged to apply to PhD in Fundamental Immunology graduate program.

Program Description
The MSc program is offered in two fields: he non-thesis Applied Immunology field provides advanced training in designing, implementing, and evaluating immunological techniques that measure immune responses. he thesis-based Fundamental Immunology field provides advanced training in an area of specialization, with a particular emphasis on the acquisition of experience in the strategies and experimental methods of modern, original, scientific research. Students in the Applied Immunology field (including the advanced-standing option) are not eligible to participate in collaborative specializations.

Program Description
The MSc program is offered in two fields: he non-thesis Applied Immunology field provides advanced training in designing, implementing, and evaluating immunological techniques that measure immune responses. he thesis-based Fundamental Immunology field provides advanced training in an area of specialization, with a particular emphasis on the acquisition of experience in the strategies and experimental methods of modern, original, scientific research.

Program Description
The PhD degree is an advanced research degree intended to reflect a level of training consistent with the ability of the candidate to function as an independent research scientist.Applicants may enter the PhD program via one of three routes: 1) following completion of an MSc degree; 2) transfer from the MSc in Immunology program, Fundamental Immunology field; or 3) direct entry following completion of a BSc degree.
institut, labor
SDG3
X
Indigenous Health
***Collaborative Specialization***
http://www.dlsph.utoronto.ca/institutes/wbiih/collaborative-specialization-in-indigenous-health/
https://sgs.calendar.utoronto.ca/collaborative/Indigenous-Health
Public Health
Tricampus
Master's, Doctoral
Objectives: Provide training in Indigenous health research and practice for graduate students at the master's and doctoral levels; Enhance the quality and breadth of multidisciplinary training by providing trainees with access to learning experiences that cut across existing academic disciplinary and administrative boundaries; Offer students mentorship opportunities with the core faculty of the CSIH program who hold a diversity of theoretical, substantial and methodological perspectives; Increase the visibility of Indigenous health within the U of T community; Foster a network of Indigenous health within the U of T community; Prepare the next generation of Indigenous health researchers, practitioners, and educators to work respectfully and effectively with Indigenous communities and organizations; Work in collaboration to create an environment within U of T which values the lived experiences, ethical principles, and world views of Indigenous peoples and enhance U of T's partnerships with Indigenous communities and organizations.
educat, health
SDG3, SDG4
X
X
Industrial Relations and Human Resources
Industrial Relations and Human Resources
https://www.cirhr.utoronto.ca/graduate
https://www.sgs.utoronto.ca/programs/industrial-relations-and-human-resources/
https://sgs.calendar.utoronto.ca/degree/Industrial-Relations-and-Human-Resources
Arts and Science
UTSG
Master of Industrial Relations and Human Resources, MIRHR Program (Two-Year), MIRHR Program (Advanced-Standing Option: 12-Month), Doctor of Philosophy, PhD Program, PhD Program (Direct-Entry)
Program Overview
The Master of Industrial Relations and Human Resources (MIRHR) and Doctor of Philosophy (PhD) degree programs benefit students who are interested in advanced academic study leading to career opportunities in human resources management; labour management relations; collective bargaining and dispute resolution; organization development and change; and labour market and social policy. The MIRHR degree may be taken on a full-time or part-time basis.The MIRHR is a professional degree program designed to train students in the latest innovations and best practices within industrial relations and human resources management. The degree provides specialized study of the employment relationship using an interdisciplinary approach.The PhD program is a research-oriented program of study designed to provide students with a thorough knowledge of the field and strong research skills. Offered only on a full-time basis, students normally fulfil a two-year residency requirement that enables their full participation in the activities associated with the program.

Program Description
The Master of Industrial Relations and Human Resources (MIRHR) degree program benefits students who are interested in advanced academic study leading to career opportunities in human resources management, labour-management relations, collective bargaining and dispute resolution, organization development and change, and labour market and social policy.The MIRHR is a professional degree program designed to train students in the latest innovations and best practices within industrial relations and human resources management. The program uses an interdisciplinary approach to provide specialized study of the employment relationship.The MIRHR offers two program options: he two-year MIRHR option allows qualified students to complete the degree program in two years (16 non-consecutive months) of full-time study. he advanced-standing MIRHR option enables qualified students to complete the MIRHR in one year (12 consecutive months) of full-time study. Both options may be taken on a part-time basis.

Program Description
The Doctor of Philosophy (PhD) degree program benefits students who are interested in advanced academic study leading to career opportunities in human resources management; labour-management relations; collective bargaining and dispute resolution; organization development and change; and labour market and social policy. The PhD program is a research-oriented program of study designed to provide students with a thorough knowledge of the field and strong research skills. Offered only on a full-time basis, students normally fulfil a two-year residency requirement that enables their full participation in the activities associated with the program.Applicants may enter the PhD program via one of two routes: 1) following completion of an appropriate master's degree or 2) direct entry following completion of a bachelor's degree.
industr, innovat, labour, employment
SDG8, SDG9
X
X
Information
Information
https://ischool.utoronto.ca/future-students/programs-of-study/
https://www.sgs.utoronto.ca/programs/information/
https://sgs.calendar.utoronto.ca/degree/Information
Information
UTSG
Master of Information, Doctor of Philosophy, PhD Program, PhD Program (Flexible-Time Option)
Graduates of the program will have awareness and applied understanding of: The history of museums, and the centrality of representation within their social and political roles in societies; Various professional responsibilities within cultural institutions and agencies and the interrelationship of these responsibilities; Ethical issues facing cultural institutions, agencies, and professionals; Museological best practices; Legal frameworks and ethical debates surrounding the acquisition and care of natural and cultural heritage.
institut, innovat
SDG9, SDG16
X
X
Italian Studies
Italian Studies
https://italianstudies.utoronto.ca/graduate-studies/
https://www.sgs.utoronto.ca/programs/italian-studies/
https://sgs.calendar.utoronto.ca/degree/Italian-Studies
Arts and Science
UTSG
Master of Arts, Doctor of Philosophy, PhD Program, PhD Program (Direct-Entry)
Program Overview
The Master of Arts program offers advanced education in all areas of Italian literature and provides training in research techniques.The Doctor of Philosophy program prepares students for a career in teaching and scholarship. Graduates are expected to have acquired autonomy in conducting research, preparing scholarly publications, teaching undergraduate courses in all areas of Italian studies, and in designing and teaching graduate courses in their fields of specialization. The program is designed to provide a broad knowledge of the discipline, specialized knowledge of a single field, and training in all aspects of scholarly research in the discipline.

Program Description
The MA program offers advanced education in Italian literature and provides training in research techniques.

Program Description
The PhD program prepares students for a career in teaching and scholarship. Graduates are expected to have acquired autonomy in conducting research and preparing scholarly publications. They are trained to teach undergraduate courses in all areas of Italian studies and to design and teach graduate courses in their fields of specialization.The program is designed to provide a broad knowledge of the discipline, specialized knowledge of a single field, and training in all aspects of scholarly research in the discipline.Applicants may enter the PhD program via one of two routes: (1) following completion of an appropriate MA degree or (2) direct entry after completing a bachelor's degree.
educat
SDG4
X
Kinesiology
Kinesiology
https://kpe.utoronto.ca/academics-research/graduate-studies
https://www.sgs.utoronto.ca/programs/kinesiology/
https://sgs.calendar.utoronto.ca/degree/Kinesiology
Kinesiology and Physical Education
UTSG
Master of Science, Doctor of Philosophy, PhD Program, PhD Program (Direct-Entry), PhD Program (Flexible-Time)
Program Overview
The field of kinesiology is interdisciplinary. All degree programs are for students interested in research, academic, and professional careers relating to: Applied/exercise/environmental ph ysiologyBiomechanics and ergonomicsHealth-care provision as a kinesiologistMetabolic and endocrinological aspects of physical activityMotor control and motor learningMuscle physiologyPhysical cultural aspects of sport and physical activityPhysical fitness and athletic strength and conditioningPsychological aspects of sport and physical activityPsychophysiological aspects of exercise and stressWomen's health and physical activity.The graduate unit and degree program in Kinesiology were formerly known as Exercise Sciences.

Program Description
The MSc program is intended to broaden students ' understanding of the various interdisciplinary aspects of kinesiology as well as to provide them with the necessary scholarly and technical research skills so that they may pursue a high-quality research project.The MSc program can be taken on a full-time or part-time basis.

Program Description
Doctoral students are encouraged to develop a program of study that will enhance their basic understanding of critical areas of study within kinesiology and have a direct impact on their research program. Students are also expected to further develop their scholarly and technical research skills so that they may pursue a high-quality research project.Applicants may enter the PhD program via one of two routes: 1) following completion of an MSc degree; or 2) direct entry following completion of a BSc degree.The PhD program can be taken on a full-time or flexible-time basis.
environment, women, health
SDG3, SDG5
X
X
Knowledge Media Design
***Collaborative Specialization***
http://kmdi.utoronto.ca/
https://sgs.calendar.utoronto.ca/collaborative/Knowledge-Media-Design
Information
Tricampus
Master's, Doctoral
The Collaborative Specialization in Knowledge Media Design (KMD) was launched in 2002 as the teaching arm of the Knowledge Media Design Institute (KMDI). KMD provides a specialization for graduate students from a variety of academic backgrounds to engage in the design, prototyping, evaluation, and use of knowledge media. In keeping with KMDI's humancentred approach, students explore the design and use of new media in the context of real-world practices of individuals and communities. Access to an intensely collaborative and crossdisciplinary faculty encourages students to take a broader view of technological and social change and to be constructively critical of technological utopian and dystopian visions alike. The goal is for students to take into account heritage and history, to understand the realities of today, and to design for tomorrow. Students have access to a community of scholars and the network of relationships that the institute coordinates. They gain first-hand experience of a living network of innovation, an environment in which the resources are people and knowledge, and the social capital and value that are generated through collaboration.
innovat
SDG9
X
Laboratory Medicine and Pathobiology
Laboratory Medicine and Pathobiology
https://www.lmp.utoronto.ca/graduate
https://www.sgs.utoronto.ca/programs/laboratory-medicine-and-pathobiology/
https://sgs.calendar.utoronto.ca/degree/Laboratory-Medicine-and-Pathobiology
Medicine
UTSG
Master of Science, Doctor of Philosophy, PhD Program, PhD Program (Transfer), PhD Program (Direct-Entry)
Program Overview
The graduate program in Laboratory Medicine and Pathobiology provides a curriculum of courses and a broad-based multidisciplinary approach to research in mechanisms of human disease leading to Master of Science and Doctor of Philosophy degrees. The program emphasizes:Bone and Matrix PathobiologyCancerVascular and Cardiovascular PathobiologyImmunopathology, Lymphatics, and TransplantationNeuropathobiology and Endocrine DisordersMicrobiology and Infectious DiseaseThe Department of Laboratory Medicine and Pathobiology offers excellent research training programs that address the nature and molecular mechanisms of human disease. Over 130 faculty members-on campus and at university teaching hospitals-conduct studies and teach courses related to pathobiology and supervise students in the PhD and MSc programs. The department provides a unique academic research environment that encourages interaction among clinicians, scientists, and student trainees. Students can gain an excellent understanding of how discoveries in basic and clinical research settings lead to more effective strategies in the treatment of human illness.Research foci include:Antimicrobial Resistance: Surveillance and MechanismsBone and Connective Tissue Diseases including Disorders of Mineral MetabolismCancer Pathogenesis and PreventionCardiovascular DiseaseCell-Matrix InteractionsDevelopment: Cell Cycle, Differentiation, SignallingDiabetesEndocrine and Neuroendocrine DisordersHematopathology and Transfusion MedicineImmunopathology and TransplantationInflammatory DisordersLipid DisordersLymphatic PathobiologyMicrobial PathogenesisMolecular BiomarkersNeurodegenerative DisordersProteomics and BioinformaticsProtein Structure and FunctionToxicologyTranslational ResearchVascular Cell BiologyViral DiseasesStudents may also be interested in the combined degree program in Medicine, Doctor of / Doctor of Philosophy (MD/PhD). See video: Explore Graduate Programs at the Faculty of Medicine.

Program Description
The MSc program emphasizes the development of analytical technologies, the application of basic research techniques in biochemistry, cell biology, clinical biochemistry, experimental pathology, genetics, immunology, and molecular biology to the study of mechanisms of cell and tissue injury and the pathogenesis of disease. The program also emphasizes the nature, mechanisms, therapy, and prevention of microbial diseases in humans, as well as the processes by which pathogenic microbes are spread.

Program Description
The PhD program emphasizes the development of analytical technologies, the application of basic research techniques in biochemistry, cell biology, clinical biochemistry, experimental pathology, genetics, immunology, and molecular biology to the study of mechanisms of cell and tissue injury and the pathogenesis of disease. The program also emphasizes the nature, mechanisms, therapy, and prevention of microbial diseases in humans, as well as the processes by which pathogenic microbes are spread.Applicants may enter the PhD program via one of three routes: 1) following completion of an MSc degree; 2) transfer from the University of Toronto MSc program; or 3) direct entry following completion of a BSc degree.A limited number of selected students may enter the combined degree program in Medicine, Doctor of /Doctor of Philosophy (MD/PhD) subject to admission into both the departmental PhD program and the MD program.
environment, labor
SDG3
X
Landscape Architecture
Architecture, Landscape, and Design
https://www.daniels.utoronto.ca/programs/graduate/master-landscape-architecture-professional
https://www.sgs.utoronto.ca/programs/landscape-architecture/
https://sgs.calendar.utoronto.ca/degree/Architecture,-Landscape,-and-Design
Architecture, Landscape, and Design
UTSG
Master of Landscape Architecture, MLA Program (3-Year Option), MLA Program (2-Year: Second-Year Advanced-Standing Option), MLA Program (1-Year: Post-Professional Advanced-Standing Option)
Program Overview
The professional Master of Landscape Architecture (MLA) degree, for students new to the discipline, uses intensive studio-based courses to address the design challenges facing urban landscapes today. Complementary lecture and seminar courses in history, theory, technology, and environmental studies provide comprehensive professional training and serve as a forum to examine landscape architecture's synthetic role in design and planning at scales ranging from the garden to the region.After a four-session core curriculum, students develop independent research directions that culminate in the final term's thesis studio. The program's goal is to develop progressive models for landscape architecture practice: we encourage work that explores and extends the discipline's ties to the humanities, environmental and social sciences, and engineering.

Program Description
The Master of Landscape Architecture (MLA) is a professional program that focuses on urban and regional landscape architecture within a studio-based curriculum. Integrated courses in design; visual communication and modelling; history, theory, and criticism; site engineering and material technologies; horticulture, ecology, hydrology; professional practice and research methods seminars, as well as options for electives, provide a comprehensive professional education in landscape architecture. The program prepares students with a strong base in the fundamentals of the profession, while fostering innovative thinkers able to work collaboratively with allied disciplines, in preparation for becoming the next generation of leaders in landscape architecture.
ecolog, environment, urban, innovat, labor, educat
SDG9, SDG11, SDG13
X
X
X
Language and Literacies Education
Curriculum, Teaching and Learning
https://www.oise.utoronto.ca/ctl/index.html
https://www.sgs.utoronto.ca/programs/language-and-literacies-education/
https://sgs.calendar.utoronto.ca/degree/Curriculum,-Teaching-and-Learning
Ontario Institute for Studies in Education (OISE)
UTSG
Master of Arts, Master of Education, Master of Education (Field: Language Teaching), Doctor of Philosophy, PhD Program, PhD Program (Flexible-Time)
Program Overview
The Language and Literacies Education program is offered by the Department of Curriculum, Teaching and Learning at the Ontario Institute for Studies in Education (OISE), leading to the Master of Arts (MA), Master of Education (MEd), and Doctor of Philosophy degrees.This program investigates questions around the relationships of literacies in language and language in literacies across communities, societies, instructional environments, and informal learning settings. The scope of the program encompasses the following within applied linguistics and literacies studies:the learning, teaching, and use of first and additional (non-native) languages in diverse settings;curriculum, instruction, and assessment related to the development of first and additional language and K-12 literacy skills;the development of bilingual, multilingual, and translinguistic abilities;language and literacy education policies and planning;pedagogy oriented towards multiliteracies development, including early literacy and adolescent reading, writing, and oral language development, andchildren's literature across the curriculum;social justice issues related to plurilingualism and cultural and linguistic diversity; andpedagogical implications of the fact that language and literacy are infused into all aspects of learning in contexts characterized by linguistic diversity.Specific resources related to the program include the OISE library's Modern Language Collection, la Collection Franco-Ontarienne, the Children's and Young Adult literature collection, and the Centre for Educational Research on Languages and Literacies.
justice, institut, environment, educat
SDG4, SDG16
X
X
Law
Law
https://www.law.utoronto.ca/admissions/graduate-admissions
https://www.sgs.utoronto.ca/programs/law/
https://sgs.calendar.utoronto.ca/degree/Law
Law
UTSG
Master of Laws, LLM Program (No Concentration): Thesis Option, LLM Program (No Concentration): Coursework-Only Option, LLM Program (With a Concentration): Thesis Option, LLM Program (With a Concentration): Coursework-Only Option, Master of Studies in Law, Dual Degree Program: Bachelor of Laws (National University of Singapore) / Master of Laws (University of Toronto), Dual Degree Program: Bachelor of Laws (Tsinghua University) / Master of Laws (University of Toronto), Dual Degree Program: Master of Laws (University of Toronto) / Juris Master (Tsinghua University), Dual Degree Program: Master of Laws (University of Toronto) / Master of Laws (Tsinghua University), Doctor of Juridical Science, SJD Program, SJD Program (Direct-Entry)
Program Overview
The Master of Laws (LLM) is a one-year degree program that provides students with an opportunity for more profound study beyond their first law degree. (Please note: the LLM program is an academic program and is not designed to meet National Committee on Accreditation [NCA] requirements.)The LLM program can be thesis intensive (with either a shorter or longer thesis) or coursework only. The longer thesis option is for law students who have demonstrated a strong potential for advanced research and writing in a common law system. The shorter thesis option and coursework-only formats are for law students who wish to specialize in a specific area of law or explore common law at an advanced level.Within the LLM program, students also have the option of applying to pursue one of four areas of concentration: Business Law; Criminal Law; Health Law, Ethics and Policy; or Legal Theory. Students accepted into a concentration will receive a designation on their transcript. The number of places available for students in each of the areas of concentration will be limited, and acceptance into the concentrations will be on a competitive basis. The Master of Studies in Law (MSL) is designed for scholars with no prior training in law who wish to acquire knowledge of law in order to add a legal dimension to scholarship in their own discipline.The Doctor of Juridical Science (SJD), a thesis degree program which normally takes three years to complete, is for outstanding law students seeking to pursue careers in teaching, policy, and research.The Faculty of Law also offers the Global Professional Master of Laws (GPLLM) .

Program Description
The Master of Laws (LLM) is a one-year degree program that provides students with an opportunity for more profound study beyond their first law degree.The LLM program can be thesis-intensive (with both a short or long thesis option) or coursework-only. The short and long thesis options are for law students who have demonstrated a strong potential for advanced research and original scholarship. The coursework-only option is for law students who wish to specialize in a specific area of law or explore common law at an advanced level.Within the LLM program, students also have the option of applying to pursue one of four areas of concentration: LLM with a Concentration in Business Law LLM with a Concentration in Criminal Law LLM with a Concentration in Health Law, Ethics, and Policy LLM with a Concentration in Legal Theory. Students accepted into a concentration will receive a designation on their transcript. There are a limited number of spots available for students in each concentration, and acceptance into the concentrations will be competitive.The program is completed on a full-time basis. Part-time registration may be considered in exceptional circumstances.

Program Description
The Master of Studies in Law (MSL) program is designed for scholars with no prior training in law who wish to acquire a legal education and knowledge of law in order to add a legal dimension to scholarship in their own discipline.

Program Description
This dual degree program is offered as part of the Master of Laws (LLM)'s coursework-only option, with or without a concentration. Students are not eligible to take the thesis option.Students complete three years of a Bachelor of Laws (LLB) from the National University of Singapore (NUS), and in Year 4 complete the LLM degree at the University of Toronto. Students complete the LLB and LLM degrees in four years rather than the five years it would take to attain them separately. See the LLM coursework requirements (with or without a concentration) above.Upon successful completion of the degree requirements of both programs, students receive a Bachelor of Laws degree and a Master of Laws degree.ContactBachelor of Laws ProgramFaculty of Law, National University of SingaporeEmail: lawUGadm@nus.edu.sgMaster of Laws ProgramFaculty of Law, University of TorontoEmail: law.graduate@utoronto.caApplication Process Initial consideration for admission to the dual degree program will be based on the applicant's performance during the first three terms of the NUS LLB program. All offers of admission to the dual degree program will be conditional upon successful completion of all Year 1, 2, and 3 requirements of the LLB program before starting the LLM program.

Program Description
This dual degree program is offered as part of the Master of Laws (LLM)'s coursework-only option, with or without a concentration. Students are not eligible to take the thesis option.Students complete two years of a Bachelor of Laws (LLB) from Tsinghua University, and in Year 3 complete the LLM degree at the University of Toronto.Students complete the LLB and LLM degrees in four years rather than the five years it would take to attain them separately. See the LLM coursework requirements (with or without a concentration) above.Upon successful completion of the degree requirements of both programs, students receive a Bachelor of Laws degree and a Master of Laws degree.ContactBachelor of Laws ProgramLaw School, Tsinghua UniversityEmail: to be confirmedMaster of Laws ProgramFaculty of Law, University of TorontoEmail: law.graduate@utoronto.ca

Program Description
This dual degree program is offered as part of the Master of Laws (LLM) 's coursework-only option, with or without a concentration. Students are not eligible to take the thesis option.Students complete the LLM and Juris Master (JM) degrees in three years and one session rather than the four years it would take to attain them separately. See the LLM coursework requirements (with or without a concentration) above. Years 1 and 2: students register in the Tsinghua University JM program. Fall session of Year 3: students register in the University of Toronto LLM program. Winter session of Year 3: students return to the Tsinghua University JM program. Fall session of Year 4: students register in the University of Toronto LLM program and complete the dual degree by the end of that session. Upon successful completion of the degree requirements of both programs, students receive a Master of Laws degree and a Juris Master degree.ContactJuris Master ProgramLaw School, Tsinghua UniversityEmail: to be confirmedMaster of Laws ProgramFaculty of Law, University of TorontoEmail: law.graduate@utoronto.ca

Program Description
This dual degree program is offered as part of the Master of Laws (LLM)'s coursework-only option, with or without a concentration. Students are not eligible to take the thesis option.Students complete the two LLM degrees in two years and one session rather than the three years it would take to attain them separately. See the LLM coursework requirements (with or without a concentration) above. Year 1: students register in the Tsinghua University LLM program. Fall session of Year 2: students register in the University of Toronto LLM program. Winter session of Year 2: students return to the Tsinghua University LLM program. Fall session of Year 3: students register in the University of Toronto LLM program and complete the dual degree program by the end of that session. Upon successful completion of the degree requirements of both programs, students receive the University of Toronto and Tsinghua University Master of Laws degree.ContactMaster of Laws ProgramLaw School, Tsinghua UniversityEmail: to be confirmedMaster of Laws ProgramFaculty of Law, University of TorontoEmail: law.graduate@utoronto.ca

Program Description
The Doctor of Juridical Science (SJD) is a thesis degree program for outstanding law students seeking to pursue careers in teaching, policy, and research. Students receive a guaranteed funding package for three years. Inquiries should be directed to the Graduate Program Coordinator, Graduate Program, Faculty of Law at the address above.Applicants may enter the SJD program via one of two routes: 1) following completion of an appropriate Bachelor of Laws or Juris Doctor degree and a Master of Laws; or 2) direct entry following completion of an appropriate Bachelor of Laws or Juris Doctor degree.
educat, health
SDG16
X
Linguistics
Linguistics
https://www.linguistics.utoronto.ca/graduate
https://www.sgs.utoronto.ca/programs/linguistics/
https://sgs.calendar.utoronto.ca/degree/Linguistics
Arts and Science
UTSG
Master of Arts, MA Program (One-Year Advanced-Standing Option - Standard Admission), MA Program (Two-Year), Doctor of Philosophy, PhD Program, PhD Program (Direct-Entry)
Program Overview
The Department of Linguistics offers Master of Arts and Doctor of Philosophy degree programs in three fields:Language Variation (sociolinguistics, dialectology, language variation and change)Psycholinguistics (comprehension and production, language acquisition)Theoretical Linguistics (generative grammar: phonology, morphology, syntax)Originating in 1967, the department is part of an energetic academic community that includes numerous linguistic colleagues throughout the University of Toronto and in neighbouring universities.

Program Description
The MA program in Linguistics offers comprehensive training in three areas of strength: theoretical linguistics, language variation and change, and psycholinguistics. Students complete rigorous coursework with research training in their preferred area of study. By the time of graduation, students are equipped with professional-level skills in interpretation of data, analysis, and argumentation.The department offers one- and two-year MA options. The majority of students are admitted to the one-year MA option.

Program Description
The PhD program in Linguistics offers comprehensive and rigorous training in an environment that encourages collaboration across the fields of Theoretical Linguistics, Language Variation and Change, and Psycholinguistics. Students achieve an advanced understanding of language and are equipped with professional-level skills in analysis, argumentation, interpretation, and quantitative reasoning. While many graduates choose academic positions, many others choose to pursue careers in fields such as education, publishing, and data science.Applicants may enter the PhD program via one of two routes: 1) following completion of an MA degree; 2) direct entry following completion of a bachelor's degree.
environment, production, labor, educat
SDG4
X
Management of Innovation
Management & Innovation
https://www.utm.utoronto.ca/mmi/
https://www.sgs.utoronto.ca/programs/management-of-innovation/
https://sgs.calendar.utoronto.ca/degree/Management-and-Innovation
University of Toronto Mississauga (UTM)
UTM
Master of Management of Innovation
Program Overview
The Master of Management of Innovation (MMI) program attracts students with science, engineering, and technology backgrounds. The program prepares students with the knowledge, skills, and strategic perspectives required to become leaders and senior managers.The curriculum provides a strong foundation in economic analysis, technology management, business strategy, finance, accounting, marketing, and policy. The required academic core courses focus on management and economics; students select three electives tailored to their interests and goals.Students must complete a four-month internship in order to be eligible for graduation. The internship allows students to gain valuable, real-world work experience and an opportunity to demonstrate the key competencies the MMI program has taught them.

Program Description
The Master of Management of Innovation (MMI) program is designed for students with a background in science and engineering. It is an accelerated 12-month professional degree for individuals pursuing management careers in technology-focused organizations. The MMI curriculum provides a strong foundation in economic analysis, technology management, business strategy, finance, accounting, marketing, and policy. The required academic nine core courses focus on management and economics, and students select three electives tailored to their interests and goals. A four-month mandatory internship requirement allows students to gain valuable, real-world work experience and an opportunity to demonstrate the key competencies they learn in the MMI program.
innovat
SDG9
X
Materials Science and Engineering
Materials Science and Engineering
https://mse.utoronto.ca/future/graduate/
https://www.sgs.utoronto.ca/programs/materials-science-and-engineering/
https://sgs.calendar.utoronto.ca/degree/Materials-Science-and-Engineering
Applied Science and Engineering
UTSG
Master of Applied Science, Master of Engineering, Full-Time Option, Extended Full-Time Option, Part-Time Option, Doctor of Philosophy, PhD Program, PhD Program (Transfer), PhD Program (Direct-Entry), PhD Program (Flexible-Time), Emphasis: Advanced Manufacturing (MEng only), Emphasis: Advanced Soft Materials (MEng only), Emphasis: Advanced Water Technologies (MEng only), Emphasis: Analytics (MEng only), Emphasis: Biomanufacturing (MEng only), Emphasis: Engineering and Globalization (MEng only), Emphasis: Entrepreneurship, Leadership, Innovation and Technology in Engineering (ELITE) (MEng only), Emphasis: Forensic Engineering (MEng only), Emphasis: Sustainable Energy (MASc, MEng, PhD)
Program Overview
The Department of Materials Science and Engineering offers graduate programs leading to the degrees of Master of Applied Science (MASc), Master of Engineering (MEng), and Doctor of Philosophy (PhD). Graduate courses and research opportunities are offered to qualified students in a wide range of subjects. The department covers a diverse range of research areas in the structure, processing and characterization of metal alloys, advanced ceramic coatings, semiconductor devices, nanocomposites and biomaterials. Also, there is a strong emphasis on simulation and computational modelling.Typical subjects in chemical metallurgy involve a study of the equilibria existing during the reduction of oxides with carbon and metals, properties of iron and steelmaking slags, kinetics of high-temperature reactions, mathematical modelling of metallurgical processes, process metallurgy, and hydrometallurgy. Typical physical metallurgy and materials science subjects deal with the structure and properties of metallic, ceramic, and polymeric materials in such fields as plastic deformation, surface properties, electron microscopy, biomaterials, nuclear materials, nanocomposites, metallic glasses, corrosion, fatigue, welding and bonding, phase transformations and solidification.These studies are all related to the general problem of understanding structure-property-processing relationships in materials, the design of advanced materials and devices, and developing highly-efficient, environmentally-responsible materials processing and manufacturing that considers life cycle analysis and material recycling.

Program Description
The MASc program provides students with an opportunity to pursue advanced study and research with the guidance of experts in their respective fields. Studying in a chosen area of specialty and developing skills through hands-on experience in the MSE world-class labs provides students with the ability to either pursue PhD studies or to move out into industry with enriched skills and knowledge. This full-time program demands commitment and passion for research in materials engineering. For those interested in continuing to PhD-level research, successful completion of the MASc is the normal route.

Program Description
The MEng program has been developed for recent graduates who wish to pursue graduate-level studies but may not be interested in continuing to the PhD program. This program is also intended for working engineers who wish to augment their current knowledge and add to their credentials. The multidisciplinary nature of materials engineering and the coursework-only and coursework-plus-project options enable students to build personalized programs which best suit their individual interests and needs. The MSE MEng is recognized and respected by employers globally and can enhance and enrich the career opportunities of graduates.The MEng program can be taken on a full-time, extended full-time, or part-time basis.

Program Description
Pursuing a PhD degree, the most advanced research degree in the Faculty of Applied Science and Engineering, can be a stepping stone to an academic career or to an industrial career which would benefit from in-depth applied research and research skills. Under the guidance of an accomplished supervisor, PhD students engage in original research that contributes to a variety of fields of study. Four years of PhD study allowing students to collaborate with local and international colleagues culminates in a written thesis which is presented orally and evaluated by experts. This is a degree program for outstanding students.Applicants may enter the PhD program via one of three routes: 1) following successful completion of an MASc degree; 2) transfer from the University of Toronto MASc program to continue work that was begun at that level; or 3) direct entry following completion of an appropriate bachelor 's degree.The program can also be taken on a flexible-time basis.
environment, recycl, industr, innovat, labor, energy, water
SDG6, SDG7, SDG9, SDG12, SDG13, SDG14
X
X
X
X
X
X
Mechanical and Industrial Engineering
Mechanical and Industrial Engineering
https://www.mie.utoronto.ca/programs/overview/
https://www.sgs.utoronto.ca/programs/mechanical-and-industrial-engineering/
https://sgs.calendar.utoronto.ca/degree/Mechanical-and-Industrial-Engineering
Applied Science and Engineering
UTSG
Master of Applied Science, Master of Engineering, Full-Time Option, Extended Full-Time Option, Part-Time Option, Dual Degree Program: Bachelor of Engineering (South China University of Technology) / Master of Engineering (University of Toronto), Doctor of Philosophy, PhD Program, PhD Program (Transfer), PhD Program (Direct-Entry), PhD Program (Flexible-Time), Emphasis: Advanced Manufacturing (MEng only), Emphasis: Advanced Soft Materials (MEng only), Emphasis: Analytics (MEng only), Emphasis: Biomanufacturing (MEng only), Emphasis: Engineering and Globalization (MEng only), Emphasis: Entrepreneurship, Leadership, Innovation and Technology in Engineering (ELITE) (MEng only), Emphasis: Forensic Engineering (MEng only), Emphasis: Robotics (MASc, MEng, PhD), Emphasis: Sustainable Energy (MASc, MEng, PhD)
Program Overview
The Department of Mechanical and Industrial Engineering accepts qualified applicants for study in a wide range of topics, spanning the breadth of Mechanical and Industrial Engineering, including dynamic systems, vibrations, controls, robotics, solid mechanics, thermodynamics, combustion, heat transfer, fluid mechanics, environmental engineering, design, computer-aided engineering, flexible manufacturing, enterprise integration, information systems, fuzzy logic, operations research, production planning and scheduling, human factors/ergonomics, and other related topics.The Master of Applied Science (MASc) degree program provides students with an opportunity to pursue research-intensive advanced studies in a particular field of interest.The Master of Engineering (MEng) degree program is designed for students preparing for advanced professional activity; it is not a research-oriented degree.The Doctor of Philosophy (PhD) degree program is for students anticipating a career in which they will be performing or directing research at the most advanced level.

Program Description
The MASc degree program provides students with an opportunity to pursue research-intensive advanced studies in a particular field of interest.

Program Description
The MEng degree program is designed for students preparing for advanced professional activity; it is not a research-oriented degree. The program may be taken on a full-time, extended full-time, or part-time basis.

Program Description
The MEng may also be taken as part of a dual degree involving the Bachelor of Engineering (BEng) program offered by the South China University of Technology 's School of Mechanical and Automotive Engineering (SMAE) and the Master of Engineering program offered by the University of Toronto 's Mechanical and Industrial Engineering (MIE) department. Dual degree program students complete the fourth year of their BEng as Visiting International Non-degree Students and receive a conditional offer to the MEng program. See the MEng requirements above.Upon successful completion of the degree requirements of both programs, students receive a Bachelor of Engineering degree and a Master of Engineering degree.ContactBachelor of Engineering ProgramSchool of Mechanical and Automotive EngineeringSouth China University of TechnologyEmail: j2jw@scut.edu.cnMaster of Engineering ProgramDepartment of Mechanical and Industrial EngineeringFaculty of Applied Science and Engineering, University of TorontoEmail: meng.admission@mie.utoronto.caApplication Processhis dual degree program allows outstanding third-year students at SMAE to apply to complete their fourth year of undergraduate studies enrolled in MIE as Visiting International Non-degree Students. These students receive a conditional offer of admission into the MEng program for their fifth year.
environment, production, industr, innovat, energy
SDG7, SDG9, SDG12, SDG13
X
X
X
X
Medical Biophysics
Medical Biophysics
https://medbio.utoronto.ca/graduate-program-overview
https://www.sgs.utoronto.ca/programs/medical-biophysics/
https://sgs.calendar.utoronto.ca/degree/Medical-Biophysics
Medicine
UTSG
Master of Science, Doctor of Philosophy, PhD Program, PhD Program (Transfer), PhD Program (Direct-Entry)
Program Overview
The Department of Medical Biophysics is an interdisciplinary department with a strong history of excellence and discovery in cancer research, treatment, and beyond. Located primarily at the Princess Margaret Cancer Centre, Sunnybrook Research Institute, and SickKids Research Institute, the department offers research training leading to the Master of Science and Doctor of Philosophy degrees. The multidisciplinary program in cancer research and broader biomedical research cuts across the conventional boundaries of biology, physics, translational medicine and engineering to deliver a modern, advanced academic curriculum and world-class research training.Projects span the following areas: Cell Biology and Cancer Modeling, Cell Signalling and Metabolism, Computational Cancer Genomics, Epigenetics and Proteomics, Biostatistics and Bioinformatics, Macromolecular Structure and Crystallography, Tumour Microenvironment and Immunology, Stem Cells, Neuroscience, Cardiology, Radiation Biology and Physics, Clinical Cancer Management and Predictive Oncology, MR Spectroscopy and Imaging, Physics and Engineering of Pre-clinical and Clinical Imaging, Ultrasound, X-ray and CT Imaging, Advanced Optical and Electron Microscopies, Biophotonics and Biomedical Optics, Nanotechnology, and Nanomedicine. Students may also be interested in the combined degree program in Medicine, Doctor of / Doctor of Philosophy (MD/PhD).See video: Explore Graduate Programs at the Faculty of Medicine.

Program Description
The objective of the MSc program is for students to acquire written and oral scholarly research skills in Medical Biophysics. Students carry out a research project (which is usually laboratory-based), prepare a research thesis, take graduate-level courses, and attend and participate in research seminars. Students select from a flexible, modular curriculum and participate in department-wide Medical Biophysics Graduate Student Seminars which develop skills in cross-disciplinary communication.All MSc students carry out a thesis project in a laboratory that they select by means of a rotations program on entry to the department. Through this project they acquire knowledge in the design of experiments and in the interpretation and critical analysis of research findings. Students submit a thesis that reports critically on their research and pass an oral examination. They are guided by a supervisory committee through which they have access to the wide range of expertise in our faculty.Students participate in student symposium, invited lecture series, and research seminars throughout their program. They are encouraged to reclassify (transfer) into the PhD program through an examination during Year 2, taken about 20 months after entry.

Program Description
The objective of the PhD program is to prepare students for a career in biomedical research. It is designed to provide both a broad knowledge of biomedical science and advanced training in basic research at a subspecialty level. Thesis work may address fundamental and/or translational problems in the biology, diagnosis, and therapy of cancer, as well as areas of neuroscience and cardiovascular medicine. By the end of the program, graduates will have acquired the ability to conduct independent theoretical and/or experimental research which makes an original contribution to the field, prepare publications, and give public presentations of their work at national and international venues.These objectives are met through a combination of coursework, teaching, and research seminars, mentored laboratory research, and preparation of manuscripts for publication. Graduates may attain professorial positions in academic research and teaching institutions, hospital laboratories, and in the medical device, pharmaceutical, and biomedical science and information industries, including startup companies which they have founded.Applicants may enter the PhD program via one of three routes: 1) following completion of an MSc degree into the four-year full-time program; 2) transfer from the University of Toronto MSc program; or 3) direct entry following completion of a BSc degree.
institut, environment, industr, labor
SDG3, SDG9
X
X
Medical Genomics
Molecular Genetics
https://www.moleculargenetics.utoronto.ca/medicalgenomics
https://www.sgs.utoronto.ca/programs/medical-genomics/
https://sgs.calendar.utoronto.ca/degree/Molecular-Genetics
Medicine
UTSG
Master of Health Science
Genomics is a rapidly growing field, with implications reaching from the bench to bedside. The fast-paced nature of this field is creating a widening knowledge gap between cutting-edge genomics research and current clinical practices. An emerging need for laboratory professionals and clinicians to be able to generate, integrate, and interpret genetic and genomic data is driving a new era of healthcare and patient management. The new clinical field of Medical Genomics is an integral component of this vision for a vibrant academic healthcare system. Our diverse faculty has exceptional strengths ranging from research in genomic method development, data acquisition and analysis to the study of disease mechanisms, oncology, pharmacogenomics and clinical genetics. Drawing on these expert teachers, students learn about all aspects of classical and next-generation genomics in the following fields: Advanced human genetics Biological statistics Genomic methodologies Communicating genetic information Ethical & legal implications of genomics
health
SDG3
X
Medical Science
Medical Science
https://ims.utoronto.ca/doctoral-stream-programs-requirements
https://www.sgs.utoronto.ca/programs/medical-science/
https://sgs.calendar.utoronto.ca/degree/Medical-Science
Medicine
UTSG
Master of Science, Doctor of Philosophy, PhD Program, PhD Program (Transfer), PhD Program (Direct-Entry)
Program Overview
The Master of Science and Doctor of Philosophy programs in Medical Science are available in a wide range of basic sciences, clinical sciences, and population health research. Under the mentorship of a faculty member, a student receives specialized training and exposure to Toronto's finest multidisciplinary research. Students conduct research in one of six fields:BioethicsBiomedical ScienceClinical ScienceHealth Professions EducationPopulation Health/Health ServicesRadiation OncologyThe full-time MSc and PhD programs emphasize hands-on research, rather than coursework. The Institute of Medical Science (IMS) is the graduate unit of choice for MDs seeking training as clinician investigators, and graduates may seek positions as academics and health-care professionals in universities, government, and industry. The IMS participates in the Royal College of Physicians and Surgeons Clinical Investigator Program (CIP).Students may also be interested in the combined degree program in Medicine, Doctor of / Doctor of Philosophy (MD/PhD).See video: Explore Graduate Programs at the Faculty of Medicine

Program Description
The MSc program is available in a wide range of basic sciences, clinical sciences, and population health research. Under the mentorship of a faculty member, a student receives specialized training and exposure to Toronto 's finest multidisciplinary research. Students conduct research in one of six fields: Bioethics; Biomedical Science; Clinical Science; Health Professions Education; Population Health/Health Services; and Radiation Oncology.The program emphasizes hands-on research, rather than coursework. Faculty conduct research in the following areas: cardiovascular sciences, bioethics, neuroscience, membrane biology, respiratory medicine, and psychosomatic medicine. The Institute of Medical Science (IMS) is the graduate unit of choice for undergraduates and MDs seeking training as clinician investigators, and graduates may seek positions as academics and health-care professionals in universities, government, and industry. The IMS participates in the Royal College of Physicians and Surgeons Clinical Investigator Program (CIP).Students will complete the program in two years over six sessions.

Program Description
The PhD program is available in a wide range of basic sciences, clinical sciences, and population health research. Under the mentorship of a faculty member, a student receives specialized training and exposure to Toronto 's finest multidisciplinary research. Students conduct research in one of six fields: Bioethics; Biomedical Science; Clinical Science; Health Professions Education; Population Health/Health Services; and Radiation Oncology.The program emphasizes hands-on research, rather than coursework. Faculty conduct research in the following areas: cardiovascular sciences, bioethics, neuroscience, membrane biology, respiratory medicine, and psychosomatic medicine. The Institute of Medical Science (IMS) is the graduate unit of choice for undergraduates and MDs seeking training as clinician investigators, and graduates may seek positions as academics and health-care professionals in universities, government, and industry. The IMS participates in the Royal College of Physicians and Surgeons Clinical Investigator Program (CIP).Applicants may enter the PhD program via one of three routes: 1) following completion of a two-year MSc degree with a defended MSc thesis; 2) transfer from the IMS MSc program; or 3) direct entry following completion of an appropriate BSc or MD degree.Completion of the PhD may take longer than the program length indicated below.
institut, industr, educat, health
SDG3, SDG4
X
X
Musculoskeletal Sciences
***Collaborative Specialization***
http://tmc.utoronto.ca/
https://sgs.calendar.utoronto.ca/collaborative/Musculoskeletal-Sciences
Medicine
Tricampus
Master's, Doctoral
There is an increasing burden of illness related to musculoskeletal disorders. The Collaborative Specialization in Musculoskeletal Sciences focuses on educating and training graduate students to carry out musculoskeletal research and helping them see how their work fits into the larger community of musculoskeletal research that ranges from bench to bedside to society. The collaborative specialization nurtures leaders in the field of musculoskeletal sciences who possess the knowledge and capability to promote transformational change. The University of Toronto has a cohort of stellar faculty with expertise in all related medical research disciplines, constituting one of the largest musculoskeletal research communities in the world. Research areas include immunology, cell biology, molecular medicine and genomics, muscle physiology, imaging, pathology, bioengineering, and related clinical areas such as orthopaedics, rheumatology, dentistry, kinesiology, rehabilitation, injury prevention, and pain management. Advances in these areas are converging to allow major advances in translating research to musculoskeletal care and health. This collaborative specialization builds on this community to provide a unique education and training program. Musculoskeletal Sciences interests graduate students wishing to enhance their interdisciplinary knowledge and advance their careers. Participation in this collaborative specialization enhances professional contacts throughout the international musculoskeletal research community.
health
SDG3
X
Museum Studies
Museum Studies
https://ischool.utoronto.ca/areas-of-study/master-of-museum-studies/
https://www.sgs.utoronto.ca/programs/museum-studies/
https://sgs.calendar.utoronto.ca/degree/Information
Information
UTSG
Master of Museum Studies
Program Overview
Offered by the Faculty of Information, the Master of Museum Studies (MMSt) program prepares students for future involvement in museums and related cultural agencies. The program examines the theoretical body of knowledge of museology as a necessary context for professional practice.The MMSt program is the only English-speaking master's program of its kind in Canada. The program features an integrated learning approach that links theory with practice. Areas of focus include: Collections, Curatorship, Digital Heritage, Global Cultures & Museums, Museum Education & Programming, and Museum Management. Both a course-based and a thesis option are available.The Faculty of Information also offers the combined degree program: the Master of Information / Master of Museum Studies. Students who apply by the early application deadline will automatically be considered for entrance awards. The Faculty will continue to accept applications until the final deadline.

Program Description
The MMSt program prepares students for future involvement in museums and related cultural agencies. The program examines the theoretical body of knowledge of museology as a necessary context for professional practice. The Faculty of Information also offers a combined degree program whereby students may complete both a Master of Information and Master of Museum Studies.
educat
SDG4
X
Next-Generation Precision Medicine
***Collaborative Specialization***
http://www.education.prime.utoronto.ca/
https://sgs.calendar.utoronto.ca/collaborative/Next~Generation-Precision-Medicine
Pharmacy
Tricampus
Doctoral
The graduate programs listed above participate in the doctoral Collaborative Specialization (CS) in Next-Generation Precision Medicine, which offers the opportunity for cross-disciplinary research leading to doctoral degrees. This CS is designed to foster cross-disciplinary training and collaboration across diverse departments at the University. The academic research focus is on cutting-edge technologies and methods to develop novel therapeutic strategies, create new tools for disease diagnosis, and enable a deeper understanding of disease biology through integration of principles and methods across the physical and life sciences and engineering. Future advances in precision medicine will require a multidisciplinary perspective and creative solutions beyond conventional genomics and mutational profiling. This CS aims to equip researchers with novel approaches to address unmet human health challenges by providing an understanding of commercialization and translation activities that will help advance research discoveries into impactful outcomes.
health
SDG3
X
Nursing Science
Nursing Science
https://bloomberg.nursing.utoronto.ca/programs
https://www.sgs.utoronto.ca/programs/nursing-science/
https://sgs.calendar.utoronto.ca/degree/Nursing-Science
Nursing
UTSG
Master of Nursing, Field: Clinical Nursing, Field: Health Systems Leadership and Administration, Field: Nurse Practitioner, Doctor of Nursing, Doctor of Philosophy, PhD Program, Post-Master 's Nurse Practitioner (PMNP) Diploma
Program Overview
The Master of Nursing (MN) program prepares advanced nursing practitioners with specialized knowledge, skills, and expertise in a defined area of nursing to design programs and influence practice. The program offers three fields:Clinical NursingHealth Systems Leadership and AdministrationNurse PractitionerThe Doctor of Nursing (DN) program, effective September 2021, provides a formal, academic credential and competitive edge for those looking to advance their nursing careers in complex and changing health-care systems or education settings.The Bloomberg Faculty of Nursing Doctor of Philosophy (PhD) degree is designed to prepare scientists and scholars with the analytical and research skills required to expand knowledge of clinical, theoretical, and health systems issues.

Program Description
The MN program prepares advanced nurses with specialized knowledge, skills, and expertise in a defined area of nursing. The program offers three fields: Clinical Nursing; Health Systems Leadership and Administration; and Nurse Practitioner.

Program Description
The Doctor of Nursing (DN) is a professional doctoral program designed to prepare nurses with the required skills to apply knowledge in diverse settings and (a) lead in dynamic, fast-paced, technologically advanced and sophisticated health-care environments and (b) teach in nursing education. Students will engage in advanced education related to leadership and knowledge application in health-care or nursing education.The DN is offered in a hybrid online (required courses) and on-site (required residencies) delivery model. Students will normally complete this full-time program in eight sessions compressed over three years due to cohort-based delivery and extensive use of the Summer sessions.

Program Description
The full-time PhD program prepares scientists with the required analytical and research skills to study nursing, health systems, or other related problems.Applicants may enter the PhD program via one of two routes: 1) following completion of an appropriate master's degree; or 2) transfer from the University of Toronto MN program.

Program Description
The PMNP Diploma provides students holding an appropriate graduate degree the opportunity to develop the knowledge and skills required to practise as a nurse practitioner. Students choose one of the following emphases: Adult, Paediatric, or Primary Health Care - Global Health.
environment, educat, health
SDG3, SDG4
X
X
Nutritional Sciences
Nutritional Sciences
https://nutrisci.med.utoronto.ca/graduate-programs
https://www.sgs.utoronto.ca/programs/nutritional-sciences/
https://sgs.calendar.utoronto.ca/degree/Nutritional-Sciences
Medicine
UTSG
Master of Science, Doctor of Philosophy, PhD Program, PhD Program (Direct-Entry)
Program Overview
The Department of Nutritional Sciences offers advanced studies leading to the Master of Science and Doctor of Philosophy degrees in the basic science, clinical, and community aspects of human nutrition. Research projects range from the molecular to the community level of inquiry. Applicants with appropriate preparation in health sciences will be admitted under the General Regulations of the School of Graduate Studies.Applicants interested in pursuing a Master of Public Health degree in Nutrition and Dietetics are advised to consult the Public Health Sciences program web page.Students may also be interested in the combined degree program in Medicine, Doctor of / Doctor of Philosophy (MD/PhD).See video: Explore Graduate Programs at the Faculty of Medicine

Program Description
The aim of the MSc program is to develop the student 's abilities to conceptualize research problems in the area of human nutrition, synthesize ideas and approaches in the research problem, analyze and interpret data, transmit his or her findings to peers, and expand his or her knowledge in, and perspective of, the field of human nutrition. Thus, major emphasis is placed on the research project and thesis.The MSc program can be taken on a full-time or part-time basis. A limited number of students are admitted to the program on a part-time basis.

Program Description
The aim of the PhD program is to develop the student 's abilities to conceptualize research problems in the area of human nutrition, synthesize ideas and approaches in the research problem, analyze and interpret data, transmit their findings to peers, and expand their knowledge in, and perspective of, the field of human nutrition. Thus, major emphasis is placed on the research project and thesis.Applicants may enter the PhD program via one of three routes: 1) following completion of an MSc degree; 2) transfer from the University of Toronto MASc program; or 3) direct entry following completion a bachelor's degree.
health, nutrition
SDG2, SDG3
X
X
Occupational Therapy
Occupational Science and Occupational Therapy
https://ot.utoronto.ca/prospective/
https://www.sgs.utoronto.ca/programs/occupational-therapy/
https://sgs.calendar.utoronto.ca/degree/Occupational-Science-and-Occupational-Therapy
Medicine
UTSG
Master of Science in Occupational Therapy, MScOT Program (24-Month Full-Time), MScOT Program (12-Month, Advanced-Standing Part-Time Option)
Program Overview
The Department of Occupational Science and Occupational Therapy is committed to providing graduate and continuing education programs that enable occupational therapists to be leaders in research, clinical practice, and the promotion of health and well-being. Core and clinical faculty members provide dynamic, evidence-based, and comprehensive instruction and mentorship. Graduates are innovative professionals focused on enabling occupation and enhancing health and well-being.See video: Explore Graduate Programs at the Faculty of Medicine .Please note: We will only register admitted students in the Master of Science in Occupational Therapy (MScOT) program who are Canadian citizens or permanent residents of Canada; however, admitted students without one of these two statuses will be permitted to register if they fall under the international fee exemption list posted on the University's Student Accounts website.

Program Description
The MScOT program prepares students in advanced academic and professional knowledge and applied research skills for leadership in occupational therapy practice. The program emphasizes the application of theory and research evidence to clinical practice through rigorous studies in occupational therapy and research production and utilization.Graduates are eligible to write the certification examination of the Canadian Association of Occupational Therapists, a requirement for registration with the College of Occupational Therapists of Ontario and most other professional regulatory colleges in Canada. Practice in another country generally requires the graduate to pass the licensing requirement specific to that country. Graduates are eligible to: practise independently in a variety of roles, such as consultants and case managers, and in a range of settings, such as acute care, interdisciplinary programs, private practice, and primary health care; supervise rehabilitation assistants, OT aides, or other support workers; use principles of research-based practice to guide and evaluate service delivery; contribute to research that will advance the knowledge base of the discipline; assume management roles; ake leadership roles in the profession; ake leadership roles in health care and other sectors including social services, education, and labour; fill academic-practitioner positions; and pursue doctoral studies and careers in academia or clinical research. The MScOT program is offered as a two-year full-time program. Admissions to the one-year, advanced-standing part-time option have been suspended.
production, innovat, worker, labour, educat, well-being, health
SDG3, SDG4, SDG8
X
X
X
Pharmaceutical Sciences
Pharmaceutical Sciences
https://pharmacy.utoronto.ca/programs-and-admissions/gradprograms/
https://www.sgs.utoronto.ca/programs/pharmaceutical-sciences/
https://sgs.calendar.utoronto.ca/degree/Pharmaceutical-Sciences
Pharmacy
UTSG
Master of Science, Doctor of Philosophy, PhD Program, PhD Program (Transfer), PhD Program (Direct-Entry), PhD Program (Flexible-Time)
Program Overview
Pharmaceutical Sciences encompass all aspects of the delivery, development, administration, and utilization of therapeutic drugs. The programs provide a stimulating and productive environment for graduate education and research for students with degrees in physical, biological, and social sciences. Research-intensive programs of study are offered in a wide range of areas leading to Master of Science and Doctor of Philosophy degrees.Graduate students may also participate in a wide variety of collaborative specializations offered at the University of Toronto and/or internships which provide the opportunity to gain experience in a pharmaceutical or biotech company or in global health placements around the world.

Program Description
The Graduate Department of Pharmaceutical Sciences at the Leslie Dan Faculty of Pharmacy offers students in the physical, biological, clinical, and social sciences a challenging and rewarding research-intensive program leading to the MSc degree. The result is an educational program that encourages multidisciplinary approaches to problems and collaboration between students and faculty members. Graduate students participating in this process are immersed in a challenging program that equips them with new ways of thinking and provides them with multiple tools to approach problems.The MSc program can be taken on a full-time or part-time basis. All admission and program requirements are the same for the full-time and part-time options. A limited number of students will be admitted to the part-time option.

Program Description
The Graduate Department of Pharmaceutical Sciences offers a challenging and rewarding research-intensive program leading to the PhD degree. Students in the program are immersed in pharmaceutical sciences, working and collaborating with world-renowned researchers while gaining profound depth and experience in their area of study.Applicants may enter the PhD program via one of three routes: 1) following completion of an appropriate master's degree; 2) transfer from the University of Toronto MSc program; or 3) direct entry following completion of an appropriate bachelor's degree.
environment, labor, educat, health
SDG3, SDG4
X
X
Pharmacology
Pharmacology and Toxicology
http://www.pharmtox.utoronto.ca/graduate-education
https://www.sgs.utoronto.ca/programs/pharmacology/
https://sgs.calendar.utoronto.ca/degree/Pharmacology-and-Toxicology
Medicine
UTSG
Master of Science, MSc Program (Thesis-Based Option), MSc Program: Applied Clinical Pharmacology Field (Course-Based Option), MSc Program: Applied Clinical Pharmacology Field (Course-Based, Advanced-Standing Option), Doctor of Philosophy, PhD Program
Program Overview
The Department of Pharmacology and Toxicology offers graduate programs leading to the degrees of Master of Science and Doctor of Philosophy in Pharmacology. Faculty conduct research in the following areas:biochemical and molecular pharmacologycardiovascular pharmacologyclinical pharmacologydrug addictiondrug metabolism, distribution, and pharmacokineticsendocrine pharmacologyimmunopharmacologyneuropharmacologypharmacogeneticspsychopharmacologyreceptor pharmacologysecond messengers and signal transductiontoxicologyAll MSc and PhD students are expected to undertake self-directed study and to demonstrate proficiency in pharmacological principles throughout the course of their graduate program.Students may also be interested in the combined degree program in Medicine, Doctor of / Doctor of Philosophy (MD/PhD).See video: Explore Graduate Programs at the Faculty of Medicine.

Program Description
In the MSc program, students are expected to undertake self-directed study and demonstrate proficiency in pharmacological principles throughout the course of the program. They are able to engage in one of two formats of study: 1) thesis-based study or 2) course-based study in the field of Applied Clinical Pharmacology.In the thesis-based study, students are expected to think critically about scientific issues and develop a knowledge base in pharmacology while formulating hypotheses in a specific area of pharmacological research. They will test their hypotheses through active research and present their investigations in a thesis.In the course-based Applied Clinical Pharmacology field, students will engage in research and hands-on training in academic, commercial, health care, and/or government settings. Courses will feature a breadth of fundamental and applied pharmacology topics with emphasis on translational research.The MSc program can be taken on a full-time or part-time basis.

Program Description
The objective of the PhD degree is to have students possess a comprehensive understanding of the general area of pharmacology, in addition to specific expertise in their particular area of interest. They build on their knowledge of pharmacology so that they are able to think critically about specific areas in pharmacology. They should be able to formulate and design, as well as carry out and interpret investigations. Their findings should be publishable. They should show capacity for continuing significant contributions in pharmacology and for conducting independent research.Applicants may enter the PhD program via one of three routes: 1) following completion of an appropriate master's degree; 2) transfer from the University of Toronto MSc program; or 3) direct entry following completion of an appropriate bachelor's degree.
health
SDG3
X
Pharmacy
Pharmacy
https://pharmacy.utoronto.ca/programs-and-admissions/gradprograms/
https://www.sgs.utoronto.ca/programs/pharmacy/
https://sgs.calendar.utoronto.ca/degree/Pharmaceutical Sciences
Pharmacy
UTSG
Master of Science in Pharmacy, Full-Time Option, Part-Time Option
Program Overview
The Master of Science in Pharmacy (MScPhm) is an advanced professional practice program for experienced pharmacists that builds on entry to practice degree programs.The MScPhm program educates and trains pharmacists with high potential for leadership and a passion for becoming clinical pharmacy academics and leaders.Students have the opportunity to gain advanced clinical therapeutic knowledge and practice experience in a defined area, in addition to research, education, and leadership skills.

Program Description
The Master of Science in Pharmacy (MScPhm) program is designed to train future academic clinical pharmacist leaders. As members of patient care teams and as pharmacy practice researchers, graduates of the MScPhm program will influence the provision of pharmaceutical care at the patient and population level. As teachers, they will shape the development of current and future pharmacists.Applicants may apply to the Fall session only.
educat
SDG3
X
Physical Therapy
Physical Therapy
https://www.physicaltherapy.utoronto.ca/
https://www.sgs.utoronto.ca/programs/physical-therapy/
https://sgs.calendar.utoronto.ca/degree/Physical-Therapy
Medicine
UTSG
Master of Science in Physical Therapy, MScPT Program (24-Month Option), MScPT Program (12-Month Advanced-Standing Option)
The purpose of the Master's of Science in Physical Therapy is to graduate academic physical therapy practitioners who: Exhibit Best Practices -Share their knowledge with students, clients, policy makers, and other professionals in academic health science environments. -Possess enhanced competency in clinical skills. -Participate in clinical and health care research, contributing to the overall body of scientific knowledge. -Are cognizant of advanced technological practice. Embody Professionalism -Act as self-regulating professionals who exhibit strong personal, moral, and ethical values. -Recognize the changing laws, codes, and guidelines that impact physical therapy. -Embody entrepreneurship with sound business acumen. -Excel in professional practice in a wide variety of venues. Showcase Leadership -Serve as role models for students and other health professionals as expert consultants in the fields of movement and physical capacity. -Serve as strong players with exemplary interpersonal skills, secure in their evolving role within changing health service delivery. Value Citizenship -Act as innovative leaders in physical therapy, rehabilitation, and the health system. -Negotiate and advocate, proactively addressing interprofessional politics and health policy. -Maintain and improve the health of clients and their community.
health
SDG3
X
Physics
Physics
https://www.physics.utoronto.ca/students/graduate-program
https://www.sgs.utoronto.ca/programs/physics/
https://sgs.calendar.utoronto.ca/degree/Physics
Arts and Science
UTSG
Master of Science, Doctor of Philosophy, PhD Program, PhD Program (Direct-Entry)
Program Overview
The Department of Physics offers graduate programs leading to the Master of Science and Doctor of Philosophy degrees. The department carries out research in experimental and theoretical physics in the following fields: atmospheric physics, geophysics, quantum optics, condensed matter physics, subatomic physics and astrophysics, and biophysics. The department has close ties with the Canadian Institute for Theoretical Astrophysics (CITA). This association enables students to work and consult with leading theorists who are appointed to, or who are visiting, CITA.Students are admitted under the General Regulations of the School of Graduate Studies. The department provides financial support for one year of the MSc and four years of the PhD program (five years for direct-entry PhD).

Program Description
The MSc program is directed primarily to qualified students seeking a career in scientific research, with an emphasis on doctoral-stream studies. The MSc can be taken both with or without a thesis, the latter being the norm.

Program Description
The Department of Physics offers excellent quality and breadth of research fields. Its internationally leading research teams, in both theory and experiment, operate across a broad spectrum of topics as well as collaborative specializations in interdisciplinary subjects. Graduates work in government, industry, and education around the world.Applicants may enter the PhD program via one of two routes: 1) following completion of an appropriate master's degree; 2) direct entry after completing a bachelor's degree.
institut, industr, labor, educat
SDG4, SDG9
X
X
Physiology
Physiology
http://www.physiology.utoronto.ca/graduate
https://www.sgs.utoronto.ca/programs/physiology/
https://sgs.calendar.utoronto.ca/degree/Physiology
Medicine
UTSG
Master of Science, Doctor of Philosophy, PhD Program (Following Completion of an MSc), PhD Program (Transfer), PhD Program (Direct-Entry)
Program Overview
The Department of Physiology offers graduate programs leading to the Master of Science and Doctor of Philosophy degrees. Research ranges from the gene level to the organism level in areas including endocrinology and diabetes; reproduction endocrinology; fetal physiology, pregnancy, and parturition; neuroendocrinology; cardiorespiratory regulation; gastrointestinal motility; sensory physiology; motor control; brain development and aging; ionic channels and synaptic transmission; excitability, ultrastructure, and plasticity of the brain.Students may also be interested in the combined degree program in Medicine, Doctor of / Doctor of Philosophy (MD/PhD).See video: Explore Graduate Programs at the Faculty of Medicine.

Program Description
The MSc program provides advanced training in physiology, with an emphasis on gaining experience in conducting research using modern experimental methods under the direct supervision of a member of the department's graduate faculty. Students will complete coursework, attend and give presentations of scientific work, submit a written thesis based on original research, and defend the thesis at an oral examination. It is not required that the thesis work be published or represent a finished research project, but it must show the student's mastery of specific techniques, their application to a specific problem, and a scholarly understanding of the research subject. Through this program, students will broaden and deepen their knowledge of physiology and its current scientific literature. They will learn and practise scientific skills of critical thinking, devising research questions, and communicating scientific ideas orally and in writing.Students may begin in Fall, Winter, or Summer.
production
SDG3
X
Planning
Geography and Planning
https://geography.utoronto.ca/graduate-planning/
https://www.sgs.utoronto.ca/programs/planning/
https://sgs.calendar.utoronto.ca/degree/Geography-and-Planning
Arts and Science
UTSG
Master of Science in Planning, Doctor of Philosophy
Program Overview
The Department of Geography and Planning offers facilities for research leading to the Master of Science in Planning (MScPl) and Doctor of Philosophy (PhD) degrees. Faculty work involves social, economic, cultural, and other vital considerations. In spatial scale, it ranges from the design of individual communities to policy planning at the national level to international development. Planning specializations include land use, transportation, urban design, social policy, public health, economic development, international development, and the environment.

Program Description
Students normally enrol for two years of full-time study, although part or all of the requirements of the program may be met by part-time study, with the approval of the Program Director.

Program Description
The PhD is primarily a research degree. A program of study is designed for each student to ensure competence in a field of research and to facilitate the preparation of a dissertation.
land use, environment, urban, health
SDG3, SDG11, SDG13, SDG15
X
X
X
X
Professional Kinesiology
Exercise Sciences
https://kpe.utoronto.ca/academics-research/graduate-studies/master-professional-kinesiology
https://www.sgs.utoronto.ca/programs/professional-kinesiology/
https://sgs.calendar.utoronto.ca/degree/Kinesiology
Kinesiology and Physical Education
UTSG
Master of Professional Kinesiology
Program Overview
Kinesiology is a newly regulated and evolving profession. The Master of Professional Kinesiology (MPK) program offers students an opportunity to gain advanced knowledge and skills in this professional practice. Whether you are just beginning your career or are a Registered Kinesiologist, the MPK will provide you with the advanced knowledge and practice to take your career further.This full-time, 16-month course-based program offers a mix of classroom, case-based, laboratory, and experiential education. Graduates will acquire research-informed and multidisciplinary expertise in:Movement assessment and intervention in diverse practice areasKnowledge synthesis, translation, and applicationEvaluation of clinical and program effectivenessCollaboration with interprofessional health-care teamsConceptualizing future kinesiology practice

Program Description
The first master's-level program of its kind in Ontario, the Master of Professional Kinesiology (MPK) degree program offers students an opportunity to gain advanced knowledge and skills in the professional practice of kinesiology. The MPK provides unparalleled learning environments for hands-on practice working alongside leading practitioners. This program is suitable for those who are just beginning their careers, and those who have experience as registered kinesiologists and are looking for advanced professional development. The MPK program may be completed with a concentration or without a concentration.Concentrations Adapted Physical Activity Exercise as Medicine Health and Wellness High Performance Strength and Conditioning
environment, labor, educat, health
SDG3, SDG4
X
X
Public Health Policy
***Collaborative Specialization***
http://www.publichealthpolicy.utoronto.ca/collaborativeprogram.html
https://sgs.calendar.utoronto.ca/collaborative/Public-Health-Policy
Public Health
Tricampus
Master's, Doctoral
The Collaborative Specialization in Public Health Policy provides students with exemplary training in public health policy, which fosters synergies and cross-disciplinary learning. It gives students the capacity to engage in current events and contribute to the development, refinement, and evaluation of policies to address society's pressing and emerging public health priorities. The collaborative specialization is cross-disciplinary, bringing together a broad range of disciplines, substantive foci, and theoretical and methodological underpinnings, to synergistically build an engaged community of practice of students and faculty focused on public health policy. It contributes to the creation of the next generation of public health policy research leaders and creative agents for change, able to address current health issues and challenges. Through the direction of the stellar team of academics and policy-makers associated with the collaborative specialization, students are provided with real-world skills to address the complex and demanding task of public health policy-making (including insight into a wide array of legislative and regulatory interventions, administrative practices, financing and funding decisions, and various forms of soft law, such as guidelines and informal processes) which operate at the international, federal, provincial, and municipal levels in ways that are both cross-jurisdictional and cross-sectoral.
health
SDG3
X
Public Health Sciences
Public Health Sciences
http://www.dlsph.utoronto.ca/programs/
https://www.sgs.utoronto.ca/programs/public-health-sciences/
https://sgs.calendar.utoronto.ca/degree/Public-Health-Sciences
Public Health
UTSG
Master of Public Health, Field: Epidemiology, Field: Family and Community Medicine, Field: Family and Community Medicine (Advanced-Standing Option), Field: Indigenous Health, Field: Nutrition and Dietetics, Field: Nutrition and Dietetics (Advanced-Standing Option), Emphases in the MPH Program, Field: Occupational and Environmental Health, Emphases in the MPH Program, Field: Social and Behavioural Health Sciences, Master of Science, Field: Biostatistics, Emphasis in the MSc Program, Doctor of Philosophy, Field: Biostatistics, PhD Program (Full-Time and Flexible-Time), Field: Epidemiology, PhD Program (Full-Time and Flexible-Time), Emphasis in the PhD Program, Field: Occupational and Environmental Health, PhD Program (Full-Time and Flexible-Time), Field: Social and Behavioural Health Sciences, PhD Program (Full-Time and Flexible-Time), Doctor of Public Health
Program Overview
The Graduate Department of Public Health Sciences at the Dalla Lana School of Public Health offers graduate degree programs both full-time and part-time. Applicants are strongly advised to have some background in statistics and quantitative methods. In addition, field and employment experience are taken into consideration, especially for the Master of Public Health (MPH) degree.The Master of Public Health (MPH) degree program is designed for students interested in professional and/or research careers in the community, academic, public, or private sectors. The following fields are offered:EpidemiologyFamily and Community MedicineIndigenous HealthNutrition and Dietetics Occupational and Environmental HealthSocial and Behavioural Health SciencesThe Master of Science (MSc) degree program is for students interested in research and academic careers in Biostatistics.Students in the MPH and MSc programs have the option of completing an emphasis in Global Public Health.Effective September 2021, the Doctor of Public Health (DrPH) program focuses on accelerating the use of research evidence to inform practice and policy. As such, the DrPH program offers practice-based training and applied research skills. Students will develop and advance important key leadership, management, and public health practice competencies.The Doctor of Philosophy (PhD) degree program prepares students for research and academic careers in the public health science disciplines. Fields include:BiostatisticsEpidemiologyOccupational and Environmental HealthSocial and Behavioural Health SciencesThe PhD program may be completed on a full-time or flexible-time basis.

Program Description
The MPH degree is designed to prepare the next generation of public health professionals and is aimed at students interested in professional and/or research careers in the community, academic, public, or private sectors. Applicants apply and may be admitted to one of the following fields: Epidemiology Family and Community Medicine Indigenous Health utrition and Dietetics Occupational and Environmental Health Social and Behavioural Health Sciences The program may be taken on a full-time or part-time basis.

Program Description
The MSc degree is designed for students interested in research and academic careers involving the development and application of statistical methodology to further our understanding of data arising in the health sciences. The program is offered in the field of Biostatistics, both full-time and part-time.

Program Description
The PhD program prepares students for research and academic careers. Fieldwork and research enhance theoretical studies and expose students to the full breadth and depth of their public health science disciplines. Applicants apply and may be admitted to one of the following fields: Biostatistics Epidemiology Occupational and Environmental Health Social and Behavioural Health Sciences The PhD program may be completed on a full-time or flexible-time basis.With the approval of the graduate chair, some applicants may be admitted to a flexible-time PhD program. This program will benefit mature students with career obligations, and applicants must demonstrate that they are practising professionals. Degree requirements for the flexible-time program are identical to those for the full-time PhD program. Students are required to register full-time for the first four years of their program, after which they may register part-time. A plan of study and research activities will be negotiated at initial registration, to be reviewed and updated annually.

Program Description
The Doctor of Public Health (DrPH) program advances public health education, addressing evaluation and translation of evidence in policy and practice decision-making contexts. The doctoral professional program is based on existing areas of faculty expertise within the Dalla Lana School of Public Health (including Public Health Sciences and the Institute of Health Policy, Management and Evaluation). Additionally, the program is the first of its kind in English Canada and will further raise the profile of the public health workforce.The focus of the program is to contribute to emerging needs in public health to address increasingly complex issues. Graduates will develop skills and knowledge in four major competency areas, as defined by the Council on Education for Public Health: (1) Data & Analysis; (2) Leadership, Management, Governance; (3) Policy & Programs; and (4) Education & Workforce Development. The DrPH will allow graduates to take on advanced roles (e.g., leadership, knowledge translation) in public health policy and practice settings.The program is offered on a full-time basis.
governance, institut, environment, employment, educat, health, nutrition
SDG2, SDG3, SDG4, SDG16
X
X
X
X
Public Policy
Global Affairs and Public Policy
https://munkschool.utoronto.ca/publicpolicy/programs/master-of-public-policy-program/
https://www.sgs.utoronto.ca/programs/public-policy/
https://sgs.calendar.utoronto.ca/degree/Global-Affairs-and-Public-Policy
Arts and Science
UTSG
Master of Public Policy, Emphasis: Economics for Public Policy, Emphasis: Public and Non-Profit Management and Administration, Emphasis: Social and Urban Policy
Program Overview
The Master of Public Policy (MPP) is an intensive, full-time two-year professional program. Founded in 2006, it continues the University of Toronto's internationally recognized tradition of academic excellence and combines it with practical, real-world policy experience. Students graduate with a strong foundation of analytical and quantitative skills, core policy concepts, and overall management and leadership skills.A mandatory and comprehensive policy internship program means that all MPP students at the Munk School of Global Affairs and Public Policy have the opportunity to transfer classroom theory into practical experience developing and implementing policy. Internship positions are available in a variety of organizations. Please note that admissions selection to the MPP program is competitive and meeting this minimum requirement does not guarantee admission. Final-year grades are based on the last 5.0 full-course equivalents or 10.0 half-course equivalents.Students may also be interested in the combined degree program in Law, Juris Doctor/Master of Public Policy (JD/MPP).

Program Description
The Munk School's prestigious Master of Public Policy (MPP) brings together an impressive array of students and faculty for a two-year, full time program that bridges Canadian and global policy.In addition to a paid summer internship and a wide range of career support services, students develop core competencies considered essential for policy practice and take electives from both within the Munk School and in the broader University.Visiting public sector leaders along with a renowned multidisciplinary faculty bridge theory and real-world experience, providing contact with senior professionals in government and the broader public, private, and community sectors.Students may also apply to the combined degree program Juris Doctor (JD) / Master of Public Policy (MPP) as well as pursue collaborative specializations with other graduate departments. A Munk School education, located in the heart of downtown Toronto and in close proximity to an extraordinary concentration of policy leaders, will empower students to achieve their professional and personal goals.
urban, labor, educat
SDG4, SDG11
X
X
Rehabilitation Science
Rehabilitation Sciences
http://www.rsi.utoronto.ca/about-our-programs
https://www.sgs.utoronto.ca/programs/rehabilitation-science/
https://sgs.calendar.utoronto.ca/degree/Rehabilitation-Sciences
Medicine
UTSG
MSc and PhD
Fields:
Movement Science;
Occupational Science;
Practice Science (admissions have been administratively suspended);
Rehabilitation Health Services Studies;
Rehabilitation Technology Sciences;
Social and Cognitive Rehabilitation Sciences
Program Overview
Rehabilitation science is the systematic study of promoting, maintaining, or restoring human function, mobility, occupation, and well-being. Using basic and applied methods, the science is focused on phenomena at the level of the cell, person, family, community, or society to develop and evaluate theories, models, processes, measures, interventions, and policies to prevent, reverse, or minimize impairments, enable activity, and facilitate participation. By its very nature, rehabilitation science is multidisciplinary.The Rehabilitation Sciences Institute offers graduate programs leading to the degrees of Master of Science and Doctor of Philosophy. To capture the full breadth of rehabilitation, the expertise of its faculty and the research of its students, Rehabilitation Science has identified six fields of study:Movement ScienceOccupational SciencePractice ScienceRehabilitation Health Services StudiesRehabilitation Technology SciencesSocial and Cognitive Rehabilitation SciencesSee video: Explore Graduate Programs at the Faculty of Medicine.

Program Description
The MSc program is designed for graduate students who ultimately want careers as independent scientists in health-related disciplines. It can also serve as a stepping stone on the pathway to advanced research training for students planning to pursue a PhD in Rehabilitation Science or related fields.The program is offered in the following fields: 1) Movement Science; 2) Occupational Science; 3) Practice Science; 4) Rehabilitation Health Services Studies; 5) Rehabilitation Technology Sciences; 6) Social and Cognitive Rehabilitation Sciences.

Program Description
The PhD program will prepare candidates for a career in scientific research; i.e., graduates will feed the demand for rehabilitation scientists and academic faculty in Canada and the global market. Graduates will be expected to acquire autonomy in conducting research and developing an independent research program. The program is designed to provide a broad knowledge of rehabilitation science research as well as advanced research skills and methodologies including acquisition of funding, formulation of research questions, discovery of new knowledge, data collection, analysis and interpretation, scholarly presentation, and publication and translation of knowledge for consumption by appropriate stakeholders.The program is offered in the following fields: 1) Movement Science; 2) Occupational Science; 3) Practice Science; 4) Rehabilitation Health Services Studies; 5) Rehabilitation Technology Sciences; 6) Social and Cognitive Rehabilitation Sciences.Applicants may enter the PhD program via one of two routes: 1) following completion of an appropriate master's degree or 2) direct entry following completion of a BSc degree.

Program Description
The PhD program will prepare candidates for a career in scientific research; that is, graduates will feed the demand for rehabilitation scientists and academic faculty in Canada and the global market. Graduates will be expected to acquire autonomy in conducting research and developing an independent research program. The program is designed to provide a broad knowledge of rehabilitation science research as well as advanced research skills and methodologies including acquisition of funding, formulation of research questions, discovery of new knowledge, data collection, analysis and interpretation, scholarly presentation, and publication and translation of knowledge for consumption by appropriate stakeholders.The program is offered in the following fields: 1) Movement Science; 2) Occupational Science; 3) Practice Science; 4) Rehabilitation Health Services Studies; 5) Rehabilitation Technology Sciences; 6) Social and Cognitive Rehabilitation Sciences.Applicants may enter the PhD program via one of two routes: 1) following completion of an appropriate master's degree or 2) direct entry following completion of a BSc degree.
institut, consum, well-being, health
SDG3, SDG12
X
X
Resuscitation Sciences (admissions have been suspended)
***Collaborative Specialization***
http://www.resuscitationscience.ca/
https://sgs.calendar.utoronto.ca/collaborative/Resuscitation-Sciences
Medicine
Tricampus
Master's, Doctoral
The goal of the Collaborative Specialization in Resuscitation Sciences is to train scientists pursuing research in the optimal care of the acutely ill and injured patient and, ultimately, to create leaders in the discipline who will supervise others providing this level of scientific inquiry. The collaborative specialization appeals to students from a wide variety of backgrounds with an interest in any aspect of resuscitation science. Resuscitation Sciences includes a number of medical areas such as trauma, critical care, emergency medicine, neurotrauma, anaesthesia, shock, sepsis, acute coronary syndrome, paediatric care, cardiovascular, peripheral vascular, and rehabilitation medicine. Many non-medicine disciplines such as engineering, basic science, and public health, as well as allied health professions such as nursing, pharmacy, and paramedicine, will find synergies in the Resuscitation Sciences specialization. Research programs can use methodologies ranging from molecular medicine and genomics through clinical trials and outcomes to engineering, health administration, and health prevention strategies. Resultant advances in knowledge will ultimately be applied to the clinical setting.
health
SDG3
X
School and Clinical Child Psychology
Applied Psychology and Human Development
https://www.oise.utoronto.ca/aphd/Home/index.html
https://www.sgs.utoronto.ca/programs/school-and-clinical-child-psychology/
https://sgs.calendar.utoronto.ca/degree/Applied-Psychology-and-Human-Development
Ontario Institute for Studies in Education (OISE)
UTSG
Master of Arts, Doctor of Philosophy
Program Overview
The specific mission of the School and Clinical Child Psychology (SCCP) program is to provide students with theoretical, research, and professional training in preparation for leadership in psychological practice with children, adolescents, and families in school, mental health, private practice, and research settings. Leading to the Master of Arts and Doctor of Philosophy degrees, the program is designed to provide professional training in psychological assessment, therapy, and other psychosocial and instructional interventions, professional consultation, and prevention.

Program Description
The mission of the School and Clinical Child Psychology (SCCP) program is to provide students with theoretical, research, and professional training in preparation for leadership in psychological practice with children, adolescents, and families in school, mental health, private practice, and research settings. The program follows a scientist-practitioner model and is designed to train students to conduct basic and applied research and provide professional training in psychological assessment, therapy, and other psychosocial and instructional interventions, professional consultation, and prevention.Opportunities are available for research and professional work with infants, young children, adolescents, adults, and families. The degrees are intended to meet the academic requirements of the College of Psychologists of Ontario (CPO) for registration as a Psychological Associate (MA) or Psychologist (PhD).The curriculum of the SCCP program is designed to establish a strong foundation of core knowledge and skills early in the program, with students free to specialize later on. The program reflects a mix of courses and training opportunities.A systemic approach is the basis for the training that is provided in assessment and intervention. The knowledge and skills necessary for the practice of school psychology and clinical child psychology overlap considerably, and experience in school and clinical settings complement and enhance each other. Therefore, over the course of the program of study, students are required to undertake practica in both school and clinical child settings.

Program Description
The mission of the School and Clinical Child Psychology (SCCP) program is to provide students with theoretical, research, and professional training in preparation for leadership in psychological practice with children, adolescents, and families in school, mental health, private practice, and research settings. The program follows a scientist-practitioner model and is designed to train students to conduct basic and applied research and provide professional training in psychological assessment, therapy, and other psychosocial and instructional interventions, professional consultation, and prevention.Opportunities are available for research and professional work with infants, young children, adolescents, adults, and families. The degrees are intended to meet the academic requirements of the College of Psychologists of Ontario (CPO) for registration as a Psychological Associate (MA) or Psychologist (PhD).The curriculum of the SCCP program is designed to establish a strong foundation of core knowledge and skills early in the program, with students free to specialize later on. The program reflects a mix of courses and training opportunities.A systemic approach is the basis for the training that is provided in assessment and intervention. The knowledge and skills necessary for the practice of school psychology and clinical child psychology overlap considerably, and experience in school and clinical settings complement and enhance each other. Therefore, over the course of the program of study, students are required to undertake practica in both school and clinical child settings.
health
SDG3
X
Sexual Diversity Studies
***Collaborative Specialization***
http://sds.utoronto.ca/
https://sgs.calendar.utoronto.ca/collaborative/Sexual-Diversity-Studies
Arts and Science
Tricampus
Master's, Doctoral
The Collaborative Specialization in Sexual Diversity Studies, offered by the Mark S. Bonham Centre for Sexual Diversity Studies, is rigorously interdisciplinary and recognizes sexual diversity studies as an interdisciplinary field of inquiry. While it has emerged as an autonomous scholarly area, many of those who work within it engage questions of gender, ethnicity, race, Aboriginal status, (dis)ability, and class, to highlight the importance of exploring their interaction with sexual differences.
gender
SDG5
X
Social Justice Education
Social Justice Education
https://www.oise.utoronto.ca/sje/
https://www.sgs.utoronto.ca/programs/social-justice-education/
https://sgs.calendar.utoronto.ca/degree/Social-Justice-Education
Ontario Institute for Studies in Education (OISE)
UTSG
Master of Arts, Master of Education, MEd Program (Coursework Only Option), MEd Program (Coursework Plus Major Research Paper Option), MEd Program (Coursework Plus Thesis Option), Doctor of Education, Doctor of Philosophy, PhD Program, PhD Program (Flexible-Time)
Program Overview
Social Justice Education is a multi- and interdisciplinary graduate program leading to the Master of Arts (MA), Master of Education (MEd), Doctor of Education (EdD), and Doctor of Philosophy (PhD) degrees.The program is offered by the Department of Social Justice Education at the Ontario Institute for Studies in Education (OISE), providing students with critical understandings of the social, historical, cultural, political, economic, and ethical contexts of education, broadly conceived. Based on the diverse intellectual traditions of the humanities and social sciences, the department is committed to multi- and interdisciplinary studies in education, with a focus on equity and social justice in educational studies from a variety of perspectives including history, philosophy, sociology, and social justice education.Through humanities, social sciences, and/or social justice education, faculty and students may pursue studies including anti-racism, critical race theory, and Indigenous studies; aesthetics, media, and communication; feminist and gender studies; class and poverty studies; francophone studies; post-colonial, diaspora, and transnational studies; queer and disability studies; cultural and philosophical contexts in education; and democracy, ethics, and social class and/or may follow traditional disciplinary inquiry.The department's vision is to enable students to explore such questions as "What was, what is, and what should be the relationship between education and society?" and "What kinds of knowledge do educators need to answer those questions?" The department aims to provide graduate students and initial teacher education students with the disciplinary background, substantive knowledge, and theoretical language necessary to raise questions of critical importance to educational theory, practices, and society.

Program Description
The Social Justice Education (SJE) program welcomes applicants with diverse but relevant backgrounds. The MA program is a research-based degree program which can be taken on a full-time or part-time basis.

Program Description
The Department of Social Justice Education (SJE) welcomes applicants with diverse but relevant backgrounds. The Master of Education (MEd) program can be taken on a full-time or part-time basis.Students may complete the MEd program by one of three options: Coursework Only Option Coursework Plus Major Research Paper (MRP) Option Coursework Plus Thesis Option (admissions have been administratively suspended) Students who are accepted into the MEd program are automatically assigned to the Coursework Only Option. They can transfer to the Coursework Plus Major Research Paper Option after they begin their program and have secured an SJE faculty supervisor for the MRP or thesis.

Program Description
The Doctor of Education (EdD) degree program is distinct from the PhD in that students are encouraged to orient towards applied and theoretical dimensions of professional educational practice understood as knowledge, teaching, and learning which takes place within or beyond schooling.The EdD in Social Justice Education (SJE) is ideal for those with an interest in professional and/or voluntary practice in relevant field domains, where there is an interface between theory and practice and where the vision, skills, and commitment of dedicated and research-informed practitioners are pivotal to outcomes. Those interested in the degree program will be working professionals including teachers, school and community leaders, health and legal professionals, and those working, volunteering, or seeking employment in related fields in social justice education.The Department of Social Justice Education welcomes applicants with diverse but relevant backgrounds. The EdD program can be taken on a full-time or part-time basis.Students cannot transfer between the EdD and PhD programs.

Program Description
The PhD degree program is designed to provide opportunities for advanced study, original research, and theoretical analysis. The PhD program can be taken on a full-time or flexible-time basis. The Department of Social Justice Education (SJE) welcomes applicants with diverse but relevant backgrounds.The flexible-time PhD degree is designed to accommodate demand by practising professionals for a PhD degree that permits continued employment in areas related to their areas of research. Degree requirements for the flexible-time and full-time PhD programs are the same. Flexible-time PhD students register full-time during the first four years and part-time during subsequent years of the program.
justice, institut, employment, queer, gender, educat, health, poverty
SDG1, SDG3, SDG4, SDG5, SDG8, SDG16
X
X
X
X
X
X
Social Work
Social Work
https://socialwork.utoronto.ca/programs/
https://www.sgs.utoronto.ca/programs/social-work/
https://sgs.calendar.utoronto.ca/degree/Social-Work
Social Work
UTSG
MSW, PhD, Combined Degree Programs, Master of Social Work, Master of Social Work (Field: Children and Their Families), Master of Social Work (Field: Gerontology), Master of Social Work (Field: Health and Mental Health), Master of Social Work (Field: Human Services Management and Leadership), Master of Social Work (Field: Indigenous Trauma and Resiliency), Master of Social Work (Field: Social Justice and Diversity), Doctor of Philosophy
Program Overview
As the oldest school of social work in Canada, the Factor-Inwentash Faculty of Social Work at the University of Toronto has been on the cutting edge of education, policy, research, and practice in social work for over 100 years. The Faculty offers a professional/academic program of study leading to a Master of Social Work (MSW) and a Doctor of Philosophy (PhD) degree. MSW: Human services are among the fastest growing sectors of the Canadian economy. Along with the growth is an increasing diversification of the sector, with fields of practice rising up around specific areas of need. The country as a whole will need social workers to staff new, more specialized service agencies of the future. While the notion of generic social work has a role to play in this increasingly complex environment, it is clear that graduates will also require more specific skills if they are to thrive in the new human service sector. In other words, generic social work is a necessary, but no longer sufficient preparation for practice. ​The overall aim of the program is therefore to produce graduates who are ready to enter the field of their choice after first receiving a thorough grounding in the knowledge, values, and skills common to all social workers. The specializations are built upon the expertise of core teaching faculty and have all been developed with the very active participation of partner agencies in each of the respective fields.
Goals
To prepare graduates:
for ethical, innovative, and effective social work practice in a diverse society;
for competent practice which integrates theory and research;
to be capable of integrating practice and policy;
to practice in specialized areas, defined by student interest, faculty expertise, and demand from the field.;
who have a generic foundation of core social work knowledge, values, and skills, applicable to all fields and methods of practice;
to practice in specialized areas, defined by student interest, faculty expertise, and demand from the field;
to work actively to promote social justice, make professional decisions, and perform professional functions that are informed by an understanding of the political context of practice.
Objectives
To prepare students for:
professional practice according to the accreditation standards of the Council on Social Work Education (CASWE);
social work practice interventions based on research evidence;
specialized practice in five identified areas:
Children and their Families
Gerontology
Mental Health and Health
Social Justice and Diversity
Social Service Administration
strengthening partnerships with social work agencies in areas of particular interest to the Faculty for the purposes of enriching the curriculum and producing graduates with the requisite skills to function in those agencies;
encouraging interdisciplinary linkages.
PhD
The purpose of the PhD program at the Factor-Inwentash Faculty of Social Work doctoral program is to prepare students for leadership roles in social work education, research, and the community. Students are admitted to the PhD program on the bases of prior scholarly and professional achievements. Applicants who have been involved in research and who have a record of publications are rated highly for consideration for admission. These admission criteria acknowledge that the PhD in Social Work is a research degree located in a university, which emphasizes research excellence for all of its graduate programs.
Through scholarship, research, and mastery of substantive areas of study, the objectives of the program require student competence in the following:
conduct social work research using a range of paradigms and methods;
conduct research that both informs and advances social work knowledge and performance in areas of direct practice, community intervention, and policy development;
demonstrate a broad understanding of the major practice and policy issues in social welfare and the profession of social work;
substantive knowledge of a field of social work (defined by students' research interests), which results in the articulation of important empirical questions.
Enrolment in the Faculty of Social Work entails adherence to the standards of professional behaviour for the social work profession set forth in the Social Work Code of Ethics of the Canadian Association of Social Workers.
Combined Degree Programs
Students may also be interested in:
Law, Juris Doctor / Master of Social Work (JD/MSW)
Mental Health Studies (Specialist), Honours Bachelor of Science / Master of Social Work (MHSc/MSW)
Mental Health Studies (Specialist Co-op), Honours Bachelor of Science / Master of Social Work (MHSc/MSW)​

Program Description
The MSW program is distinguished by the integration of research and practice in both the classroom and its practicum education. The program offers six fields of specialization:
Children and Their Families (MSW)
Gerontology (MSW)
Health and Mental Health (MSW)
Human Services Management and Leadership (MSW)
Indigenous Trauma and Resiliency (MSW)
Social Justice and Diversity (MSW)
It is fully accredited by the Canadian Association for Social Work Education. The Faculty of Social Work offers the Master of Social Work (MSW) program in a two-year option or an advanced-standing option for applicants entering with a Bachelor of Social Work (BSW) degree. All students are expected to graduate with an advanced level of knowledge and professional competence in a chosen area of social work practice. Master of Social Work (Field: Children and Their Families) Within the MSW degree program, the field in Children and Their Families is designed to prepare students for social work practice with children and their families at all levels of intervention, from individual to group work with children, to family and couple intervention, to community organization, and to program and policy development. Master of Social Work (Field: Gerontology) Social workers provide a wide variety of services and programs, both in the community and in institutions that are aimed at enhancing the quality of life of older people and assisting families to adjust to the aging of their family member. Social workers also play a vital role in the development and implementation of social and economic policies at the provincial and national levels through research on aging, consultation with government, and through social advocacy. All students enrolled in the Social Work in Gerontology field will automatically be enrolled in the Collaborative Specialization in Aging, Palliative and Supportive Care Across the Life Course. Master of Social Work (Field: Health and Mental Health) As members of inter-professional health teams, social workers seek to assist others in understanding the social and community context in which physical and mental illness occur, and the way in which these larger systems contribute to the development of illness and disability and exacerbate or ameliorate the challenges in adapting to illness and living with disability. Master of Social Work (Field: Human Services Management and Leadership) The not-for-profit sector is primarily responsible for the delivery of social services in Canada. There is a critical need for people who are able to assume leadership roles in the community social services sector. Master of Social Work (Field: Indigenous Trauma and Resiliency) The Indigenous Trauma and Resiliency field integrates theory and research drawn from social work and Indigenous knowledge for application in the delivery of services and interventions for Indigenous populations. There is an emphasis on the First Nations, Métis, and Inuit peoples of Canada and other Indigenous groups. The curriculum is offered through online and intensive classroom formats. Initial admission inquiries should be made directly to the Factor-Inwentash Faculty of Social Work. Applicants holding the minimum admission requirements are not guaranteed admission. All admission decisions are final. This field is offered only as a two-year, full-time program. Master of Social Work (Field: Social Justice and Diversity) Reducing inequalities and marginalization is in line with professional social work's agenda of anti-oppression and social justice. Social work is committed to working with and on behalf of people from disenfranchised backgrounds.

Program Description
The PhD program has a tradition of scholarly excellence based on the quality of the research knowledge, competence, and output of its faculty. Doctoral graduates are practice leaders and faculty members throughout the world. Enrolment in the Faculty of Social Work entails adherence to the standards of professional behaviour for the social work profession set forth in the Social Work Code of Ethics of the Canadian Association of Social Workers.
justice, institut, environment, resilien, innovat, worker, labor, educat, health
SDG3, SDG4, SDG8, SDG9, SDG16
X
X
X
X
X
Spanish
Spanish
http://spanport.utoronto.ca/graduate
https://www.sgs.utoronto.ca/programs/spanish/
https://sgs.calendar.utoronto.ca/degree/Spanish
Arts and Science
UTSG
Master of Arts, Doctor of Philosophy
Program Overview
The Department of Spanish & Portuguese offers graduate courses leading to two degrees: Master of Arts (MA) and Doctor of Philosophy (PhD).The Master of Arts in Spanish is a freestanding, one-year course of study that may be undertaken as a preparatory degree to apply subsequently to doctoral programs in the field, or as a terminal degree by those interested in pursuing careers in education, publishing, government, journalism, literary translation, or non-profit organizations.The PhD in Spanish program at the University of Toronto draws on the talents of a diverse faculty to provide students with a rigorous education in order to prepare scholars and teachers of the highest caliber. Through completion of advanced course work and demanding skills training, the doctoral program prepares students to develop innovative research and to present their results to the world in compelling ways.Students in the Spanish graduate programs are expected to engage in the vibrant and collaborative intellectual life in our Department while completing their courses and conducting their research. Students are also able to join a broadly based community of scholars by participating in a wide variety of working groups, lecture series, graduate conferences, and other opportunities for fruitful intellectual exchange throughout the university.Students completing a graduate program in Spanish at the University of Toronto can choose one of two concentrations:Hispanic Literatures and CulturesHispanic LinguisticsThe application process for the Master of Arts program is competitive; meeting the minimum standards for admission does not guarantee acceptance. The admissions process for the Doctor of Philosophy program is competitive; it is based on a number of factors in addition to grades. The principal factors include the ability of the department to offer graduate work in the applicant's preferred areas of interest, the availability of appropriate supervisory resources, and the suitability of the applicant in relation to the academic profile and programs of the department.The department does not allow direct entry to the PhD program with a BA, nor does it allow MA students to transfer to the PhD program before the coursework for the MA is completed.

Program Description
The application process for the Master of Arts program is competitive; meeting the minimum standards for admission does not guarantee acceptance.

Program Description
The admissions process for the Doctor of Philosophy program is competitive; it is based on a number of factors in addition to grades. The principal factors include the ability of the department to offer graduate work in the applicant 's preferred areas of interest, the availability of appropriate supervisory resources, and the suitability of the applicant in relation to the academic profile and programs of the department.The department does not allow direct entry to the PhD program with a BA degree. Students in the MA program in Spanish who would like to continue to the PhD must apply through the regular application process; there is no process for direct transfer from MA to PhD.
innovat, labor, educat
SDG4
X
Speech-Language Pathology (Practitioner)
Speech-Language Pathology
https://slp.utoronto.ca/admissions/program-information/
https://www.sgs.utoronto.ca/programs/speech-language-pathology-practitioner/
https://sgs.calendar.utoronto.ca/degree/Speech~Language-Pathology
Medicine
UTSG
Master of Health Science
Program Overview
The Master of Health Science (MHSc) in Speech-Language Pathology is a full-time professional graduate program. The primary aim of the program is to prepare practitioners for entry into the practice of speech-language pathology. Graduates are prepared to assume varied professional responsibilities including the assessment, treatment, and management of speech, voice, language, and swallowing disorders. Coursework and clinical internships are integrated and sequenced in a unique modular curriculum. Additionally, students participate in the interprofessional education (IPE) curriculum for 11 health science programs at the University of Toronto. There is a strong research-to-practice focus and students complete a comprehensive portfolio requirement in their final year.Students cannot apply to the MHSc program from the SGS website. For application information, fees, and guidelines to apply to the MHSc clinical program, please consult the Ontario Rehabilitation Sciences Programs (ORPAS) website.For students interested in pursuing research: visit the Speech-Language Pathology (Research) program page.

Program Description
The MHSc program educates highly competent graduate-level clinicians in the profession of speech-language pathology. It prepares students to work in a variety of settings, such as hospitals, schools, and community clinics. Speech-language pathologists provide service across the lifespan to individuals with a wide range of speech, language, hearing, and swallowing disorders. The integrated curriculum places equal emphasis on theoretical and practical competencies regarding normal development, as well as on the assessment and treatment of disorders in human communication and swallowing.The MHSc program extends over 22.5 months and comprises five academic and four clinical units with a capstone portfolio in a unique and internationally acclaimed curriculum. The themed academic units are directly followed by full-time clinical placements targeting the same areas of practice, enabling a strong research-to-practice focus.
educat, health
SDG3, SDG4
X
X
Sustainability Management
Management & Innovation
https://www.utm.utoronto.ca/mscsm/
https://www.sgs.utoronto.ca/programs/sustainability-management/
https://sgs.calendar.utoronto.ca/degree/Management-and-Innovation
University of Toronto Mississauga (UTM)
UTM
Master of Science in Sustainability Management
Program Overview
The Master of Science in Sustainability Management (MScSM) program provides the training for graduates to act outside the traditional disciplinary black boxes; integrate knowledge from management, social, and natural sciences to address sustainability issues; and make leading contributions and lasting advances in sustainability management.The program is unique among science and management graduate programs by providing a strong foundation in sustainability management while offering an opportunity to specialize in a management or science concentration.The program is designed for students from diverse backgrounds such as management science, social science, natural science, and engineering. The program was developed in consultation with leaders and future employers in business, non-profit, research, and government organizations.The MScSM degree is for individuals who want to pursue management careers in sustainability-related divisions and organizations.Students may also be interested in combined degree programs:Environmental Management (Major), Honours Bachelor of Arts / Sustainability Management, Master of Science (HBA/MScSM)Environmental Management (Specialist), Honours Bachelor of Arts / Sustainability Management, Master of Science (HBA/MScSM)Environmental Science (Major), Honours Bachelor of Science / Sustainability Management, Master of Science (HBSc/MScSM)Environmental Science (Specialist), Honours Bachelor of Science / Sustainability Management, Master of Science (HBSc/MScSM)

Program Description
The Master of Science in Sustainability Management (MScSM) is an interdisciplinary, course-based professional program. The program provides education that integrates knowledge from management, social, and natural sciences to address sustainability issues. The MScSM provides a strong foundation in sustainability management while offering an opportunity to specialize in a management or science concentration. The program is designed for students from diverse educational backgrounds such as management, social science, natural science, and engineering. The program was developed in consultation with leaders and prospective employers in business, non-profit, research, and government organizations.
environment, educat
SDG4, SDG13
X
X
Teaching
Curriculum, Teaching and Learning
https://www.oise.utoronto.ca/mt/Home.html
https://www.sgs.utoronto.ca/programs/teaching/
https://sgs.calendar.utoronto.ca/degree/Curriculum,-Teaching-and-Learning
Ontario Institute for Studies in Education (OISE)
UTSG
Master of Teaching
Program Overview
The Department of Curriculum, Teaching and Learning at the Ontario Institute for Studies in Education (OISE) offers a graduate program in Teaching, leading to the Master of Teaching (MT) degree. Students have a unique educational opportunity that combines teacher qualification with advanced study of educational theory and an opportunity to conduct research. The program provides students with a strong grounding in curriculum, human development, ethics, educational law, diversity, educational technology, teaching, and learning.This teacher education program offers the opportunity for elementary and secondary student teachers to deepen their knowledge of all aspects of teaching. The high level of academic rigour, combined with increased practice teaching experiences enhances and extends the theoretical and practical knowledge of students preparing to become teachers. The program includes formal coursework, teaching and research seminars, practice teaching, internship, and a major research project.Students may also be interested in the combined degree program in Music Education (Stream), Bachelor of Music / Master of Teaching (MusBac/ MT ).The Master of Teaching program is one of two degrees offered at OISE that allow graduates to teach as licensed teachers in the province of Ontario. For information on the Master of Arts in Child Study and Education (CSE) offered by the Department of Applied Psychology and Human Development at the Dr. Eric Jackman Institute of Child Study (Jackman ICS), please review the CSE program's fact sheet or the website of the Jackman ICS.

Program Description
This program involves two years of full-time study leading to a Master of Teaching (MT) degree. Upon successful completion of this program, students will be recommended to the Ontario College of Teachers for an Ontario Teachers ' Certificate of Qualification, which qualifies them to teach in either the Primary and Junior (P/J) divisions, the Junior and Intermediate (J/I) divisions, or the Intermediate and Senior (I/S) divisions of Ontario schools.The MT program offers students a unique educational opportunity, which combines teacher qualification with advanced study of educational theory and an opportunity to conduct research. The program provides students with a strong grounding in curriculum; human development; ethics and educational law; equity diversity and inclusion; Indigenous education; educational technology; instructional planning; instructional design; and learning theory. Students enjoy four practice teaching experiences in which they develop their skills as teachers and extend the theoretical and practical knowledge they acquired in the academic portion of the program.The program includes: formal coursework, teaching and research seminars, and practice teaching.The 20-month program is normally completed on a full-time basis in 5 terms: erms 1 and 2 (Fall and Winter sessions [September to April]) erm 3 (Summer session [May to August]) erms 4 and 5 (Fall and Winter sessions [September to April]). Registration in Terms 4 and 5 is contingent upon successful completion of all courses in Terms 1, 2, and 3 and two successful placements.Applicants must select one of the following teaching divisions: Primary/Junior (junior kindergarten to grade 6) Junior/Intermediate (grades 4 to 10) Intermediate/Senior (grades 7 to 12).
institut, educat
SDG4, SDG16
X
X
Translational Research in the Health Sciences
Laboratory Medicine and Pathobiology
https://trp.utoronto.ca/
https://www.sgs.utoronto.ca/programs/translational-research-in-the-health-sciences/
https://sgs.calendar.utoronto.ca/degree/Laboratory-Medicine-and-Pathobiology
Medicine
UTSG
Master of Health Science
Program Overview
The Master of Health Science (MHSc) in Translational Research in Health Sciences is a two-year, course-based program is designed for interprofessional students from diverse backgrounds (such as medicine, life sciences, social sciences, engineering, design, and communications) who want to learn creative problem-solving skills, strategies, and competencies to translate (scientific) knowledge into innovations that improve medicine, health, and care.Through flexible coursework, team-based, real-world translational challenges, and extensive mentorship and networking, the department facilitates self-directed collaborative "learning by doing": students gain experience, expertise, and practical insights into development and design processes, regulatory frameworks, and translational networks and strategies to develop, lead, test, and implement innovations. The program's mission is to challenge students to think differently so that they learn to champion change in their communities and contexts.This cohort-based program commences in September.

Program Description
This two-year, course-based program is designed for interprofessional students from diverse backgrounds (such as medicine, life sciences, social sciences, engineering, design, and communications) who want to learn creative problem-solving skills, strategies, and competencies to translate (scientific) knowledge into innovations that improve medicine, health, and care.Through flexible coursework, team-based, real-world translational challenges, and extensive mentorship and networking, the department facilitates self-directed collaborative "learning by doing": students gain experience, expertise, and practical insights into development and design processes, regulatory frameworks, and translational networks and strategies to develop, lead, test, and implement innovations. The program's mission is to challenge students to think differently so that they learn to champion change in their communities and contexts.This cohort-based program commences in September.
innovat, labor, health
SDG3, SDG9
X
X
Urban Design
Architecture, Landscape, and Design
https://www.daniels.utoronto.ca/programs/graduate/master-urban-design-post-professional
https://www.sgs.utoronto.ca/programs/urban-design/
https://sgs.calendar.utoronto.ca/degree/Architecture,-Landscape,-and-Design
Architecture, Landscape, and Design
UTSG
Master of Urban Design, MUD Program (2-Year)
Program Overview
The Master of Urban Design (MUD) program prepares architects and landscape architects for design-based research and professional practice at the urban and regional scales. The MUD curriculum capitalizes on the wealth of resources at the University of Toronto to establish interdisciplinary and inter-professional collaboration, initiating forms of research and practice that are suited to the breadth of urban design. The program also draws on the largest pool of expertise and talent in Canada by involving leading figures of the Toronto urban design community in teaching, external reviews, and special events.

Program Description
The Master of Urban Design (MUD) is a post-professional program that prepares architects and landscape architects for design-based research and professional practice at the urban and regional scales. The MUD program is committed to design as a primary medium of operation and research in a broad intellectual framework that includes geography, environmental studies, social sciences, media studies, economics, and engineering. It aims for responsible and creative design in the context of contemporary city and region building, with attention to new paradigms of urbanization, global economic restructuring, and information technology. The program emphasizes a coherent intellectual approach that is committed to analysis and critique and seeks to become the central Canadian forum for advanced research, design innovation, scholarship, criticism, and debate in urban design.
environment, urban, innovat, labor
SDG9, SDG11, SDG13
X
X
X
Urban Innovation
Management & Innovation
https://www.utm.utoronto.ca/mui/
https://www.sgs.utoronto.ca/programs/urban-innovation/
https://sgs.calendar.utoronto.ca/degree/Management-and-Innovation
University of Toronto Mississauga (UTM)
UTM
Master of Urban Innovation
Program Overview
The Master of Urban Innovation (MUI) is a 20-month professional master's program for students interested in urban issues and economic development. The program is uniquely designed to provide a new generation of practitioners with an in-depth understanding of the role that innovative, vibrant, liveable, and supportive city-regions play in sustaining the quality of life and economic well-being of Canadians.Through the MUI program, students will be trained to lead and manage innovative urban economic development initiatives. Students will take classes taught by faculty with expertise in economic development, public policy, management, government administration, and finance. In addition, each student will participate in an academically supported and practice-oriented summer internship that will provide them with an opportunity to apply foundational knowledge and ideas in the workplace. The program will prepare graduates to play a critical policy and leadership role in implementing strategies that promote innovative, equitable, and sustainable cities and city-regions.

Program Description
The Master of Urban Innovation (MUI) is a full-time, professional program that will encompass studies in urban economic development, community capacity building, innovation management, local and regional governance, urban sustainability, and real estate development for innovation. The MUI will complement the suite of programs in management, innovation, and sustainability currently offered in the Institute for Management & Innovation and will build on the strengths of other key academic units at UTM, including the Departments of Geography, Economics, and Political Science, and the Institute of Communication, Culture, Information and Technology.The objective of the MUI program is to respond to the growing job opportunities that exist for professionals trained in the fields of urban economic development and innovation through a cross-disciplinary approach. Upon graduation, MUI students will have acquired the analytical tools to enable them to produce effective economic development policies and plans, including a detailed knowledge of strategic management techniques, the role of real estate markets in local economic development, and critical tools for financial analysis.
governance, institut, urban, cities, innovat, equitable, well-being
SDG3, SDG4, SDG9, SDG11, SDG16
X
X
X
X
X
Women and Gender Studies
Women and Gender Studies
https://wgsi.utoronto.ca/graduate
https://www.sgs.utoronto.ca/programs/women-and-gender-studies/
https://sgs.calendar.utoronto.ca/degree/Women-and-Gender-Studies
Arts and Science
UTSG
Master of Arts, Doctor of Philosophy, PhD Program, PhD Program (Direct-Entry)
Program Overview
The Women and Gender Studies Institute (WGSI) offers a program leading to the Master of Arts and Doctor of Philosophy degrees in Women and Gender Studies.The Master's Program in Women and Gender Studies (MWGS) focuses on feminist colonial, postcolonial, indigenous, diasporic, and transnational studies as rubrics for studying gender, sex, and feminism. This perspective explores the temporal and geographic processes through which human lives, sexed relations, gendered subjectivities, and sexualities are situated.The PhD has four emphases:gender, sexuality, and queer studies;feminist cultural studies;feminist studies of technology, science, environment, and biomedicine;transnational political economy and development studies.The program offerings bring feminist scholarship to the tasks of challenging and investigating colonial, postcolonial, and transnational contexts. Central themes of the program include global capitalism, nation and state formation, empire, citizenship, indigeneity, diaspora, and cultural flows, all of which are examined through the lenses of diverse feminist scholarship.The program welcomes applications from international students.See also: Collaborative Specialization in Women and Gender Studies.

Program Description
The MA program in Women and Gender Studies focuses on feminist colonial, post-colonialism, diasporic, and transnational studies as rubrics for studying gender, sex, and feminism. This perspective explores the temporal and geographic processes through which women's and men's lives, sexed relations, gendered subjectivities, and sexualities are situated.The MA program is a full-time program and cannot be taken on a part-time basis.

Program Description
The PhD program in Women and Gender Studies has four areas of focus: gender, sexuality, and queer studies feminist cultural studies feminist studies of technology, science, environment, and biomedicine ransnational political economy and development studies. The offerings bring feminist scholarship to the tasks of challenging and investigating colonial, postcolonial, and transnational contexts. Central themes of the program include global capitalism, nation and state formation, empire, citizenship, diaspora, and cultural flows, all of which are examined through the lenses of diverse feminist scholarship. The program welcomes applications from international students.Applicants may enter the PhD program via one of two routes: following completion of an appropriate MA direct entry after completing a bachelor's degree.
institut, environment, labor, queer, women, gender
SDG5, SDG13, SDG16
X
X
X
Women and Gender Studies
***Collaborative Specialization***
https://wgsi.utoronto.ca/graduate/collaborative-program
https://sgs.calendar.utoronto.ca/collaborative/Women-and-Gender-Studies-(Collaborative-Specialization)
Arts and Science
Tricampus
Master's, Doctoral
The Graduate Collaborative Specialization in Women and Gender Studies (CWGS) provides students with an opportunity for advanced feminist studies in concert with an MA or PhD degree in another discipline. The Collaborative Specialization offers a rich interdisciplinary environment in which to grapple with how gender and sexuality are entangled with questions of race, citizenship, embodiment, colonialism, nation, global capitalism, violence, political economy, cultural formations, aesthetics, and other pressing concerns. The graduate programs listed above participate in the Collaborative Specialization in Women and Gender Studies at the University of Toronto. The collaborating units contribute courses and provide facilities and supervision for graduate research. The collaborative specialization is administered by the Women and Gender Studies Institute (WGSI), bringing together 34 graduate programs, more than 100 courses, and more than 100 graduate faculty members. Core faculty members bring transnational feminist commitments to the study of diverse sites and their interconnection with particular focus on Canada, the Caribbean, Africa, the Middle East, South Asia, East Asia, and the United States.
women, gender
SDG5
X
Women's Health
***Collaborative Specialization***
http://www.dlsph.utoronto.ca/programs/collaborative-specialization-in-womens-health/
https://sgs.calendar.utoronto.ca/collaborative/Women's-Health
Public Health
Tricampus
Master's, Doctoral
Women's health issues are now more than ever a focus for health care that is on the cutting edge of patient-centered care, evidence-based medicine, and personalized medicine, and heightening an appreciation of biological diversity and gender identities among humans. For example, in biomedical research, integrating knowledge of women's health is critical for understanding the biology underlying diversity in the etiology, progression, treatment, and prevention of disease. Through their roles often as primary caregivers in the family, the health of women affects all members of the community including men, children, and older adults.
women, gender, health
SDG3, SDG5
X
X
Workplace Learning and Social Change
***Collaborative Specialization***
https://www.oise.utoronto.ca/lhae/Collaborative_Specializations/Workplace_Learning_and_Social_Change/
https://sgs.calendar.utoronto.ca/collaborative/Workplace-Learning-and-Social-Change
Ontario Institute for Studies in Education (OISE)
Tricampus
Master's, Doctoral
The Collaborative Specialization in Workplace Learning and Social Change is particularly suited to students interested in developing their understanding of work and learning trends in Canada and internationally, with a focus on the relationships between workplace learning and social change. The collaborative specialization has three intellectual objectives: • to situate workplace learning within broader social trends such as globalization, neoliberalism, and organizational restructuring; • to allow exploration of the connections between learning as an individual phenomenon and learning as a social/organizational and public policy phenomenon; and • to highlight the learning strategies that seek to foster social change through greater equality of power, inclusivity, participatory decision-making, and economic democracy.
equality, inclusiv
SDG4, SDG5
X
X