University of Toronto's 2021-2022 Undergraduate Sustainability Course Inventory
The Sustainability Course Inventory gathers information about all sustainability-related undergraduate courses at the University of Toronto. Our understanding of sustainability englobes both human and environmental concerns, and the inventory was created based on keywords from the United Nations' Sustainable Development Goals (SDGs) (see below). It includes 3,059 sustainability-oriented courses, representing 30% of all 10,366 undergraduate courses at U of T. The Inventory now includes a column for the Instructors who have provided consent via faculty survey to publish their names in the Sustainability Course Inventory. The purpose of the sustainability course inventory is to increase the visibility of such courses, making it more accessible for students to add sustainability content to their educational experience.
We hope to encourage deeper understanding of the societal shift towards sustainability, to contribute to the creation of a culture of sustainability at the university. The SDGs were chosen as a basis for the inventory due to their comprehensiveness and widespread usage in the sustainability field. The first inventory was created in 2017 by the Expanded Student Engagement (ESE) Project, which supports the the President's Advisory Committee on the Environment, Climate Change, and Sustainability (CECCS)'s Subcommittee on Curriculum Innovation, and this new version was made by the CECCS' Adams Sustainability Champion Interns in August 2020. The ESE team collaborated with the CECCS to select which keywords would be used to represent each of the first 16 SDGs. (SDG 17, "Strengthen the means of implementation and revitalize the goal partnership for sustainable development," was excluded from the methodology, as it encompasses the act of achieving the other goals rather than bringing a new perspective to sustainability).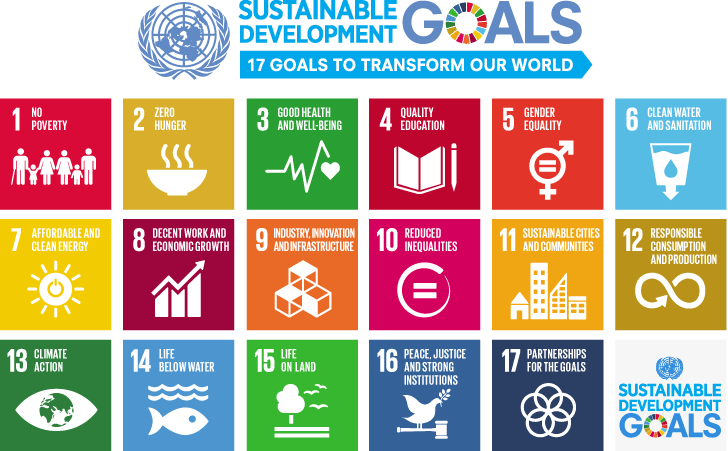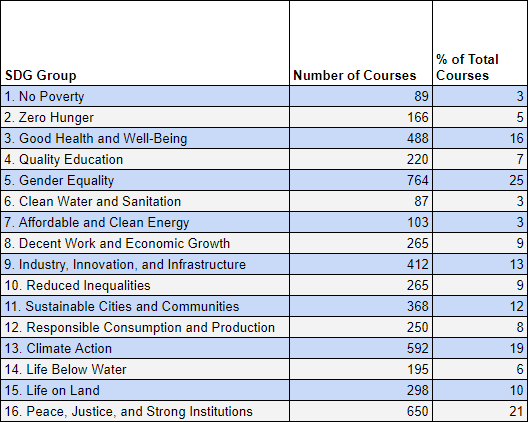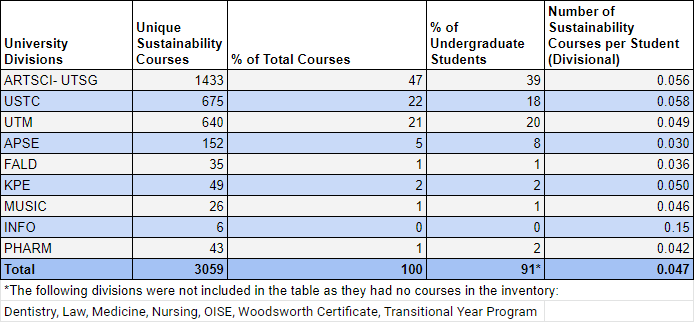 The sustainability course inventory is below.
Note: If you are a professor at the University of Toronto and think that a course should be included or removed from the inventory, please email Ayako Ariga: ayako.ariga@utoronto.ca.
Course Code
Course Title
Course Description
Division
Unit
Campus
Credit Value
Session(s) Offered
Keyword(s)
SDGs Covered
SDG1
SDG2
SDG3
SDG4
SDG5
SDG6
SDG7
SDG8
SDG9
SDG10
SDG11
SDG12
SDG13
SDG14
SDG15
SDG16
ABP102Y1
Contemporary Canada
This interdisciplinary, foundational course provides an introduction to contemporary Canadian society. The course includes the study of geography, politics, literature and culture through a historical framework of the twentieth century. It also emphasizes particular themes including indigenous issues, Quebec nationalism, gender/women's issues and immigration/multiculturalism. Open only to Academic Bridging Program students. Not eligible for CR/NCR option.
Arts and Science, Faculty of
NULL
St. George
1.0
Fall/Winter, Winter
women, gender
SDG5
X
ABP104Y1
Introduction to Environmental Studies
This interdisciplinary course introduces the major issues regarding the sustainability of the global environment in the face of human development by integrating humanities and social science with the fundamental concept of environmental science. It examines major environmental problems, such as rapid climate change and land degradation as well as the role and impact of government, economics, and ethics on environmental issues. Open only to Academic Bridging Program students. Not eligible for CR/NCR option.
Arts and Science, Faculty of
NULL
St. George
1.0
Fall/Winter
environment, climate
SDG13
X
ABP106Y1
Media, Culture, and Society
This interdisciplinary course provides an introduction to the cultural and social impacts of present-day popular mass media. Themes explored include the economic and political forces that shape the media world, the role of technology, and issues of representation, gender, and social justice. The course examines a wide range of texts, emphasizing popular culture produced in Canada, and students will have the opportunity to draw extensively on their own interactions with popular media. Open only to Academic Bridging Program students. Not eligible for CR/NCR option.
Arts and Science, Faculty of
NULL
St. George
1.0
Winter
justice, gender
SDG5, SDG16
X
X
ABP109Y1
Decentring "Canada"
This course centres diverse, under-acknowledged narratives of people, such as Indigenous and racialized peoples, within the territories of "Canada" to challenge monolithic, linear, and uncritical representations of this country's history and future. Archival materials, maps, place names, art, literature, film, and other texts will be approached from interdisciplinary perspectives to reveal different orientations to historical events, social injustices, and futures of this territory. Open only to Academic Bridging Program students. Not eligible for CR/NCR option.
Arts and Science, Faculty of
NULL
St. George
1.0
Fall/Winter
justice
SDG16
X
ACMB10H3
Equity and Diversity in the Arts
Equity and diversity in the arts promotes diversity of all kinds, including those of race, gender, socio-economic status, sexual orientation or identity, age, ability or disability, religion, and aesthetics, tradition or practice. This course examines issues of equity and diversity and how they apply across all disciplines of arts, culture and media through critical readings and analysis of cultural policy.
University of Toronto Scarborough
Arts, Culture & Media (UTSC), Department of
Scarborough
0.5
Winter, Fall
gender, socio-economic
SDG1, SDG5
X
X
ACMD01H3
ACMEE Applied Practice II
An advanced study of the arts, culture and/or media sector through reflective practice. Students will further engage with work places as "learning laboratories", and play a mentorship role for students in earlier stages of the experiential education process.
University of Toronto Scarborough
NULL
Scarborough
0.5
Winter, Fall
labor, educat
SDG4, SDG8
X
X
ACMD02H3
ACMEE Applied Practice III
An advanced study of the arts, culture and/or media sector through reflective practice. Students will further synthesize their classroom and work place / learning laboratory experiences, and play a mentorship role for students in earlier stages of the experiential education process.
University of Toronto Scarborough
Arts, Culture & Media (UTSC), Department of
Scarborough
0.5
Winter, Fall
labor, educat
SDG4, SDG8
X
X
ACT390H1
Professional Experience in Actuarial Science
The professional experience is a mandatory course in the actuarial science Specialist program, in preparation for an internship work term after the PE course is completed. It includes various professional skill workshops, networking activities and an invited industry speaker series. (No tuition fee associated, however an ancillary fee of $550 will be assessed towards Professional Experience preparatory program costs.)
Arts and Science, Faculty of
Statistical Sciences (FAS), Department of
St. George
0.0
Fall
industr
SDG9
X
AER315H1
Combustion Processes
Scope and history of combustion, and fossil fuels; thermodynamics and kinetics of combustion including heats of formation and reaction, adiabatic flame temperature, elementary and global reactions, equilibrium calculations of combustion products, and kinetics of pollutant formation mechanisms; propagation of laminar premixed flames and detonations, flammability limits, ignition and quenching; gaseous diffusion flames and droplet burning; introduction to combustion in practical devices such as rockets, gas turbines, reciprocating engines, and furnaces; environmental aspects of combustion.
Applied Science & Engineering, Faculty of
Engineering Science (FASE), Division of
St. George
0.5
Fall
pollut, environment
SDG13, SDG14, SDG15
X
X
X
AER407H1
Space Systems Design
Introduction to the conceptual and preliminary design phases for a space system currently of interest in the Aerospace industry. A team of visiting engineers provide material on typical space systems design methodology and share their experiences working on current space initiatives through workshops and mock design reviews. Aspects of operations, systems, electrical, mechanical, software, and controls are covered. The class is divided into project teams to design a space system in response to a Request for Proposals (RFP) formulated by the industrial team. Emphasis is placed on standard top-down design practices and the tradeoffs which occur during the design process. Past projects include satellites such as Radarsat, interplanetary probes such as a solar sailer to Mars, a Mars surface rover and dextrous space robotic systems.
Applied Science & Engineering, Faculty of
Engineering Science (FASE), Division of
St. George
0.5
Fall
trade, industr, solar
SDG7, SDG9, SDG10
X
X
X
AER507H1
Introduction to Fusion Energy
Nuclear reactions between light elements provide the energy source for the sun and stars. On earth, such reactions could form the basis of an essentially inexhaustible energy resource. In order for the fusion reactions to proceed at a rate suitable for the generation of electricity, the fuels (usually hydrogen) must be heated to temperatures near 100 million Kelvin. At these temperatures, the fuel will exist in the plasma state. This course will cover: (i) the basic physics of fusion, including reaction cross-sections, particle energy distributions, Lawson criterion and radiation balance, (ii) plasma properties including plasma waves, plasma transport, heating and stability, and (iii) fusion plasma confinement methods (magnetic and inertial). Topics will be related to current experimental research in the field.
Applied Science & Engineering, Faculty of
Engineering Science (FASE), Division of
St. George
0.5
Fall
energy
SDG7
X
AER510H1
Aerospace Propulsion
Scope and history of jet and rocket propulsion; fundamentals of air-breathing and rocket propulsion; fluid mechanics and thermodynamics of propulsion including boundary layer mechanics and combustion; principles of aircraft jet engines, engine components and performance; principles of rocket propulsion, rocket performance, and chemical rockets; environmental impact of aircraft jet engines.
Applied Science & Engineering, Faculty of
Engineering Science (FASE), Division of
St. George
0.5
Winter
environment
SDG13
X
AER525H1
Robotics
The course addresses fundamentals of analytical robotics as well as design and control of industrial robots and their instrumentation. Topics include forward, inverse, and differential kinematics, screw representation, statics, inverse and forward dynamics, motion and force control of robot manipulators, actuation schemes, task-based and workspace design, mobile manipulation, and sensors and instrumentation in robotic systems. A series of experiments in the Robotics Laboratory will illustrate the course subjects.
Applied Science & Engineering, Faculty of
Engineering Science (FASE), Division of
St. George
0.5
Fall
industr, labor
SDG8, SDG9
X
X
AFR150Y1
Introduction to African Studies
A multi-disciplinary study of Africa, emphasizing inquiry and critical analysis. Pre-colonial, colonial and contemporary African history, anthropology, politics, African humanism and society, religion, art, music, race, resistance, gender and Pan-Africanism.
Arts and Science, Faculty of
NULL
St. George
1.0
Fall/Winter
gender
SDG5
X
AFR250Y1
Africa in the 21st Century: Challenges and Opportunities
A critical examination of Africa as a living space rather than merely a site of intellectual speculation and study. Uses scholarly and popular literature to explore the issues that engage the attention of ordinary Africans, ranging from the dramatic to the seemingly trivial, as they struggle to fashion meaningful lives in fast-changing societies. Topics include urban transition and city life; economic, political and cultural impacts of globalization; new religious movements and changing conceptions of selfhood; new African diasporas in the West; dynamics of gender relations, kinships and identities; and the politics of liberalization. Materials studied will include print and electronic news media and other mass media resources from Africa and across the world.
Arts and Science, Faculty of
NULL
St. George
1.0
Fall/Winter
urban, gender
SDG5, SDG11
X
X
AFR351Y1
African Systems of Thought
The exploration of a range of African cosmologies, epistemologies, and theologies, as well as specific case studies on justice, the moral order, and gender relations. The influence of these richly diverse traditions is traced as well in the writings of African thinkers in the Diaspora.
Arts and Science, Faculty of
NULL
St. George
1.0
Fall/Winter
justice, gender
SDG5, SDG16
X
X
AFR353H1
International Relations of Africa
Explores inter-state relations in Africa, African states' relations with the West, China, India, Brazil, and international political, economic and financial institutions.
Arts and Science, Faculty of
NULL
St. George
0.5
Fall
institut
SDG16
X
AFR355H1
African Youth Languages and Cultures
Examines the nature of youth languages and cultures in contemporary Africa with a focus on their characteristics and the conditions under which they develop. Also considers similarities and/or differences between youth languages and cultures in different regions of Africa and the general youth condition. Includes urban youth languages such as Sheng, Engsh, Tsotsital, etc. and music genres associated with youth such as hip hop, Bongo flava, etc. Discusses challenges and opportunities associated with African youth languages as they relate to questions of identity, national integration, regional integration, and development.
Arts and Science, Faculty of
NULL
St. George
0.5
Winter
urban
SDG11
X
AFR359H1
The Horn of Africa - Critical Perspectives
Examines the Horn of Africa, its diversity, geopolitics, cultural politics, present conditions and current debates through a critical and comparative lens. Considers social forces in contemporary politics within the region including competing claims, explanations of the underpinnings of the Horn's conflict, and the promise of peace. Draws upon interdisciplinary scholarship, public discourse, texts and media to reflect on the future of the Horn of Africa at this historical moment.
Arts and Science, Faculty of
NULL
St. George
0.5
Fall
peace
SDG16
X
AFR450Y1
African Studies Honours Research Seminar
This honours research seminar required of all specialists and majors in African Studies offers critical explorations of the genealogy of African Studies, the transnational study of Africa, Africa's place in a globalized world, the historical, intellectual and institutional contexts of Africanist knowledge production, its dissemination and consumption in Africa, Europe, the Americas and emerging academic sites in Asia. It engages with the paradigm shifts and vibrant scholarly and epistemic debates across disciplines and geographies as well as unfolding events, public discourses, geopolitics, African popular cultures and the reimagining of African futures through canonical, emergent scholarship and creative media and emphasizes students' original and creative research explorations, engaged praxis and search for alternative theorizing and decolonial epistemologies.
Arts and Science, Faculty of
NULL
St. George
1.0
Fall/Winter
institut, production, consum
SDG12, SDG16
X
X
AFR453Y1
Language and Postcolonial Education in East Africa
Examines the choice of languages for education in East Africa using critical perspectives. Pays particular attention to the influences of the historical experience of colonialism, the socio-linguistic contours of each country and the strength of linguistic and educational lobby groups in East African countries.
Arts and Science, Faculty of
NULL
St. George
1.0
Fall/Winter
educat
SDG4
X
AFR455H1
Conflicts, Negotiations and Peacebuilding in Africa
Examines conflicts and peace negotiations in African contexts such as Somalia, Sudan, the Democratic Republic of Congo, and North Africa through public discourse, citizen actions, policy debates and mobilizations. Explores formal, informal, indigenous and institutional mediation and peace negotiation platforms, strategies, and impulses. Analyzes various conflict zones, case studies and intervention strategies for negotiating and sustaining peace in Africa in the broader context of the war on terror, increasing militarism, and securitization in peacebuilding.
Arts and Science, Faculty of
NULL
St. George
0.5
Winter
peace, institut
SDG16
X
AFSA01H3
Africa in the World: An Introduction
An interdisciplinary introduction to the history and development of Africa with Africa's place in the wider world a key theme. Students critically engage with African and diasporic histories, cultures, social structures, economies, and belief systems. Course material is drawn from Archaeology, History, Geography, Literature, Film Studies, and Women's Studies. Same as HISA08H3
University of Toronto Scarborough
Global Development Studies (UTSC), Department of
Scarborough
0.5
Fall
women
SDG5
X
AFSB05H3
Culture and Society in Africa
An overview of the range and diversity of African social institutions, religious beliefs and ritual, kinship, political and economic organization, pre-colonial, colonial and post-colonial experience.
Same as ANTB05H3
University of Toronto Scarborough
Historical & Cultural Studies (UTSC), Department of
Scarborough
0.5
Winter
institut
SDG16
X
AFSB50H3
Africa in the Era of the Slave Trade
An introduction to the history of Sub-Saharan Africa, from the era of the slave trade to the colonial conquests. Throughout, the capacity of Africans to overcome major problems will be stressed. Themes include slavery and the slave trade; pre-colonial states and societies; economic and labour systems; and religious change.
Same as HISB50H3
University of Toronto Scarborough
Global Development Studies (UTSC), Department of
Scarborough
0.5
Fall
trade, labour
SDG8, SDG10
X
X
AFSB51H3
Africa from the Colonial Conquests to Independence
Modern Sub-Saharan Africa, from the colonial conquests to the end of the colonial era. The emphasis is on both structure and agency in a hostile world. Themes include conquest and resistance; colonial economies; peasants and labour; gender and ethnicity; religious and political movements; development and underdevelopment; Pan-Africanism, nationalism and independence.
Same as HISB51H3
University of Toronto Scarborough
Global Development Studies (UTSC), Department of
Scarborough
0.5
Winter
labour, gender
SDG5, SDG8
X
X
AFSD51H3
Southern Africa: Colonial Rule, Apartheid and Liberation
A seminar study of southern African history from 1900 to the present. Students will consider industrialization in South Africa, segregation, apartheid, colonial rule, liberation movements, and the impact of the Cold War. Historiography and questions of race, class and gender will be important. Extensive reading and student presentations are required.
Same as HISD51H3
Africa and Asia Area
University of Toronto Scarborough
Global Development Studies (UTSC), Department of
Scarborough
0.5
Fall
industr, gender
SDG5, SDG9
X
X
AMS300H1
Theories and Methods in American Studies
This course, required for majors and minors but open to all who have met the pre-requisites, explores a range of approaches to the field of American Studies. Students will be introduced to some of the many 'theories and methods' that have animated the field of American Studies, including historical methods; formal analysis of visual and literary texts; and key concepts, such as commodity chain analysis; 'race,' 'commodity,' 'gender,' 'diaspora,' and 'affect.'
Arts and Science, Faculty of
United States (FAS), Centre for Study of
St. George
0.5
Winter
gender
SDG5
X
ANT200Y1
Introduction to Archaeology
How did art and technology develop in the course of human evolution? What led to the development of agriculture and settled village life? How did social inequality and urbanism emerge? This course takes a global perspective to explore the archaeological evidence that sheds light on these questions and other aspects of prehistory and early history. Students will engage with the challenges posed by new discoveries and also with recent developments in archaeological method and theory. The goal of the course is to involve students with the current state of archaeological research and some of the major issues archaeologists work to address.
Arts and Science, Faculty of
Anthropology (FAS), Department of
St. George
1.0
Fall/Winter
urban, inequality, equality, agricultur
SDG2, SDG5, SDG10, SDG11
X
X
X
X
ANT201H5
World Prehistory
Survey of human cultural development over 2.5 million years. The course will cover the following topics: the nature and origins of material culture; the nature and development of hunter-gather-fisher economies; the nature and development of resource production; and the nature of development of complex societies. [24L, 12P]
University of Toronto Mississauga
Anthropology (UTM), Department of
Mississauga
0.5
Winter
fish, production
SDG12, SDG14
X
X
ANT204H1
Social Cultural Anthropology and Global Issues
A course focused on recent anthropological scholarship that seeks to understand and explain the transformation of contemporary societies and cultures. Topics may include some of the following: new patterns of global inequality, war and neo-colonialism, health and globalization, social justice and indigeneity, religious fundamentalism, gender inequalities, biotechnologies and society etc.
Arts and Science, Faculty of
Anthropology (FAS), Department of
St. George
0.5
Winter
justice, inequality, equality, gender, health
SDG3, SDG5, SDG10, SDG16
X
X
X
X
ANT205H1
Medical Anthropology: Sociocultural Perspectives on Illness, Medicine and Care
Introduction to medical anthropology with a focus on questions, methods, and insights from sociocultural anthropology. Explores the relationships among culture, society, and medicine with special attention to power, inequality, and globalization. Examples from many parts of the world, addressing biomedicine as well as other healing systems.
Arts and Science, Faculty of
Anthropology (FAS), Department of
St. George
0.5
Fall
inequality, equality
SDG5, SDG10
X
X
ANT207H5
Being Human: Classic Thought on Self and Society
The question of what it means to be human has been at the core of anthropology for over two centuries, and it remains as pressing now as it ever was. This course introduces students to some classic attempts at addressing this question with specific reference to the nature of personhood and social life. By engaging with the writings of Marx, Weber, Freud, and DeBeauvoir among other great thinkers of the modern age, students will develop deeper knowledge of the major theories guiding anthropological research. We will pay close attention to how arguments are constructed in these texts and focus on the methodologies that these pioneers of social thought developed in their inquiries. The course covers enduring topics ranging from the production of social inequality, what it means to be an individual, how collective life is shaped by economic markets, and the role of religion in shaping human experience, to develop an understanding of central issues facing the world today. [24L 12T]
University of Toronto Mississauga
Anthropology (UTM), Department of
Mississauga
0.5
Winter
production, inequality, equality
SDG5, SDG10
X
X
ANT208H1
Medical Anthropology: an Evolutionary Perspective on Human Health
Introduction to applied evolutionary medical anthropology. It explores evidence for the evolution of human vulnerability to disease across the life cycle (conception to death) and implications for health of contemporary populations in behavioral ecological, cross-cultural, health and healing systems, historical trauma, intersectionality, and climate change, lenses.
Arts and Science, Faculty of
Anthropology (FAS), Department of
St. George
0.5
Winter
ecolog, climate, health
SDG3, SDG13, SDG15
X
X
X
ANT208H5
The Culture Machine: The Anthropology of Everyday Life
This course will introduce students to culture and social theory via the lens of popular culture. Commodities, advertising, and new technologies will be considered in light of their cultural content. The course may consider the marketing of identities, gender, sexualities, bodies, ethnicity, religion, and ideology, as well as resistance. [24L]
University of Toronto Mississauga
Anthropology (UTM), Department of
Mississauga
0.5
Fall
gender
SDG5
X
ANT214H5
Anthropology of Food and Nutrition
This course explores human food use and nutrition from a broad anthropological perspective. It examines archaeological and osteological evidence of dietary patterns of human ancestors. It explores significant food 'revolutions', from the origins of agriculture to the relatively recent phenomenon of biotechnological food production. It uses a wide range of theoretical approaches from biological and sociocultural anthropology to understand the patterns of food production, distribution and consumption observed today. The goal of the course is to provide students with a broad understanding of the many anthropological approaches to the study of food and nutrition. [24L]
University of Toronto Mississauga
Anthropology (UTM), Department of
Mississauga
0.5
Winter
production, consum, nutrition, food, agricultur
SDG2, SDG12
X
X
ANT217H5
Anthropology of Law
The course is designed to introduce the key concepts, issues, and methods of legal anthropology as a specific field of study in relation to the larger history of the discipline. The course will explore how anthropological works understand and examine the legal and social orders, political and normative authorities, frames of rights, regimes of crime and punishment, and forms of justice-seeking. Accounting for different understandings of law and everyday legal practices, the course readings include canonical texts of legal anthropology as well as recent ethnographies of law. [24L]
University of Toronto Mississauga
Anthropology (UTM), Department of
Mississauga
0.5
Winter
rights, justice
SDG16
X
ANT220H5
Introduction to the Anthropology of Health
This course introduces the diverse approaches used by anthropologists to examine human health and illness. Archaeological, biological, sociocultural and medical anthropology examine health and disease in past and present populations using a wide variety of theoretical and methodological tools. The concept of health will be explored using these various and often complementary approaches. The goal is to provide students with a broad theoretical foundation for further study in the anthropology of health. [24L, 12T]
University of Toronto Mississauga
Anthropology (UTM), Department of
Mississauga
0.5
Fall
health
SDG3
X
ANT300H5
Cultural Heritage Management: The Past in the Present and for the Future
Cultural Heritage Management, also known as cultural resource management or applied archaeology, aims to protect traces of the past such as artifacts, archaeological sites and cultural landscapes, that have meaning for people in the present. This course takes a broad look at cultural heritage, why it matters in the present, and why we need to preserve aspects of it for the future. Topics may include stakeholders and the politics of the past, mechanisms for the protection of heritage and archaeological sites, the heritage management industry, and the methods used to identify, document, and mitigate impacts to archaeological sites, and to preserve the materials recovered. [24L]
University of Toronto Mississauga
Anthropology (UTM), Department of
Mississauga
0.5
Fall
industr
SDG9
X
ANT313H5
China, Korea and Japan in Prehistory
The exploration of the remarkable prehistories of China, the Koreas and Japan challenge western thought on agricultural origins, complex hunter-gatherers, urbanization and the development of centralized authority. This course evaluates current thinking about these issues in the three regions and examines the impact of local archaeological practice on the construction of narratives about the past. [24L]
University of Toronto Mississauga
Anthropology (UTM), Department of
Mississauga
0.5
Winter
urban, agricultur
SDG2, SDG11
X
X
ANT317H1
Archaeology of Eastern North America
This course examines the precontact and early contact period culture history of eastern North America, including Ontario, through archaeological evidence. Topics covered include the earliest peopling of the region at the end of the Ice Age, diversity of hunter-gatherer societies, introduction of agriculture, and the development of the dynamic First Nations societies who eventually met and interacted with Europeans.
Arts and Science, Faculty of
Anthropology (FAS), Department of
St. George
0.5
Winter
agricultur
SDG2
X
ANT317H5
Pre-contact Indigenous History of Eastern North America
This course is a survey of pre-contact and early contact Indigenous history in the Eastern Woodlands of North America from earliest times (ca. 12-15,000 years ago) until AD 1650. Topics covered will include earliest inhabitants, hunter-gatherer-fisher lifeways, the origins of food production, development of village-dwelling tribal communities, and first contact with Europeans. [24L]
University of Toronto Mississauga
Anthropology (UTM), Department of
Mississauga
0.5
Fall
fish, production, food
SDG2, SDG12, SDG14
X
X
X
ANT320H1
Ancient Cultures of the Andes
This class offers intensive study of the archaeology and culture history of the Andean region prior to the Spanish conquest. The complexity and distinctiveness of Andean social organization, political institutions, religious ideologies, and economic practices have long fascinated anthropologists. Ultimately, the course will explore Andean cultures over a 10,000 year period, highlighting key debates, current research projects, and innovative theoretical approaches shaping contemporary archeological scholarship in South America and beyond.
Arts and Science, Faculty of
Anthropology (FAS), Department of
St. George
0.5
Fall
institut, innovat
SDG9, SDG16
X
X
ANT329H1
Language & Power Structure
The role of language and symbolism in the representation and manipulation of ideology and power structure. Case materials drawn from the study of verbal arts, gender, law, advertising, and politics with a focus on North America.
Arts and Science, Faculty of
Anthropology (FAS), Department of
St. George
0.5
Winter
gender
SDG5, SDG16
X
X
ANT335H5
Anthropology of Gender
Survey of the function of gender roles from evolutionary and cultural perspectives. Cross-cultural variation in human sexual behaviour and gender will be examined. In some years, as part of this course, students may have the option of participating in an international learning experience that will have an additional cost and application process. See Anthropology department website for more details. [24L]
University of Toronto Mississauga
Anthropology (UTM), Department of
Mississauga
0.5
Winter
gender
SDG5
X
ANT337H5
Anthropology of Growth and Development
This course examines growth and development from a variety of theoretical perspectives. It begins with an examination of the fundamental biological principles of growth and how these are expressed throughout evolution. It explores the evolution of growth patterns among primates and hominins and compares patterns of growth among the living primates. The course examines human growth and development throughout infancy, childhood and adolescence and explores the influence of genetic, epigenetic and endocrine processes on the plasticity of human growth that ultimately produces the variability observed in our species. The goal of the course is to provide students with a complex understanding of how evolutionary and environmental processes interact in the production of growth and health in human populations. [24L]
University of Toronto Mississauga
Anthropology (UTM), Department of
Mississauga
0.5
Winter
environment, production, health
SDG3, SDG12, SDG13
X
X
X
ANT338H5
Laboratory Methods in Biological Anthropology
Recommended for those who may specialize in biological anthropology. Students will be introduced to the process of conducting research, including selected laboratory procedures and how they are used to generate and/or analyze data. Students conduct anthropometric assessment of growth and body size, nutrition assessment through 24-hour dietary recall, and assessment of physical activity and sleep using triaxial accelerometry. These biometric techniques have numerous applications in both research and clinical settings. Students in this course will develop applied skills in bioanthropological assessment that can be used in the fields of anthropology, population health, public health nutrition, and human development. [12L, 24P]
University of Toronto Mississauga
Anthropology (UTM), Department of
Mississauga
0.5
Winter
labor, health, nutrition
SDG2, SDG3, SDG8
X
X
X
ANT343H1
Social Anthropology of Gender
Social anthropological perspectives on variations in gender roles and systems. Examines, through comparison of ethnography, the relationship of gender to social organization, economic and political processes, belief systems and social change.
Arts and Science, Faculty of
Anthropology (FAS), Department of
St. George
0.5
Winter
gender
SDG5
X
ANT345H1
Global Health: Anthropological Perspectives
This course examines medical anthropology's contributions to, and critiques of, global health policies and programs. Topics covered include: colonialism and health, the political ecology of disease, indigenous constructions of illness and healing, medical pluralism, the politics of primary health care, population policies, reproductive health, and AIDS.
Arts and Science, Faculty of
Anthropology (FAS), Department of
St. George
0.5
Fall
ecolog, health
SDG3, SDG15
X
X
ANT347H1
Metropolis: Global Cities
The role of culture, cultural diversity, space and performance in urban institutions and settings. The cultural context and consequence of urbanization.
Arts and Science, Faculty of
Anthropology (FAS), Department of
St. George
0.5
Winter
institut, urban, cities
SDG11, SDG16
X
X
ANT352H5
Protest, Power and Authority: Topics in Political Anthropology
This course explores ethnographically the social and cultural practices through which the exercise of power is legitimized, authorized, and contested, examining such topics as nation-building, non-governmental activism, human rights, and the global "war on terror." [24L]
University of Toronto Mississauga
Anthropology (UTM), Department of
Mississauga
0.5
Winter
rights
SDG16
X
ANT355H5
Disabled Cyborgs and Racist Robots: Bodies, Technologies, and Social Justice
How does technology mediate our ideas about the social differences of disability, race, and gender? By rethinking the role of technology in reproducing social disparities and challenging bioethical debates about enhancement, students will emerge with the tools to reimagine the relationship between technology, the human body, and social justice.
University of Toronto Mississauga
Anthropology (UTM), Department of
Mississauga
0.5
Winter
justice, gender
SDG5, SDG16
X
X
ANT361H5
Language and Culture in Southeast Asia
This course will review the rich tradition of research in linguistic anthropology in Southeast Asia while also drawing selectively on the equally rich tradition of research in socio-cultural anthropology. While the course will focus on the structures and uses of language, the discussion will be contextualized within a broader socio-historical and political frame that considers the long history of trade and migration that has shaped the region as well as the more recent legacies of colonialism, nationalism, socialism and post-socialist market reform.
University of Toronto Mississauga
Anthropology (UTM), Department of
Mississauga
0.5
Winter
trade
SDG10
X
ANT362H1
Sports and Play
We tend to think of sports as unserious. This course shows that much serious cultural work is conducted through sports, but also that sports are indeed not always serious. This anthropology of sports engages with sports as both work and play, considering issues like gender, bodies, competition, and pleasure.
Arts and Science, Faculty of
Anthropology (FAS), Department of
St. George
0.5
Winter
gender
SDG5
X
ANT366H1
Anthropology of Activism and Social Justice
Explores how anthropologists have traditionally studied social movements and how new social movements have challenged anthropologists to rethink some of their ethnographic methods and approaches. Some specific movements covered include those related to indigenous rights, environmentalism, refugees, gay and lesbian issues, biotechnology, new religions, and globalization.
Arts and Science, Faculty of
Anthropology (FAS), Department of
St. George
0.5
Winter
rights, justice, environment
SDG13, SDG16
X
X
ANT370H1
Introduction to Social Anthropological Theory
An in-depth critical review of foundational ideas in the development of the practice of Anthropology. Topics may include questioning fieldwork, origins and legacies of functionalism, cultural materialism, politics of culture, power and political economy, globalization and post modernism, gender and post-structuralism.
Arts and Science, Faculty of
Anthropology (FAS), Department of
St. George
0.5
Winter
gender
SDG5
X
ANT378H1
Gift, Money, and Finance
This course introduces dialogue between anthropological literature and other disciplinary studies in regards to the economy and culture of gift and money transaction as a key aspect of human society. Studying the history of gift and money economy from agricultural societies and diverse developments of finance market culture in recent era through various perspectives (e.g., ethnographic, sociological, politico-economic, and historical views), this course aims to train students developing a critical understanding of capitalism.
Arts and Science, Faculty of
Anthropology (FAS), Department of
St. George
0.5
Winter
agricultur
SDG1, SDG10
X
X
ANT402H5
Wild Nights: Sleep, evolution, and performance in the 21st century
Sleep is essential to cognitive function and health in humans, yet the ultimate reasons for sleep - that is, 'why' we sleep - remains mysterious. This course integrates research findings from human sleep studies, the ethnographic record, and the ecology and evolution of mammalian and primate sleep to better understand sleep along the human lineage and in the modern world. Students will learn how to use 'wearable' technology, such as actigraphy, for scientific research. The goal of the course is to empower students with the theoretical and technological tools to be able to not only critically assess their own sleep-wake behaviour and performance but also popular generalizations about how to maximize long-term health outcomes. [12L, 12S]
University of Toronto Mississauga
Anthropology (UTM), Department of
Mississauga
0.5
Fall
ecolog, health
SDG3, SDG15
X
X
ANT409H1
Landscape Archaeology
Archaeological survey, spatial analysis of archaeological evidence over landscapes and territories, and ways archaeologists attempt to interpret landscapes, regional settlement systems, agricultural land use, regional exchange and communication, and past people's perceptions of or ideas about landscape.
Arts and Science, Faculty of
Anthropology (FAS), Department of
St. George
0.5
Winter
land use, agricultur
SDG2, SDG15
X
X
ANT420H1
Archaeology of Inequality
How social complexity is manifested in the archaeological record. Origins and evolution of prehistoric complex societies, from small-scale chiefdoms to large-scale states.
Arts and Science, Faculty of
Anthropology (FAS), Department of
St. George
0.5
Fall
inequality, equality
SDG5, SDG10
X
X
ANT430H1
Primate Conservation Biology
The focus of this course is on the science of primate conservation biology in an anthropological context. Topics will include primate biodiversity and biogeography, human impacts, and conservation strategies/policies. The effects of cultural and political considerations on primate conservation will also be discussed.
Arts and Science, Faculty of
Anthropology (FAS), Department of
St. George
0.5
Fall
biodivers, conserv
SDG14, SDG15
X
X
ANT450H1
Multispecies Cities
As of 2007, for the first time in human history, more than half the world's peoples lived in cities. It is estimated that by 2030 over 60% will be urban-dwellers. This demographic shift suggests that for many (if not most) people, their primary encounter with "nature" will be urban based. This course explores the idea of "urban-nature" by 1) focusing on the ways in which various theorists have challenged traditional ways of viewing both "the city" and "nature" and 2) encouraging students to develop their own critical perspectives through ethnographic engagements with the city of Toronto.
Arts and Science, Faculty of
Anthropology (FAS), Department of
St. George
0.5
Fall
urban, cities
SDG11
X
ANT455H1
Ethnographic Approaches to the Middle East and North Africa
This course explores the literature and concerns of anthropologists conducting ethnographic research in the greater Middle East and North Africa (MENA). It is designed for students with a background in social and cultural anthropology who wish to become familiar with the social and religious complexity of the MENA region, and the anthropological questions it has compelled. Islam has long been the area's principal social and historical force and thus provides the backdrop for much, but not all, of the ethnography considered in the course. Moreover, Muslim majority MENA countries exhibit considerable social and sectarian diversity. Readings and lectures attend to differences as well as resemblances, while considering issues such as gender roles, kinship, marriage, local level practices, medicine, secularism, 'public Islam,' nationalism, and the persistent problem of orientalism.
Arts and Science, Faculty of
Anthropology (FAS), Department of
St. George
0.5
Winter
gender
SDG5
X
ANT458H1
Settler-Colonialism and Indigenous Health in Canada
This course draws on anthropological and historical literatures to explore the relationship between the health of Indigenous people and Canadian settler-colonialism. In conceptualising this relationship, we focus on critical analysis of the role of biomedical health-care systems in settler-colonial governmentality, and how history is understood in discourses on Indigenous health.
Arts and Science, Faculty of
Anthropology (FAS), Department of
St. George
0.5
Fall
health
SDG3
X
ANT460H1
Global Perspectives on Women's Health
This fourth-year seminar examines how female gender shapes health and illness. Using case studies of sexual health, fertility and its management, substance use/abuse, mental health, and occupational/labor health risks, the course investigates the material, political, and socio-cultural factors that can put women at risk for a range of illness conditions.
Arts and Science, Faculty of
Anthropology (FAS), Department of
St. George
0.5
Winter
labor, women, gender, health
SDG3, SDG5, SDG8
X
X
X
ANT462H5
Living and Dying: Topics in Medical Anthropology & Global Health
This course is concerned with contemporary medical knowledge practices, with particular emphasis on Western medicine and Public Health. Through a set of key readings in sociocultural medical anthropology, students will explore topics such as the art and science of medicine, end of life rites and rituals, expertise, and the politics and perils of intervention. This is an advanced, writing -intensive seminar that will particularly appeal to sociocultural anthropology students, and those interested in pursuing a career in the health professions. [24S]
University of Toronto Mississauga
Anthropology (UTM), Department of
Mississauga
0.5
Winter
health
SDG3
X
ANTB05H3
Culture and Society in Africa
An overview of the range and diversity of African social institutions, religious beliefs and ritual, kinship, political and economic organization, pre-colonial, colonial and post-colonial experience.
Same as AFSB05H3
Area course
University of Toronto Scarborough
Anthropology (UTSC), Department of
Scarborough
0.5
Winter
institut
SDG16
X
ANTB15H3
Contemporary Human Evolution and Variation
Basic to the course is an understanding of the synthetic theory of evolution and the principles, processes, evidence and application of the theory. Laboratory projects acquaint the student with the methods and materials utilized Biological Anthropology. Specific topics include: the development of evolutionary theory, the biological basis for human variation, the evolutionary forces, human adaptability and health and disease.
Science credit
Same as HLTB20H3
University of Toronto Scarborough
Anthropology (UTSC), Department of
Scarborough
0.5
Fall
labor, health
SDG3
X
ANTB20H3
Ethnography and the Global Contemporary
How has the global flow of goods, persons, technologies, and capital reproduced forms of inequality? Using ethnography and other media, students examine globalization through topics like migration, race and citizenship, environmental degradation, and increasing violence while also discussing older anthropological concerns (e.g., kinship, religious practices, and authority). This course enhances students' understanding of ethnography, as a method for studying how actors engage and rework the global forces shaping their lives.
University of Toronto Scarborough
Anthropology (UTSC), Department of
Scarborough
0.5
Winter
environment, inequality, equality
SDG5, SDG10, SDG13
X
X
X
ANTB22H3
Primate Behaviour
This course will provide students with a general introduction to the behaviour and ecology of non-human primates (prosimians, Old and New World monkeys, and apes), with a particular emphasis on social behaviour. The course will consist of lectures reinforced by course readings; topics covered will include dominance, affiliation, social and mating systems, communication, and reproduction.
Science credit
University of Toronto Scarborough
Anthropology (UTSC), Department of
Scarborough
0.5
Fall
ecolog, production
SDG12, SDG15
X
X
ANTB64H3
Are You What You Eat?: The Anthropology of Food
This course examines the social significance of food and foodways from the perspective of cultural anthropology. We explore how the global production, distribution, and consumption of food, shapes or reveals, social identities, political processes, and cultural relations. Lectures are supplemented by hands-on tutorials in the Culinaria Kitchen Laboratory.
University of Toronto Scarborough
Anthropology (UTSC), Department of
Scarborough
0.5
Fall
production, consum, labor, food
SDG2, SDG8, SDG12
X
X
X
ANTC12H3
Culture and Society in Contemporary South Asia
This course surveys central issues in the ethnographic study of contemporary South Asia (Afghanistan, Bangladesh, Bhutan, India, the Maldives, Nepal, Pakistan and Sri Lanka). Students will engage with classical and recent ethnographies to critically examine key thematic fault lines within national imaginations, especially along the lines of religion, caste, gender, ethnicity, and language. Not only does the course demonstrate how these fault lines continually shape the nature of nationalism, state institutions, development, social movements, violence, and militarism across the colonial and post-colonial periods but also, demonstrates how anthropological knowledge and ethnography provide us with a critical lens for exploring the most pressing issues facing South Asia in the world today. Same as GASC12H3
University of Toronto Scarborough
Anthropology (UTSC), Department of
Scarborough
0.5
Fall
institut, gender
SDG5, SDG16
X
X
ANTC14H3
Feminism and Anthropology
Examines why, when, and how gender inequality became an anthropological concern by tracing the development of feminist thought in a comparative ethnographic framework.
University of Toronto Scarborough
Anthropology (UTSC), Department of
Scarborough
0.5
Fall
inequality, equality, gender
SDG5, SDG10
X
X
ANTC15H3
Genders and Sexualities
Complements and extends ANTC14H3 by exploring cultural constructions of male and female in a range of societies and institutions.
University of Toronto Scarborough
Anthropology (UTSC), Department of
Scarborough
0.5
Winter
institut, gender
SDG5, SDG16
X
X
ANTC16H3
The Foundation and Theory of Human Origins
The study of human origins in light of recent approaches surrounding human evolution. This course will examine some of these, particularly the process of speciation, with specific reference to the emergence of Homo. Fossils will be examined, but the emphasis will be on the interpretations of the process of hominisation through the thoughts and writings of major workers in the field.
Science credit
University of Toronto Scarborough
Anthropology (UTSC), Department of
Scarborough
0.5
Fall
worker
SDG8
X
ANTC18H3
Urban Anthropology
Urban spaces, neighbourhoods, and institutions have at different times been the focus of ethnographic studies of cities. In this course we will examine the role of culture, cultural diversity, space and performance in urban institutions.
University of Toronto Scarborough
Anthropology (UTSC), Department of
Scarborough
0.5
Winter
institut, urban, cities
SDG11, SDG16
X
X
ANTC34H3
The Anthropology of Transnationalism
This course considers dimensions of transnationalism as a mode of human sociality and site for cultural production. Topics covered include transnational labour migration and labour circuits, return migration, the transnational dissemination of electronic imagery, the emergence of transnational consumer publics, and the transnational movements of refugees, kinship networks, informal traders and religions.
University of Toronto Scarborough
Anthropology (UTSC), Department of
Scarborough
0.5
Winter
production, consum, trade, labour
SDG8, SDG10, SDG12
X
X
X
ANTC41H3
Environmental Stress, Culture and Human Adaptability
Human adaptability refers to the human capacity to cope with a wide range of environmental conditions, including aspects of the physical environment like climate (extreme cold and heat), high altitude, geology, as well as aspects of the socio-cultural milieu, such as pathogens (disease), nutrition and malnutrition, migration, technology, and social change.
Science credit
University of Toronto Scarborough
Anthropology (UTSC), Department of
Scarborough
0.5
Winter
environment, climate, nutrition
SDG2, SDG13
X
X
ANTC61H3
Medical Anthropology: Illness and Healing in Cultural Perspective
Social and symbolic aspects of the body, the life-cycle, the representation and popular explanation of illness, the logic of traditional healing systems, the culture of North American illness and biomedicine, mental illness, social roots of disease, innovations in health care delivery systems.
University of Toronto Scarborough
Anthropology (UTSC), Department of
Scarborough
0.5
Fall
innovat, health
SDG3, SDG9
X
X
ANTC68H3
Deconstructing Epidemics
Colonization, globalization and socio-ecological factors play an important role in origin, maintenance and emergence of old and new infectious diseases in human populations such as yellow fever, cholera, influenza, SARS. Issues of co-morbidity, the epidemiological transition, syndemics and the impact of global warming on the emergence of new diseases are discussed.
Science credit
University of Toronto Scarborough
Anthropology (UTSC), Department of
Scarborough
0.5
Fall
ecolog, global warming
SDG13, SDG15
X
X
ANTD16H3
Biomedical Anthropology
This course is designed for advanced students seeking an intensive examination of specific problems in medical Anthropology. Problems to be discussed include: genetic disorders in families and populations, the interaction of malnutrition and infectious diseases in human populations, chronic non-infectious diseases in populations today, and epidemiology and medical anthropology as complementary disciplines.
Science credit
University of Toronto Scarborough
Anthropology (UTSC), Department of
Scarborough
0.5
Winter
nutrition
SDG2, SDG3
X
X
ANTD19H3
Primate Conservation
A large percentage of nonhuman primate species are at risk of extinction due mostly to human-induced processes. Relying on theory from Conservation Biology, this course will consider the intrinsic and extrinsic factors that lead to some primate species being threatened, while others are able to deal with anthropogenic influences. Students will critically examine conservation tactics and the uniqueness of each situation will be highlighted.
University of Toronto Scarborough
Anthropology (UTSC), Department of
Scarborough
0.5
Fall
conserv
SDG14, SDG15
X
X
ANTD20H3
Culture and Community
A field-based research seminar exploring the cultural dimensions of community and sense of place. Partnering with community-based organizations in Scarborough and the GTA, students will investigate topical issues in the immediate urban environment from an anthropological perspective. Yearly foci may include food, heritage, diaspora, and family.
University of Toronto Scarborough
Anthropology (UTSC), Department of
NULL
0.5
Winter
environment, urban, food
SDG2, SDG11, SDG13
X
X
X
APS191H1
Introduction to Engineering
This is a seminar series that will preview the core fields in Engineering. Each seminar will highlight one of the major areas of Engineering. The format will vary and may include application examples, challenges, case studies, career opportunities, etc. The purpose of the seminar series is to provide first year students with some understanding of the various options within the Faculty to enable them to make educated choices for second year. This course will be offered on a credit/no credit basis.
Applied Science & Engineering, Faculty of
NULL
St. George
0.15
Winter
educat
SDG4
X
APS305H1
Energy Policy
Complimentary Studies Elective
Core Course in the Sustainable Energy Minor
Introduction to public policy including the role and interaction of technology and regulation, policy reinforcing/feedback cycles; procedures for legislation and policy setting at the municipal, provincial and federal levels; dimensions of energy policy; energy planning and forecasting including demand management and conservation incentives; policy institution, analysis, implementation, evaluation and evolution; Critical analyses of case studies of energy and associated environmental policies with respect to conservation and demand management for various utilities and sectors; policy derivatives for varied economic and social settings, developing countries and associated impacts.
Applied Science & Engineering, Faculty of
NULL
St. George
0.5
Winter
institut, conserv, environment, energy
SDG7, SDG13, SDG14, SDG15, SDG16
X
X
X
X
X
APS420H1
Technology, Engineering and Global Development
Humanities and Social Science Elective

The role of technology and engineering in global development is explored through a combination of lectures, readings, case studies, and analysis of key technologies, including energy, information and communications technologies, water and healthcare. Topics include a brief history and basic theories of international development and foreign aid, major government and non-government players, emerging alternative models (social entrepreneurship, microfinance, risk capital approaches), major and emerging players in social venture capital and philanthropy, the role of financial markets, environmental and resource considerations/sustainable development, technology diffusion models and appropriate technologies.
Applied Science & Engineering, Faculty of
NULL
St. George
0.5
Winter
environment, financial market, sustainable development, energy, water, health
SDG3, SDG6, SDG7, SDG8, SDG10, SDG13, SDG14
X
X
X
X
X
X
X
APS510H1
Innovative Technologies and Organizations in Global Energy Systems
Complementary Studies electiveA broad range of global energy systems are presented including electricity generation, electricity end use, transportation and infrastructure. Discussions are based on two key trends: (a) the increasing ability to deploy technologies and engineering systems globally, and (b) innovative organizations, many driven by entrepreneurship (for profit and social) and entrepreneurial finance techniques. The course considers these types of innovations in the context of developed economies, rapidly developing economies such as India and China, and the developing world. The course will interweave a mix of industry examples and more in-depth case studies. The examples and cases are examined with various engineering, business and environmental sustainability analysis perspectives.
Applied Science & Engineering, Faculty of
NULL
St. George
0.5
Fall
environment, industr, innovat, infrastructure, energy
SDG7, SDG9, SDG13
X
X
X
APS530H1
Appropriate Technology & Design for Global Development
Engineering design within the context of global society, emphasizing the needs of users in order to support appropriate, sustainable technology. A design project will comprise the major component of the course work. The course will take the approach of "design for X". Students are expected to be familiar with design for functionality, safety, robustness, etc. This course will extend the students' understanding of design methodologies to design for "appropriateness in developing regions". Readings and discussions will explore the social, cultural, economic, educational, environmental and political contexts in which third world end users relate to technology. Students will then incorporate their deepened understanding of this context in their design project. The projects will be analyzed for functionality as well as appropriateness and sustainability in the third world context. Upon completion of the course, students should have a deeper appreciation of the meaning of appropriate technology in various international development sectors such as healthcare, water & sanitation, land management, energy, infrastructure, and communications in both urban and rural settings.
Applied Science & Engineering, Faculty of
NULL
St. George
0.5
Winter
environment, rural, urban, infrastructure, energy, sanita, water, educat, health
SDG3, SDG4, SDG6, SDG7, SDG9, SDG11, SDG13, SDG14
X
X
X
X
X
X
X
X
ARA210H5
Arab Culture I
This course introduces the Arab culture in general terms and familiarizes students with some fundamental realities of the Arab world (e.g. family, gender roles, social etiquette, etc.) with a general introduction to values and religious practices. The course is taught in English. [36L]
University of Toronto Mississauga
Language Studies (UTM), Department of
Mississauga
0.5
Fall
gender
SDG5
X
ARC100H1
Drawing and Representation I
An introduction to the theories and techniques of visual communication and representation in the design disciplines delivered through a series of lectures and thematic drawing projects. The course serves as a hands-on introduction to representational and geometrical techniques in architecture, landscape architecture, and urbanism.
Architecture, Landscape, and Design, John H. Daniels Faculty of
NULL
St. George
0.5
Fall
urban
SDG11
X
ARC181H1
Technologies of Architecture, Landscape, Urbanism, and Art I
An introduction to how technology has shaped the disciplines of design and art through a series of case studies that describe paradigmatic episodes at the nexus of architecture, landscape architecture, urbanism, and art.
Architecture, Landscape, and Design, John H. Daniels Faculty of
NULL
St. George
0.5
Winter
urban
SDG11
X
ARC253H1
Close Readings in Urban Design
Detailed examination of case studies in the history of urbanism with close attention to the objects of study. The relationship between design, context, and theory will be explored through analyses of artifacts and texts.
Architecture, Landscape, and Design, John H. Daniels Faculty of
NULL
St. George
0.5
Fall
urban
SDG11
X
ARC302H1
Exploring Design Practices
An introduction to the practice of architecture, landscape architecture, urbanism, and visual art through a series of case studies and guest lectures. These classes will be integrated with the lecture series to provide opportunities for students to engage with leading practitioners in design and art.
Architecture, Landscape, and Design, John H. Daniels Faculty of
NULL
St. George
0.5
Winter
urban
SDG11
X
ARC355H1
History of Urbanism
A consideration of urbanism through an examination of physical, social, economic, and political factors that have shaped cities and regions from the early modern period up to the present.
Architecture, Landscape, and Design, John H. Daniels Faculty of
NULL
St. George
0.5
Winter
urban, cities
SDG11
X
ARC357H1
Environmental History of Landscape Architecture
An examination of the global history of the interrelations between societies and their environment. This course examines the organisation of landscape and urban systems in a variety of geographic and cultural regions across the globe and over large spans of time. Please note that ARC356H1 Design History of Landscape Architecture is recommended as background for this course.
Architecture, Landscape, and Design, John H. Daniels Faculty of
NULL
St. George
0.5
Winter
environment, urban
SDG11
X
ARC361Y1
Architecture Studio III
This studio will focus on residential types and the domestic environment through an exploration of the relationship between building types, tectonics, and material assemblies in an urban context.
Architecture, Landscape, and Design, John H. Daniels Faculty of
NULL
NULL
1.0
Fall
environment, urban
SDG11
X
ARC362Y1
Architecture Studio IV
This studio will focus on the design of a public program or institution in an urban setting through an exploration of the relationship between building types, tectonics, and material assemblies in an urban context.
Architecture, Landscape, and Design, John H. Daniels Faculty of
NULL
NULL
1.0
Winter
institut, urban
SDG11, SDG16
X
X
ARC363Y1
Landscape Architecture Studio III
This studio will address urban form, context, and significance as factors in the creation of public space, with a focus on sites at block and neighbourhood scales.
Architecture, Landscape, and Design, John H. Daniels Faculty of
NULL
NULL
1.0
Fall
urban
SDG11
X
ARC364Y1
Landscape Architecture Studio IV
This studio will examine the reciprocal influences of landscape and urbanism, with respect to form and process, through a focus on landscapes as urban systems at multiple scales.
Architecture, Landscape, and Design, John H. Daniels Faculty of
NULL
NULL
1.0
Winter
urban
SDG11
X
ARC367H1
Selected Topics in Urban Design
Examination of a selected topic in the design of urbanism. The focus of the course changes depending upon the instructors research specialty or current issues in urban design.
Architecture, Landscape, and Design, John H. Daniels Faculty of
NULL
St. George
0.5
Fall
urban
SDG11
X
ARC380Y1
Technology Studio III
This studio applies knowledge obtained from the prerequisite courses towards project-based design work with the aim of facilitating an understanding of the relationship between emerging digital technologies and production in architecture, landscape architecture, and urbanism through the development of computational tools and algorithmic design.
Architecture, Landscape, and Design, John H. Daniels Faculty of
NULL
NULL
1.0
Fall
production, urban
SDG11, SDG12
X
X
ARC381Y1
Technology Studio IV
This studio continues to explore the role of technology in design and promotes innovation in design tool development, building systems, simulation and visualization. Emphasis will be on applying knowledge gained in earlier coursework in a project-based studio setting using computational techniques, physical model making, and 1:1 fabrication and prototyping.
Architecture, Landscape, and Design, John H. Daniels Faculty of
NULL
St. George
1.0
Winter
innovat
SDG9
X
ARC383H1
Technologies of Architecture, Landscape, Urbanism, and Art II
Building upon the themes and topics explored in Technologies of Architecture, Landscape, Urbanism, and Art I, this course will investigate how technology has shaped the disciplines of design and art through a series of case studies that describe paradigmatic episodes at the nexus of architecture, landscape architecture, urbanism, and art.
Architecture, Landscape, and Design, John H. Daniels Faculty of
NULL
NULL
0.5
Winter
urban
SDG11
X
ARC384H1
Simulation and Data Visualization
An exploration of the various simulation software programs available to designers, this course will introduce the theory of simulation and discuss the history of its use in science generally and in architecture, landscape architecture, and urbanism specifically.
Architecture, Landscape, and Design, John H. Daniels Faculty of
NULL
NULL
0.5
Winter
urban
SDG11
X
ARC386H1
Landscape Ecology
An introduction to the principles of landscape ecology, addressing the application of evolving scientific understanding to contemporary landscape architecture and urban design practice.
Architecture, Landscape, and Design, John H. Daniels Faculty of
NULL
NULL
0.5
Fall
ecolog, urban
SDG11, SDG15
X
X
ARC387H1
Landscape Topography and Hydrology
An introduction to the manipulation of landform and water in the urban context, studied through digital fabrication and metrics.
Architecture, Landscape, and Design, John H. Daniels Faculty of
NULL
NULL
0.5
Fall
urban, water
SDG6, SDG11, SDG14
X
X
X
ARC453H1
Advanced Topics in the History and Theory of Urbanism
Examination of an advanced topic in the history and theory of urbanism. The focus of the course changes depending on the instructors research specialty as well as current issues.
Architecture, Landscape, and Design, John H. Daniels Faculty of
NULL
NULL
0.5
Fall
urban
SDG11
X
ARC456H1
Senior Seminar in History and Theory (Research)
Through individual and group efforts, students will address a collective topic of critical importance to the disciplines of architecture, landscape architecture, and urban design within areas of faculty expertise.
Architecture, Landscape, and Design, John H. Daniels Faculty of
NULL
NULL
0.5
Fall
urban
SDG11
X
ARC457Y1
Senior Seminar in History and Theory (Thesis)
This course gives students experience in engaging a multidisciplinary urban problem that spans the design, history and theory, and technology of the design disciplines. It is a team-oriented project-based course in which students will develop a collaborative project.
Architecture, Landscape, and Design, John H. Daniels Faculty of
NULL
NULL
1.0
Winter
urban, labor
SDG11
X
ARC461H1
Senior Seminar in Design (Research)
Through individual and group efforts, students will address a collective topic of critical importance to the disciplines of architecture, landscape architecture, and urban design within areas of faculty expertise.
Architecture, Landscape, and Design, John H. Daniels Faculty of
NULL
NULL
0.5
Fall
urban
SDG11
X
ARC462Y1
Senior Seminar in Design (Thesis)
This course gives students experience in engaging a multidisciplinary urban problem that spans the design, history and theory, and technology of the design disciplines. It is a team-oriented project-based course in which students will develop a collaborative project.
Architecture, Landscape, and Design, John H. Daniels Faculty of
NULL
NULL
1.0
Winter
urban, labor
SDG11
X
ARC467H1
Advanced Topics in Urban Design
Examination of an advanced topic in the design of urbanism. The focus of the course changes depending upon the instructors research specialty or current issues in urban design.
Architecture, Landscape, and Design, John H. Daniels Faculty of
NULL
NULL
0.5
Winter
urban
SDG11
X
ARC486H1
Senior Seminar in Technology (Research)
Through individual and group efforts, students will address a collective topic of critical importance to the disciplines of architecture, landscape architecture, and urban design within areas of faculty expertise.
Architecture, Landscape, and Design, John H. Daniels Faculty of
NULL
St. George
0.5
Fall
urban
SDG11
X
ARC487Y1
Senior Seminar in Technology (Thesis)
This course gives students experience in engaging a multidisciplinary urban problem that spans the design, history and theory, and technology of the design disciplines. It is a team-oriented project-based course in which students will develop a collaborative project.
Architecture, Landscape, and Design, John H. Daniels Faculty of
NULL
St. George
1.0
Winter
urban, labor
SDG11
X
AST198H1
Great Astronomical Issues
There are some fundamental questions which humankind has asked itself over the centuries. Many of these involve astronomical origins, events, and objects. Astronomers now have the tools with which to attempt to answer some of the most fundamental questions, such as "Where did it all begin, where are we in space and time, are we alone, and who and what are we?" This seminar will explore some of these great issues. The selection of topics will be made initially by the instructor, but will be modified by the seminar participants at the first class meeting. Topics could include: stellar evolution and the future of the Sun, origin of the elements, origin and future of the Universe, origin of the Earth, origin of life, and extinction of the dinosaurs, global warming, the scientific method, astronomy and the public. Participants will be expected to join actively in lively discussions and to prepare and lead some of the seminars. Restricted to first-year students. Not eligible for CR/NCR option.
Arts and Science, Faculty of
Astronomy and Astrophysics (FAS), Department of
St. George
0.5
Winter, Fall
global warming
SDG13
X
AST310H1
Indigenous Worldviews & Astronomy
An in-depth exploration of astronomy, the Solar System, and the night sky through the lens of Indigenous knowledges, primarily that of Indigenous peoples from Turtle Island. Indigenous peoples have lived on Turtle Island since time immemorial and have a sophisticated relationship with the night sky that is influenced by their worldviews and their relationships with the land. In this course, students will learn about Indigenous perspectives for understanding nature and astronomy and learn to understand astronomy through these perspectives. Students will also learn about the intersection of western astronomy and ongoing colonization to understand the responsibilities of western astronomers for respecting treaties and Indigenous rights as well as presenting an Indigenous lens regarding space exploration.
Arts and Science, Faculty of
Astronomy and Astrophysics (FAS), Department of
St. George
0.5
Fall
rights, solar
SDG7, SDG16
X
X
BCH428H1
Genomics of Microbial Communities in Human Health and Beyond
There is a growing appreciation that microbes do not operate in isolation but form parts of larger populations and communities (microbiomes) with unique considerations for human health. Combining lectures, small group discussions, and a computer lab component, this course will cover how genomics can be applied to analyze microbial communities and the transformative discoveries that continue to result.
Arts and Science, Faculty of
NULL
St. George
0.5
Fall
health
SDG3
X
BIO120H1
Adaptation and Biodiversity
Principles and concepts of evolution and ecology related to origins of adaptation and biodiversity. Mechanisms and processes driving biological diversification illustrated from various perspectives using empirical and theoretical approaches. Topics include: genetic diversity, natural selection, speciation, physiological, population, and community ecology, maintenance of species diversity, conservation, species extinction, global environmental change, and invasion biology. A lab coat is required and the cost is approximately $16 if students wish to purchase it through the Department. (Lab Materials Fee: $26)
Arts and Science, Faculty of
Ecology and Evolutionary Biology (FAS), Department of
St. George
0.5
Fall
ecolog, biodivers, conserv, environment
SDG13, SDG14, SDG15
X
X
X
BIO205H5
Ecology
An introduction to the scientific study of ecology, emphasizing the structure and dynamics of populations, communities and ecosystems. Topics include population growth and regulation, competition, predation, biodiversity, succession, and nutrient cycling. Classic models and studies will be supplemented with both plant and animal examples. [24L, 18P]
University of Toronto Mississauga
Biology (UTM), Department of
Mississauga
0.5
Fall
ecolog, biodivers
SDG15
X
BIO207H5
Introductory Genetics
The principles of Mendelian inheritance and modern genetics are illustrated using examples from medical research, evolutionary biology, agriculture and conservation biology. Topics covered include: chromosome theory of inheritance, basic eukaryotic chromosome mapping, gene and chromosome mutation, the lac system, the extranuclear genome, population and quantitative genetics. In tutorials, students will work through problem sets related to lecture material as well as probability and statistical analysis. [36L, 18T]
University of Toronto Mississauga
Biology (UTM), Department of
Mississauga
0.5
Winter
conserv, agricultur
SDG2, SDG14, SDG15
X
X
X
BIO211H5
The History of Our Living Planet
This course provides a survey of major events in the evolution of life and Earth's geological history. It includes overviews of science as a process, geological principles, climate, and evolution. Special focus will be on major events including origin of life, the Cambrian explosion, plant and animal radiations onto land, the Mesozoic evolution of dinosaurs, and the Cenozoic diversification of mammals. This is a biology course for students in the Humanities and Social Sciences as well as other non-Biology Sciences. [36L]
University of Toronto Mississauga
Biology (UTM), Department of
Mississauga
0.5
Fall
climate
SDG13
X
BIO220H1
From Genomes to Ecosystems in a Changing World
Dynamics of genetic and ecological change in biological systems, from genomes to ecosystems. Evolutionary genetic and ecological perspectives on wide-ranging topics including disease, aging, sexual conflict, genetics of human differences, conservation, and global climate change. Applications of evolutionary, ecological, and molecular-genetic principles and processes. Responsibilities of human societies in a changing world. (Lab Materials Fee: $26).
Arts and Science, Faculty of
Ecology and Evolutionary Biology (FAS), Department of
St. George
0.5
Winter
ecolog, conserv, climate
SDG13, SDG14, SDG15
X
X
X
BIO251H1
Form, Function and Development in Plants
Introduction to structure, function, and ecology of vegetative and reproductive processes in plants with a focus on flowering plants and gymnosperms. Lectures and labs emphasize photosynthesis, respiration, mineral nutrition, transport processes, patterns of plant growth and development, the role of hormones in development, photomorphogenesis, and plant reproduction. (Lab Materials Fee: $26).
Arts and Science, Faculty of
Ecology and Evolutionary Biology (FAS), Department of
St. George
0.5
Winter
ecolog, production, nutrition
SDG2, SDG12, SDG15
X
X
X
BIO311H5
Landscape Ecology
Landscape ecology asks how spatial patterns originate and how they affect ecological processes like forest dynamics, nutrient cycling, species interactions, and the distribution and population dynamics of plants and animals. Lectures and computer labs introduce students to concepts and methods of landscape ecology and their application to current issues of land-use management and global change. The students will learn to apply GIS, spatial statistics, landscape metrics, and modelling to address problems in conservation, biodiversity, and ecosystem management. Note: Students interested in this course will need to meet with the course instructor before being approved and permitted to enroll.
University of Toronto Mississauga
Biology (UTM), Department of
Mississauga
0.5
Fall
ecolog, biodivers, forest, conserv
SDG14, SDG15
X
X
BIO312H5
Plant Physiology
This course focuses on the principal physiological processes in plants and the regulation of these processes in response to environmental factors with an emphasis on the relationship between structure and function from the molecular to the whole-plant level. The course will provide the basis to understand how plants sense and respond to changing environmental conditions. This will enable students to understand why rising atmospheric carbon dioxide and global climate warming impact photosynthesis, plant metabolism and ultimately whole plant and ecosystem performance. Concepts discussed during lectures will be demonstrated in a series of practical labs. [36L, 15P]
University of Toronto Mississauga
Biology (UTM), Department of
Mississauga
0.5
Winter
environment, climate
SDG13
X
BIO313H5
Field Methods and Experimental Design in Ecology
This course will provide Biology Majors and Specialists particularly interested in ecology with integrated, practical exposure to field and laboratory research methods on plant, animal, and microbial communities including study design, data collection, statistical analysis, and interpretation of results. [36P]
University of Toronto Mississauga
Biology (UTM), Department of
Mississauga
0.5
Winter
ecolog, labor
SDG15
X
BIO318Y5
Animal Behaviour
This course will cover the adaptive (evolved) behaviours of organisms that result from interactions with the biological environment. We ask why animals behave in a particular way, i.e. how does their behaviour enhance success in survival or reproduction? Examples involve adaptive strategies in competing with rivals, choosing mates, and avoiding parasites. We also ask how adaptive behaviour is controlled; what are the genetic, developmental, and physiological mechanisms underlying behaviour? Assignments involve observing and analyzing (suggesting alternative explanations/ hypotheses) for behaviour, followed by a use of these skills to critique a published scientific paper. [48L, 72P]
University of Toronto Mississauga
Biology (UTM), Department of
Mississauga
1.0
Fall/Winter
environment, production
SDG15
X
BIO320H5
Sensory and Cognitive Biology
Properties, acquisitions, and transduction of environmental information will be explored in the context of determining behaviour. This course focuses on form and function of visual, auditory, tactile, and chemical senses. Post-acquisition, cognitive processes concerned with learning, memory, and decision-making will also be discussed. A comparative approach will be taken to examine how different animals rely on different sources of information as well as a diverse array of sensory and cognitive mechanisms. Fields considered will include sensory physiology, ecology, comparative cognition, and neuroethology, and all topics will be covered in the context of ecology and evolution". [24L, 10T]
University of Toronto Mississauga
Biology (UTM), Department of
Mississauga
0.5
Fall
ecolog, environment
SDG13, SDG15
X
X
BIO324H5
Plant Biochemistry
This course examines plants as the biochemical motors and sustainers of life on earth. The major pathways of plant metabolism are surveyed to provide students with an integrated model of plant cells as autonomous biochemical networks. This course further emphasizes the specialized metabolism of economically significant plant species, the biosynthesis of pharmacologically and agriculturally important metabolites, and the role of biotechnology in engineering exotic plant metabolism in industrial settings. [36L]
University of Toronto Mississauga
Biology (UTM), Department of
Mississauga
0.5
Winter
industr, agricultur
SDG2, SDG9
X
X
BIO326H5
Ornithology
Ecology, evolution, form, function, diversity, and conservation of birds. Practical sessions focus on observation and assessment of local avian populations using field ornithology techniques and approaches. [24L, 30P]
University of Toronto Mississauga
Biology (UTM), Department of
Mississauga
0.5
Fall
ecolog, conserv
SDG14, SDG15
X
X
BIO328H5
Lectures in Animal Behaviour
This course will cover the adaptive (evolved) behaviours of organisms that result from interactions with the biological environment. We ask why animals behave in a particular way, i.e. how does their behaviour enhance success in survival or reproduction? Examples involve adaptive strategies in competing with rivals, choosing mates, and avoiding parasites. We also ask how adaptive behaviour is controlled; what are the genetic, developmental, and physiological mechanisms underlying behaviour? Assignments involve observing and analyzing (suggesting alternative explanations/ hypotheses) for behaviour, followed by a use of these skills to critique a published scientific paper. No laboratory or field work is included. Note: This is a half-credit (0.5) course that is offered over the full academic year.
University of Toronto Mississauga
Biology (UTM), Department of
Mississauga
0.5
Fall/Winter
environment, production, labor
SDG15
X
BIO330H5
Plant Ecology
A survey of the population and community ecology of plants. Topics include resource acquisition, growth and reproduction, mutualisms, competition, defence, invasions, disturbance, population dynamics, and community structure. Interactions with other plants, diseases, and animals particularly are emphasized. [24L, 12T]
University of Toronto Mississauga
Biology (UTM), Department of
Mississauga
0.5
Winter
ecolog, production, urban
SDG11, SDG12, SDG15
X
X
X
BIO331H5
Ecology of Communities
This course will cover the theoretical foundations of community ecology, including the role of species interactions and environment structure on patterns of diversity and implications of community ecology in conservation. It will provide practical experience working with tools used to analyze community structure. Discussion and evaluation of the primary literature is a key component of this course. Students will also complete written assignments. [24L, 12T]
University of Toronto Mississauga
Biology (UTM), Department of
Mississauga
0.5
Winter
ecolog, conserv, environment
SDG13, SDG14, SDG15
X
X
X
BIO333H5
Freshwater Ecology
A functional analysis of freshwater ecosystems, with emphasis on lakes. Lectures cover water chemistry; the physical structure of lakes; the different ways that algae, zooplankton, benthic invertebrates, and fish have evolved to succeed in these habitats and interact with one another; and the impact of man on freshwater systems. Students must be available to participate in a mandatory weekend field trip to a lake on one of two weekends in late September or early October. Students not available for one of those weekends should not register for this course. Ancillary fees for this course apply. Please check the Departmental website for full details. [24L, 32P]
University of Toronto Mississauga
Biology (UTM), Department of
Mississauga
0.5
Fall
ecolog, fish, water
SDG6, SDG14, SDG15
X
X
X
BIO353H5
Plant Development
The course addresses key concepts, with emphasis on unique plant-related aspects. Integrates plant development at the levels of the cell, tissue, organ and organism, with knowledge from diverse fields of Biology. Topics will include embryology, environmental interactions, signaling, developmental transitions, developmental diversity, evolution and development, and tools for discovery research. [24L, 15P, 10T]
University of Toronto Mississauga
Biology (UTM), Department of
Mississauga
0.5
Winter
environment
SDG15
X
BIO370Y5
Microbiology
In-depth discussion of bacterial structure and ultrastructure; physiology and nutrition; growth and cultivation; nature of viruses (bacteriophage and a limited survey of animal viruses and their properties); microbial genetics; immunology; the role of micro-organisms in medicine, industry, agriculture and ecology. [48L, 72P]
University of Toronto Mississauga
Biology (UTM), Department of
Mississauga
1.0
Fall/Winter
ecolog, industr, nutrition, agricultur
SDG2, SDG9, SDG15
X
X
X
BIO373H5
Environmental Microbiology
A lecture course on the interaction of microorganisms with other organisms and their environment. As the most abundant form of life, microorganisms have an enormous impact on the Earth. Subject areas include microbial evolution and biodiversity, metabolism and biogeochemical cycling, and how molecular biology has revolutionized our understanding of microbial life. [36L]
University of Toronto Mississauga
Biology (UTM), Department of
Mississauga
0.5
Winter
biodivers, environment
SDG13, SDG15
X
X
BIO374H5
Modern Biotechnology
This course is designed to introduce students to biotechnology and its applications in a variety of fields, including medicine, food & beverage, agriculture, forensics, fisheries and environmental protection. The course explores the principles and methods of genetic, tissue and organismal engineering involving species from bacteria to humans. The social and ethical issues associated with biotechnologies such as GMOs, stem cells and cloning will also be discussed. Topics include: Recombinant DNA Technology, Genomics & Bioinformatics, Protein Technology, Microbial Biotechnology, Plant Biotechnology, Animal Biotechnology, Forensic Biotechnology, Environmental Biotechnology, Aquatic Biotechnology, Medical Biotechnology, Biotechnology Regulations, and Careers in Biotechnology. [36L]
University of Toronto Mississauga
Biology (UTM), Department of
Mississauga
0.5
Fall
fish, environment, food, agricultur
SDG2, SDG13, SDG14
X
X
X
BIO376H5
Marine Ecology
This course addresses the diversity of marine life, and the physical, chemical, and biological processes occurring in marine ecosystems. Students will explore current methods and theories in marine ecology and consider the societal importance of marine resources with a special emphasis on Canada's coasts. [36L]
University of Toronto Mississauga
Biology (UTM), Department of
Mississauga
0.5
Winter
ecolog, marine
SDG14, SDG15
X
X
BIO378H5
The Biology of Marine Mammals: evolution, physiology, ecology and conservation
This course provides an introduction to the biological study of marine mammals and their populations. It explores the evolution of marine mammals, their adaptations to aquatic environments, as well as their population and behavioural ecology. The course also investigates threats to marine mammal populations and their national and global conservation. [24L, 24T]
University of Toronto Mississauga
Biology (UTM), Department of
Mississauga
0.5
Fall
ecolog, conserv, marine, environment
SDG13, SDG14, SDG15
X
X
X
BIO406H5
Current Topics in Ecology and Evolution
A combination of lectures and tutorials. The course will emphasize group discussion and critiques of current publications in the field. The theme of the course is expected to be topical and current and to vary from year to year, with the interests of the faculty member(s) teaching the course. Course themes are expected to range from structure and function of whole ecosystems (e.g. the collapse of fisheries) to evolutionary ecology (e.g. the evolution of emergent diseases). [12L, 24T]
University of Toronto Mississauga
Biology (UTM), Department of
Mississauga
0.5
Fall
ecolog, fish
SDG14, SDG15
X
X
BIO412H5
Climate Change Biology
Climate change is affecting life on earth at all levels from cells to ecosystems. As a result, shifts in the distribution of species, the timing of biological events, and large impacts on natural resources, agriculture, and forestry may be seen. This course explores past climate, predictions of future climate, impacts of climate change on biological systems, and potentials for adaptation. Mitigation of climate change impacts on biological systems will also be discussed.
University of Toronto Mississauga
Biology (UTM), Department of
Mississauga
0.5
Fall
forest, climate, natural resource, agricultur
SDG2, SDG12, SDG13, SDG15
X
X
X
X
BIO414H5
Advanced Integrative Physiology
The integration of cardiovascular, renal, respiratory and muscle physiology will be examined with a problem-based approach. The response of these systems to challenges such as altitude, depth under water, and exercise will be examined. Laboratory activities will give students hands on experience measuring physiological variables of these systems with primarily human subjects, while other examples will be used to examine the diversity of response to environmental challenges throughout the animal kingdom. [24L, 15T, 15P]
University of Toronto Mississauga
Biology (UTM), Department of
Mississauga
0.5
Winter
environment, labor, water
SDG3, SDG15
X
X
BIO434H5
Social and Developmental Determinants of Human Health
This course encourages students to explore the relationship between social conditions and health outcomes. Topics may vary across years. Topics include the importance of the early years, interactions between the environment and the genes, epigenetic influences on health, sensitive periods of development, the influence of nutrition on health, the interaction between social policy, medical care, social class and human health. The students direct the learning experience in groups as they engage in case-based and problem-based learning. Note: Students interested in this course must contact the Biology Undergraduate Advisor to enroll.
University of Toronto Mississauga
Biology (UTM), Department of
Mississauga
0.5
Winter
environment, health, nutrition
SDG2, SDG3, SDG13
X
X
X
BIO475H5
Virology
Virology examines the biology of viruses infecting all forms of life including humans and other animals, plants, eukaryotic microorganisms, and bacteria. The scope ranges from the molecular biology of virus replication to virus evolution and ecology. Current issues surrounding virology and society are incorporated into the course including vaccines, emerging viruses, and even consideration of practical applications of viruses. [24L, 24S]
University of Toronto Mississauga
Biology (UTM), Department of
Mississauga
0.5
Winter
ecolog
SDG3, SDG15
X
X
BIO477H5
The Human Genome and Cancer Biology
The first part of the course examines the structure and molecular biology of the human genome. Topics will include: the sequencing of the human genome; variation between genomes; and various aspects of functional genomics such as a brief overview of how gene expression is regulated and how genomics is being utilized in health and medicine. Techniques such as high throughput sequencing will be covered. The second part of the course examines the molecular and genetic basis of cancer including the role of oncogenes, tumor suppressor genes and cell cycle regulating proteins in the development of this disease. It also looks at cancer from a functional genomics perspective. Lectures and seminars involve presentations and discussion of recently published research articles. [36L, 12S]
University of Toronto Mississauga
Biology (UTM), Department of
Mississauga
0.5
Winter, Fall
health
SDG3
X
BIOA02H3
Life on Earth: Form, Function and Interactions
A lecture and laboratory course providing an overview of the anatomy and physiology of plants and animals, population biology, ecology and biodiversity. Note: that both BIOA01H3 and BIOA02H3 must be completed prior to taking any other Biology course.
University of Toronto Scarborough
Biological Sciences (UTSC), Department of
Scarborough
0.5
Winter
ecolog, biodivers, labor
SDG8, SDG15
X
X
BIOB33H3
Human Development and Anatomy
A lecture and laboratory course which deals with the functional morphology of the human organism. The subject matter extends from early embryo-genesis through puberty to late adult life.


University of Toronto Scarborough
Biological Sciences (UTSC), Department of
Scarborough
0.5
Fall
labor
SDG3
X
BIOB35H3
Essentials of Human Physiology
An exploration of the normal physiology of the human body. Emphasis will be placed on organ systems associated with head and neck, especially nervous, respiratory, muscular, digestive, cardiovascular, and endocrine. Particular emphasis will be placed on speech, audition, and swallowing. The interrelationship among organ systems and how they serve to maintain homeostasis and human health will also be discussed.
University of Toronto Scarborough
Biological Sciences (UTSC), Department of
Scarborough
0.5
Winter
health
SDG3
X
BIOB38H3
Plants and Society
How do plants feed the world and which plants have the highest impact on human lives? What is the origin of agriculture and how did it change over time? The human population will climb to 10 billion in 2050 and this will tax our planet's ability to sustain life. Environmentally sustainable food production will become even more integral.
University of Toronto Scarborough
Biological Sciences (UTSC), Department of
Scarborough
0.5
Winter
environment, production, food, agricultur
SDG2, SDG12, SDG13
X
X
X
BIOB50H3
Ecology
An introduction to the main principles of ecology; the science of the interactions of organisms with each other and with their environment. Topics include physiological, behavioural, population, community, and applied aspects of ecology (e.g. disease ecology, climate change impacts, and approaches to conservation). Emphasis is given to understanding the connections between ecology and other biological subdisciplines.
University of Toronto Scarborough
Biological Sciences (UTSC), Department of
Scarborough
0.5
Fall
ecolog, conserv, environment, climate
SDG13, SDG14, SDG15
X
X
X
BIOB51H3
Evolutionary Biology
This course is an introduction to the main principles of evolution; the study of the diversity, relationships, and change over time in organisms at all scales of organization (from individuals to populations to higher taxonomic groups). The theory and principles of evolutionary biology give critical insight into a wide range of fields, including conservation, genetics, medicine, pathogenesis, community ecology, and development.
University of Toronto Scarborough
Biological Sciences (UTSC), Department of
Scarborough
0.5
Winter
ecolog, conserv
SDG14, SDG15
X
X
BIOB52H3
Ecology and Evolutionary Biology Laboratory
An introduction to field, lab and computational approaches to ecology and evolution. Laboratories will explore a variety of topics, ranging from population genetics to community ecology and biodiversity. Some lab exercises will involve outdoor field work.
University of Toronto Scarborough
Biological Sciences (UTSC), Department of
Scarborough
0.5
Fall
ecolog, biodivers, labor
SDG8, SDG15
X
X
BIOC32H3
Human Physiology I
An introduction to human physiology covering the nervous system, skeletal muscles, hormones, and the immune systems in both healthy and diseased states.
University of Toronto Scarborough
Biological Sciences (UTSC), Department of
Scarborough
0.5
Fall
health
SDG3
X
BIOC34H3
Human Physiology II
This course will cover the physiology of the human respiratory, cardiovascular, renal and digestive systems. Topics include cardiac function, ECG, blood flow/pressure regulation, pulmonary mechanics, gas transfer and transport, the control of breathing, sleep-related breathing disorders, kidney function, ion regulation, water balance, acid-base balance and digestive function/regulation. Students will complete a series of computer-simulated laboratory exercises on their own time.
University of Toronto Scarborough
Biological Sciences (UTSC), Department of
Scarborough
0.5
Winter
labor, water
SDG3
X
BIOC35H3
Principles in Parasitology
This course introduces principles in parasitic lifestyles. Topics that will be covered include common parasite life strategies, host-parasite interactions and co-evolution, parasite immune evasion strategies, impacts on public health, and treatment and prevention strategies.
University of Toronto Scarborough
Biological Sciences (UTSC), Department of
Scarborough
0.5
Fall
health
SDG3
X
BIOC37H3
Plants: Life on the Edge
Plants have evolved adaptations to maximize growth, survival and reproduction under various taxing environmental conditions. This course covers the great diversity of plant structures and function in relation to ecology, focusing mainly on flowering plants.
University of Toronto Scarborough
Biological Sciences (UTSC), Department of
Scarborough
0.5
Fall
ecolog, environment, production
SDG12, SDG13, SDG15
X
X
X
BIOC39H3
Immunology
This course introduces the molecular and cellular basis of the immune system. Topics include self versus non-self recognition, humoral and cell-mediated immune responses, and the structure and function of antibodies. The importance of the immune system in health and disease will be emphasized and topics include vaccination, autoimmunity, and tumour immunology.
University of Toronto Scarborough
Biological Sciences (UTSC), Department of
Scarborough
0.5
Winter
health
SDG3
X
BIOC40H3
Plant Physiology
An introduction to plant biology. Topics include plant and cell structure, water balance, nutrition, transport processes at the cell and whole plant level, physiological and biochemical aspects of photosynthesis, and growth and development in response to hormonal and environmental cues.
University of Toronto Scarborough
Biological Sciences (UTSC), Department of
Scarborough
0.5
Winter
environment, water, nutrition
SDG2, SDG6, SDG13, SDG14
X
X
X
X
BIOC50H3
Macroevolution
An overview of recent developments in evolutionary biology that focus on large-scale patterns and processes of evolution. Areas of emphasis may include the evolutionary history of life on earth, phylogenetic reconstruction, patterns of diversification and extinction in the fossil record, the geography of evolution, the evolution of biodiversity, and the process of speciation.
University of Toronto Scarborough
Biological Sciences (UTSC), Department of
Scarborough
0.5
Winter
biodivers
SDG15
X
BIOC52H3
Ecology Field Course
This course provides students with the opportunity to experience hands-on learning through informal natural history walks, and group and individual research projects, in a small-class setting. The course covers basic principles and selected techniques of field ecology and ecological questions related to organisms in their natural settings. Most of the field work takes place in the Highland Creek ravine.
University of Toronto Scarborough
Biological Sciences (UTSC), Department of
Scarborough
0.5
Fall
ecolog
SDG15
X
BIOC58H3
Biological Consequences of Global Change
A lecture and tutorial course that addresses the key environmental factor that will dominate the 21st Century and life on the planet: Global Climate Change. The course will examine the factors that influence climate, from the formation of the earth to the present time, how human activities are driving current and future change, and how organisms, populations, and ecosystems are and will respond to this change. Finally, it will cover human responses and policies that can permit an adaptive response to this change.
University of Toronto Scarborough
Biological Sciences (UTSC), Department of
Scarborough
0.5
Fall
environment, climate
SDG13
X
BIOC60H3
Winter Ecology
Canada is characterized by its long and harsh winters. Any Canadian plant or animal has evolved one of three basic survival strategies: (1) migration (avoidance), (2) hibernation, and (3) resistance. These evolutionary adaptations are investigated by the example of common organisms from mainly southern Ontario.
University of Toronto Scarborough
Biological Sciences (UTSC), Department of
Scarborough
0.5
Winter
ecolog
SDG15
X
BIOC61H3
Community Ecology and Environmental Biology
An examination of the theory and methodology of community analysis, with an emphasis on the factors regulating the development of communities and ecosystems. The application of ecological theory to environmental problems is emphasized. We will examine the impacts of various factors, such as primary productivity, species interactions, disturbance, variable environments, on community and metacommunity structure, and on ecosystem function. We will also examine the impacts of climate change on the world's ecosystems.
University of Toronto Scarborough
Biological Sciences (UTSC), Department of
Scarborough
0.5
Fall
ecolog, environment, climate, urban
SDG11, SDG13, SDG15
X
X
X
BIOC62H3
Role of Zoos and Aquariums in Conservation
This lecture and tutorial course explores the strategic and operational aspects of zoos and aquariums in conservation. Emphasis is on contemporary issues, including the balance between animal welfare and species conservation; nutrition, health and behavioural enrichment for captive animals; in situ conservation by zoos and aquariums; captive breeding and species reintroductions; and public outreach/education.
University of Toronto Scarborough
Biological Sciences (UTSC), Department of
Scarborough
0.5
Winter
conserv, educat, health, nutrition
SDG2, SDG3, SDG4, SDG14, SDG15
X
X
X
X
X
BIOC63H3
Conservation Biology
A lecture and tutorial course offering an introduction to the scientific foundation and practice of conservation biology. It reviews ecological and genetic concepts constituting the basis for conservation including patterns and causes of global biodiversity, the intrinsic and extrinsic value of biodiversity, the main causes of the worldwide decline of biodiversity and the approaches to save it, as well as the impacts of global climate change.
University of Toronto Scarborough
Biological Sciences (UTSC), Department of
Scarborough
0.5
Fall
ecolog, biodivers, conserv, climate
SDG13, SDG14, SDG15
X
X
X
BIOD19H3
Epigenetics in Health and Disease
A lecture/seminar/discussion class on the emerging field of environmental epigenetics. Course will cover basic epigenetic mechanisms, methods in epigenetic research, epigenetic control of gene function, and the role of epigenetics in normal development and human disease.
University of Toronto Scarborough
Biological Sciences (UTSC), Department of
Scarborough
0.5
Winter
environment, health
SDG3, SDG13
X
X
BIOD25H3
Genomics
A course considering the principles of genome organization and the utilization of genomic approaches to studying a wide range of problems in biology. Topics to be presented will include innovations in instrumentation and automation, a survey of genome projects, genomic variation, functional genomics, transcription profiling (microarrays), database mining and extensions to human and animal health and biotechnology.
University of Toronto Scarborough
Biological Sciences (UTSC), Department of
Scarborough
0.5
Winter
innovat, health
SDG3, SDG9
X
X
BIOD33H3
Comparative Animal Physiology
This course will examine how various physiological systems and anatomical features are specialised to meet the environmental challenges encountered by terrestrial and aquatic animals. Topics include respiratory systems and breathing, hearts and cardiovascular systems, cardiorespiratory control, animal energetics, metabolic rate, thermoregulation, defenses against extreme temperatures, hibernation and osmotic/ionic/volume regulation.
University of Toronto Scarborough
Biological Sciences (UTSC), Department of
Scarborough
0.5
Winter, Fall
environment
SDG14, SDG15
X
X
BIOD34H3
Conservation Physiology
This is a combined lecture and seminar course that will discuss topics such as climate change and plastics/microplastics effects on the physiology of animals, and physiological tools and techniques used in conservation efforts. The course will focus on how physiological approaches have led to beneficial changes in human behaviour, management or policy.
University of Toronto Scarborough
Biological Sciences (UTSC), Department of
Scarborough
0.5
Fall
conserv, climate
SDG13, SDG14, SDG15
X
X
X
BIOD54H3
Applied Conservation Biology
Canada has a complex conservation landscape. Through lectures and interactive discussions with leading Canadian conservation practitioners, this course will examine how conservation theory is put into practice in Canada from our international obligations to federal, provincial, and municipal legislation and policies.
University of Toronto Scarborough
Biological Sciences (UTSC), Department of
Scarborough
0.5
Winter
conserv
SDG14, SDG15
X
X
BIOD59H3
Models in Ecology, Epidemiology and Conservation
Modelling is a critical tool for describing the complex dynamics of ecosystems and for addressing urgent management questions in ecology, epidemiology and conservation. In this practical introduction, students learn how to formulate ecological and epidemiological models, link them to data, and implement/analyze them using computer simulations. The course includes approaches for modelling individuals, populations, and communities, with applications in population viability assessments, natural resource management and food security, invasive species and pest control, disease eradication, and climate change mitigation. While not a requirement, some experience with computer programming will be beneficial for this course.
University of Toronto Scarborough
Biological Sciences (UTSC), Department of
Scarborough
0.5
Fall
ecolog, conserv, climate, natural resource, food
SDG2, SDG12, SDG13, SDG14, SDG15
X
X
X
X
X
BIOD60H3
Spatial Ecology
The study of how space and scale influence ecological patterns and species coexistence. The course will cover three main topics: 1) spatial dynamics, such as spatial spread and dispersal models; 2) species coexistence with metapopulation/metacommunity, neutral and lottery models; and 3) spatial analysis of ecological communities. Basic concepts will be applied to ecological problems such as: species invasions, reserve design and understanding threats to island biodiversity.
Priority will be given to students enrolled in the specialist program in Biodiversity, Ecology and Evolution.
University of Toronto Scarborough
Biological Sciences (UTSC), Department of
Scarborough
0.5
Fall
ecolog, biodivers
SDG15
X
BIOD63H3
From Individuals to Ecosystems: Advanced Topics in Ecology
This lecture/seminar course will discuss advanced topics in behavioural ecology, ecosystem and landscape ecology, and evolutionary ecology, with an emphasis on the impacts of past and present species interactions. Topics will vary based on current scientific literature and student interests. This course will strengthen the research, writing, and presentation skills of students while deepening their understanding of ecology.
University of Toronto Scarborough
Biological Sciences (UTSC), Department of
Scarborough
0.5
Winter
ecolog
SDG15
X
BIOD96Y3
Directed Research in Paramedicine
This course is designed to permit critical analysis of current topics relevant to the broad topic of paramedicine. Students will work independently but under the supervision of an industry leader, practitioner and/or researcher involved in paramedicine, who will guide the in-depth study/research. Students report to the course instructor and paramedicine program supervisor to complete course information and their formal registration. Students must obtain a permission form from the Biological Sciences website that is to be completed, and returned to SW421E.
University of Toronto Scarborough
Biological Sciences (UTSC), Department of
Scarborough
1.0
Fall/Winter
industr
SDG9
X
BME331H1
Physiological Control Systems
Introduces physiological concepts and selected physiological control systems present in the human body, and proposes quantitative modeling approaches for these systems. Topics covered will include (1) the endocrine system and its subsystems, including glucose regulation and the stress response, (2) the cardiovascular system and related aspects such as cardiac output, venous return, control of blood flow by the tissues, and nervous regulation of circulation, and (3) the nervous and musculoskeletal systems, including the control of voluntary motion. Linear control theory will be used to develop skills in system modeling and examine concepts of system response and system control in the context of a healthy human body.
Applied Science & Engineering, Faculty of
Mechanical & Industrial Engineering (FASE), Department of
St. George
0.5
Winter
health
SDG3
X
BME350H1
Biomedical Systems Engineering I: Organ Systems
An introduction to human anatomy and physiology with selected focus on the nervous, cardiovascular, respiratory, renal, and endocrine systems. The structures and mechanisms responsible for proper function of these complex systems will be examined in the healthy and diseased human body. The integration of different organ systems will be stressed, with a specific focus on the structure-function relationship. Application of biomedical engineering technologies in maintaining homeostasis will also be discussed.
Applied Science & Engineering, Faculty of
Engineering Science (FASE), Division of
St. George
0.5
Fall
health
SDG3
X
BME410H1
Regenerative Engineering
The course encompasses the new multidisciplinary area of Regenerative Engineering by integrating various components of Regenerative Medicine, Clinical Engineering, Human Biology & Physiology, Advanced Biomaterials, Tissue Engineering, and Stem Cell and Developmental Biology, bringing all these disciplines into the clinical perspective of translational medicine. The course starts with the key concepts of stem cell biology and their properties at the cellular and subcellular levels working our way to complex tissues and organs. In the first half of the course, 2D and 3D tissue and organ formation will be our main focus. In the second half, we will discuss the integration of medical devices, technologies and treatments into healthcare as well as clinical trial logistics, ethics and processes. The course materials will integrate cutting-edge research in regenerative medicine and current clinical trials by inviting scientists and clinicians as guest lecturers. Students will be given the rare opportunity to incorporate into their written assignments experiment-based learning via participation in workshops, tours of research facilities, seminars and independent projects integrated into the course during the semester.
Applied Science & Engineering, Faculty of
Engineering Science (FASE), Division of
St. George
0.5
Winter
health
SDG3
X
BMS332H1
The History of Reading: Readers, Readerships, Reception
This course explores the history of reading in western culture in a global context. Attention is given to the pivotal episodes in this history with a focus on its changing modes and shifting cultural significance. By surveying the habits, institutions, and aims of reading, students in this course will gain a greater understanding of its rich history and its complex evolution, and will enable them to reflect on the critical place of reading in their daily lives.
Arts and Science, Faculty of
NULL
St. George
0.5
Winter
institut
SDG16
X
BMS387H1
Advertising and Media
This course presents a critical media studies approach to advertising and consumer culture, past and present. Advertising, marketing, branding, and promotion play a central role in capitalist societies and media industries, reflecting and refracting dominant cultural attitudes and ideologies. How does advertising shape what and how we consume? What are its social, cultural, economic, and environmental impacts? Students will learn to analyze the form, content, and ideology of advertisements, and think critically about the advertising they are subjected to in everyday life.
Arts and Science, Faculty of
NULL
St. George
0.5
Fall
environment, consum, industr
SDG9, SDG12, SDG13
X
X
X
BMS392H1
Media Identities
An exploration of media's influence on the constructions and representation of identity and power relations across race, gender and class in individual and collective spheres. Applies a social justice and intersectional framework to media technologies and industries in order to expose socio-political influence on identity and to position media consumption and production as potential vehicles for restorative mediations of marginalized identities.
Arts and Science, Faculty of
NULL
St. George
0.5
Fall
justice, production, consum, industr, gender
SDG5, SDG9, SDG12, SDG16
X
X
X
X
BPM214H1
Socially Engaged Buddhism
Socially Engaged Buddhism applies traditional Buddhist spiritual, ethical and social teachings to improve society. This course will focus on contemporary movements in Vietnam, Tibet, China & Taiwan, Sri Lanka, Thailand and India, as well as its ramifications in the West that have inspired movements such as Buddhist prison ministries and the Peacemaker Order.
Arts and Science, Faculty of
NULL
St. George
0.5
Fall
peace
SDG16
X
BPM330H1
Mindfulness-Informed Interventions for Mental Health
An exploration of the current interest in incorporating mindfulness into western mental health interventions. Examines the concept of mindfulness closely to show how mindfulness is implicitly a component of western psychological theories and interventions. Also discussed is how mindfulness is used directly and indirectly as a psychological intervention.
Arts and Science, Faculty of
NULL
St. George
0.5
Winter
health
SDG3
X
BPM336H1
Special Topics in Buddhism, Psychology and Mental Health
Topics vary from year to year depending on the instructor.
Arts and Science, Faculty of
NULL
St. George
0.5
Winter
health
SDG3
X
BPM433H1
Advanced Special Topics in Buddhism, Psychology and Mental Health
An upper-level seminar. Topics vary from year to year, depending on the instructor.
Arts and Science, Faculty of
NULL
St. George
0.5
Winter
health
SDG3
X
CAR315H1
Caribbean Foodways Across History, Culture and Diaspora
Examines the historical roots of regional Caribbean food from the colonial period to the present day, and then moves to study Caribbean food in the global and Caribbean-Canadian diasporas, in the literary imagination, as a marker of personal, group and national identity, and as cultural expression.
Arts and Science, Faculty of
NULL
St. George
0.5
Winter
food
SDG2
X
CAR324H1
Capitalism and Crisis in the Caribbean
This upper level course examines the interplay between wider global processes and intra-regional responses that together help shape contemporary Caribbean realities. Topics include: economic crisis and structural adjustment; tourism; the agricultural sector; the Caribbean Single Market and Economy; migration and diaspora.
Arts and Science, Faculty of
NULL
St. George
0.5
Winter
agricultur
SDG2
X
CAR325H1
Caribbean Women Thinkers
An examination of the historical and political significance of writings (literary, political, scholarly) by Caribbean women who engage problems within Caribbean culture and provide insights into the endeavours of the peoples of the region.
Arts and Science, Faculty of
NULL
St. George
0.5
Fall
women
SDG5
X
CAR328H1
Caribbean Indentureship and its Legacies
Explores indentured migration and its legacies from the 17th century through to the present. Encourages students to think comparatively and transnationally about indentureship and diaspora, as well as indentured migration's relationship to contract and labour law.
Arts and Science, Faculty of
NULL
St. George
0.5
Fall
labour
SDG8
X
CAR422H1
Caribbean Regionalism
In a public lecture in 1958, Trinidadian CLR James described Federation as the means to "accomplish the transition from colonialism to national independence." This course explores the shift from James' vision to Jamaican economist Norman Girvan's observation that contemporary "...governments tend to perceive supranationality as less an exercise in collective sovereignty and more a diminution of national sovereignty." Among the topics to be considered are: histories of regionalism; formal and informal dimensions of regional identity-making practices; freedom of movement; governance mechanisms; and widening and deepening debates, with particular reference to the non-Anglophone Caribbean and Latin America.
Arts and Science, Faculty of
NULL
St. George
0.5
Winter
governance
SDG16
X
CAS200H1
Introduction to Contemporary Asian Studies
This course is an introduction to Contemporary Asian Studies. It covers detailed case study material from South Asia, Southeast Asia, and East Asia. It introduces students to the interdisciplinary study of political, sociocultural and economic interactions among these regions, as well as the transnational forces shaping internal dynamics throughout Asia. In addition, it examines the ways that forces stemming from Asia are affecting global processes, pushing scholarship to engage questions about colonialism, nationalism, "race," religion, markets, urbanization, migration, and mass mediated culture. This course provides preparation for more advanced courses on Asia and globalization and provides an introductory gateway for the Contemporary Asian Studies major and minor. May be taken in the first year of studies.
Arts and Science, Faculty of
Asian Institute (FAS)
St. George
0.5
Fall
urban
SDG11
X
CAS201H1
Global Asian Studies: Insights and Concepts
This course addresses Asia empirically in contemporary global formations and as an idea in the global imagination. It introduces students to concepts and theories central to scholarship on Asia and its transnational formations. It provides foundational theoretical and conceptual material to understand global issues as they play out in the politics, economies, cultures and contemporary social worlds of contemporary Asian sites. Interdisciplinary analytical and research concepts are introduced to provide area studies grounding. This course provides preparation to delve into deeper research on Asia connected to broad questions about the natures of democracy, authoritarianism, market formation, social justice, and the media of cultural expression. It informs students aiming to take more advanced courses on Asia and globalization and provides one part of the foundation for the Contemporary Asian Studies major and minor. CAS201H1 introduces the theoretical and conceptual frameworks that are explored through further grounded empirical case studies in upper year CAS courses.
Arts and Science, Faculty of
Asian Institute (FAS)
St. George
0.5
Fall
justice
SDG16
X
CAS202H1
Global Asian Studies: Sites and Practices
This interdisciplinary course explores a variety of sites and topics in South, Southeast, and East Asia. It explores themes including contemporary and historical articulations of socio-economic development, (post)colonial political formations, urbanization processes, climate change, labour struggles, gender studies, migration, citizenship, and social justice. The course examines the diversity of Asian modernities, cross-regional linkages, and changing approaches to area studies over time. It provides a foundation for the Contemporary Asian Studies major and minor, preparing students for taking more advanced courses on Asia in the global context.
Arts and Science, Faculty of
Asian Institute (FAS)
St. George
0.5
Winter
justice, climate, urban, labour, gender, socio-economic
SDG1, SDG5, SDG8, SDG11, SDG13, SDG16
X
X
X
X
X
X
CAS310H1
Comparative Colonialisms in Asia
This course analyzes the impact of colonialism in South, East, and Southeast Asia and the various ways in which pre-colonial traditions intersect with and reshape colonial and postcolonial process across the various regions of Asia. The course will examine the conjunctures of economy, politics, religion, education, ethnicity, gender, and caste, as these have played out over time in the making and re-making of Asia as both idea and place. Attention will be paid to postcolonial and indigenous theories, questions of 'the colonial' from the perspective of Asian Studies, and debates about the meaning of postcolonialism for the study of Asia now and in the future.
Arts and Science, Faculty of
Asian Institute (FAS)
St. George
0.5
Fall
gender, educat
SDG4, SDG5
X
X
CAS320H1
Comparative Modernities in Asia
Since at least the late 1700s, the effects of capitalism across the globe have profoundly transformed the landscapes of human livelihood, consumption, production and governance in Asia. While colonial empires have declined, new empires have emerged, and a growing number of countries have witnessed the rise of nationalism and independent states, social, political and technological revolutions, and most recently neoliberal globalization. This course theorizes and explores these dramatic changes in a comparative framework. It is aimed at students wishing to better understand the great transformations of modern Asia in a global context.
Arts and Science, Faculty of
Asian Institute (FAS)
St. George
0.5
Winter
governance, production, consum
SDG12, SDG16
X
X
CAS350H1
Asian Youth Cultures
In focusing on youth in Asia, this course brings together two disputed cultural formations of substantial contemporary importance. Both youth and Asia are increasingly invoked on the global stage in support of a wide range of interests. Examining practices of young people and the idea of youth in the context of Asia requires critical attention to the promises and fears that attach to the rise of Asian economies, international demographic transitions, the growth of a global middle-class, increasing consumption disparities, changing immigration patterns, expanding technological skills, global/local environmental concerns, and young people's shifting political priorities and loyalties. The course may feature a significant amount of social theory, with authors such as Michel Foucault, Roland Barthes, Louis Althusser, and Stuart Hall.
Arts and Science, Faculty of
Asian Institute (FAS)
St. George
0.5
Fall
environment, consum
SDG12, SDG13
X
X
CAS360H1
Asian Genders
This course will explore ways that gender is mobilized and produced in parts of Asia. It seeks to understand gender and sexuality in their diversity and in attempts to "fix" or locate it in various bodies and places. Attempts will be made to see how gender is made knowable in terms of sexuality, medicine, nation, class, ethnicity, religion, and other discourses. The course assumes a willingness to read challenging theory – such as the writings of Judith Butler, Michel Foucault, and Eve Sedgwick – and asks that students commit to regular attendance.
Arts and Science, Faculty of
Asian Institute (FAS)
St. George
0.5
Winter
gender
SDG5
X
CAS370H1
Asian Cities
This course offers a multidisciplinary perspective of urban life in Asia. The thematic focus will be on how the urban intersects with modernities and postcolonial formations. Drawing on recent scholarship in the social sciences and the humanities, we will examine the realignment of cultural, political, and economic forces associated with Asia's diverse processes of urbanization.
Arts and Science, Faculty of
Asian Institute (FAS)
St. George
0.5
Winter
urban, cities
SDG11
X
CAS400H1
Interdisciplinary Research in Methods in Contemporary Asian Studies
This seminar addresses Asian worlds – In Asia, transnationally, and locally – to cultivate new approaches to global processes and problems. The course explores key Asian sites that open new configurations for studying interactions between economic/environmental development, political change, and migration and cultural politics. It provides an advanced and systematic overview of the research methodologies that students have been exposed to throughout the CAS program. These include historical-archival, ethnographic, visual/media, and statistical/quantitative methods that allow us to map Asian political, economic, and cultural formations, and through them, global challenges. The seminar builds interdisciplinary conversations attentive to both critical problematizing and problem-solving, to qualitative and applied projects. It is the required capstone to the Contemporary Asian Studies major.
Arts and Science, Faculty of
Asian Institute (FAS)
St. George
0.5
Fall
environment
SDG13, SDG16
X
X
CAS414H1
The Public Event in Asia
This upper-level seminar will introduce students to the interdisciplinary study of popular culture in Asia through a focus on public events. Readings about all kinds of performances, including ritual, popular protest, festivals, sports, cinema, television, digital media events, and the performing arts will help students learn methodological tools to interpret the politics and meanings of public culture as it articulates with class, ethnicity, religious community, gender and caste. The course will furthermore familiarize students with a range of theoretical lenses for conceptualizing the different meanings of the "event" and the "public" from a perspective grounded in the histories of South Asia, Southeast Asia, East Asia, and their diasporas.
Arts and Science, Faculty of
Asian Institute (FAS)
St. George
0.5
Winter
gender
SDG5
X
CCT112H5
Introduction to Management in the Networked Information Economy
This course introduces students to the foundational principles and analytical tools from the management discipline that are appropriate for understanding enterprises in the context of the networked information economy. Particular emphasis is given to the interconnections between information and communications technologies, innovation, the role of managers and their decision-making processes, and related social, cultural, and economic institutions.
University of Toronto Mississauga
Communication, Culture, Information, & Technology (UTM), Institute of
Mississauga
0.5
Winter
institut, innovat
SDG9, SDG16
X
X
CCT200H5
Race, Media and Culture
This course provides an introduction to the intersecting fields of critical race, media, and cultural studies. We will pay particular attention to dynamics of social difference and power and the communication strategies and technologies through which these are navigated, reproduced and interrupted. Students will be introduced to critical and analytical tools for understanding the cultural and media circulation, regulation and reimagination of things like race, sexuality, time, gender, class, indigeneity, space, ethnicity, ability and nationality. These critical tools equip students with the skills to write, design and build ethical innovations in new media and culture.
University of Toronto Mississauga
Communication, Culture, Information, & Technology (UTM), Institute of
Mississauga
0.5
Winter
innovat, gender
SDG5, SDG9
X
X
CCT205H5
Digital Innovation and Cultural Transformation
An examination of the problems caused by the introduction of digital and computing technologies to modern culture. Topics range from the social and cultural outcomes of media convergence; effects of the digital revolution in communications technologies; the impact of miniaturization on the application of computing technologies; the relevance of virtual environments; the interplay between pre-industrial, industrial and information cultures.
University of Toronto Mississauga
Communication, Culture, Information, & Technology (UTM), Institute of
Mississauga
0.5
Winter
environment, industr, innovat
SDG9, SDG13
X
X
CCT206H5
Law, Technology and Culture
This course will provide a detailed review of copyright, trademark and patent law with a special emphasis on how they apply to digital media. This course will also review the law of contract as it applies to digital industries and investigate the relevant tort law. In addition, other regulatory issues will be discussed such as telecommunications and broadcasting law both from a Canadian and an international perspective.
University of Toronto Mississauga
Communication, Culture, Information, & Technology (UTM), Institute of
Mississauga
0.5
Winter
trade, industr
SDG9
X
CCT219H5
Media Economics I
This course presents economic principles that explain how markets help organize exchange and production among competing but nevertheless cooperating economic units. Theories of consumer demand, the economic nature and function of business firms, optimal business decision rules of monopoly, oligopoly, and anti-combines regulations, as well as game theory, are presented. Efficiency criteria pertaining to the operation of firms and markets, the role of property rights, and the scope for public policy, are also examined.
University of Toronto Mississauga
Communication, Culture, Information, & Technology (UTM), Institute of
Mississauga
0.5
Fall
rights, production, consum
SDG12, SDG16
X
X
CCT222H5
Political Economy of Communication, Culture, and Technology
The course analyzes the relationship between media systems, communication technologies, and power. As an introduction to a political economy approach, this course surveys how media, culture, information and technologies are produced, circulated, and consumed, with attention to both historical developments and contemporary practices in the digital era. The course provides a basic understanding of media systems, technologies, and culture production in relation to the market, the state, and civil society. Students will develop a basic understanding of the political, economic, cultural, and regulatory environment in which media, culture, and technologies are produced, and pay particular attention to the implications of processes such as globalization, digitization, marketization, and commodification for social life. [24L, 12T]
University of Toronto Mississauga
Communication, Culture, Information, & Technology (UTM), Institute of
Mississauga
0.5
Fall
environment, production, consum
SDG12, SDG13
X
X
CCT250H5
Technology and Creative Expression
(Offered at Sheridan College) Advances in technology have provided users ready access to empowering technologies of creative expression. This emergence of prosumer and amateur production technology has both destabilized and revolutionized established practice in digital imaging, time based media, gaming, and design. This course provides a survey of contemporary theories, technologies and critical challenges in a variety of media of creative expression.
University of Toronto Mississauga
Communication, Culture, Information, & Technology (UTM), Institute of
Sheridan
0.5
Winter, Fall
production
SDG12
X
CCT310H5
Popular Culture and Society
How does consumerism affect symbolic production, circulation and transactions? Major modern theories of mass communication will be presented (Fiske, Bourdieu, Benjamin, Jenkins, Frankfurt school, and Marxist approaches). Students will explore new structures of mass communication in relation to popular culture systems, and their economic, technological and institutional dimensions. Topics include Disney, Hollywood, celebrity culture, social media, and user generated content in digital environments. [24L]
University of Toronto Mississauga
Communication, Culture, Information, & Technology (UTM), Institute of
Mississauga
0.5
Winter
institut, environment, production, consum
SDG12, SDG13, SDG16
X
X
X
CCT314H5
Mind, Media and Representation
This course applies a variety of theoretical and practical approaches to consider the multiple and often conflicting ways representations in media are produced and consumed. The study of representations is approached from the perspective that they are best understood as both discursive and ideological. Questions to be examined include: What does it mean for historical and contemporary representations to carry economic, ideological and discursive power? To what extent do audiences hold power to resist or negotiate with representations? How might we interrogate the notion that we live in a post-feminist, post-racialized society in which older ideas about gender, race and power no longer apply or need re-thinking?
University of Toronto Mississauga
Communication, Culture, Information, & Technology (UTM), Institute of
Mississauga
0.5
Fall
consum, gender
SDG5, SDG12
X
X
CCT333H5
Social Innovation
(Offered at Sheridan College) This course introduces students to the strategies and processes of social innovation through usability studies, systems analysis, and artifact prototyping for new products or services for underserved groups. Students will learn various techniques of understanding user needs requirements and design methodologies, and apply this knowledge to create socially innovative prototypes to apply to real world situations. By the end of this course, students will have worked in groups to develop design alternatives for a technological artifact or system of their choosing, gain knowledge of human-centred design strategies and learn how to become change agents through case studies, best practice analyses, and relevant readings.
University of Toronto Mississauga
Communication, Culture, Information, & Technology (UTM), Institute of
Sheridan
0.5
Winter
innovat
SDG9
X
CCT335H5
Technology and the City
Technology continues to reshape the physical contours of our built environments as much as it redefines our conceptualization of how we inhabit and interact within them. This course investigates how urban form, space, infrastructure and communication are mediated by new and evolving technologies. [24L,11T]
University of Toronto Mississauga
Communication, Culture, Information, & Technology (UTM), Institute of
Mississauga
0.5
Fall
environment, urban, infrastructure
SDG9, SDG11, SDG13
X
X
X
CCT336H5
Comics and Digital Culture
(Offered at Sheridan College) Examining the medium of comics and graphic novels and its evolution in an era of digital production and dissemination. Starting from a foundational understanding of the visual grammar of comics, students create their own graphic narratives and later explore the dynamics of digital dissemination by creating viral and memetic content for an Internet audience.
University of Toronto Mississauga
Communication, Culture, Information, & Technology (UTM), Institute of
Sheridan
0.5
Fall
production
SDG12
X
CCT340H5
Gender, Media and Technology
This course brings a gendered lens to the study of media and technology. The course explores the (re)production and (re)presentation of gender through communicative practices in a variety of mediums, including print media, TV, activist media, video games and online platforms. The course develops an understanding of gender ideologies and how media, technologies, and communication help produce gender. The course examines the way gender identities are constructed by mainstream and alternative media; gendered divisions of media and digital labour; the relationship between ICTs and the performance of gender and sexuality; masculinities, gender politics; feminist theory; and the construction and negotiation of gender in relation to mediated environments. [24L]
University of Toronto Mississauga
Communication, Culture, Information, & Technology (UTM), Institute of
Mississauga
0.5
Winter
environment, production, labour, gender
SDG5, SDG8, SDG12, SDG13
X
X
X
X
CCT352H5
History and Practice of Design
(Offered at Sheridan College) This course examines the historical development of communication design from the industrial revolution to the present. The student will focus on the emergence of design practice and theory in changing economic, technological and social contexts.
University of Toronto Mississauga
Communication, Culture, Information, & Technology (UTM), Institute of
Sheridan
0.5
Fall
industr
SDG9
X
CCT355H5
Critical Approaches to Innovation
This course provides students with a survey of critical theories appropriate to the study of technological innovation. Students will: 1) explore theories of the social, cultural, and ecological impacts of technological innovation; 2) apply these theoretical lenses to the study of trends in innovation; and 3) propose a product or approach to innovation using social, cultural, or ecological criteria.
University of Toronto Mississauga
Communication, Culture, Information, & Technology (UTM), Institute of
Mississauga
0.5
Winter
ecolog, innovat
SDG9, SDG15
X
X
CCT356H5
Online Advertising and Marketing
(Offered at Sheridan College) This course investigates the industrial practices and tools of effectively marketing and promoting goods and services online. Topics include analysis of contemporary online advertisement design, the effective use of social media technologies in product marketing, planning online campaigns that reinforce and complement existing marketing and advertising efforts, and understanding key metrics used to evaluate a campaign's effectiveness.
University of Toronto Mississauga
Communication, Culture, Information, & Technology (UTM), Institute of
Sheridan
0.5
Winter, Fall
industr
SDG9
X
CCT381H5
Media Audiences
Audiences are social constructions which must be imagined to be actualized. Beginning with an exploration of the nature and role of audiences from early 20th century media, students explore how audiences make meaning of popular media platforms today. How are audiences situated within media texts, what role does this play in how media is generated and circulated, and how do audiences both enact and resist media influence? Broadcast models, interactive models, audience reading, gender, culture, race, and audience feedback are investigated. [24L]
University of Toronto Mississauga
Communication, Culture, Information, & Technology (UTM), Institute of
Mississauga
0.5
Winter
gender
SDG5
X
CCT382H5
Prototyping Digital Games
This course explores the fundamentals of the process of game design through prototyping. It focuses on the contexts and components of game design, such as design iteration and user testing along relevant dimensions such as art style, narrative, and game balance. Students will be introduced to design across different genres and types of digital games, including games for education, serious games, indie, and AAA games. Working in collaborative groups, students will learn and practice the appropriate methodology to design game mechanics, characters, art assets and other appropriate deliverables in order to create a game or high-fidelity prototype.
University of Toronto Mississauga
Communication, Culture, Information, & Technology (UTM), Institute of
Mississauga
0.5
Fall
labor, educat
SDG4
X
CCT384H5
Inclusive Design and Social Responsibility
(Offered at Sheridan College) The course provides an overview of inclusive design, a paradigm that empowers people of all ages and abilities. By analyzing products, buildings and communities from an inclusive perspective and making the needs of people the central focus of the design process this new paradigm seeks to develop form from function to increase the usefulness and responsiveness of our physical world for a wider and more diverse range of people.
University of Toronto Mississauga
Communication, Culture, Information, & Technology (UTM), Institute of
Sheridan
0.5
Winter
buildings, inclusiv
SDG4, SDG9
X
X
CCT385H5
Conceptualizing Media Environments
Marshall McLuhan was one of the first theorists to conceptualize media as environments. Media were no longer conceptualized as instruments or tools but as systems that would capture their audience within. This course investigates the role of media in structuring and conditioning how we inhabit environments. From geology to ecology, from the umwelt to ecosystems, from urban to outer space, from bodies to biospheres, this class looks at media as modes of inhabitation. The intersections of media and environments will thus be problematized in their social, cultural, and political dimensions. Students will be introduced to these systems from a conceptual and a practical perspective through the study of scientific, artistic and design projects.
University of Toronto Mississauga
Communication, Culture, Information, & Technology (UTM), Institute of
Mississauga
0.5
Winter
ecolog, environment, urban
SDG11, SDG13, SDG15
X
X
X
CCT403H5
Finance, Innovation and the Digital Firm
Students will learn about financial aspects of digital industries. They will gain knowledge about how financial and other incentives shape the decisions of agents in the digital marketplace. Such a knowledge helps to identify industry trends aiding their own decisions when participating in Internet related industries. Topics covered include online and traditional media industries, aspects of e-commerce and marketing, open source software and crowd-sourcing. A highly effective way to gain such knowledge is by covering a relevant topic in an academic essay. This way the students will also improve their writing skills, and learn better how to cover financial aspects of their chosen topic in a scholarly manner. [24L]
University of Toronto Mississauga
Communication, Culture, Information, & Technology (UTM), Institute of
Mississauga
0.5
Winter
industr, innovat
SDG9
X
CCT404H5
Remote Work, Technology and Collaboration
This project-based course aims to demonstrate how collaboration is a critical capability often overlooked. During the course students will integrate their learning and experience and first hand see how, in combination with collaboration it can lead to creatively solving problems in areas as varied as business, health care delivery, urban planning and development. In addition to lectures, students will have the benefit of a series of guest lecturers. A large, group based project will serve to integrate learning and allow students the benefit of experiential learning.
University of Toronto Mississauga
Communication, Culture, Information, & Technology (UTM), Institute of
Mississauga
0.5
Winter
urban, labor, health
SDG3, SDG8, SDG11
X
X
X
CCT418H5
Work, Media and Technology
The course analyses the political, historical, and technical relationships between media, technology, and work in contemporary capitalism. The course will examine the power and social relationships that structure work in contexts such as media, creative industries, and the platform or "gig" economy. The course will focus on critical theories of work and will engage with case studies of the intersection of work, media and technology. The aim of the course is to build a tool kit for encountering an increasingly casualized and digitally-mediated labour market. [24S]
University of Toronto Mississauga
Communication, Culture, Information, & Technology (UTM), Institute of
Mississauga
0.5
Winter
industr, labour
SDG8, SDG9
X
X
CCT424H5
Organizational Studies III
An in-depth study of the development of innovative strategies for organizations with an emphasis on digital enterprises. The nature of strategic innovation will be studied and a variety of analytic frameworks introduced. Concepts will be explored through a combination of lectures and case studies.
University of Toronto Mississauga
Communication, Culture, Information, & Technology (UTM), Institute of
Mississauga
0.5
Winter
innovat
SDG9
X
CCT433H5
Sustainable Design
(Offered at Sheridan College) This course immerses students in sustainable design methodologies based upon whole systems analysis, applying the quadruple bottom line of people, profit, planet, and culture to understand and design for environmental issues and social change. During this course, students will apply the process and rhetoric of sustainable systems thinking to the re-design of an object or service applying such methodologies as cradle-to-cradle, 'design-for-environment', pricing based on full cost accounting, greening of the supply chain, and corporate responsibility. Throughout the course, students will examine the need for sustainable design through case studies, best practice analyses, and relevant readings
University of Toronto Mississauga
Communication, Culture, Information, & Technology (UTM), Institute of
Sheridan
0.5
Fall
environment, sustainable design
SDG12, SDG13
X
X
CCT434H5
Design Thinking II
(Offered at Sheridan College) An advanced project-based seminar on the art and creative directions of design thinking. Combining traditional and innovative creativity methods, a variety of design projects are conceptualized and drafted for proposal or implementation. This course embraces design thinking as a holistic, interdisciplinary approach that integrates methodical creativity and overarching design principles, such as aesthetics, futures-thinking, progress and metadesign.
University of Toronto Mississauga
Communication, Culture, Information, & Technology (UTM), Institute of
Sheridan
0.5
Winter
innovat
SDG9
X
CCT435H5
Media and Outer Space
Examines the relationship between media studies and Outer Space inhabitation and exploration. Through analysis of military, technological, industrial, scientific, design, artistic, and civilian projects, films, novels, science fictions, and other media forms, the class investigates and reveals the historical, social, cultural, and political implications of our mediated relation with Outer Space. Technologies and topics include: the space race and the Cold War, space imagery, extreme environments, space travel, space suits, space vehicles, and space habitats, satellites, extra-terrestrial intelligence, mining, extraction, terraforming, radiation, gravity, and levitation.

University of Toronto Mississauga
Communication, Culture, Information, & Technology (UTM), Institute of
Mississauga
0.5
Fall
environment, industr
SDG9, SDG13
X
X
CCT440H5
Power, Privilege and Technology
How is social inequality reproduced and encoded in technology systems and in digital media? In what ways do technology and media creations inform and influence perceptions, beliefs, and practices that impact girls and women, communities of colour, Indigenous groups, LGBTQ+ and other minoritized people? This course will address overlapping and intersectional issues of power, privilege, oppression, and sociotechnical imaginaries - all related to networks, big data and predictive analytics, algorithms, digital gig economies, and interactive multimedia like social media and virtual reality.
University of Toronto Mississauga
Communication, Culture, Information, & Technology (UTM), Institute of
Mississauga
0.5
Winter
inequality, girl, equality, women
SDG5, SDG10
X
X
CCT450H5
Designing Interactive Books
(Offered at Sheridan College) This advanced self-directed project-based course allows students who are already familiar with the principles of page layout and interactive multimedia to design and publish in iBooks. The principles and practice of creative concept development and art direction are actively applied. Students will develop original content in text, digital media, and engage in the creative application of iBooks Author's widgets as a writer, editor, illustrator, and designer. Balancing an industry-ready mindset with an avant-garde spirit, students are also encouraged to investigate this medium as an art form in alternative, experimental directions.
University of Toronto Mississauga
Communication, Culture, Information, & Technology (UTM), Institute of
Sheridan
0.5
Fall
industr
SDG9
X
CCT452H5
Graphic Design and Popular Culture
(Offered at Sheridan College) This course will continue from where History and Practice of Design leaves off; from the beginning of the Post-Modern period or c.1975. It will study the history of graphic design to the present in roughly chronological order; it will focus on specific topics rather than on movements, schools or chronological events. Topics will highlight how social trends, political forces, technological innovation and continuing folk traditions all contribute to the visual environment we all inhabit today. Topics will emphasize popular culture as a force shaping graphic design while also referring to a theoretical graphic design discourse.
University of Toronto Mississauga
Communication, Culture, Information, & Technology (UTM), Institute of
Sheridan
0.5
Winter
environment, innovat
SDG9
X
CCT476H5
Foundations of Operations Management
Operations Management deals with the functions of an enterprise that create value for the customers. The scope of study covers all processes involved in the design, production and physical distribution of goods and services. With global competition continuously increasing, a firm's survival depends upon how well it integrates the operations function into the enterprise's general planning and strategy. It is thus essential for business managers to acquire an understanding and appreciation of operations. [24L]
University of Toronto Mississauga
Communication, Culture, Information, & Technology (UTM), Institute of
Mississauga
0.5
Fall
production
SDG12
X
CCT483H5
Play, Performance and Community in Digital Games
Students will explore the complex relationship between games and play. Starting with an overview of the major play theories, students will learn how cognitive, philosophical and social theories of play are used to guide and inform game design. The increasingly prominent role of the player in the co-creation and performance of digital games will be examined. Students will also explore the emergence of player communities and consider the various issues that this introduces into design and management process, including important new questions about governance, player and creative freedoms, and immaterial labour.
University of Toronto Mississauga
Communication, Culture, Information, & Technology (UTM), Institute of
Mississauga
0.5
Winter
governance, labour
SDG8, SDG16
X
X
CDN197H1
Inventing Canada
This course explores the ways that Canadian history and identity have been commemorated, interpreted and experienced, now and in the past. The course focuses in particular on who has been included or excluded in commemorative efforts over time. Key topics include representations of women, Indigenous peoples, and political figures on screen and through public installations like museum exhibits, plaques and statues. Case studies highlighting a range of interpretive media will encourage students to work with and discuss a range of primary and secondary sources, build critical thinking and academic writing skills. Restricted to first-year students. Not eligible for CR/NCR option.
Arts and Science, Faculty of
NULL
St. George
0.5
Fall
women
SDG5
X
CDN202H1
Aspects of Quebec Culture
An exploration of modern Québec culture as expressed in literature and the performing arts. Through a selection of internationally-known entertainers, we examine form, artistic innovation, communication of information and knowledge, and spectatorship. Novels and plays provide key elements such as tradition and historical context.
Arts and Science, Faculty of
NULL
St. George
0.5
Fall
innovat
SDG9
X
CDN221H1
Culture and the Media in Canada
An exploration of the encounter between culture and mass communication in Canadian society. The course considers the role of major cultural institutions such as the CBC, the NFB, and their granting bodies. The emergence of new media and its relationship to mass media is also addressed.
Arts and Science, Faculty of
NULL
St. George
0.5
Winter
institut
SDG16
X
CDN267H1
Canadian Nationalisms
A critical examination of contemporary forms of Canadian nationalism. This interdisciplinary course will interrogate national formations across theoretical works, policy documents, and cultural representations. Students will address the ways that nationalist discourses constitute difference, especially with respect to race, ethnicity, gender, and sexuality.
Arts and Science, Faculty of
NULL
St. George
0.5
Fall
gender
SDG5
X
CDN268H1
Canada and Globalization
Students examine the impact of contemporary globalization on Canada, and for Canada's place in the world. The course is interdisciplinary in its approach and addresses globalization from a wide range of perspectives, including mobility, trade, urbanization, health, religion, environmental change, technology, communications, and the arts.
Arts and Science, Faculty of
NULL
St. George
0.5
Winter
environment, urban, trade, health
SDG3, SDG10, SDG11, SDG13
X
X
X
X
CDN325H1
Asian Canadian Space & Place
A comprehensive examination of how Asian Canadian communities shape urban and suburban environments. Explore how urban planning and peoples' local decisions interact to create space, place, and culture. The course applies a multidisciplinary lens, with an emphasis on culture and heritage, place and identity formation, diasporas, multiculturalism, and nationalism.
Arts and Science, Faculty of
NULL
St. George
0.5
Winter
environment, urban
SDG11, SDG13
X
X
CDN335H1
Black Canadian Studies
An interdisciplinary course that interrogates the constitution of blackness in Canada. Students will study race and ethnic relations, alongside other identity formations such as class, gender and sexuality. Topics to be addressed include media, education, law, immigration and mobility, urbanism, work, political representation and the arts.
Arts and Science, Faculty of
NULL
St. George
0.5
Fall
urban, gender, educat
SDG4, SDG5, SDG11
X
X
X
CDN367H1
Canadian Pluralism
Students will examine the complexities of social and cultural interaction in the context of changing Canadian demographics. This course compares and contrasts policies regarding indigenous rights, migration, multiculturalism, and citizenship with contemporary cultural narratives in literature, painting and film.
Arts and Science, Faculty of
NULL
St. George
0.5
Winter
rights
SDG16
X
CDN368H1
Canada's Borders
The Canadian border is being reshaped by the increasing transnational movement of people, goods and ideas. Students will examine border issues relating to mobility, trade, and security from a wide range of interdisciplinary perspectives, from public policy to contemporary media, such as TV, films, and novels.
Arts and Science, Faculty of
NULL
St. George
0.5
Fall
trade
SDG10
X
CDN380H1
Socio-Cultural Perspective of the Canadian Jewish Community
This course examines the relationship between prominent Canadians who happen to be Jews and those whose works are founded in Jewish identity; the diversity of the community on the basis of religion, language, class, ideology, etc.; contributions to the arts and scholarship; and the role and contribution of Jewish women.
Arts and Science, Faculty of
NULL
St. George
0.5
Winter
women
SDG5
X
CDN385H1
Re-Imagining Canada: Creative Visions of Our Past, Present, and Futures
Artists and writers are re-imagining Canada, exploring alternate pasts, presents, and futures, often critiquing systemic inequities by positing "what ifs" of resistance and renewal, while reclaiming agency, voice, and power for those who are disadvantaged in society. This course will examine these re-imaginings across various media such as fiction, poetry, graphic novels, films, multimedia installations, performance art, paintings, virtual reality works, and video games. Examples will be drawn from a wide variety of genres such as speculative fiction, Afrofuturism, Indigenous arctic horror, trans, queer, Indigenous and Indigiqueer perspectives.
Arts and Science, Faculty of
NULL
St. George
0.5
Fall
queer
SDG5
X
CHC305H1
Christianity and Popular Culture
An examination of both overt and covert representations of Christian ideas in contemporary popular media. We examine the ways in which Christian themes have been appropriated and subverted in mass media, while also examining the innovative ways these themes, such as redemption, sacrifice, vocation, and hope, are presented anew.
Arts and Science, Faculty of
NULL
St. George
0.5
Winter, Fall
innovat
SDG9
X
CHC313H1
Catholic Education in Ontario
An historical appraisal of the evolution of Catholic schools, universities, and catechetical education in Ontario. Special emphasis is placed on the evolution of Ontario's separate school system.
Arts and Science, Faculty of
NULL
St. George
0.5
Winter
educat
SDG4
X
CHC364H1
The Christian Book
An interdisciplinary examination of the Bible as artifact and as an index of culture, art, and language. Topics include: the mediaeval giant Bibles, illuminated and illustrated Bibles, the Gutenberg Bible, The King James Bible, the Bible industry, the Bible online, the Bible as sacred object, sacred language and vernacular.
Arts and Science, Faculty of
NULL
St. George
0.5
Fall
industr
SDG9
X
CHC367H1
Christianity, Literature, and Theatre
This course introduces students to works of literary and dramatic arts from throughout the global Christian tradition. The course explores the complex relationships that exist between religious, narrative, and performative imperatives; between theological and cultural sources; between authority and experience; and between writers, playwrights, and their readerships and audiences.
Arts and Science, Faculty of
NULL
St. George
0.5
Winter
rights
SDG16
X
CHC370H1
The Bible and Biology
Episodes and issues in the development of biology, genetics and evolutionary theory in relation to Christian understandings of the natural world, the human person, and God. Possible topics include genetic determinism, mind and intelligence, gender, reproductive technologies, cosmology and ecology.
Arts and Science, Faculty of
NULL
St. George
0.5
Fall
ecolog, gender
SDG5, SDG15
X
X
CHE113H1
Concepts in Chemical Engineering
This course provides first year students with an overview of the chemical industry, the chemical engineering profession, and introduces key concepts for the upcoming years of study. The chemical industry is the interface between natural resources (minerals, oil, gas, agricultural products, etc.) and the consumers of the higher value products derived therefrom. This diverse industry has both high volume-low unit value and low volume-high unit value products, and the manufacture of each type of product has its own challenges. The chemical engineering profession applies the scientific fundamentals through two key concepts: Unit Operations as well as Flux. The fundamental elements of stoichiometry and reaction kinetics are further extended to cover the concepts of yield, conversion and their specific applications to continuous and batch reactor systems. Analysis of electrical circuits is introduced, leading to nodal analysis of circuits. The application of resistance in series and capacitance is extended into chemical engineering problems involved, heat transfer, mass transfer and momentum transfer, as well as reaction engineering. The laboratory will reinforce these key chemical engineering principles.
Applied Science & Engineering, Faculty of
NULL
St. George
0.5
Winter
natural resource, consum, industr, labor, agricultur
SDG2, SDG8, SDG9, SDG12
X
X
X
X
CHE191H1
Introduction to Chemical Engineering and Applied Chemistry
This is a seminar series that will introduce students to the community, upper-year experience, and core fields of Chemical Engineering and Applied Chemistry. Seminar presenters will represent the major areas in Chemical Engineering and Applied Chemistry and will also be drawn from an array of groups, including students, staff, faculty, and alumni. The format will vary and may include application examples, case studies, career opportunities, and research talks. The purpose of the seminar series is to provide first year students with some understanding of the various options within the Department to enable them to make educated choices as they progress through the program. This course will be offered on a credit/no credit basis.
Applied Science & Engineering, Faculty of
NULL
St. George
0.15
Winter
educat
SDG4
X
CHE205H1
Chemical Engineering and Applied Chemistry- Laboratory II
This laboratory course will survey aspects of inorganic, organic and analytical chemistry from a practical point of view in a comprehensive laboratory experience. Theory, where applicable, will be interwoven within the laboratories or given as self-taught modules. Topics to be covered are inorganic and organic synthesis and analysis and will include elements of process and industrial chemistry and practice (including Green Chemistry).
Applied Science & Engineering, Faculty of
Chemical Engineering and Applied Chemistry (FASE), Department of
St. George
0.5
Winter
industr, labor
SDG9
X
CHE208H1
Process Engineering
An introduction to mass and energy (heat) balances in open systems. A quantitative treatment of selected processes of fundamental industrial and environmental significance involving phase equilibria, reaction and transport phenomena under both steady state and unsteady state conditions. Examples will be drawn from the chemical and materials processing industries, the energy and resource industries and environmental remediation and waste management.
Applied Science & Engineering, Faculty of
Chemical Engineering and Applied Chemistry (FASE), Department of
St. George
0.5
Fall
environment, waste, industr, energy
SDG7, SDG9, SDG12, SDG13
X
X
X
X
CHE213H1
Applied Chemistry II - Organic Chemistry
Topics include the structure, bonding and characteristic reactions of organic compounds including additions, eliminations, oxidations, reductions, radical reactions, condensation/hydrolysis and rearrangements. The chemical relationships and reactivities of simple functional groups are discussed with an emphasis placed on reaction mechanisms involving the formation of organic intermediates, chemicals and polymers. An introduction will be given on biologically relevant compounds such as carbohydrates, proteins, lipids and nucleic acids. Examples will be discussed which outline the usefulness of these reactions and chemicals within the broader chemical industry.
Applied Science & Engineering, Faculty of
Chemical Engineering and Applied Chemistry (FASE), Department of
St. George
0.5
Winter
industr
SDG9
X
CHE230H1
Environmental Chemistry
The chemical phenomena occurring in environmental systems are examined based on fundamental principles of organic, inorganic and physical chemistry. The course is divided into sections describing the chemistry of the atmosphere, natural waters and soils. The principles applied in the course include reaction kinetics and mechanisms, complex formation, pH and solubility equilibria and adsorption phenomena. Molecules of biochemical importance and instrumental methods of analysis relevant to environmental systems are also addressed. (formerly EDC230H1S)
Applied Science & Engineering, Faculty of
Chemical Engineering and Applied Chemistry (FASE), Department of
St. George
0.5
Winter
environment, water
SDG6, SDG13, SDG14
X
X
X
CHE260H1
Thermodynamics and Heat Transfer
Classical thermodynamics and its applications to engineering processes. Concepts of energy, heat, work and entropy. First and second laws of thermodynamics. Properties of pure substances and mixtures. Phase equilibrium. Ideal heat engines and refrigerators. Mechanisms of heat transfer: conduction, convection and radiation. Steady state heat transfer. Solution of conduction equation. Convective heat transfer coefficients. Momentum and heat transfer analogies. Basics of radiative heat transfer..
Applied Science & Engineering, Faculty of
Engineering Science (FASE), Division of
St. George
0.5
Fall
energy
SDG7
X
CHE323H1
Engineering Thermodynamics
Classical thermodynamics and its applications to engineering processes are introduced. Topics include: the concepts of energy, work and entropy; the first and second laws of thermodynamics; properties of pure substances and mixtures; the concepts of thermal equilibrium, phase equilibrium and chemical equilibrium; and heat engines and refrigeration cycles.
Applied Science & Engineering, Faculty of
Chemical Engineering and Applied Chemistry (FASE), Department of
St. George
0.5
Fall
energy
SDG7
X
CHE324H1
Process Design
This course presents the philosophy and typical procedures of chemical engineering design projects. The course begins at the design concept phase. Material and energy balances are reviewed along with the design of single unit operations and equipment specification sheets. The impact of recycles on equipment sizing is covered. Safety, health and environmental regulations are presented. These lead to the development of safe operating procedures. The systems for developing Piping and Instrumentation diagrams are presented. Process safety studies such as HAZOPS are introduced. Typical utility systems such as steam, air and vacuum are discussed. Project economics calculations are reviewed.
Applied Science & Engineering, Faculty of
Chemical Engineering and Applied Chemistry (FASE), Department of
St. George
0.5
Fall
environment, recycl, energy, health
SDG3, SDG7, SDG12, SDG13
X
X
X
X
CHE375H1
Engineering Finance and Economics
This course consists of three modules: 1) managerial accounting, 2) corporate finance and 3) macro economics. The first module, managerial accounting, will consist of an introduction to financial statements and double entry recordkeeping, then delve deeper into aspects of revenue, expenses, assets, debt and equity.The second module, corporate finance, will introduce the concept of risk and return, and the Capital Asset Pricing Model, and then delve deeper into capital budgeting, corporate financing, financial statement analysis and financial valuation. The third model, macro economics, will introduce global aspects of business, including economic, political, societal and technological, then discuss factors such as GDP, inflation, unemployment, interest rates, foreign exchange rates, fiscal debt/surplus and balance of payments, and their impact on the financials of a given country.
Applied Science & Engineering, Faculty of
Engineering Science (FASE), Division of
St. George
0.5
Winter
employment
SDG8
X
CHE391H1
Organic Chemistry and Biochemistry
This course examines the sources, structures, properties and reactions of organic chemicals with reference to their interactions with the environment. Industrial organic chemistry, biochemical compounds and relevant biochemical reactions will be discussed.
Applied Science & Engineering, Faculty of
Engineering Science (FASE), Division of
St. George
0.5
Fall
environment, industr
SDG9, SDG13
X
X
CHE430Y1
Chemical Plant Design
Students work in teams to design plants for the chemical and process industries and examine their economic viability. Lectures concern the details of process equipment and design.
Applied Science & Engineering, Faculty of
Chemical Engineering and Applied Chemistry (FASE), Department of
St. George
1.0
Winter
industr
SDG9
X
CHE451H1
Petroleum Processing
This course is aimed at surveying the oil industry practices from the perspective of a block flow diagram. Oil refineries today involve the large scale processing of fluids through primary separation techniques, secondary treating plus the introduction of catalyst for molecular reforming in order to meet the product demands of industry and the public. Crude oil is being shipped in increasing quantities from many parts of the world and refiners must be aware of the properties and specifications of both the crude and product slates to ensure that the crude is a viable source and that the product slate meets quality and quantity demands thus assuring a profitable operation. The course content will examine refinery oil and gas operations from feed, through to products, touching on processing steps necessary to meet consumer demands. In both course readings and written assignments, students will be asked to consider refinery operations from a broad perspective and not through detailed analysis and problem solving.
Applied Science & Engineering, Faculty of
Chemical Engineering and Applied Chemistry (FASE), Department of
St. George
0.5
Fall
consum, industr
SDG9, SDG12
X
X
CHE460H1
Environmental Pathways and Impact Assessment
Review of the nature, properties and elementary toxicology of metallic and organic contaminants. Partitioning between environmental media (air, aerosols, water, particulate matter, soils, sediments and biota) including bioaccumulation. Degradation processes, multimedia transport and mass balance models. Regulatory approaches for assessing possible effects on human health and ecosystems.
Applied Science & Engineering, Faculty of
Chemical Engineering and Applied Chemistry (FASE), Department of
St. George
0.5
Winter
environment, water, health
SDG3, SDG6, SDG13, SDG14
X
X
X
X
CHE462H1
Food Engineering
The quantitative application of chemical engineering principles to the large-scale production of food. Food processing at the molecular and unit operation levels. The chemistry and kinetics of specific food processes. The application of chemical engineering unit operations (distillation, extraction, drying) and food specific unit operations such as extrusion, thermal processing refrigeration/freezing.
Applied Science & Engineering, Faculty of
Chemical Engineering and Applied Chemistry (FASE), Department of
St. George
0.5
Winter
production, food
SDG2, SDG12
X
X
CHE467H1
Environmental Engineering
Core Course in the Environmental Engineering Minor A course which treats environmental engineering from a broad based but quantitative perspective and covers the driving forces for engineering activities as well as engineering principles. Models which are used for environmental impact, risk analysis, health impact, pollutant dispersion, and energy system analysis are covered.
Applied Science & Engineering, Faculty of
Chemical Engineering and Applied Chemistry (FASE), Department of
St. George
0.5
Fall
pollut, environment, energy, health
SDG3, SDG7, SDG13, SDG14, SDG15
X
X
X
X
X
CHE469H1
Fuel Cells and Electrochemical Conversion Devices
The objective of this course is to provide a foundation for understanding the field of electrochemical conversion devices with particular emphasis on fuel cells. The topics will proceed from the fundamental thermodynamic in-system electodics and ionic interaction limitations to mass transfer and heat balance effects,t o the externalities such as economics and system integration challenges. Guest lecturers from the fuel cell industry will be invited to procide an industrial perspective. Participants will complete a paper and in-class presentation.
Applied Science & Engineering, Faculty of
Chemical Engineering and Applied Chemistry (FASE), Department of
St. George
0.5
Winter
industr
SDG9
X
CHE471H1
Modelling in Biological and Chemical Systems
This course outlines the methodology for the modelling of biological systems and its applications. Topics will include a review of physical laws, selection of balance space, compartmental versus distributed models, and applications of the conservation laws for both discrete and continuous systems at the level of algebraic and ordinary differential equations. The course covers a wide range of applications including environmental issues, chemical and biochemical processes and biomedical systems.
Applied Science & Engineering, Faculty of
Chemical Engineering and Applied Chemistry (FASE), Department of
St. George
0.5
Winter
conserv, environment
SDG13, SDG14, SDG15
X
X
X
CHE475H1
Biocomposites: Mechanics and Bioinspiration
An overview on structure, processing and application of natural and biological materials, biomaterials for biomedical applications, and fibre-reinforced eco-composites based on renewable resources will be provided. Fundamental principles related to linear elasticity, linear viscoelasticity, dynamic mechanical response, composite reinforcement mechanics, and time-temperature correspondence will be introduced. Novel concepts in comparative biomechanics, biomimetic and bio-inspired material design, and materials' ecological and environmental impact will be discussed. In addition, key material processing methods and testing and characterization techniques will be presented. Structure-property relationships for materials broadly ranging from natural materials, including wood, bone, cell, and soft tissue, to synthetic composite materials for industrial and biomedical applications will be covered.
Applied Science & Engineering, Faculty of
Chemical Engineering and Applied Chemistry (FASE), Department of
St. George
0.5
Winter
ecolog, environment, industr, renewabl
SDG7, SDG9, SDG13, SDG15
X
X
X
X
CHE488H1
Entrepreneurship and Business for Engineers
A complete introduction to small business formation, management and wealth creation. Topics include: the nature of the Entrepreneur and the Canadian business environment; business idea search and Business Plan construction; Buying a business, franchising, taking over a family business; Market research and sources of data; Marketing strategies promotion, pricing, advertising, electronic channels and costing; The sales process and management, distribution channels and global marketing; Accounting, financing and analysis, sources of funding, and financial controls; The people dimension: management styles, recruiting and hiring, legal issues in employment and Human Resources; Legal forms of organization and business formation, taxation, intellectual property protection; the e-Business world and how businesses participate; Managing the business: location and equipping the business, suppliers and purchasing, credit, ethical dealing; Exiting the business and succession, selling out. A full Business Plan will be developed by each student and the top submissions will be entered into a Business Plan competition with significant cash prices for the winners. Examples will be drawn from real business situations including practicing entrepreneurs making presentations and class visits during the term. (Identical courses are offered: ECE488H1, MIE488H1, MSE488H1 and CIV488H1.) *Complementary Studies Elective
Applied Science & Engineering, Faculty of
Chemical Engineering and Applied Chemistry (FASE), Department of
St. George
0.5
Winter
environment, taxation, employment
SDG8, SDG10, SDG13
X
X
X
CHE561H1
Risk Based Safety Management
This course provides an introduction to Process Safety Management. The historical drivers to improve safety performance are reviewed and the difference between safety management and occupational health and safety is discussed. National and international standards for PSM are reviewed. Risk analysis is introduced along with techniques for process hazard analysis and quantification. Consequence and frequency modelling is introduced. Rsik based decision making is introduced, and the course concludes with a discussio of the key management systems required for a successful PSM system.
Applied Science & Engineering, Faculty of
Chemical Engineering and Applied Chemistry (FASE), Department of
St. George
0.5
Winter
health
SDG3
X
CHE562H1
Applied Chemistry IV - Applied Polymer Chemistry, Science and Engineering
This course serves as an introduction to concepts in polymer chemistry, polymer science and polymer engineering. This includes a discussion of the mechanisms of step growth, chain growth and ring-opening polymerizations with a focus on industrially relevant polymers and processes. The description of polymers in solution as well as the solid state will be explored. Several modern polymer characterization techniques are introduced including gel permeation chromatography, differential scanning calorimetry, thermal gravimetric analysis and others.
Applied Science & Engineering, Faculty of
Chemical Engineering and Applied Chemistry (FASE), Department of
St. George
0.5
Fall
industr
SDG9
X
CHE565H1
Aqueous Process Engineering
Application of aqueous chemical processing to mineral, environmental and industrial engineering. The course involves an introduction to the theory of electrolyte solutions, mineral-water interfaces, dissolution and crystallization processes, metal ion separations, and electrochemical processes in aqueous reactive systems. Applications and practice of (1) metal recovery from primary (i.e. ores) and secondary (i.e. recycled) sources by hydrometallurgical means, (2) treatment of aqueous waste streams for environmental protection, and (3) production of high-value-added inorganic materials.
Applied Science & Engineering, Faculty of
Chemical Engineering and Applied Chemistry (FASE), Department of
St. George
0.5
Fall
environment, recycl, waste, production, industr, water
SDG6, SDG9, SDG12, SDG13, SDG14
X
X
X
X
X
CHE566H1
Elements of Nuclear Engineering
A first course in nuclear engineering intended to introduce students to all aspects of this interdisciplinary field. Topics covered include nuclear technology, atomic and nuclear physics, thermonuclear fusion, nuclear fission, nuclear reactor theory, nuclear power plants, radiation protection and shielding, environment and nuclear safety, and the nuclear fuel cycle.
Applied Science & Engineering, Faculty of
Chemical Engineering and Applied Chemistry (FASE), Department of
St. George
0.5
Fall
environment
SDG13
X
CHE568H1
Nuclear Engineering
Fundamental and applied aspects of nuclear engineering. The structure of the nucleus; nuclear stability and radioactive decay; the interaction of radiation with matter including radiological health hazards; the interaction of neutrons including cross-sections, flux, moderation, fission, neutron diffusion and criticality. Poison buildup and their effects on criticality. Nuclear engineering of reactors, reactor accidents, and safety issues.
Applied Science & Engineering, Faculty of
Chemical Engineering and Applied Chemistry (FASE), Department of
St. George
0.5
Winter
health
SDG3
X
CHI409H5
Influence of Confucianism on Chinese Culture
This advanced level course discusses the cultural influence of Confucianism on Chinese writing, philosophy, religion, education, literature, customs, ethics, society and so forth. The readings covered in this course are mainly in modern Chinese language. Critical reading and essay writing skills will be stressed. [36L]
University of Toronto Mississauga
Language Studies (UTM), Department of
Mississauga
0.5
Winter, Fall
educat
SDG4
X
CHM101H5
The Science of Human Health
This course is intended for humanities and social science students who wish to gain knowledge of the science behind our well-being that may help them to make personal, social and political decisions in their future. Chemistry will be taught on a need-to-know basis in order to consider some contemporary applications. The course will focus on three themes in the realm of human health: nutrition for the prevention of disease, diagnostic tests for the detection of disease and drug discovery for the treatment of disease. Among the questions that may be addressed are "What is the nutritional difference between vitamins from foods and those from supplements?", "Should ketchup be considered a vegetable?", "How do diagnostic strips work?", "What advances in microfluidics have provided inexpensive diagnostics for use in remote areas?", "How are drug targets identified?", and "What is the path from drug discovery to bringing a drug to market?". The roles of nutritional, analytical and medicinal chemistry in these processes will be studied. (Please note the course exclusion: Students are ineligible to register for this course if they have taken any previous or current CHM/JCP course).
University of Toronto Mississauga
Chemical and Physical Sciences (UTM), Department of
Mississauga
0.5
Winter
well-being, health, nutrition, food
SDG2, SDG3
X
X
CHM197H1
Environmental Chemistry in a Sustainable World
Rapid and widespread industrialization is changing the chemical nature of the planet. In order to have a sustainable future, we need to manage chemicals released by humankind, and to understand their effects on the environment and on us. Each year, this seminar course will address the fundamental science behind a specific topic in this field, such as the interactions of our energy choices and the environment, changes in water and air quality, or exposure to biologically-active synthetic chemicals such as pharmaceuticals or personal care products. Restricted to first-year students. Not eligible for CR/NCR option.
Arts and Science, Faculty of
Chemistry (FAS), Department of
St. George
0.5
Fall
environment, industr, energy, water
SDG6, SDG7, SDG9, SDG13, SDG14
X
X
X
X
X
CHM198H1
Biosensor Technology and Applications for the Non-Scientist
This breadth course introduces uses of and key ideas behind biosensor technology. Sensors will be familiar to all, playing key roles in our everyday lives, for example in touch screens or in automotive technology. Biosensor devices are fabricated from an electrical transducer which is intimately connected to a biochemical probe such as an enzyme or antibody. The idea is that a detectable electrical signal can be obtained when a target molecule or ion binds to the probe. Such a device offers many applications. These range from the detection of biological markers in blood and serum to test for genetic and infectious disease, to the selective monitoring of biomolecules for public safety, or in biotechnology or other industrial processes. Restricted to first-year students. Not eligible for CR/NCR option.
Arts and Science, Faculty of
Chemistry (FAS), Department of
St. George
0.5
Winter
industr
SDG9
X
CHM209H1
Science of the Modern Kitchen
The properties of different food types will be discussed, as well as how they can be manipulated in the kitchen to transform taste and texture. Concepts will be considered through the lens of the scientific method, and many of the ingredients and practices of modernist cuisine will be examined. This course is intended for students with no science background.
Arts and Science, Faculty of
Chemistry (FAS), Department of
St. George
0.5
Winter
food
SDG2
X
CHM210H1
Chemistry of Environmental Change
Examines the fundamental chemical processes of the Earth's natural environment, and changes induced by human activity. Topics related to the atmosphere: urban air pollution, stratospheric ozone depletion, acid rain, climate change; the hydrosphere: water resources and pollution, wastewater analysis; biogeochemistry and inorganic metals in the environment.
Arts and Science, Faculty of
Chemistry (FAS), Department of
St. George
0.5
Fall
pollut, environment, climate, waste, urban, water
SDG6, SDG11, SDG12, SDG13, SDG14, SDG15
X
X
X
X
X
X
CHM217H1
Introduction to Analytical Chemistry
Introduction to the science of chemical measurement, from sampling through analysis to the interpretation of results, including how water, food products, pharmaceuticals, and dietary supplements are analysed for content, quality, and potential contaminants. Also how to interpret experimental measurements, compare results and procedures, and calibrate analytical instrumentation. Through closely integrated lectures, laboratories, and tutorials, this highly practical course introduces a variety of analytical techniques including volumetric methods, potentiometry, uv/visible and infrared spectrophotometry, flame atomic absorption spectrometry, and chromatography. Additional information can be found at http://www.chem.utoronto.ca/coursenotes/CHM217/. (Lab Materials Fee: $25).
Arts and Science, Faculty of
Chemistry (FAS), Department of
St. George
0.5
Fall
labor, water, food
SDG2, SDG6
X
X
CHM249H1
Organic Chemistry
An introductory course in organic chemistry, based around the themes of structure, bonding, reaction mechanism and synthesis. Reactions are discussed with a view to understanding mechanism and how they are useful in the multi-step synthesis of medicinally and industrially important compounds. An introduction to the spectroscopy of organic molecules is also given, as well as discussion of topics relating to the biological behaviour of organic molecules and medicinal chemistry. Students are also introduced to green chemistry approaches from an experimental perspective. This course continues from CHM151Y1 or CHM138H1 and is designed for students enrolled in any chemistry specialist or major program. This course is highly recommended for students in the Biological Chemistry Specialist program. (Lab Materials Fee: $25).
Arts and Science, Faculty of
Chemistry (FAS), Department of
St. George
0.5
Winter
industr
SDG9
X
CHM310H1
Environmental Fate and Toxicity of Organic Contaminants
Organic chemical contaminants surround us in our everyday lives (e.g. in medications, personal care products, flame retardants, refrigerants) and because of this, they are present in the environment and in ourselves. In this course we will explore the fate of chemicals in the environment as a whole, as well as in the body, to understand how chemicals can be designed to mitigate the risks associated with their use and unintended release. Specific topics will include environmental partitioning; environmentally-relevant transformation processes; the chemistry and effects of redox-active species; and the toxicity/detoxification of electrophilic species in the body.
Arts and Science, Faculty of
Chemistry (FAS), Department of
St. George
0.5
Winter
environment
SDG13
X
CHM317H1
Introduction to Instrumental Methods of Analysis
Scope of instrumental analytical chemistry; Fourier transform IR absorption spectroscopy; molecular luminescence; emission spectroscopy; mass spectrometry; sensors; gas and high performance liquid chromatography; instrument design principles and applications in industry and the environment. (Lab Materials Fee: $25).
Arts and Science, Faculty of
Chemistry (FAS), Department of
St. George
0.5
Winter
environment, industr
SDG9, SDG13
X
X
CHM331H5
Inorganic Chemistry II: Advanced Inorganic Chemistry
Chemistry of metallic elements. Organometallics. Main group and transition elements. Rings, cages and clusters. Lanthanides and Actinides. Applications of IR, UV-VIS and multinuclear NMR spectroscopy. Symmetry. Inorganic synthesis. Non-aqueous solvents. Structure and bonding. Catalysis and industrial processes. [36L]
University of Toronto Mississauga
Chemical and Physical Sciences (UTM), Department of
Mississauga
0.5
Winter
industr
SDG9
X
CHM410H1
Analytical Environmental Chemistry
An analytical theory, instrumental, and methodology course focused on the measurement of pollutants in soil, water, air, and biological tissues and the determination of physical/chemical properties including vapour pressure, degradation rates, partitioning. Lab experiments involve application of theory. (Lab Materials Fee: $25).
Arts and Science, Faculty of
Chemistry (FAS), Department of
St. George
0.5
Fall
pollut, environment, water
SDG6, SDG13, SDG14, SDG15
X
X
X
X
CHM415H1
Topics in Atmospheric Chemistry
This course builds upon the introductory understanding of atmospheric chemistry provided in CHM210H1. In particular, modern research topics in the field are discussed, such as aerosol chemistry and formation mechanisms, tropospheric organic chemistry, the chemistry of climate including cloud formation and geoengineering, biosphere-atmosphere interactions, the chemistry of remote environments. Reading is from the scientific literature; class discussion is emphasized.
Arts and Science, Faculty of
Chemistry (FAS), Department of
St. George
0.5
Winter
environment, climate
SDG13
X
CHM416H1
Separation Science
This course provides theoretical and practical background useful for engaging in cutting-edge chemical separations in chemistry, biology, medicine, engineering, research, and industry. The course covers general separations concepts and principles, with an emphasis on liquid chromatography and its various modes, including partition chromatography, ion chromatography, enantiomer chromatography, size exclusion chromatography, and affinity chromatography. Other topics include materials and instrumentation, gas chromatography, supercritical fluid chromatography, electrophoresis and related techniques, and a host of miscellaneous separation (e.g., TLC, FFF, CF) and extraction (e.g., LLE, SPE, SPME) modalities. Classes are supplemented with online/virtual laboratory exercises.
Arts and Science, Faculty of
Chemistry (FAS), Department of
St. George
0.5
Fall
industr, labor
SDG9
X
CHM416H5
Separations, Chromatography and Microfluidics
Separation science will be explored by building on a survey of fundamental physical principles to understand processes of extraction, and technologies such as solid phase microextraction, supercritical fluid extraction, immunoaffinity extraction and molecularly imprinted polymers. Plate and rate theory will be developed to consider various forms of gas and liquid chromatographic methods, including hyphenated techniques that bridge to information detectors such as mass spectrometers. New opportunities for chromatography and separations by movement to small scale size will be considered by focusing on microfluidics, electro-osmotic flow and chip based microdevice applications. Applications examples will focus on problems in life sciences, forensics and environmental chemistry. Course work will include independent literature reviews and student presentations.
University of Toronto Mississauga
Chemical and Physical Sciences (UTM), Department of
Mississauga
0.5
Winter
environment
SDG13
X
CHM432H1
Organometallic Chemistry and Catalysis
Structure, bonding, and reactions of organometallic compounds, with emphasis on basic mechanisms, and industrial processes. Addition, metalation, elimination, important catalytic cycles, electrophilic, and nucleophilic reactions are considered on a mechanistic basis. Topics on modern organometallic chemistry and catalysis are covered.
Arts and Science, Faculty of
Chemistry (FAS), Department of
St. George
0.5
Fall
industr
SDG9
X
CHM458H1
Soft Materials for Life, Energy, and the Environment
In the framework of a dry lab, students will analyze and interpret characterization data, extending their existing knowledge of chemical fundamentals and experimental techniques to polymeric systems. Through a combination of lectures, dynamic group collaborations, and self-paced assignments, students will actively engage with peers to understand course materials (including published literature), explore how polymer innovations are commercialized, and develop a toolkit for leveraging instrumentation to investigate hypotheses in research.
Arts and Science, Faculty of
Chemistry (FAS), Department of
St. George
0.5
Winter
environment, innovat, labor, energy
SDG9
X
CHMB55H3
Environmental Chemistry
An investigation of aspects of chemical substances and processes as they occur in the environment, including both naturally occurring and synthetic chemicals.
This course will include an introduction to atmospheric chemistry, aqueous chemistry, some agricultural and industrial chemistry, and chemical analysis of contaminants and pollutants.
University of Toronto Scarborough
Physical & Environmental Sciences (UTSC), Department of
Scarborough
0.5
Winter
pollut, environment, industr, agricultur
SDG2, SDG9, SDG13, SDG14, SDG15
X
X
X
X
X
CHMD16H3
Environmental and Analytical Chemistry
Students will learn about analytical techniques used in environmental chemistry, including: gas and liquid chromatography, mass spectrometry, atomic absorption, and ultraviolet-visible spectroscopy. Environmental sampling and ecotoxicology will also be covered. Students will carry out laboratory analyses and receive hands-on training with analytical instrumentation commonly used in environmental chemistry.
University of Toronto Scarborough
Physical & Environmental Sciences (UTSC), Department of
Scarborough
0.5
Winter
environment, labor
SDG13
X
CHMD47H3
Advanced Bio-Organic Chemistry
This course will teach biochemical reactions in the context of Organic Chemistry. This course will build on topics from CHMC47H3. Application of enzymes in organic synthesis, chemical synthesis of complex carbohydrates and proteins, enzyme catalyzed proton transfer reactions and co-enzymes will be discussed in depth with recent literature examples. Experiential learning is an integral part of this course. Students will explore the applications of Bio-Organic Chemistry in healthcare and industrial settings as part of an experiential learning project
University of Toronto Scarborough
Physical & Environmental Sciences (UTSC), Department of
Scarborough
0.5
Winter
industr, health
SDG3, SDG9
X
X
CHMD89H3
Introduction to Green Chemistry
The 'twelve principles' of green chemistry will be discussed in the context of developing new processes and reactions (or modifying old ones) to benefit society while minimizing their environmental impact. Examples will be taken from the recent literature as well as from industrial case studies.
University of Toronto Scarborough
Physical & Environmental Sciences (UTSC), Department of
Scarborough
0.5
Fall
environment, industr
SDG9, SDG13
X
X
CIN201Y1
Film Cultures I: Art and Industry
Examines the practices, theories, and debates surrounding the emergence of cinema through to the development of studio system filmmaking in the first half of the 20th Century. Topics include: film's relation to the other arts, formalist and realist traditions, technological innovations, audiences and reception, and cultural industries.
Arts and Science, Faculty of
Cinema Studies Institute (FAS)
St. George
1.0
Fall/Winter
industr, innovat
SDG9
X
CIN215H5
Bollywood in Context
India has arguably the most popular and prolific film industry in the world. This course contextualizes the relatively recent 'Bollywood' phenomenon within the history of Indian commercial cinema and key aspects of modern Indian culture, emphasizing the popular cinema's role in constructing historically changing ideas of national and gendered identity. It also challenges the assumptions of film theories developed in relation to Hollywood or European cinema by introducing film theory concepts that address South Asian image-cultures (such as darshan, frontality, melodrama, and interruption). [24L, 12T, 36P]
University of Toronto Mississauga
Visual Studies (UTM), Department of
Mississauga
0.5
Winter
industr, gender
SDG5, SDG9
X
X
CIN322H1
Cult Cinema
This course examines "cult" and "exploitation" cinema. It examines the growing popularity of cult/exploitation films as an emerging cinematic subculture that valorizes disreputable or "trash" cinema. A number of sub-genres within exploitation film, including teen films, educational/instructional films, sexploitation, and Blaxploitation, will be explored. The social politics of appropriating texts through ironic reading strategies will also be considered.
Arts and Science, Faculty of
Cinema Studies Institute (FAS)
NULL
0.5
Fall
educat
SDG4
X
CIN337H1
Black Cinema
This course explores the cultural, aesthetic, technological, and political category of "Black cinema." Across the diaspora, Black cinema is an artistic praxis that utilizes techniques like improvisation and collaboration in order to make and remake the cinematic archive. The films and filmmakers in this category intervene in cinematic histories by responding to exclusionary narratives, technologies, and critical discourse by imagining alternative stories, spaces, and temporalities. Thus, these films help articulate both the pervasiveness of anti-blackness in our visual culture and help us understand the difference (film) aesthetics can make (Chun, 2019). Our goal is to 1) develop a critical language to discuss Black cinema (its techniques, its aims, and its political contexts) and 2) articulate research questions, methods, and arguments that consider what is happening inside and outside the frame in these films.
Arts and Science, Faculty of
Cinema Studies Institute (FAS)
St. George
0.5
Fall
labor
SDG16
X
CIN403H5
Queerscapes, Screenscapes, Escapes: Gender and Sexuality Across East and Southeast Asian Cinemas
Queerness is not yet here. José Esteban Muñoz begins Cruising Utopia with the provocation that queerness is a mode of desire that allows for an escape from the conditions of the present. How does queer studies contribute to the building of and the continued hope for a more just world? Through cinema, theory, and philosophy, this course makes the claim that investigating queerness in the world marks a critical move away from restrictive modes of identification and holds open life's horizons of possibility. Course texts emphasize queer cinemas of Asia and their transnational connections. 24S, 24P
University of Toronto Mississauga
Visual Studies (UTM), Department of
Mississauga
0.5
Winter
queer, gender
SDG5
X
CITA01H3
Foundations of City Studies
A review of the major characteristics and interpretations of cities, urban processes and urban change as a foundation for the Program in City Studies. Ideas from disciplines including Anthropology, Economics, Geography, Planning, Political Science and Sociology, are examined as ways of understanding cities.
University of Toronto Scarborough
Human Geography (UTSC), Department of
Scarborough
0.5
Fall
urban, cities
SDG11
X
CITB01H3
Canadian Cities and Planning
After reviewing the history of urban and regional planning in Canada, this course considers alternative ideologies, models of public choice, the role of the planner, the instruments of planning, tools for the analysis of planning, and planning in the context of the space economy.
University of Toronto Scarborough
Human Geography (UTSC), Department of
Scarborough
0.5
Winter
urban, cities
SDG11
X
CITB03H3
Social Planning and Community Development
This course provides an overview of the history, theory, and politics of community development and social planning as an important dimension of contemporary urban development and change.
University of Toronto Scarborough
Human Geography (UTSC), Department of
Scarborough
0.5
Winter
urban
SDG11
X
CITB04H3
City Politics
This course is the foundations course for the city governance concentration in the City Studies program, and provides an introduction to the study of urban politics with particular emphasis on different theoretical and methodological approaches to understanding urban decision-making, power, and conflict.
University of Toronto Scarborough
Human Geography (UTSC), Department of
Scarborough
0.5
Fall
governance, urban
SDG11, SDG16
X
X
CITB08H3
Economy of Cities
An introduction to economic analysis of cities, topics include: theories of urban economic growth; the economics of land use, urban structure, and zoning; the economics of environments, transportation, and sustainability; public finance, cost-benefit analysis, the provision of municipal goods and services, and the new institutional economics.
University of Toronto Scarborough
Human Geography (UTSC), Department of
Scarborough
0.5
Fall
institut, land use, environment, urban, cities, economic growth
SDG8, SDG11, SDG13, SDG15, SDG16
X
X
X
X
X
CITC01H3
Urban Communities and Neighbourhoods Case Study: East Scarborough
This course engages students in a case study of some of the issues facing urban communities and neighbourhoods today. Students will develop both community-based and academic research skills by conducting research projects in co-operation with local residents and businesses, non-profit organizations, and government actors and agencies.
University of Toronto Scarborough
Human Geography (UTSC), Department of
Scarborough
0.5
Winter
urban
SDG11
X
CITC02H3
Placements in Community Development
With a focus on building knowledge and skills in community development, civic engagement, and community action, students will 'learn by doing' through weekly community-based placements with community organizations in East Scarborough and participatory discussion and written reflections during class time. The course will explore topics such as community-engaged learning, social justice, equity and inclusion in communities, praxis epistemology, community development theory and practice, and community-based planning and organizing. Students will be expected to dedicate 3-4 hours per week to their placement time in addition to the weekly class time. Community-based placements will be organized and allocated by the course instructor.
University of Toronto Scarborough
Human Geography (UTSC), Department of
Scarborough
0.5
Winter
justice
SDG16
X
CITC03H3
Real Estate and the City
Operation of property markets; cities as markets in land and structures; stocks of property and flows of accommodation service; location of industry, offices and retailing within the city; rental and owner-occupied housing; depreciation and maintenance; cyclical behaviour in metropolitan property markets; impacts of local government; property taxation.
University of Toronto Scarborough
Human Geography (UTSC), Department of
Scarborough
0.5
Winter
cities, taxation, industr
SDG9, SDG10, SDG11
X
X
X
CITC07H3
Urban Social Policy
In recent years social policy has been rediscovered as a key component of urban governance. This course examines the last half-century of evolving approaches to social policy and urban inequality, with particular emphasis on the Canadian urban experience. Major issues examined are poverty, social exclusion, labour market changes, housing, immigration and settlement.
University of Toronto Scarborough
Human Geography (UTSC), Department of
Scarborough
0.5
Fall
governance, urban, inequality, labour, equality, poverty
SDG1, SDG5, SDG8, SDG10, SDG11, SDG16
X
X
X
X
X
X
CITC09H3
Introduction to Planning History: Toronto and Its Region
An introduction to the study of the history of urban planning with particular emphasis on the investigation of the planning ideas, and the plans, that have shaped Toronto and its surrounding region through the twentieth century. The course will consider international developments in planning thought together with their application to Toronto and region.
University of Toronto Scarborough
Human Geography (UTSC), Department of
Scarborough
0.5
Fall
urban
SDG11
X
CITC12H3
City Structures and City Choices: Local Government, Management, and Policymaking
This course examines the structure of local government, how local Government is managed, how policy decisions are made. Viewing Canadian cities in comparative perspective, topics include the organization and authority of the mayor, council, civic bureaucracy, and special-purpose bodies, and their roles in the making and implementation of public policies; ethical and conflict-of-interest dilemmas; collective bargaining; and provincial oversight of municipal affairs.
University of Toronto Scarborough
Human Geography (UTSC), Department of
Scarborough
0.5
Winter
cities
SDG11
X
CITC14H3
Environmental Planning
This course introduces students to questions of urban ecology and environmental planning, and examines how sustainability and environmental concerns can be integrated into urban planning processes and practices.
University of Toronto Scarborough
Human Geography (UTSC), Department of
Scarborough
0.5
Winter
ecolog, environment, urban
SDG11, SDG13, SDG15
X
X
X
CITC15H3
Taxing and Spending: Public Finance in Canadian Cities
The course examines Canadian local public finance in comparative perspective and discusses the implications of municipal finance for urban public policy, planning, and the provision of municipal services. Topics include local government revenue sources and expenditures, the politics of municipal budgeting and intergovernmental fiscal relations, and how public finance influences urban form.
University of Toronto Scarborough
Human Geography (UTSC), Department of
Scarborough
0.5
Winter
urban, cities
SDG11
X
CITC18H3
Urban Transportation Policy Analysis
Demand forecasting; methodology of policy analysis; impacts on land values, urban form and commuting; congestion; transit management; regulation and deregulation; environmental impacts and safety.
University of Toronto Scarborough
Human Geography (UTSC), Department of
Scarborough
0.5
Fall
environment, urban
SDG11, SDG13
X
X
CITD12H3
Planning and Building Public Spaces in Toronto
This course is designed to develop career-related skills such as policy-oriented research analysis, report writing, and presentation and networking skills through experiential learning approaches. The policy focus each year will be on a major current Toronto planning policy issue, from 'Complete Streets' to improvements to parks and public space infrastructure, to public transit-related investments. Students work closely in the course with planners and policymakers from the City of Toronto, policy advocates, and community organizers.
University of Toronto Scarborough
Human Geography (UTSC), Department of
Scarborough
0.5
Fall
infrastructure
SDG9
X
CIV102H1
Structures and Materials - An Introduction to Engineering Design
An introduction to the art and science of designing structures. Topics include: 1) material bodies that sustain or resist force, work, energy, stress and strain; 2) the properties of engineering materials (strength, stiffness, ductility); 3) simple structural elements; 4) engineering beam theory; 5) stability of columns; 6) the practical problems which constrain the design of structures such as bridges, towers, pressure vessels, dams, ships, aircraft, bicycles, birds and trees; and 7) design methods aimed at producing safe, functional, efficient and elegant structures.
Applied Science & Engineering, Faculty of
Engineering Science (FASE), Division of
St. George
0.5
Fall
energy
SDG11
X
CIV185H1
Earth Systems Science
This course introduces students to the basic earth sciences with an emphasis on understanding the impact of humans on the natural earth systems. Beginning with a study of the lithosphere, principles of physical geology will be examined including the evolution and internal structure of the earth, dynamic processes that affect the earth, formation of minerals and rocks and soil, ore bodies and fossil- energy sources. Next, the biosphere will be studied, including the basic concepts of ecology including systems ecology and biogeochemical cycles. The influence of humans and the built environment on these natural systems will also be examined with a view to identifying more sustainable engineering practices. Finally, students will study the oceans and the atmosphere and the physical, chemical and thermodynamic processes involved in climate change.
Applied Science & Engineering, Faculty of
NULL
St. George
0.5
Winter
ecolog, ocean, environment, climate, energy
SDG7, SDG13, SDG14, SDG15
X
X
X
X
CIV201H1
Introduction to Civil Engineering
A field-based course introducing students to current and historical civil engineering works in the urban and natural environments, highlighting the role of the Civil Engineer in developing sustainable solutions. It will run the Tuesday through Thursday immediately following Labour Day, with follow-up assignments coordinated with the course CIV282 Engineering Communications I. Students must have their own personal protective equipment (PPE). One night will be spent at the University of Toronto Survey Camp near Minden, Ontario.
Applied Science & Engineering, Faculty of
Civil and Mineral Engineering (FASE), Department of
St. George
0.2
Fall
environment, urban, labour
SDG8, SDG11, SDG13
X
X
X
CIV220H1
Urban Engineering Ecology
Core Course in the Environmental Engineering Minor Basic concepts of ecology within the context of urban environments. Response of organisms, populations, dynamic predator-prey and competition processes, and ecosystems to human activities. Thermodynamic basis for food chains, energy flow, biodiversity and ecosystem stability. Biogeochemical cycles, habitat fragmentation and bioaccumulation. Introduction to industrial ecology and life cycle assessment principles. Urban metabolism and material flow analysis of cities. Response of receiving waters to pollution and introduction to waste water treatment. Emphasis is on identifying the environment/engineering interface and minimizing environmental impacts.
Applied Science & Engineering, Faculty of
Civil and Mineral Engineering (FASE), Department of
St. George
0.5
Fall
biodivers, pollut, environment, industrial ecology, waste, urban, cities, industr, energy, water, food
SDG2, SDG6, SDG7, SDG9, SDG11, SDG12, SDG13, SDG14, SDG15
X
X
X
X
X
X
X
X
X
CIV250H1
Hydraulics and Hydrology
The hydrologic processes of precipitation and snowmelt, evapotranspiration, ground water movement, and surface and subsurface runoff are examined. Water resources sustainability issues are discussed, including water usage and water shortages, climate change impacts, land use impacts, and source water protection. Conceptual models of the hydrologic cycle and basics of hydrologic modelling are developed, including precipitation estimation, infiltration and abstraction models, runoff hydrographs, the unit hydrograph method and the Rational method. Methods for statistical analysis of hydrologic data, concepts of risk and design, and hydrological consequences of climate change for design are introduced. Principles of open channel hydraulics are introduced. Energy and momentum principles are studied with application to channel transitions, critical flow, choked flow, and hydraulic jumps.
Applied Science & Engineering, Faculty of
Civil and Mineral Engineering (FASE), Department of
St. George
0.5
Winter
land use, climate, energy, water
SDG6, SDG7, SDG13, SDG14, SDG15
X
X
X
X
X
CIV280H1
Management of Construction
An introduction to the management of construction projects including: the nature of the industry, project delivery alternatives, legal and ethical considerations, the Safety Act and construction regulations, labour relations, construction contracts, risk distribution, project planning and scheduling, estimating and bidding, controlling of time, cost and quality, accounting leading to financial statements, dispute resolution, as well as new and evolving concepts in managing construction.
Applied Science & Engineering, Faculty of
Civil and Mineral Engineering (FASE), Department of
St. George
0.5
Fall
industr, labour
SDG8, SDG9
X
X
CIV300H1
Terrestrial Energy Systems
Core Course in the Sustainable Energy Minor Various earth systems for energy transformation, storage and transport are explored. Geological, hydrological, biological, cosmological and oceanographic energy systems are considered in the context of the Earth as a dynamic system, including the variation of solar energy received by the planet and the redistribution of this energy through various radiative, latent and sensible heat transfer mechanisms. It considers the energy redistribution role of large scale atmospheric systems, of warm and cold ocean currents, the role of the polar regions, and the functioning of various hydrological systems. The contribution and influence of tectonic systems on the surface systems is briefly introduced, as well the important role of energy storage processes in physical and biological systems, including the accumulation of fossil fuel reserves.
Applied Science & Engineering, Faculty of
Civil and Mineral Engineering (FASE), Department of
St. George
0.5
Winter, Fall
ocean, solar, energy
SDG7, SDG14
X
X
CIV331H1
Transport I - Introduction to Urban Transportation Systems
This course introduces the fundamentals of transportation systems and the application of engineering, mathematical and economic concepts and principles to address a variety of transportation issues in Canada. Several major aspects of transportation engineering will be addressed, including transportation planning, public transit, traffic engineering, geometric design, pavement design and the economic, social and environmental impacts of transportation. The course focuses on urban transportation engineering problems.
Applied Science & Engineering, Faculty of
Civil and Mineral Engineering (FASE), Department of
St. George
0.5
Fall
environment, urban
SDG11, SDG13
X
X
CIV340H1
Municipal Engineering
Municipal service systems for water supply and wastewater disposal, land development, population forecasting, and demand analysis. Water supply: source development, transmission, storage, pumping, and distribution networks. Sewerage and drainage, sewer and culvert hydraulics, collection networks, and storm water management. Maintenance and rehabilitation of water and wastewater systems, and optimization of network design. Design projects.
Applied Science & Engineering, Faculty of
Civil and Mineral Engineering (FASE), Department of
St. George
0.5
Winter
waste, water
SDG6, SDG12, SDG14
X
X
X
CIV342H1
Water and Wastewater Treatment Processes
Principles involved in the design and operation of water and wastewater treatment facilities are covered, including physical, chemical and biological unit operations, advanced treatment and sludge processing.
Applied Science & Engineering, Faculty of
Civil and Mineral Engineering (FASE), Department of
St. George
0.5
Fall
waste, water
SDG6, SDG12, SDG14
X
X
X
CIV375H1
Building Science
The fundamentals of the science of heat transfer, moisture diffusion, and air movement are presented. Using these fundamentals, the principles of more sustainable building enclosure design, including the design of walls and roofs are examined. Selected case studies together with laboratory investigations are used to illustrate how the required indoor temperature and moisture conditions can be maintained using more durable and more sustainable designs.
Applied Science & Engineering, Faculty of
Civil and Mineral Engineering (FASE), Department of
St. George
0.5
Fall
sustainable design, labor
SDG8, SDG12
X
X
CIV380H1
Sustainable Energy Systems
This course will provide students with knowledge of energy demand and supply from local to national scales. Topics include energy demands throughout the economy, major energy technologies, how these technologies work, how they are evaluated quantitatively, their economics and their impacts on the environment. In addition, the ever changing context in which these technologies (and emerging technologies) are being implemented will be outlined. Systems approaches including life cycle assessment, will be refined and applied to evaluate energy systems. A particular focus will be placed on analysis of energy alternatives within a carbon constrained economy.
Applied Science & Engineering, Faculty of
Civil and Mineral Engineering (FASE), Department of
St. George
0.5
Winter
environment, energy
SDG7, SDG13
X
X
CIV401H1
Design and Optimization of Hydro and Wind Electric Plants
The application of turbo-machinery including the design and operation of typical wind and hydroelectric plants from first principles to the various types of turbo-machines choices. Fundamental fluid mechanics equations, efficiency coefficients, momentum exchanges, characteristic curves, similarity laws, specific speed, vibration, cavitation of hydraulic turbines, pump/turbines; variable speed machines including transients and hydraulic stability. An introduction to overall system configuration and both component and system optimization. Case studies.
Applied Science & Engineering, Faculty of
Civil and Mineral Engineering (FASE), Department of
St. George
0.5
Fall
hydroelectric, wind
SDG7
X
CIV420H1
Construction Engineering
This course considers the engineering aspects of construction including earthmoving, equipment productivity, fleet balancing, formwork design, shoring, hoisting, aggregate production, equipment operating costs, and modular construction. Several construction projects will be reviewed to demonstrate methods and processes. Students will be expected to visit construction sites, so safety boots and hard hats are required.
Applied Science & Engineering, Faculty of
Civil and Mineral Engineering (FASE), Department of
St. George
0.5
Fall
production
SDG12
X
CIV440H1
Environmental Impact and Risk Assessment
Core Course in the Environmental Engineering Minor. The process and techniques for assessing and managing the impacts on and risks to humans and the ecosystem associated with engineered facilities, processes and products. Both biophysical and social impacts are addressed. Topics include: environmental assessment processes; environmental legislation; techniques for assessing impacts; engineering risk analysis; health risk assessment; risk management and communication; social impact assessment; cumulative impacts; environmental management systems; the process of considering alternative methods for preventing and controlling impacts; and stakeholder involvement and public participation. Examples are drawn from various engineering activities and facilities such as energy production, chemical production, treatment plants, highways and landfills.
Applied Science & Engineering, Faculty of
Civil and Mineral Engineering (FASE), Department of
St. George
0.5
Winter
environment, production, energy, health
SDG3, SDG7, SDG12, SDG13
X
X
X
X
CIV460H1
Engineering Project Finance and Management
This course deals with the structuring, valuing, managing and financing of infrastructure projects. The financing portion builds on material covered in Engineering Economics. Key topics include; structuring projects, valuing projects, the rationale for project financing (types of funds and financing), project viability and financial modeling, risk analysis, externalities and social cost benefit analyses. Financing of large scale projects by the public and private sectors as well as through public/private partnerships is treated in detail. Project management concepts, issues, and procedures are introduced. A series of case studies analyzing both successful and unsuccessful projects are examined.
Applied Science & Engineering, Faculty of
Engineering Science (FASE), Division of
St. George
0.5
Fall
infrastructure
SDG9
X
CIV514H1
Concrete Technology
Material aspects of concrete production will be dealt with in the context of various performance criteria with emphasis on durability. The process of material selection, proportioning, mixing, transporting, placing and curing concrete will be the framework within which topics such as: the use of admixtures, choice of cements, environmental influences, methods of consolidation and testing techniques will be studied.
Applied Science & Engineering, Faculty of
Civil and Mineral Engineering (FASE), Department of
St. George
0.5
Fall
environment, production
SDG12, SDG13
X
X
CIV515H1
Introduction to Structural Dynamics
The concept of dynamic equilibrium and corresponding equation of motion will be introduced. The theoretical solution of a songle degree of freedom system will be derived and the effects of verious types of loads, such as impulse load, sinusoidal load, or random vibration on the structural response will be discussed. To solve dynamic problems of multi-degree of freedom (MDOF) systems, concepts of mass, stiffness, and damping matrix will be introduced, which will be followed by eigen value analysis and modal analysis. The concepts of Fourier Transformation will be introduced, which will be used to interpret dynamic responses of structures or dynamic nature of applied loads. Dynamic experiments of elastic systems will be demonstrated using an educational shaking table.
Applied Science & Engineering, Faculty of
Civil and Mineral Engineering (FASE), Department of
St. George
0.5
Fall
educat
SDG4
X
CIV516H1
Public Transit Operations and Planning
This course covers a broad range of topics in urban transit operations and planning, with special emphasis on best-practice strategies of modern transit systems. The course will help students: Learn the history of transit and its relationship to urban development, emerging challenges, transit role in society, and new trends and issues; Understand and analyze the factors that affect transit performance and demand; Identify and analyze transit operational and planning problems; Identify possible solutions at the operational level (mostly short-term and line-based) and the strategic level (mostly long-term and network-based), and assess alternative solutions; Understand the relative performance of various transit modes (both conventional and new modes) and their domains of application; and gain knowledge of best-practice transit systems planning and emerging innovations.
Applied Science & Engineering, Faculty of
Civil and Mineral Engineering (FASE), Department of
St. George
0.5
Winter
urban, innovat
SDG9, SDG11
X
X
CIV531H1
Transport Planning
This course is intended to provide the student with the following: the ability to design and execute an urban transportation planning study; a working knowledge of transportation planning analysis skills including introductions to travel demand modelling, analysis of environmental impacts, modelling transportation - land use interactions and transportation project evaluation; an understanding of current transportation planning issues and policies; and an understanding of the overall process of transportation planning and its role within the wider context of transportation decision-making and the planning and design of urban areas. Person-based travel in urban regions is the focus of this course, but a brief introduction to freight and intercity passenger transportation is also provided. A "systems" approach to transportation planning and analysis is introduced and maintained throughout the course. Emphasis is placed throughout on designing transportation systems for long-run environmental, social, and economic sustainability.
Applied Science & Engineering, Faculty of
Civil and Mineral Engineering (FASE), Department of
St. George
0.5
Fall
land use, environment, urban
SDG11, SDG13, SDG15
X
X
X
CIV541H1
Environmental Biotechnology
Principles involved in the design and operation of biologically-based treatment facilities are covered with considerations for energy efficiency and sustainability. The course includes water / wastewater biological unit operations, advanced treatment, sludge processing and composting, natural treatment systems and specialized bioengineered systems such as groundwater remediation and biological air treatment.
Applied Science & Engineering, Faculty of
Civil and Mineral Engineering (FASE), Department of
St. George
0.5
Fall
environment, waste, energy, water
SDG6, SDG7, SDG12, SDG13, SDG14
X
X
X
X
X
CIV549H1
Groundwater Flow and Contamination
Mechanics of saturated and unsaturated fluid flow in porous media. Confined and unconfined flow. Flow to wells. Analytical and numerical solutions of groundwater flow equations. Non-reactive and reactive contaminant transport on groundwater systems. Analytical and numerical solutions of contaminant transport equations. Flow and solute transport in fractured porous media. Assessment of environmental impacts of waste disposal operations. Remediation of contaminated groundwater.
Applied Science & Engineering, Faculty of
Civil and Mineral Engineering (FASE), Department of
St. George
0.5
Fall
environment, waste, water
SDG6, SDG12, SDG13, SDG14
X
X
X
X
CIV550H1
Water Resources Engineering
Global and national water problems, law and legislation. Hydraulic structures. Reservoir analysis. Urban drainage and runoff control: meteorologic data analysis, deterministic and stochastic modelling techniques. Flood control: structural and nonstructural alternatives. Power generation: hydro and thermal power generation. Low flow augmentation. Economics and decision making.
Applied Science & Engineering, Faculty of
Civil and Mineral Engineering (FASE), Department of
St. George
0.5
Fall
urban, water
SDG6, SDG11, SDG14
X
X
X
CIV575H1
Studies in Building Science
This course examines the basic principles governing the control of heat, moisture and air movement in buildings and presents the fundamentals of building enclosure design. With this background, students are required to research advanced topics related to emerging areas of Building Science, and to write and present to the class an individual comprehensive paper related to their research. Lectures for this course will be jointly offered with those of CIV375H1.
Applied Science & Engineering, Faculty of
Civil and Mineral Engineering (FASE), Department of
St. George
0.5
Fall
buildings
SDG9
X
CIV576H1
Sustainable Buildings
Building systems including the thermal envelope, heating and cooling systems, as well as water and lighting systems are examined with a view to reducing the net energy consumed within the building. Life-cycle economic and assessment methods are applied to the evaluation of various design options including considerations of embodied energy and carbon sequestration. Green building strategies including natural ventilation, passive solar, photovoltaics, solar water heaters, green roofs and geothermal energy piles are introduced. Following the application of these methods, students are introduced to efficient designs including LEED designs that lessen the impact of buildings on the environment. Exemplary building designs will be presented and analyzed.
Applied Science & Engineering, Faculty of
NULL
St. George
0.5
Winter
environment, consum, buildings, geothermal, solar, energy, water
SDG6, SDG7, SDG9, SDG12, SDG13, SDG14
X
X
X
X
X
X
CIV577H1
Infrastructure for Sustainable Cities
Developing infrastructure for sustainable cities entails understanding the connection between urban morphology and physiology. This course uses a systems approach to analyzing anthropogenic material flow and other components of urban metabolism, linking them to the design of urban infrastructure. Elements of sustainable transportation, green buildings, urban climatology, urban vegetation, water systems and local energy supply are integrated in the design of sustainable urban neighbourhoods.
Applied Science & Engineering, Faculty of
Civil and Mineral Engineering (FASE), Department of
St. George
0.5
Winter
urban, cities, buildings, infrastructure, energy, water
SDG6, SDG7, SDG9, SDG11, SDG14
X
X
X
X
X
CIV578H1
Design of Building Enclosures
A brief summary of the science involved in controlling heat, moisture and air movement in buildings is presented at the outset of the course. With this background, methods of designing enclosures for cold, mixed, and hot climates are examined. Design principles related to the design of walls, windows and roofs are presented and applied. In particular, topics related to the control of rain penetration, air movement, and interstitial condensation are studied in detail. Emphasis is placed on developing designs based on fundamentals which can be verified with computer modelling solutions.
Applied Science & Engineering, Faculty of
Civil and Mineral Engineering (FASE), Department of
St. George
0.5
Fall
climate, buildings, wind
SDG7, SDG9, SDG13
X
X
X
CIV580H1
Engineering and Management of Large Projects
This technical elective course will investigate the role of stakeholders in major civil engineering projects; the complexities of managing project stages, multiple stakeholders, and technical challenges, and, social and environmental factors.Each week includes a different speaker who can address issues related to technical, social, and environmental challenges in the project and how they were overcome.
Applied Science & Engineering, Faculty of
Civil and Mineral Engineering (FASE), Department of
St. George
0.5
Winter
environment
SDG13
X
CLA219H1
Women in Antiquity
A survey of the position of women in ancient Greece and Rome, with focus on women's sexuality and socialization; their economic, religious, and political roles; and their creative production in the arts.
Arts and Science, Faculty of
Classics (FAS), Department of
St. George
0.5
Fall
production, women
SDG5
X
CLA233H5
Introduction to Roman Culture & Society
An introduction to the cultural and social history of ancient Rome and those living in the Roman world. Topics may vary from year to year but include daily life and demography, the Roman family, gender and sexuality, the Roman political system and the army, religion, Roman entertainments (the circus, gladiatorial games, the theatre), and Latin literature. [24L, 12T]
University of Toronto Mississauga
Historical Studies (UTM), Department of
Mississauga
0.5
Fall
gender
SDG5
X
CLA319H5
Women and Gender in Antiquity
A study of gender in the ancient Mediterranean, with a focus on female and male sexuality and socialization; their economic, religious, and political roles; and aspects of daily life. [24L]
University of Toronto Mississauga
Historical Studies (UTM), Department of
Mississauga
0.5
Fall
women, gender
SDG5
X
CLA365H5
Trade in the Ancient Mediterranean
This course explores questions of trade and exchange in the ancient Mediterranean. A close study of ancient primary material examines aspects of the ancient economy, trade goods, ships and shipwrecks, ports and harbours, and cross-cultural interaction. [24L]
University of Toronto Mississauga
Historical Studies (UTM), Department of
Mississauga
0.5
Fall
trade
SDG10
X
CLAA04H3
The Ancient Mediterranean World
An introduction to the main features of the ancient civilizations of the Mediterranean world from the development of agriculture to the spread of Islam. Long term socio-economic and cultural continuities and ruptures will be underlined, while a certain attention will be dedicated to evidences and disciplinary issues.
Same as HISA07H3
University of Toronto Scarborough
Historical & Cultural Studies (UTSC), Department of
Scarborough
0.5
Fall
agricultur, socio-economic
SDG1, SDG2
X
X
CLAC02H3
Selected Topics in Classical Civilization
A detailed study of a theme in Classical Civilization.
Topics will vary from session to session and may be drawn from such areas as the archaeological history of the Roman world, Greek and Roman religion, ancient education or Roman law.
University of Toronto Scarborough
Historical & Cultural Studies (UTSC), Department of
Scarborough
0.5
Fall
educat
SDG4
X
CME259H1
Technology in Society and the Biosphere I
Humanities and Social Science Elective
This course teaches future engineers to look beyond their specialized domains of expertise in order to understand how technology functions within human life, society and the biosphere. By providing this context for design and decision-making, students will be enabled to do more than achieve the desired results by also preventing or significantly reducing undesired consequences. A more preventively-oriented mode of practicing engineering will be developed in four areas of application: materials and production, energy, work and cities. The emphasis within these topics will reflect the interests of the class.
Applied Science & Engineering, Faculty of
Civil and Mineral Engineering (FASE), Department of
St. George
0.5
Winter
production, cities, energy
SDG7, SDG11, SDG12
X
X
X
CME358H1
Survey CAMP (Civil and Mineral Practicals)
This two-week August field camp provides students with the opportunity to further their understanding of the vital interactions between the natural and the built environments. Through fieldwork, students gain hands-on experience in the use of various field instruments used by Civil and Mineral Engineers. The essentials of land surveying and the use of surveying instruments including Global Positioning Systems are taught as students carry out a series of field exercises that include route surveys, topographic surveys and construction surveys. Survey calculations, sources of error, corrections and adjustments are also introduced. In order to better understand our impact on the natural environment, students also perform several additional exercises. These may include the measurement of river flows, remote sensing of soil and rock, remediation of a borrow pit, and the evaluation of the renewable energy potential of the wind and solar radiation. Note: This course requires payment of an extra fee for room and board.
Applied Science & Engineering, Faculty of
Civil and Mineral Engineering (FASE), Department of
St. George
0.5
Fall
environment, solar, wind, renewabl, energy
SDG7, SDG13
X
X
CME368H1
Engineering Economics and Decision Making
The incorporation of economic and non-monetary considerations for making decision about public and private sector engineering systems in urban and other contexts. Topics include rational decision making; cost concepts; time value of money and engineering economics; microeconomic concepts; treatment of risk and uncertainty; and public project evaluation techniques incorporating social and environmental impacts including benefit cost analysis and multi-objective analysis.
Applied Science & Engineering, Faculty of
Civil and Mineral Engineering (FASE), Department of
St. George
0.5
Fall
environment, urban
SDG11, SDG13
X
X
CME500H1
Fundamentals of Acid Rock Drainage
Geochemistry of acid rock / acid mine drainage (ARD/AMD) which covers the role of bacteria in generating this global mining pollution issue and how mines currently treat and attempt to prevent it. An introduction to the underlying chemical reactions involved, the role of microbes in these processes and the mitigation and treatment strategies currently available.* Course offering pending Faculty Council approval for 2018-19 academic year.
Applied Science & Engineering, Faculty of
Civil and Mineral Engineering (FASE), Department of
St. George
0.5
Winter
pollut
SDG14, SDG15
X
X
CME525H1
Tunneling and Urban Excavation
Introduces fundamental concepts of underground tunneling and its impact on surrounding urban environment. Topics: role of geology on the choice of tunneling methodology; classical and mechanized tunneling excavation methods; interaction between tunnel and surrounding structures; tunnel support methodologies; innovation and current research in tunneling and underground construction.
Applied Science & Engineering, Faculty of
Civil and Mineral Engineering (FASE), Department of
St. George
0.5
Fall
environment, urban, innovat
SDG9, SDG11, SDG13
X
X
X
COPB52H3
Managing Your Job Search and Transition to Work
This course will draw on students job search experience. Students will learn how to effectively and professionally navigate challenging situations while job searching and on work term. Drawing upon the job search knowledge and tool kit created in COPB50H2 and COPB51H3, this course is designed to provide students who are competing for a first Co'Äêop work term with resources and support necessary to meet their goal of securing a work term. During this semester, Co-op students are applying to job postings on CSM and attending interviews until they secure a work term. This course also provides students with job search trends, job search support and feedback, interview coaching, and peer activities. The course is a combination of in'Äêclass, group activities, and one'Äêon'Äêone appointments. Topical information and insights about the labour market and Co'Äêop employers are also provided.


University of Toronto Scarborough
NULL
Scarborough
0.0
Winter
labour
SDG8
X
CPS401Y5
Research and Development in Science Education
This course is intended for students in a CPS or Environmental Science Major or Specialist program. It provides an experiential learning opportunity with secondary school students and teachers. Students will research the literature of science pedagogy and acquire pedagogical content knowledge, particularly that of problem-based learning and the use of case studies. Then, through the creation of original, problem-based learning materials for Grades 11 and 12 classes and the preparation of teachers' notes for these materials, they will enhance their subject specialization knowledge. They will then assist a teacher in implementing their materials in a school or, where the materials involve experiments, in the field or in the UTM teaching laboratories. The course is normally taken in the student's fourth year. Enrollment requires submitting an application to the CPS Department in the spring term, with the application due date being the final day of classes. Independent Studies Application Forms may be found at http://uoft.me/cpsforms. Applications should be submitted to the CPS Undergraduate Assistant. Registration on ACORN is also required.
University of Toronto Mississauga
Chemical and Physical Sciences (UTM), Department of
Mississauga
1.0
Fall/Winter
environment, labor, educat
SDG4
X
CRE209H1
How Stories Work
Stories give shape and substance to the things we believe in, from scientific theories and sacred texts to literary tales and philosophical propositions. They perpetuate ideals and identities, and sustain institutions and communities. This course will take up a set of texts from the arts, sciences, religions and several other storytelling traditions, ancient and modern, considering their claims to authority and making connections between them.
Arts and Science, Faculty of
NULL
St. George
0.5
Fall
institut
SDG16
X
CRE235H1
Innovation in Society
This course investigates the history and contemporaneity of innovation as a response to social, scientific, and environmental challenges. Students will acquire key frameworks for understanding the workings of innovation, the place of creativity, and the social impacts of new and disrupted organizations. Through historicizing key moments of innovation (from the Gutenberg printing press to today's healthcare discoveries) and considering related issues (including intellectual property and sustainability) students will develop approaches to understanding the past, present, and future of creative disruption.
Arts and Science, Faculty of
NULL
St. George
0.5
Fall
environment, innovat, health
SDG3, SDG9, SDG13
X
X
X
CRE271H1
Reading the Wild
In light of the environmental crisis, this seminar surveys a wide range of oral and written literature in order to discover how our approach to nature has changed over the centuries, what gains and losses have attended modernity, and what older cultures can teach us as we seek to preserve threatened ecosystems.
Arts and Science, Faculty of
NULL
St. George
0.5
Winter
environment
SDG13
X
CRE281H1
Popular Music, Technology, and the Human
This course explores ways in which popular music, sound and sound technologies have influenced our understanding of the recent human condition. Drawing on a variety of theoretical perspectives, we consider the musical uses of technology as both a material culture and a set of distinctly innovative practices that can create powerful transformations of consciousness, meaning and value.
Arts and Science, Faculty of
NULL
St. George
0.5
Winter
innovat
SDG9
X
CRE335H1
Ethical Enterprise and Critical Reflection
The course explores what change we hope to produce through a wide range of new enterprises. The main goal is to develop critical perspectives on enterprises in the widest sense, including start-up companies, non-profits, arts institutions, community outreach organizations, and social activism. What would make these changes ethical? When we evaluate the endeavours, how can we compare economic benefits, social disruption, questions of exclusion and diversity, sustainability in several senses, and the processes of change themselves? Where are the limits of social responsibility in entrepreneurial creativity?
Arts and Science, Faculty of
NULL
St. George
0.5
Winter
institut
SDG16
X
CRE371H1
Documenting Reality
This seminar course explores methods of capturing, representing, and constructing reality through documentary media. Emphases will include opportunities and challenges brought by technical developments in the digital era, and the history and evolution of documentary work in print and/or photography. Students consider methods and innovations of major practitioners; ethical issues such as privacy, subjectivity, and objectivity; and partisanship and the effects of artificial intelligence and other automatic tools.
Arts and Science, Faculty of
NULL
St. George
0.5
Winter
innovat
SDG9
X
CRE374H1
Cultural Encounters: Identity and Transformation in the Arts
This course focuses on specific scenes of cultural cross-pollination and on how these encounters are reflected in the arts. Areas of investigation might include the Harlem Renaissance, French Surrealism in the Caribbean, Bollywood / Hollywood, Indigenous Hip-Hop, or contemporary Toronto as a convergence of creative energy. How have artists from marginalized communities taken up and adapted modes of expression for their own creative purposes? How can new forms of artistic representation contest and undermine systemic social and political inequalities? This course focuses on liberating aesthetic innovations that respond to historically embedded cultural encounters.
Arts and Science, Faculty of
NULL
St. George
0.5
Winter
innovat, energy
SDG16
X
CRI210H1
Criminal Justice
An introduction to the Canadian criminal justice system. The institutions established by government to respond to crime and control it; how they operate, and the larger function they serve; including the role of the police, the trial process, courts and juries, sentencing, imprisonment and community corrections.
Arts and Science, Faculty of
Criminology and Sociolegal Studies (FAS), Centre for
St. George
0.5
Winter
justice, institut
SDG16
X
CRI215H1
Introduction to Sociolegal Studies
The course covers several major issues that will help prepare students for advanced courses in the criminology major: the meaning of law, the production of laws and legal institutions, law in action, comparative legal traditions, and the methodology of sociolegal studies.
Arts and Science, Faculty of
Criminology and Sociolegal Studies (FAS), Centre for
St. George
0.5
Fall
institut, production
SDG16
X
CRI322H1
Inequality and Criminal Justice
This course examines the intersections between social inequality and the criminal justice system in Canada and internationally. The course explores how factors such as race, ethnicity, gender, sexual orientation and religion influence perceptions of and experiences with crime and criminal justice.
Arts and Science, Faculty of
Criminology and Sociolegal Studies (FAS), Centre for
St. George
0.5
Winter
justice, inequality, equality, gender
SDG5, SDG10, SDG16
X
X
X
CRI364H1
Indigenous Peoples & Criminal Justice
An introduction to issues affecting Indigenous peoples in the Canadian criminal justice system identified by Indigenous scholars, activists and allies. Topics include: effects of colonization, legal discrimination and disenfranchisement, Treaties and land claims, criminalization, Indigenous activism, and the Truth and Reconciliation Commission.
Arts and Science, Faculty of
Criminology and Sociolegal Studies (FAS), Centre for
St. George
0.5
Fall
justice
SDG16
X
CRI365H1
Crime and Mind
Legal, psychological and sociological understandings of issues in the criminal justice system, through a consideration of topics including: criminal intent, the Not Criminally Responsible on Account of Mental Disorder defence, the use of battered woman syndrome as part of a self-defence, infanticide, issues of transcultural psychiatry, and jury screening for bias.
Arts and Science, Faculty of
Criminology and Sociolegal Studies (FAS), Centre for
St. George
0.5
Fall
justice
SDG16
X
CRI370H1
Youth Justice
The course will examine what is known about offending by youths and the various purposes that have been attributed to youth justice systems. The course will focus, in large part, however, on the nature of the laws and youth justice systems that have been designed in Canada and elsewhere to respond to offending by youths.
Arts and Science, Faculty of
Criminology and Sociolegal Studies (FAS), Centre for
St. George
0.5
Winter
justice
SDG16
X
CRI380H1
Crime, Gender and Sex
Theory, research and policy related to the ways in which gender shapes criminal behaviour, the administration of criminal justice, and the criminal law. How notions of different types of masculinity and femininity are embedded in and influence both the operation of the criminal justice system as well as criminal behaviours. The regulation of gender and sexuality through the criminal law and through crime.
Arts and Science, Faculty of
Criminology and Sociolegal Studies (FAS), Centre for
St. George
0.5
Winter
justice, gender
SDG5, SDG16
X
X
CRI383H1
Immigration, Ethnicity and Crime
The connection between immigration and crime, the effect of immigration on crime rates, discrimination against immigrants, the representation of immigrants in crime statistics, public perception of risk and security, and criminal justice policy changes which affect immigration. We consider research conducted in North America and Europe.
Arts and Science, Faculty of
Criminology and Sociolegal Studies (FAS), Centre for
St. George
0.5
Fall
justice
SDG16
X
CRI385H1
Representing Crime and Authority
Cultural constructions of crime, disorder, dangerousness and risk are integral parts of the criminal justice system. A critical analysis of how criminal justice personnel, the media, and academic criminologists construct their authority through symbols and images, in order to "explain" and manage crime, and how these representations are regarded in public discourse.
Arts and Science, Faculty of
Criminology and Sociolegal Studies (FAS), Centre for
St. George
0.5
Winter
justice
SDG16
X
CRI386H1
Origins of Criminal Justice
Criminal justice practice, as well as political debate concerning crime and criminal justice, are often influenced by ideas that are initially developed outside the criminal justice arena. This course examines the history, current influence and efficacy of a range of such ideas, such as: the role of religious practice in rehabilitating offenders; military service and participation in sports as preventive of delinquency; the influence of environmental pollution on crime rates; the concept of the 'problem family'; intelligence based policing and the use of management theories in criminal justice organizations. Note: The course may include an optional Service Learning component. If offered, additional information will be provided in the Faculty of Arts and Science's timetable.
Arts and Science, Faculty of
Criminology and Sociolegal Studies (FAS), Centre for
St. George
0.5
Winter
justice, pollut, environment
SDG13, SDG14, SDG15, SDG16
X
X
X
X
CRI428H1
Neighbourhoods and Crime
An advanced seminar exploring the connection between neighbourhoods and the perpetuation of poverty, social marginalization, segregation and crime.
The course may include an optional Service Learning component. Check the timetable for details.
Arts and Science, Faculty of
Criminology and Sociolegal Studies (FAS), Centre for
St. George
0.5
Winter
poverty
SDG1
X
CRI431H1
Mental Health, Morality & Legal Controls
A critical exploration of contemporary debates in criminology, and legal and moral philosophy concerning the diagnostic and criminal justice labeling of mental disorders such as psychopathy and paedophilia, and their representation in popular culture.
Arts and Science, Faculty of
Criminology and Sociolegal Studies (FAS), Centre for
St. George
0.5
Fall
justice, health
SDG3, SDG16
X
X
CRTC72H3
Art, the Museum, and the Gallery
Art and the settings in which it is seen in cities today. Some mandatory classes to be held in Toronto museums and galleries, giving direct insight into current exhibition practices and their effects on viewer's experiences of art; students must be prepared to attend these classes.
Same as VPHC72H3
University of Toronto Scarborough
Arts, Culture & Media (UTSC), Department of
Scarborough
0.5
Winter
cities
SDG11
X
CSB199H1
Biotechnology and Society
From the manipulation of genes of plants for improved food production through to human tissue engineering and stem cell research, biotechnology is increasingly playing a major role in our world. Society, however, is often challenged by the rapid advances in our knowledge in these areas, and how to best apply these technologies in a manner that is socially responsible and economically viable. In this seminar course, students will research and describe various applications of biotechnology using information obtained from reputable sources, and lead discussions on the benefits and concerns that arise from this research. Restricted to first-year students. Not eligible for CR/NCR option.
Arts and Science, Faculty of
Cell and Systems Biology (FAS), Department of
St. George
0.5
Fall
production, food
SDG2, SDG12
X
X
CSB202H1
Further Exploration in Biotechnology
Provides non-science students with an additional opportunity to explore biotechnology and its applications in agriculture, the environment, and human health including: genetically modified organisms, drug discovery and aging. Most lectures are viewed online before class and students work in groups during class on problem sets and case studies designed to stimulate further learning, enhance evidence-based reasoning, and promote reflection on the role of biotechnology in society. This course does not count towards CSB programs. CSB201H1 is not a prerequisite for this course.
Arts and Science, Faculty of
Cell and Systems Biology (FAS), Department of
St. George
0.5
Winter
environment, health, agricultur
SDG2, SDG3, SDG13
X
X
X
CSB451H1
Seminar in Plant Cell Biology
Plants represent roughly 80% of the biomass on our planet and are essential primary producers in our ecosystems. At the cellular level, plants display some fascinating differences from other eukaryotic cells, including fragmentation of the secretory pathway, dramatic changes to cytoskeleton organization, and other adaptations to life as a pressurized cell. This course will examine and discuss examples from the primary scientific literature that highlight these distinct features of plant cells by contrasting them to animal cells. We will also discuss how these discoveries can contribute to addressing global challenges, such as developing innovative biomaterials, enhancing food security and cultivating renewable biofuels.
Arts and Science, Faculty of
Cell and Systems Biology (FAS), Department of
St. George
0.5
Winter
innovat, renewabl, food
SDG2, SDG7, SDG9
X
X
X
CSB452H1
Molecular Interactions Between Plants, Microorganisms and Parasitic Plants
This course explores the strategies that plants have evolved to defend themselves against microbes and parasitic plants. The course consists of two sections: 1. Plant - pathogenic microbe interactions and 2. Plant - plant parasite interactions. The first section focuses on an in-depth discussion about on-going research of plant immunity against pathogenic microbes. The second section introduces plant - parasitic plant relationships with an emphasis on signalling pathways that underlie these interactions and discusses how basic knowledge of the lifestyle of parasitic plants could contribute to agricultural solutions in the developing world.
Arts and Science, Faculty of
Cell and Systems Biology (FAS), Department of
St. George
0.5
Fall
agricultur
SDG2
X
CSB459H1
Plant Molecular Biology and Biotechnology
This course introduces students to major features of gene expression and signal transduction in plants. Topics include strategies for generating transgenic plants and regulating gene expression, as well as the importance of signal transduction in plant growth and survival. How plants sense and respond at the molecular level to environmental stresses such as drought, salinity, cold and disease will be discussed. The application of this basic scientific information in biotechnological strategies for improving agronomic traits will also be addressed.
Arts and Science, Faculty of
Cell and Systems Biology (FAS), Department of
St. George
0.5
Fall
environment
SDG15
X
CSB460H1
Plant Signal Transduction
Plant development, ecological adaptation and crop plant productivity depend on the sophisticated potential of plants to sense and compute signals to regulate their responses. An arsenal of genetic and genomic tools is employed to elucidate these plant signal transduction pathways. Examples from the original literature will be used to introduce general concepts of plant signal transduction, molecular biology and genomics and their application in understanding and influencing plant growth and development.
Arts and Science, Faculty of
Cell and Systems Biology (FAS), Department of
St. George
0.5
Fall
ecolog
SDG15
X
CSC197H1
What, Who, How: Privacy in the Age of Big Data Collection
The rapid advance of technology has brought remarkable changes to how we conduct our daily lives, from how we communicate, consume news and data, and purchase goods. As we increase our online activity, so too do we increase the amount of personal data that we're sharing, often without realizing it. The questions of exactly what data is being collected, who is collecting and accessing this data, and how this data is being used, have significant implications for both individuals and our larger social and political institutions. Organized by a wide variety of case studies drawn from current events, we'll study how personal data can be collected and tracked, how personal and social factors may influence our own decisions about whether and how much to share our data, and what broader political and legal tools are used to either protect or subvert individual privacy. Restricted to first-year students. Not eligible for CR/NCR option.
Arts and Science, Faculty of
Computer Science (FAS), Department of
St. George
0.5
Fall
institut, consum
SDG12, SDG16
X
X
CSC199H1
Intelligence, Artificial and Human
What is human intelligence? How close are we to replicating it? How productive/reductive is the brain-computer analogy? What ethical challenges are posed by AI on workers, society, and the environment? Can we put a hold on "progress"? Is Silicon Valley the seat of a new techno-religion? What can they teach us about today's research priorities? What insight (or inspiration) can we get from works of science fiction about the future of human-AI interaction? Through reading discussion, written assignment, and workshops, this seminar will present students with the opportunity to integrate their computer science interests with philosophy, history, and literature. There is an equivalent course offered by St. Michael's College. Students may take one or the other but not both. Restricted to first-year students. Not eligible for CR/NCR option.
Arts and Science, Faculty of
Computer Science (FAS), Department of
St. George
0.5
Fall
environment, worker
SDG8, SDG13
X
X
CSC300H1
Computers and Society
This course offers a concise introduction to ethics in computing, distilled from the ethical and social discussions carried on by today's academic and popular commentators. This course covers a wide range of topics within this area including the philosophical framework for analyzing computer ethics; the impact of computer technology on security, privacy and intellectual property, digital divide, and gender and racial discrimination; the ethical tensions with Artificial Intelligence around future of work and humanity, the emerging role of online social media over voice, inclusion, and democracy; and the environmental consequences of computing.
Arts and Science, Faculty of
Computer Science (FAS), Department of
St. George
0.5
Winter
environment, gender
SDG5, SDG13, SDG16
X
X
X
CSC318H1
The Design of Interactive Computational Media
User-centred design of interactive systems; methodologies, principles, and metaphors; task analysis. Interdisciplinary design; the role of graphic design, industrial design, and the behavioural sciences. Interactive hardware and software; concepts from computer graphics. Typography, layout, colour, sound, video, gesture, and usability enhancements. Classes of interactive graphical media; direct manipulation systems, extensible systems, rapid prototyping tools. Students work on projects in interdisciplinary teams.
Arts and Science, Faculty of
Computer Science (FAS), Department of
St. George
0.5
Winter
industr
SDG9
X
CSC427H5
Computer Security
Network attacks and defenses, operating system vulnerabilities, application security (e-mail, Web, databases), viruses, spyware, social engineering attacks, privacy and digital rights management. The course will cover both attack techniques and defense mechanisms.
University of Toronto Mississauga
Mathematical and Computational Sciences (UTM), Department of
Mississauga
0.5
Winter
rights
SDG16
X
CSC454H1
The Business of Software
Designed and delivered by industry experts in successful commercialization of tech startups, this course focuses on the development of a viable business and startup in partnership and mentorship from industry businesses and entrepreneurs. The course is designed to be taken by students from any faculty or discipline. It focuses on helping them understand and develop business sense, introduce modern customer development, and teach skills in product development, financial management, marketing, and leadership. Alongside the software engineering abilities of CSC491H1 teammates, skills learned in CSC454H1 will aid the development of a viable startup. For more details visit our website at https://www.dcsil.ca/student-courses. Not eligible for CR/NCR option.
Arts and Science, Faculty of
Computer Science (FAS), Department of
St. George
0.5
Winter, Fall
industr
SDG9
X
CSC491H1
Capstone Design Project
This course is designed and delivered by industry experts from the Software/Tech fields. Students will work with teammates from CSC454H1 to develop a marketable startup on a selected theme. The class will be small and highly interactive. You will work to develop working software industry best practices. You are expected to have experience writing software and be able to learn on the go. For more details, visit our website at https://www.dcsil.ca/student-courses. Contact the Computer Science Undergraduate Office for course enrollment procedures. Not eligible for CR/NCR option.
Arts and Science, Faculty of
Computer Science (FAS), Department of
St. George
0.5
Winter, Fall
industr
SDG9
X
CSCD54H3
Technology Innovation and Entrepreneurship
This course examines high-Tech innovation and entrepreneurship, principles of operation of successful high-tech enterprises, customer identification and validation, product development, business models, lean startup techniques, and financing of high-technology ventures. Students will work in teams to develop their own innovative product idea, and will produce a sound business plan to support their product.
University of Toronto Scarborough
Computer & Mathematical Sciences (UTSC), Department of
Scarborough
0.5
Fall
innovat
SDG9
X
CSCD90H3
The Startup Sandbox
In this capstone course, students will work in teams to develop a viable product prototype following the methodologies and techniques covered in CSCD54H3. Students will produce written reports, short videos pitching their idea, and a final presentation showcasing their proposed innovation, as it would be pitched to potential investors. The course instructor and TAs will provide close supervision and mentorship throughout the project.
University of Toronto Scarborough
Computer & Mathematical Sciences (UTSC), Department of
Scarborough
0.5
Fall
innovat
SDG9
X
CSE240H1
Introduction to Critical Equity and Solidarity Studies
An interdisciplinary intersectional interrogation and examination of systemic inequity and social justice in local and global contexts. Provides a foundation for the field of critical equity and solidarity studies through a concentrated focus on theory and practice as it relates to major concepts, historical perspectives, key debates and radical grassroots community resistance to inequity. Introduces and foregrounds the concept of critical equity as both a theoretical framework and as a lived contestation of the structural nature and effects of systemic inequity.
Arts and Science, Faculty of
NULL
St. George
0.5
Fall
justice
SDG16
X
CSE241Y1
Introduction to Critical Disability Studies
Draws on an intersectional history and politics of normativity and bodily difference to understand disability as a diverse and materially salient social category that can be used as a lens to better understand systems and experiences of colonization, race, class, gender, age, etc. Explores scenes of disability or 'crip' solidarity, resistance and cultural production, disability D/deaf and mad arts, coalitional movements for disability justice, collective approaches to access and other non-normative ways of knowing and being.
Arts and Science, Faculty of
NULL
St. George
1.0
Fall/Winter
justice, production, gender
SDG5, SDG16
X
X
CSE270H1
Community (dis)Engagement and Solidarity
An introduction to issues and questions arising from the field of 'community engagement'. Explores the meaning, practices and implications of/for 'community' and 'community (dis)engagement' from multiple perspectives (e.g. the State and its agencies, institutional power, colonial discourse, communities of embodied difference, etc.) Takes a multi-media and arts-based approach to examining self-care from an anti-colonial perspective of central importance in the practice and pedagogy of critical equity and solidarity in the collective struggle for freedom and transformation.
Arts and Science, Faculty of
NULL
St. George
0.5
Winter
institut
SDG16
X
CSE341H1
Theorizing Settler Colonialism, Capitalism and Race
Provides students with a theoretical background for understanding settler colonialism, capitalist social relations and difference (including race, class, gender, disability and sexuality) and solidarity. Provides an analysis of state violence and the formation of hegemonic power relations. Introduces students to the method of thinking dialectically to examine the social world as a set of relations between multiple phenomena occurring at the same time. Articulates an emancipatory politics of knowledge production and strategies of building solidarities to enable the imagination of a different future.
Arts and Science, Faculty of
NULL
St. George
0.5
Winter
production, gender
SDG5
X
CSE342H1
Theory and Praxis in Food Security
Explores the concept of food security in the context of equity issues related to global food systems. Students participate in food-related field work activities outside of regular classroom time.
Arts and Science, Faculty of
NULL
St. George
0.5
Winter
food
SDG2
X
CSE344Y1
Body Matters: Oppression, Solidarity and Justice
Through lectures, small-group discussions and experiential activities, explores how intersecting cultural stories impact our bodies and how stories inscribed upon us shape and constrain our relations, perceptions, experiences and vulnerabilities as embodied subjects. Draws on work in cultural studies, critical race and decolonial theory, gender studies, queer, trans and disability theory and fat studies to ask: Whose bodies matter? How do bodies come to matter? And, how are we - as embodied beings - engaged in acts of rewriting, resisting and otherwise transforming the body means and what it can do?
Arts and Science, Faculty of
NULL
St. George
1.0
Fall/Winter
justice, queer, gender
SDG5, SDG16
X
X
CSE345H1
Equity and Activism in Education
Examines contemporary issues in education and schooling from a social justice and equity perspective. Engages with a variety of theoretical frameworks including anti-homophobia education, critical pedagogy, critical race theory, decolonizing knowledges, and intersectionality. Includes an overview of educational activist projects.
Arts and Science, Faculty of
NULL
St. George
0.5
Fall
justice, educat
SDG4, SDG16
X
X
CSE442H1
Food Systems and the Politics of Resistance
Examines the food we eat in the local and global context of food systems, food sovereignty and food movements. Explores the possibilities for food as a catalyst for learning, resistance and social change. Consult the Program Office for course enrolment procedures. Note: This is a joint graduate/undergraduate course.
Arts and Science, Faculty of
NULL
St. George
0.5
Winter
food
SDG2
X
CSE448H1
Disability and the Child
Examines a range of historical and present-day meanings associated with the figure of the disabled child. Draws on work emanating from a variety of disciplines, including history, psychology, neuroscience, visual arts, film and literature, and engaging with critical theories of race, class, gender, sexuality and disability, to discuss ideas and issues relevant to the construction of 21st century disabled childhoods. Counters the near monolithic story of disability as threat to the presumed goodness of normative childhood by asking: what alternate depictions and narratives of disabled childhood exist and what can they teach us?
Arts and Science, Faculty of
NULL
St. George
0.5
Fall
gender
SDG5
X
CSE449H1
Contemporary Theories in Critical Disability Studies
Explores competing conceptions, definitions and practices of disability through a range of critical disability theories, including crip-of-colour critique, decolonial theories of disability studies and black feminist disability frameworks. Enacts disability studies as a justice-oriented methodology or practice that has value for understanding and responding to colonial systems of race, class, gender and disability. Interrogates the shape and limits of disability and disability studies to ask the provocative question: what can disability studies do?
Arts and Science, Faculty of
NULL
St. George
0.5
Winter
justice, gender
SDG5, SDG16
X
X
DRM224H1
Robots, Automata, and Avatars
Across centuries and global traditions, theatre has staged imaginations - and real demonstrations - of mechanical humans and other animals. This course introduces students to a wide range of technological performers, from science-fiction drama to drone ballets, from baroque automata to virtual puppeteering. Special attention will be paid to how these figures both construct and dismantle concepts of race, gender, and the human. Hands-on sessions will introduce students to the problems such performers present in the studio.
Arts and Science, Faculty of
Drama, Theatre and Performance Studies (FAS), Centre for
St. George
0.5
Fall
gender
SDG5
X
DRM363H1
Story-ing the Possible: Talking Treaties, Rehearsing (Re) conciliation
This half course offers a comprehensive examination of Indigenous history in the territories (now called Canada), Treaty Relationships, and Indigenous-Settler Relationships, as they have shifted and evolved since first contact. Students will enter into conversation with this history and the contemporary issues confronting all Canadians today through the writings of Indigenous playwrights, oral history keepers, academic historians, and Indigenous theorists.
Arts and Science, Faculty of
Drama, Theatre and Performance Studies (FAS), Centre for
St. George
0.5
Winter
rights
SDG16
X
DRM424H1
Projects in Digital Performance
This course introduces students to independent research-creation in the field of contemporary digital performance. Readings and invited guests will expose students to innovative practices in theatres and online platforms, and outline current political and academic debates around liveness, copyright, and social media. Students will pursue research on a contemporary artist who is integrating the performing arts with computational media, and create a performance piece responding to issues raised by their research.
Arts and Science, Faculty of
Drama, Theatre and Performance Studies (FAS), Centre for
St. George
0.5
Fall
innovat
SDG9
X
DRM462H1
Black Playwrights: Resistance, Resilience and Transformation
An exploration of dramatic literature by writers from the African Diaspora (Canada, USA, UK and the Caribbean) from 1959 to the present. The course will identify playwrights central to the development of Black theatre, their plays, and performance practices. Emphasis will be placed on dramaturgical analysis, sociohistorical context, the author's influences, and relevant critical writing, in order to evaluate these works as sites of social resistance, cultural resilience, and aesthetic transformation. Selected authors include: Lorraine Hansberry, Wole Soyinka, August Wilson, Derek Walcott, Debbie Hunter Green, George Elliott Clarke, Tarell Alvin McCraney, Walter Borden, Suzan-Lori Parks, Kwame Kwei-Armah and Ntozake Shange.
Arts and Science, Faculty of
Drama, Theatre and Performance Studies (FAS), Centre for
St. George
0.5
Fall
rights, resilien
SDG11, SDG16
X
X
DTS314H1
Citizenship and Multiculturalism
This course examines approaches to belonging and distinction that accompany different models of citizenship. What are some historical and recent trends in the intersections of place, custom, and rights? How have governments related social diversity to social justice in theory and in practice? Areas of emphasis will vary, but may include topics such as authenticity and assimilation; ethno-nationalism; immigration and naturalization policy; indigeneity; insurgency; legacies of colonialism; mass media and popular culture; policing and surveillance; racial stratification; transnational markets; and xenophobia.
Arts and Science, Faculty of
Diaspora & Transnational Studies (FAS), Centre for
St. George
0.5
Fall
rights, justice
SDG16
X
DTS410H1
Diasporic Foodways
Food links people across space and time. As it spirals outward from parochial sites of origin to articulate with new sites, actors and scales, it assumes new substance and meaning in new locales. This movement of food gives rise to new 'foodways' t help us to understand the past in terms of temporally connected sites of intense interaction. Food also plays a strong role in shaping translocal identities. As peoples have moved in the world, food has played a central role in (re)defining who they are, reproducing myth and ritual, and bounding diasporic communities. This course seeks to address questions surrounding the dynamics of the food 'we' eat, the ways in which 'we' eat, the meaning 'we' give to eating, and the effect of eating in a transnational world. Recognizing that culinary culture is central to diasporic identifications, the focus is on the place of food in the enduring habits, rituals, and everyday practices that are collectively used to produce and sustain a shared sense of diasporic cultural identity.
Arts and Science, Faculty of
Diaspora & Transnational Studies (FAS), Centre for
St. George
0.5
Winter
food
SDG2
X
DTS413H1
Global Sexualities
Sexuality is a complex interplay of desires, attractions, interests, and modes of behavior and has diverse meanings in different societies and cultures. In this course, we will examine the notion of sexuality as well as gender identity and expression from an interdisciplinary perspective that is rooted in ethnography. A cross-cultural study of sexuality and gender identity within global and transnational contexts will provide students with an understanding of how the intersections of culture, community, as well as social and political factors affect individuals' sexual choices and understandings of gender. A particular focus in this course will be experiences of sexuality and gender within diasporic communities.
Arts and Science, Faculty of
Diaspora & Transnational Studies (FAS), Centre for
St. George
0.5
Fall
gender
SDG5
X
EAS195H1
Shan Shui Landscape: A Cultural Historical Study
This course looks into the history of cultural production of Chinese Shan Shui (lit., mountain and water) landscape representations from an environmental humanities perspective. As an artistic motif, Shan Shui travels between past and present and across various mediums as well as literary and artistic genres. What exactly are we invited to see and contemplate on in the Shan Shui? Are Shan Shui works about "nature," spirit, Qi, or the human world? The course seeks to inquire into these and other questions through examining the concepts, arts, and transformations of selected Shan Shui works in imperial and contemporary China. Restricted to first-year students. Not eligible for CR/NCR option.
Arts and Science, Faculty of
East Asian Studies (FAS), Department of
St. George
0.5
Winter
environment, production, water
SDG6, SDG12, SDG13, SDG14
X
X
X
X
EAS196H1
Consumption, Taste and Culture in East Asia
This course explores the roles that consumption and taste play in personal and public lives in East Asia. Course focus may include the cultural histories of food, fashion, tourism, sports, or forms of audio and visual media. (No prior knowledge of East Asian languages or cultures is necessary.) Restricted to first-year students. Not eligible for CR/NCR option.
Arts and Science, Faculty of
East Asian Studies (FAS), Department of
St. George
0.5
Winter
consum, food
SDG2, SDG12
X
X
EAS274H1
Popular Culture in East Asia
Through various forms of popular culture in the 20th century, this course explores the cultural contexts and social trajectories of China, Japan and Korea. Forms of popular culture studied include art, visual culture, consumer habits, foodways, advertising, music, and fashion.
Arts and Science, Faculty of
East Asian Studies (FAS), Department of
St. George
0.5
Fall
consum, food
SDG2, SDG12
X
X
EAS285H1
Revolutions in Modern China
This course offers an interdisciplinary treatment of the Chinese people's protracted struggle to transform the world's oldest empire and to create a revolutionary society, with a special focus on the myriad revolutions, uprisings, and protests that had radically remade the country's social fabric in the tumultuous twentieth century. First-person accounts, classic and revisionist scholarly works, and literary and visual materials will be used to examine China's multifaceted transformations both chronologically and thematically, in their socioeconomic, cultural, political, and global contexts.
Arts and Science, Faculty of
East Asian Studies (FAS), Department of
St. George
0.5
Winter
socioeconomic
SDG1
X
EAS307H1
Traditional Chinese Political Philosophy
This course explores and evaluates the views of prominent Chinese thinkers and texts from the classical, medieval, and late imperial periods on central issues in political philosophy, including the justification of political authority, the relation between people and the state, the roles and means of government, and the extent of the state's power over its subjects. We cover a broad selection of materials from different periods in Chinese history, devoting special attention to the specific form that certain philosophically relevant issues take in Chinese political discourse, such as the role of formal standards versus that of character, the interplay between institutions and ethical discretion, the role of education versus legal coercion, and the advantages of central versus local administration. Readings will include selections from the Documents, Guǎnzǐ, Mòzǐ, Analects, Mèngzǐ, Xúnzǐ, Dàodéjīng, Zhuāngzǐ, Hánfēizǐ, Discourses on Salt and Iron, Jī Kāng, Guō Xiàng, Bào Jìng Yán, Luó Yǐn, Oūyáng Xiū, Chéng Yí, Wáng Ānshí, Chéng Hào, Hú Hóng, Chén Liàng, Fāng Xiàorú, Gù Yánwǔ, Huáng Zōngxī, and Táng Zhēn.
Arts and Science, Faculty of
East Asian Studies (FAS), Department of
St. George
0.5
Fall
institut, educat
SDG4, SDG16
X
X
EAS378H1
Urban Life in Early Modern Japan
An exploration of most important cities of Tokugawa Japan, which were among the largest of the early modern world, and home to vibrant urban culture and economic activity. The texts include buildings, maps, paintings, prints, film and novels.
Arts and Science, Faculty of
East Asian Studies (FAS), Department of
St. George
0.5
Fall
urban, cities, buildings
SDG9, SDG11
X
X
EAS387H1
Images and Ideas in Chinese Art
Making use of the Royal Ontario Museum's excellent Chinese art collection, this object-based and oriented seminar encourages exploration of the ideas and practices behind works of Chinese art. We examine art and artifacts in relation to their social environment and historical contexts, paying close attention to such issues as political practices, power and authority, identity, gender, and materiality. Other relevant topics include patronage, audience, religious quests, and literati culture. Depending on special Chinese exhibitions of the year at the ROM, the course may incorporate case-studies of relevant exhibition content.
Arts and Science, Faculty of
East Asian Studies (FAS), Department of
St. George
0.5
Winter
environment, gender
SDG5, SDG13
X
X
EAS392H1
East Asian Television
This course approaches television and televisuality in regional, transnational, and global perspectives. Beginning with the cold war histories of transmission infrastructures in the Asia Pacific, continuing with an exploration of key television shows and genres that support and resist the nation-building ethos of the medium, the course will introduce students to the history and ideology of televisuality in East Asia.
Arts and Science, Faculty of
East Asian Studies (FAS), Department of
St. George
0.5
Winter
infrastructure
SDG9
X
EAS402H1
Modern Standard Chinese IVb
An advanced Chinese language course which explores major concerns in contemporary China, including mass consumption, Western influences and technological innovation. Students will improve their reading comprehension, strengthen their writing skills and, importantly, advance their speaking and listening abilities through debate exercises. Students who do not meet the prerequisite must go through placement process conducted by the Department. See https://www.eas.utoronto.ca/languages/enrolment-instructions/chinese for details.
Arts and Science, Faculty of
East Asian Studies (FAS), Department of
St. George
0.5
Fall
consum, innovat
SDG9, SDG12
X
X
EAS408H1
Modern Taiwanese Literature
A general survey of modern Taiwanese literature from 1949 to the present. It examines issues central to understanding the Taiwanese literary culture, such as historical/cultural context, oral/written language, self-identification, gender, and human rights.
Arts and Science, Faculty of
East Asian Studies (FAS), Department of
St. George
0.5
Fall
rights, gender
SDG5, SDG16
X
X
ECE295H1
Hardware Design and Communication
By the end of this course, students will be able to:
1. Work in a team environment in developing a complex hardware project;
2. Intepret design specifications and translate them into a design that attempts to achieve them;
3. Be familiar with agile methods in hardware development, and apply ideas from these methods in their own design process with their team;
4. Demonstrate proficiency using computer aided design (CAD) and electronic design automation (EDA) techniques for hardware development, in particular, schematic capture and printed circuit board layout tools;
5. Demonstrate ability to solder components, familiarity with surface-mount technology, and awareness of the restriction of hazardous substances directive (RoHS);
6. Be familiar with electrostatic discharge (ESD) handling guidelines and protection;
7. Confidently use using laboratory instruments and apply them for testing circuits and systems;
8. Assemble instruments and controlling software for the purpose of automated hardware testing (test automation);
9. Be aware of standards and regulatory compliance when pursuing industrial design; and
10. Demonstrate confidence preparing oral presentations and written documents on technical engineering hardware design.
Applied Science & Engineering, Faculty of
Electrical & Computer Engineering (FASE), Edward S. Rogers Sr. Department of
St. George
0.5
Winter
environment, industr
SDG9, SDG13
X
X
ECE345H1
Algorithms and Data Structures
Design and analysis of algorithms and data structures that are essential to engineers in every aspect of the computer hardware and software industry. Recurrences, asymptotics, summations, trees and graphs. Sorting, search trees and balanced search trees, amortized analysis, hash functions, dynamic programming, greedy algorithms, basic graph algorithms, minimum spanning trees, shortest paths, introduction to NP completeness and new trends in algorithms and data structures.
Applied Science & Engineering, Faculty of
Electrical & Computer Engineering (FASE), Edward S. Rogers Sr. Department of
St. George
0.5
Winter, Fall
industr
SDG9
X
ECE349H1
Introduction to Energy Systems
Established and emerging sources of electrical energy: hydroelectric, thermal, wind, and solar. Three-phase AC systems and complex power. Mechanisms for electrical-electrical energy conversion: power electronic systems for DC-DC conversion, single-phase DC-AC and three-phase DC-AC conversion, transformers for single-phase and three-phase AC-AC conversion. Electro-mechanical energy conversion via the synchronous machine. Fundamentals of AC electrical energy networks: frequency regulation, voltage regulation, and protection.
Applied Science & Engineering, Faculty of
Engineering Science (FASE), Division of
St. George
0.5
Fall
hydroelectric, solar, wind, energy
SDG7
X
ECE437H1
VLSI Technology
The introduction to VLSI fabrication techniques, integrated circuit designs and advanced semiconductor devices will give a proper perspective of the past, present and future trends in the VLSI industry. Following the evolution of MOS and bipolar devices, digital and analog CMOS, BiCMOS, deep submicron CMOS, SOI-CMOS, RF-CMOS and HV-CMOS technologies will be studied. Special attention will be given to the physical scaling limits such as short channel effects. In addition, CAD tools and design methodology for the development of advanced semiconductor devices and integrated circuits will be introduced in the laboratory environment. These include the simulation of device fabrication, device characteristics, device modeling, circuit layout, design verification. Finally, advanced technology such as GaN HEMTs, graphene devices, carbon nano-tube devices, power devices, heterojunctions, InP and GaSb HBTs will also be studied.
Applied Science & Engineering, Faculty of
Electrical & Computer Engineering (FASE), Edward S. Rogers Sr. Department of
St. George
0.5
Winter
environment, industr, labor
SDG9
X
ECE520H1
Power Electronics
Focuses on power electronic converters utilized in applications ranging from low-power mobile devices to higher power applications such as electric vehicles, server farms, microgrids, and renewable energy systems. Concepts covered include the principles of efficient electrical energy processing (dc-dc, dc/ac, and ac/ac) through switch-mode energy conversion, converter loss analysis, large- and small-signal modeling of power electronic circuits and controller design.
Applied Science & Engineering, Faculty of
Electrical & Computer Engineering (FASE), Edward S. Rogers Sr. Department of
NULL
0.5
Fall
renewabl, energy
SDG7
X
ECO102H1
Principles of Macroeconomics
An introduction to economic analysis and its applications from a macroeconomic (economy-wide) perspective. Topics covered include international trade and finance, role of money and the banking system, monetary and fiscal policy. Note: graphical and quantitative analysis are used extensively.
Arts and Science, Faculty of
Economics (FAS), Department of
St. George
0.5
Winter
trade
SDG10
X
ECO105Y1
Principles of Economics for Non-Specialists
Fundamentals for consumers, businesses, citizens. Microeconomics focuses on cost/benefit analysis: gains from trade, price coordination, competition/monopoly, efficiency/equity tradeoffs, government/market failures, environmental policies, income/wealth distributions. Macroeconomics focuses on: GDP growth, unemployment, inflation, monetary/fiscal policies, business cycles, exchange rates, government deficits/debt, globalization. Emphasizes economic literacy, fewer mathematical tools than ECO101H1, ECO102H1.
Arts and Science, Faculty of
Economics (FAS), Department of
St. George
1.0
Fall/Winter
environment, consum, trade, employment, wealth distribution
SDG1, SDG8, SDG10, SDG12, SDG13
X
X
X
X
X
ECO200Y1
Microeconomic Theory
Theory of markets and prices. Determination of prices through the interaction of the basic economic units, the household as consumer and as supplier of inputs and the business firm as producer and as employer of inputs. The pricing system as the mechanism by which social decisions and allocation of goods are made in a market economy.
Arts and Science, Faculty of
Economics (FAS), Department of
St. George
1.0
Fall/Winter
consum
SDG12
X
ECO200Y5
Microeconomic Theory
An intermediate treatment of the basic tools of economic analysis. Applications may include: choice under uncertainty, oligopoly, industrial organization, pricing, resource allocation, externalities, public goods, income distribution and welfare economics. *ECO200Y5 is not open to Commerce students during Fall/Winter.
University of Toronto Mississauga
Economics (UTM), Department of
Mississauga
1.0
Fall/Winter
industr, income distribution
SDG1, SDG9
X
X
ECO202Y1
Macroeconomic Theory and Policy
Theory of output, employment and the price level; techniques for achieving economic stability; central banking and Canadian financial institutions and markets; foreign exchange markets and the exchange rate. This course is not intended for students enrolled in the BCom program; please see ECO209Y1.
Arts and Science, Faculty of
Economics (FAS), Department of
St. George
1.0
Fall/Winter
institut, employment
SDG8, SDG16
X
X
ECO202Y5
Macroeconomic Theory and Policy
Macroeconomics studies the economy as a whole. The issues it covers include: Why are some countries much richer than others? Why do most Canadians live much better than their ancestors? Why are there recessions in economic activity? What are the causes of inflation and unemployment? What are the consequences of opening up trade and investment with the rest of the world? This course develops a series of models to answer these and similar questions. *ECO202Y5 is not open to Commerce students in Fall/Winter
University of Toronto Mississauga
Economics (UTM), Department of
Mississauga
1.0
Fall/Winter
trade, employment
SDG8, SDG10
X
X
ECO204Y1
Microeconomic Theory and Applications (for Commerce)
The use of microeconomics to analyze a variety of issues from marketing and finance to organizational structure. Consumer preferences and behaviour; demand, cost analysis and estimation; allocation of inputs, pricing and firm behaviour under perfect and imperfect competition; game theory and public policy, including competition policy. Business cases are used to connect theory and practice and to highlight differences and similarities between economics and accounting, marketing and finance. This course is restricted to students in the Commerce programs.
Arts and Science, Faculty of
Economics (FAS), Department of
St. George
1.0
Fall/Winter
consum
SDG12
X
ECO204Y5
Microeconomic Theory and Applications (for Commerce)
The course uses microeconomics to analyze a variety of issues from marketing and finance to organizational structure. Topics include consumer preferences and behaviour; demand, cost analysis and estimation; allocation of inputs, pricing and firm behaviour under perfect and imperfect competition; game theory and public policy, including competition policy. Business cases are used to connect theory and practice and to highlight differences and similarities between economics and accounting, marketing and finance. This course is restricted to students in the B.Com. program.
University of Toronto Mississauga
Economics (UTM), Department of
Mississauga
1.0
Fall/Winter
consum
SDG12
X
ECO206Y5
Microeconomic Theory
A rigorous mathematical treatment of the basic tools of economic analysis regarding consumer and producer theory. Applications may include but are not limited to: choice under uncertainty, oligopoly, industrial organization, pricing, resource allocation, intertemporal consumption, labour supply, externalities, public goods, income distribution and welfare economics. This course is a requirement for certain Specialist Programs and is strongly recommended for students contemplating graduate school.
University of Toronto Mississauga
Economics (UTM), Department of
Mississauga
1.0
Fall/Winter
consum, industr, labour, income distribution
SDG1, SDG8, SDG9, SDG12
X
X
X
X
ECO208Y5
Macroeconomic Theory
This course provides a rigorous discussion of models used in the study of macroeconomic phenomena, including business cycles, economic growth, unemployment, inflation, exchange rates, and international trade. This course is a requirement for certain Specialist Programs, and strongly recommended for students contemplating graduate school.
University of Toronto Mississauga
Economics (UTM), Department of
Mississauga
1.0
Fall/Winter
trade, economic growth, employment
SDG8, SDG10
X
X
ECO209Y1
Macroeconomic Theory and Policy (for Commerce)
Macroeconomic issues relevant for commerce students. Analytical tools are used to examine policy issues: Canadian government budgets, Bank of Canada monetary policy, exchange rate policy, foreign trade policy and government regulation of financial intermediaries. This course is restricted to students in the Commerce programs.
Arts and Science, Faculty of
Economics (FAS), Department of
St. George
1.0
Fall/Winter
trade
SDG10
X
ECO209Y5
Macroeconomic Theory and Policy (for Commerce)
This course covers macroeconomic topics relevant for commerce students. Analytical tools are used to examine various policy questions, including fiscal policy, monetary policy, exchange rate policy, foreign trade policy, labour market policy, and government regulation of financial intermediaries.
University of Toronto Mississauga
Economics (UTM), Department of
Mississauga
1.0
Fall/Winter
trade, labour
SDG8, SDG10
X
X
ECO210H1
Mathematical Methods for Economic Theory
An introduction to mathematical methods commonly used in economic theory. Topics include: multivariate calculus, concavity and convexity, unconstrained multivariate optimization, multivariate optimization subject to equality or inequality constraints and differential equations.
Arts and Science, Faculty of
Economics (FAS), Department of
St. George
0.5
Fall
inequality, equality
SDG5, SDG10
X
X
ECO231H1
Economics of Global Trade
This course is intended primarily for students in the International Relations program. This course offers an introduction to the economic causes and consequences of international trade in goods, services, labour, innovation and capital. Attention will be devoted to the economic impact of policies that affect these flows, such as protectionism and outsourcing.
Arts and Science, Faculty of
Economics (FAS), Department of
St. George
0.5
Fall
trade, innovat, labour
SDG8, SDG9, SDG10
X
X
X
ECO302H5
World Economic History Prior to 1870
This course will focus on the economic success and failure of several key countries and regions from the start of the second millennium up to the early twentieth century. Topics include: pre-modern growth in China & India vs. Europe, the first industrial revolution, exploitation and international trade in the British Empire, the standards-of-living debate, the second industrial revolution. [24L, 12T] This course is part of the Certificate in Global Perspectives.
University of Toronto Mississauga
Economics (UTM), Department of
Mississauga
0.5
Fall
trade, industr
SDG9, SDG10
X
X
ECO303H5
World Economic History After 1870
This course will focus on the economic success and failure of several key countries and regions during the twentieth century. Topics include: globalization, causes and consequences of interwar instability, a history of modern development (Japan, the Asian Tigers, India & China vs. Latin America), new institutional economics & new economic geography: African atrophy. [24L, 12T] This course is part of the Certificate in Global Perspectives.
University of Toronto Mississauga
Economics (UTM), Department of
Mississauga
0.5
Winter
institut
SDG16
X
ECO306H1
American Economic History
A survey of American economic history from the ante-bellum period to the present. Potential topics include: the rapid growth of the American economy in the late 19th and early 20th century; causes of the onset of the Great Depression; the economic impact of slavery and its aftermath; health and demographic trends; and 20th century trends in inequality.
Arts and Science, Faculty of
Economics (FAS), Department of
St. George
0.5
Winter
inequality, equality, health
SDG3, SDG5, SDG10
X
X
X
ECO312H5
Firms and Markets
This course studies firms' strategies and the role of government regulators in different markets. Specifically, it studies strategic decisions that firms make when they interact with other firms. These include how to price in the face of competition, how much to invest in R&D or advertising, and whether to buy a rival (by merging,integrating). The course also analyzes the conditions under which firm's choices require intervention by market regulators due to a tension between firms' profits and consumer welfare. The course draws on tools from microeconomics and game theory, and the analysis is supplemented by real world examples and case studies from the business world.
University of Toronto Mississauga
Economics (UTM), Department of
Mississauga
0.5
Winter
consum
SDG12
X
ECO313H1
Environmental Economics and Policies
This course demonstrates how a rigorous application of microeconomic techniques can inform our responses to various environmental problems. Topics may include: air and water pollution and renewable resource management.
Arts and Science, Faculty of
Economics (FAS), Department of
St. George
0.5
Winter, Fall
pollut, environment, renewabl, water
SDG6, SDG7, SDG13, SDG14, SDG15
X
X
X
X
X
ECO314H1
Energy and the Environment
This course surveys important features of energy markets and related environmental challenges. One of the central objectives is to provide an understanding of the key economic tools needed to analyse these markets. A related objective is the development of a framework for understanding the public discourse on energy and the environment. Topics include: the hydrocarbon economy (oil, natural gas and coal), electricity markets, global warming and other externalities, renewable energy, conservation, carbon taxes and 'cap-and-trade'.
Arts and Science, Faculty of
Economics (FAS), Department of
St. George
0.5
Fall
conserv, global warming, environment, trade, renewabl, energy
SDG7, SDG10, SDG13, SDG14, SDG15
X
X
X
X
X
ECO320Y5
An Economic Analysis of Law
This course examines the economic basis for the Law. The topics covered include economic analyses of property rights, liability rules, contract law, tort law, corporate law, law and financial markets, and bankruptcy law. The appropriate economic measures of damages in tort and contract cases will be discussed. Other topics include tax law, and the choice between regulation and the common law.
University of Toronto Mississauga
Economics (UTM), Department of
Mississauga
1.0
Fall/Winter
rights, financial market
SDG10, SDG16
X
X
ECO324H1
Economic Development
This course critically analyzes issues related to economic development and the associated policy responses. Tools from micro and macroeconomic theory are employed, as well as the critical assessment of empirical evidence. Topics may include: education, health, credit markets, inequality, and the role of foreign aid.
Arts and Science, Faculty of
Economics (FAS), Department of
St. George
0.5
Fall
inequality, equality, educat, health
SDG3, SDG4, SDG5, SDG10
X
X
X
X
ECO324H5
Economic Development
Economic development and transformation of the low-income countries of Latin America, Africa and Asia. Theory and policy analysis relating to the following economic issues in these countries: higher rates of economic growth, the role of the government in resource allocation, the industrial-agricultural sector interface, inward versus outward looking trade strategies, and the international debt problem. The following problems will also be addressed: food supply, domestic savings, tax revenue, foreign exchange, foreign direct investment, high rates of inflation, benefit-cost analysis and economic planning. [24L]
University of Toronto Mississauga
Economics (UTM), Department of
Mississauga
0.5
Fall
trade, industr, economic growth, food, agricultur
SDG2, SDG8, SDG9, SDG10
X
X
X
X
ECO326H5
Advanced Economic Theory - Micro
This course is an advanced analysis of microeconomic theory, including the behaviour of consumers under uncertainty; issues in poverty, inequality and social welfare; game theory and its applications to economics and political economy. This course is recommended for students contemplating graduate studies. This course is part of the Certificate in Advanced Economics.
University of Toronto Mississauga
Economics (UTM), Department of
Mississauga
0.5
Fall
consum, inequality, equality, poverty
SDG1, SDG5, SDG10, SDG12
X
X
X
X
ECO333H1
Urban Economics
Spatial economic theory and urban public policy: firms and individuals in partial and general equilibrium, land development and land-use controls, urban transportation, efficiency and equity in spending and taxing.
Arts and Science, Faculty of
Economics (FAS), Department of
St. George
0.5
Winter
urban
SDG11
X
ECO335H5
Public Economics I: Global Warming, Biodiversity Loss and Inequality
Public Economics I focuses on contemporary public policy questions. The goal of the course is to help students develop and apply analytical tools, such as cost-benefit analysis, to examine pressing policy issues of our time. Issues include responses to global warming, preserving biodiversity, combating growing inequality, and the regulation of addictive substances. Students will learn how to use empirical evidence to examine these issues. The course places a strong emphasis on discussion, debate, and effective writing about policy issues from an economics perspective. [24L]
University of Toronto Mississauga
Economics (UTM), Department of
Mississauga
0.5
Winter
biodivers, global warming, inequality, equality
SDG5, SDG10, SDG13, SDG15
X
X
X
X
ECO336H1
Public Economics
Theory of taxation and public goods, and quantitative methods for program evaluation. Additional topics include: taxation and income distribution; environmental policy; and the political economy of government policy.
Arts and Science, Faculty of
Economics (FAS), Department of
St. George
0.5
Fall
environment, taxation, income distribution
SDG1, SDG10, SDG13
X
X
X
ECO339H1
Labour Economics: Employment, Wages and Public Policy
Using tools from microeconomic theory and statistics, this course introduces students to the study of labour markets, focusing on employment and wage determination, and the application of labour economics to public policy. Topics may include: labour supply, labour demand, estimating the impact of welfare programs, minimum wages, and other labour market interventions.
Arts and Science, Faculty of
Economics (FAS), Department of
St. George
0.5
Winter, Fall
wage, labour, employment
SDG8
X
ECO340H1
Labour Economics: The Distribution of Earnings
Using tools from microeconomic theory and statistics, this course studies the determinants of wages across labour markets. Topics include: the theory of compensating differentials, human capital, discrimination, immigration, unions, and alternative models of compensation. In addition, students are introduced to microeconomic models of unemployment. Throughout the course, there is an emphasis on the evaluation of empirical evidence.
Arts and Science, Faculty of
Economics (FAS), Department of
St. George
0.5
Winter
wage, labour, employment
SDG8
X
ECO341H1
The Economic History of the 20th Century: Trade, Migration, Money and Finance before 1945
Tailored to advanced students in Economics, Commerce, International Relations and History. The focus is on growth and fluctuations in Europe and North America between roughly 1870 and 1939, with a particular emphasis on international trade and payments, migration, investment, and monetary arrangements.
Arts and Science, Faculty of
Economics (FAS), Department of
St. George
0.5
Fall
trade
SDG10
X
ECO342H1
Twentieth Century Economic History: Institutions, Growth and Inequality
Tailored to advanced students in Economics, Commerce, International Relations and History. The focus is on institutions, growth and inequality in countries across the world.
Arts and Science, Faculty of
Economics (FAS), Department of
St. George
0.5
Winter
institut, inequality, equality
SDG5, SDG10, SDG16
X
X
X
ECO343H5
Labour Economics and Public Policy
This course uses both applied microeconomic theory and empirical analysis to examine labour markets in Canada. The course is especially focused on the link between research and public policy. Topics to be covered include: labour supply and demand, minimum wages, immigration, human capital, education production, inter- and intra-generational equality, and peer effects. At the end of the course, students should have a firm grasp of key policy issues involving Canada's labour market and be able to critique the quality of other empirical studies. [24L]
University of Toronto Mississauga
Economics (UTM), Department of
Mississauga
0.5
Fall
production, wage, labour, equality, educat
SDG4, SDG5, SDG8
X
X
X
ECO345H5
Macroeconomics and the Labour Market
This course aims to provide students with an overview of recent macroeconomic research on the labour market. Discussion includes theoretical models as well as empirical evidence. Topics include: search frictions, labour market flows, sorting, inequality, occupational mobility, human capital accumulation, and intergenerational mobility. [24L]
University of Toronto Mississauga
Economics (UTM), Department of
Mississauga
0.5
Fall
inequality, labour, equality
SDG5, SDG8, SDG10
X
X
X
ECO349H1
Money, Banking and Financial Markets
This course studies the interaction of the monetary and banking sectors with financial markets and the broader economy. It builds especially on tools developed in intermediate macroeconomics, but also focuses on the institutional structure of the Canadian monetary sector, including the role and operation of the Bank of Canada.
Arts and Science, Faculty of
Economics (FAS), Department of
St. George
0.5
Winter
institut, financial market
SDG10, SDG16
X
X
ECO349H5
Money, Banking & Financial Markets
This course explores a wide range of topics on the theories of money and banking. The strategy of the course is to develop a series of models to examine the importance of money, banks, and other financial institutions in the way economies work. The topics examined in this framework include: the role of money and the financial system, effects of inflation, bond and stock markets, banks, control of the money supply, and international monetary systems. [24L]
University of Toronto Mississauga
Economics (UTM), Department of
Mississauga
0.5
Winter
institut, financial market
SDG10, SDG16
X
X
ECO358H1
Financial Economics I
An introduction to economics of financial assets and financial markets. Topics: inter-temporal choice, expected utility theory, security valuation, selected asset pricing models, market efficiency, and the term structure of interest rates - essential materials for an understanding of the role and operation of financial markets.
Arts and Science, Faculty of
Economics (FAS), Department of
St. George
0.5
Fall
financial market
SDG10
X
ECO358H5
Financial Economics I
This course provides an introduction to capital markets and asset pricing. We will cover the role of financial markets, project valuation, expected utility and risk aversion, financial risk, general equilibrium pricing, the Capital Asset Pricing Model, Arbitrage Pricing Theory, derivatives, option pricing, term structure of interest rates, foreign exchange markets, and market efficiency. [24L]
University of Toronto Mississauga
Economics (UTM), Department of
Mississauga
0.5
Fall
financial market
SDG10
X
ECO359H1
Financial Economics II: Corporate Finance
Agency and incomplete information problems inherent in financial transactions; the role of contractual arrangements in overcoming them. Financial constraints on investment decisions of firms; the financial system in economic growth; the legal system in the functioning of financial markets. A look at theoretical and empirical literature covering these issues.
Arts and Science, Faculty of
Economics (FAS), Department of
St. George
0.5
Winter
financial market, economic growth
SDG8, SDG10
X
X
ECO362H1
Economic Growth
The course considers a broad range of issues that underlie economic growth, including technical progress and the accumulation of human and physical capital. Beyond these factors, the course also investigates the efficiency with which capital is used, the role of foreign trade, and the possible roles of institutions and geography.
Arts and Science, Faculty of
Economics (FAS), Department of
St. George
0.5
Winter
institut, trade, economic growth
SDG8, SDG10, SDG16
X
X
X
ECO364H1
International Trade Theory
An examination of the causes and consequences of international trade. The first half develops traditional models of comparative advantage. The second half examines more recent theoretical and empirical work on trade & wages, the political economy of trade, outsourcing, and firm heterogeneity.
Arts and Science, Faculty of
Economics (FAS), Department of
St. George
0.5
Winter
trade, wage
SDG8, SDG10
X
X
ECO364H5
International Trade Theory
An analysis of the nature, effects and policy implications of international trade theory; the theories of comparative costs and reciprocal demands, factor reward equalization, international tariffs and customs unions. [24L]
University of Toronto Mississauga
Economics (UTM), Department of
Mississauga
0.5
Winter, Fall
trade
SDG10
X
ECO367H1
The Economics of Inequality
This course critically analyzes the causes and recent dynamics of economic inequality both between countries as well as within a particular country, with a particular emphasis on the role of public policy. Theoretical models and empirical approaches are employed, with a focus on the critical assessment of empirical evidence. Topics may include the role of traditional market forces (e.g., globalisation, technological change), the role of institutions (e.g., minimum wage, unions) as well as the role of race and gender.
Arts and Science, Faculty of
Economics (FAS), Department of
St. George
0.5
Winter, Fall
institut, inequality, wage, equality, gender
SDG5, SDG8, SDG10, SDG16
X
X
X
X
ECO368H1
Economics of Conflict
This course explores the links between violent conflict and socioeconomic development. It focuses on micro-level processes leading to conflict, and how conflict and political violence affect people's lives at the household and community levels. It also examines how these processes are linked to wider political and economic issues including governance and the role of institutions. Tools from economic theory are applied alongside country-specific and cross-country empirical evidence.
Arts and Science, Faculty of
Economics (FAS), Department of
St. George
0.5
Fall
governance, institut, socioeconomic
SDG1, SDG16
X
X
ECO369H1
Health Economics
The provision of health care provides many special problems of informational asymmetry, regulation, insurance and redistribution. A consideration of the demand and supply side problems. Alternative reform proposals for health care are explored.
Arts and Science, Faculty of
Economics (FAS), Department of
St. George
0.5
Winter
health
SDG3
X
ECO370Y5
The Economics of Organizations
The determinants of the boundary between organizations and markets. Problems of centralization vs. decentralization, authority, coordination and motivation within organizations. Incentives, ownership and property rights. The nature of the employment relationship: explicit and implicit contracts, compensation, relative performance evaluation, career paths, job assignments and promotion. [48L, 24T]
University of Toronto Mississauga
Economics (UTM), Department of
Mississauga
1.0
Fall/Winter
rights, employment
SDG8, SDG16
X
X
ECO381H5
Managerial Economics II: Personnel Economics
*ECO380H5 Managerial Economics I: Competitive Strategy is NOT a prerequisite for this course. This course examines selected material on compensation and incentives in hierarchical organizations. Topics include recruitment and hiring, training, turnover, downsizing, motivating workers, teams, allocating authority and task assignment. [24L]
University of Toronto Mississauga
Economics (UTM), Department of
Mississauga
0.5
Winter
worker
SDG8
X
ECO400Y5
Economics Internship
Through a part time, unpaid, 200-hour work placement, fourth year students apply economics content and skills. Placements are made throughout the GTA in both the private and public sectors. Successful candidates gain an opportunity to enhance their University experience through on-site work placements providing the possibility to develop skill sets within a business setting. Monthly class meetings plus year-end and presentation are required. Normally, the 200 hours will be completed by attending the work placement one full day each week from September to April. Students interested in a finance-industry placement are strongly recommended to arrange their course schedule to allow for a two day a week work placement in one semester. This arrangement increases the possibility of placement and enhances the experience although careful course planning is essential. [48L] Apply to Course Coordinator: Corrine Bent-Womack Room #KN 3246 Innovation Complex Email: corrine.bent.womack@utoronto.ca
University of Toronto Mississauga
Economics (UTM), Department of
Mississauga
1.0
Fall/Winter
industr, innovat
SDG9
X
ECO401H1
Topics in Economic Policy
This course covers basic issues in the theoretical and empirical evaluation of public policy. Sample topics include: income redistribution through taxation and the provision of social insurance and public goods, the mitigation of externalities, and welfare analysis in behavioural models.
Arts and Science, Faculty of
Economics (FAS), Department of
St. George
0.5
Winter
taxation
SDG10
X
ECO402H1
Topics in Health Economics
This course explores a variety of topics in health economics, providing students with an overview of current and historical institutional characteristics of the market for, and public policy towards, health care. Students will apply theoretical and empirical tools to current domestic and international issues in health policy. No previous background in health economics is required.
Arts and Science, Faculty of
Economics (FAS), Department of
St. George
0.5
Fall
institut, health
SDG3, SDG16
X
X
ECO403H1
Topics in Development Economics and Policy
This course covers a variety of topics pertaining to economic development and associated policies. Depending on the course instructor, the focus may be on theories and policies related to poverty alleviation, human capital formation, financial markets, international trade, governance or economic growth.
Arts and Science, Faculty of
Economics (FAS), Department of
St. George
0.5
Fall
governance, financial market, trade, economic growth, poverty
SDG1, SDG8, SDG10, SDG16
X
X
X
X
ECO407H1
Competing Views in Macroeconomic Theory and Policy
Provides students with a systematic analysis of competing perspectives on key areas of macroeconomic theory and policy. Special attention paid to competing views regarding key fiscal, monetary, and trade policy issues as applied to Canada.
Arts and Science, Faculty of
Economics (FAS), Department of
St. George
0.5
Fall
trade
SDG10
X
ECO411H5
Human Capital and Education in the Economy
(Formerly ECO412Y5) This course addresses empirical and theoretical issues in education economics. Topics will include the interaction of human capital with growth and inequality, teacher incentives and teacher quality, early childhood education, and the racial achievement gap. We will also discuss the tools economists use to measure the causal effects of policies, and consider how statistics often presented in policy debates may be biased. After this course, students should be comfortable reading research papers in economics. [24L]
University of Toronto Mississauga
Economics (UTM), Department of
Mississauga
0.5
Fall
inequality, equality, educat
SDG4, SDG5, SDG10
X
X
X
ECO414H1
Energy and Regulation
This course provides a general treatment of the economics of energy markets and the use of regulation in addressing environmental and other issues arising in these markets. A central theme is the search for an appropriate balance between market forces and regulatory/government intervention. Familiarity with tools of microeconomics and statistics/econometrics is essential. Topics include: oil, natural gas, coal and electricity markets, global warming and other externalities, networks, feed-in-tariffs, carbon taxes, 'cap-and-trade' and incentive regulation.
Arts and Science, Faculty of
Economics (FAS), Department of
St. George
0.5
Winter
global warming, environment, trade, energy
SDG7, SDG10, SDG13
X
X
X
ECO433H5
Family Economics
Introduces students to the study of the family within the modern economics. Topics include: market production vs. home production; gender wage differentials in labour markets; monogamy, polygamy and marriage markets; non-altruistic behaviour within families; fertility and the demand for children; divorce; and the life cycle of the family. Concepts are applied to current topics within the development and labour literatures. [24L]
University of Toronto Mississauga
Economics (UTM), Department of
Mississauga
0.5
Winter
production, wage, labour, gender
SDG5, SDG8, SDG12
X
X
X
ECO436H5
Measuring Well Being
The course concerns itself with measuring societal economic well being. The historical development of the subject is considered together with the conceptual issues (and objections) associated with representing the welfare of economic agents. Different notions of welfare (Poverty, Inequality, Polarization, Equality of Opportunity) and the various empirical techniques for examining them are critically explored and applied using existing datasets. [24L]
University of Toronto Mississauga
Economics (UTM), Department of
Mississauga
0.5
Fall
inequality, equality, well being, poverty
SDG1, SDG3, SDG5, SDG10
X
X
X
X
ECO446H1
Advanced Public Economics
Advanced topics in public economics and economic analysis of Canadian public policy. Through a mix of lectures and independent research, students will acquire theoretical and empirical tools for public policy analysis. Topics may include: income inequality and redistribution; fiscal federalism; taxation of corporate profits; and policies to deal with public goods and externalities.
Arts and Science, Faculty of
Economics (FAS), Department of
St. George
0.5
Winter
taxation, inequality, equality
SDG5, SDG10
X
X
ECO461H5
The Economics of Financial Risk Management
(Formerly ECO460Y5) This course focuses on how to use derivative securities to manage financial risks. It includes a discussion of why firms should hedge financial market risk, identification and quantification of financial risks; the value-at-risk (VaR) measure of risk; credit risk and capital allocation and difference between speculation and hedging.
University of Toronto Mississauga
Economics (UTM), Department of
Mississauga
0.5
Winter
financial market
SDG10
X
ECTB60H3
Agri-Food, Cultures, and Translation
From wheat to seafood, Canada's agri-food exports to China are increasing and Chinese food is popular in Canada. This course explores agri-food, cultures, and translation using materials in Chinese and English. It gives text analysis in translation and hands-on translation experience from English to Chinese and/or from Chinese into English. Students must be able to read and write Chinese and English well.
University of Toronto Scarborough
Language Studies (UTSC), Department of
NULL
0.5
Winter, Fall
food
SDG2
X
EDS100H5
Introduction to Education Studies
This course explores broad social and cultural issues in education. It will address questions about how we advance knowledge, who controls how and what we learn and what role education has in how societies are shaped, changed and reproduced. Students will evaluate the influence education can have on who we are, how we wish to live and what we aspire to as citizens in a global and digital community. This investigation will also consider how language, race, gender, class and culture intersect with teaching and learning. [24L]
University of Toronto Mississauga
Language Studies (UTM), Department of
Mississauga
0.5
Winter
gender, educat
SDG4, SDG5
X
X
EDS200H5
Child, Adolescent and Adult Development in Education
This course focuses on the physical skills, cognitive abilities, and socioemotional experiences that shape an individual's capacity to learn throughout the lifespan (i.e., infancy to late adulthood). It will address how learning is a lifelong process and how we are continually educating ourselves in different ways by incorporating strategies that best suit our lifespan stage. Critical research and theorists will be discussed to enhance the topics presented. Students are required to complete an 8-hour field experience, and obtain a valid vulnerable sector police check in advance of placement. [36L]
University of Toronto Mississauga
Language Studies (UTM), Department of
Mississauga
0.5
Winter, Fall
educat
SDG4
X
EDS220H5
Equity and Diversity in Education
This course focuses on raising awareness and sensitivity to equity and diversity issues facing teachers and students in diverse schools and cultural communities. It includes a field experience which entails observation of, and participation in, equity and diversity efforts in a community organization.[36L]
University of Toronto Mississauga
Language Studies (UTM), Department of
Mississauga
0.5
Winter
educat
SDG4
X
EDS250H5
Indigenous Education
This course is open to all students from any discipline. Designed to increase opportunities to learn about education through a First Nation, Métis and Inuit perspective, the course will increase knowledge and awareness about pedagogies, learning approaches and educational experiences related to indigenous people living in Canada. In line with indigenous ways of knowing, this course will be structured with learning that involves reflecting on personal actions by looking at ways that indigenous models of education support social and community well-being. [24L]
University of Toronto Mississauga
Language Studies (UTM), Department of
Mississauga
0.5
Fall
educat, well-being
SDG3, SDG4
X
X
EDS260H1
Equity and Diversity in Education
This course focuses on raising awareness and sensitivity to equity and diversity issues facing teachers and students in diverse schools and cultural communities. It builds knowledge of how oppression works and how cultural resources and educational practices may be brought to bear on reducing oppression and improving equity. Restricted to students enrolled in the Education and Society Minor.
Arts and Science, Faculty of
NULL
St. George
0.5
Fall
educat
SDG4
X
EDS261H1
Child and Adolescent Development in Education
This course examines how children and adolescents develop and explores how best to facilitate their growth and learning in the area of education. Major topics include cognitive, emotional, social, moral, physical and language development. Themes addressed include interpersonal relationships such as pro-social and aggressive behaviour, as well as the influence of schooling, family life and culture. This course includes a field experience located in a school and entails observation of development across various age groups. This may be satisfied by participation in Vic Reach or in another organization with the approval of the Program Coordinator. Restricted to students enrolled in the Education and Society Minor.
Arts and Science, Faculty of
NULL
St. George
0.5
Winter
educat
SDG4
X
EDS265H1
Introduction to Teaching
Builds understanding of teaching as professional practice. The course primarily focuses on the research base underlying policies and documents such as the Foundations of Professional Practice. This course is restricted to students enrolled in the Education and Society Minor.
Arts and Science, Faculty of
NULL
St. George
0.5
Fall
educat
SDG4
X
EDS275H5
Mass Media and Debunking the Myths of Education
This course explores prevailing myths about education. It invites students to critically examine consensus and controversy in the media while unpacking some of the research underpinning commonly held beliefs about curriculum, students, teachers, and education systems. The ability to interpret and assess the merits of news, fake news, research, and social media content is an increasingly important skill in a data rich world. This course will have a strong emphasis on critical reading, analysis and evaluation. [24L]
University of Toronto Mississauga
Language Studies (UTM), Department of
Mississauga
0.5
Winter
educat
SDG4
X
EDS285H5
The Future of Ed Tech: Active Learning Classrooms and Artificial Intelligence
This course will explore research on emerging digital models, learning pods, platforms, apps and policies that seek to further customize, enhance and bring greater equity to education through technology. From the initiation of open courseware, to the inception of virtual reality, artificial intelligence, ALC classrooms, makerspaces and the "shared economy", this course will foster a culture of digital innovation to investigate, accelerate, test and study new possibilities and advancements in the field of educational technology.
University of Toronto Mississauga
Language Studies (UTM), Department of
Mississauga
0.5
Winter
innovat, educat
SDG4, SDG9
X
X
EDS291H5
Black Education
This course investigates first-hand experiences and contributions of black students and teachers in the Canadian education system. Historical, systemic barriers to access will be studied along with current policy, practice and teaching pedagogies that aim to produce systems of education without oppression. By looking specifically at research focused on black schooling in Ontario, students will engage in policy analysis and assess current Afrocentric schooling models to assess effectiveness in eliminating educational inequality. Drawing on principles of equity and diversity, Afrofuturist scholarship will be emphasized and provide the framework that seeks to understand and investigate the past to better inform education's future.

University of Toronto Mississauga
Language Studies (UTM), Department of
Mississauga
0.5
Winter
inequality, equality, educat
SDG4, SDG5, SDG10
X
X
X
EDS300H5
Learning Design
This course provides an opportunity to study and practice the fundamental skills involved in designing learning opportunities, in schools and a variety of other settings. The skills required to organize and deliver engaging educational experiences, i.e., lesson and unit planning, will be practiced through a range of pedagogical and practical applications. A case studies approach will be taken, incorporating a field experience where students will apply their learning. [24L]
University of Toronto Mississauga
Language Studies (UTM), Department of
Mississauga
0.5
Fall
educat
SDG4
X
EDS310H5
Education in a Global Context
This course allows students to actively explore issues associated with education and culturally proficient teaching/training from both an Ontario and global perspective. The course addresses two phenomena: the marked and deliberate increase in the number of international students at all levels of Ontario's educational system, and the global dispersal of Ontario-trained teachers. A practical experience focusing upon working with international students in a support role will provide a concrete experience to test their classroom content. [24L]
University of Toronto Mississauga
Language Studies (UTM), Department of
Mississauga
0.5
Winter
educat
SDG4
X
EDS325H5
Supplemental Instruction in Higher Education: Peer-Facilitated Study Groups
Looking for an opportunity to become a facilitator of small group learning in a subject discipline in which you have expertise? This course will introduce students to the theory and practice of Supplemental Instruction (SI) in higher education. Particular focus will be on the history and evolution of SI and the rationale for its use in different university contexts. EDS325H5 course participants will complete a mandatory internship that involves developing and delivering 8-10 peer led study sessions through the Facilitated Study Group (FSG) Program run by the Robert Gillespie Academic Skills Centre. Class work will embed relevant pedagogical tools, resources and research to support the development, delivery and success of FSG sessions. Current research investigating the impact of Supplemental Instruction on student success will also be explored. This is a closed course open only to those students who have successfully secured an FSG leader position with the Robert Gillespie Academic Skills Centre.
University of Toronto Mississauga
Language Studies (UTM), Department of
Mississauga
0.5
Winter, Fall
educat
SDG4
X
EDS345H5
Design Thinking Incubator: From Problem to Prototype
This course is open to all students on campus and provides an intellectual toolset for finding innovative solutions to complex problems. Students will learn to apply education theory to design thinking models in order to identify and solve real-world challenges facing their chosen discipline, whether in business, education, healthcare, etc. An iterative approach for testing, refining, and improving their idea will be used to create a working prototype of their proposed solution. This will demonstrate the idea's sustainability, scalability and viability, while taking into account ethical and legal implications. [36L]
University of Toronto Mississauga
Language Studies (UTM), Department of
Mississauga
0.5
Winter
innovat, educat, health
SDG3, SDG4, SDG9
X
X
X
EDS356H1
Multiple Literacies in Education
While pedagogical theory has long emphasized the place of language acquisition in literacy, recent educators have begun exploring the role of digital, visual, print, and critical literacies in education. This course introduces students to a multiple literacies framework through the pedagogical lens of social justice and diversity. Class participants learn to integrate the multimodalities of literacy in their teaching practice and expand their understanding of 21st-century literacy. This course requires students' enrolment in the Education and Society Minor or permission of the instructor.
Arts and Science, Faculty of
NULL
St. George
0.5
Fall
justice, educat
SDG4, SDG16
X
X
EDS357H1
Education in a Global Context
This course provides a historical overview and contemporary analysis of perspectives and practices of international education with a focus on international development and policy. Factors that shape the global architecture of education will be explored; these may include theories of globalization, education reform, comparative education, peace education, international schooling and global citizenship education. Students will have the opportunity to analyze education reforms and to address issues related to access and quality of learning.
Arts and Science, Faculty of
NULL
St. George
0.5
Winter
peace, educat
SDG4, SDG16
X
X
EDS358H1
Residential Schools and Education in Canada
An exploration of Residential Schools in Canada and their impacts on education and lives of First Nations, Métis and Inuit peoples. This course investigates the historical educational ideology of residential schools and their relationship to colonization, the role of government and organized religion in the residential school system, and contemporary strategies that encourage stable and trusting relationships with Indigenous communities. This course will also explore aspects of the Final Report of the Truth and Reconciliation Commission Calls to Action.
Arts and Science, Faculty of
NULL
St. George
0.5
Winter
educat
SDG4
X
EDS360Y1
Education Internship
Students are required to complete an internship in an educational environment. This can be satisfied by participation in an organization with the approval of the Program Coordinator. Written assessment of the internship is required. Restricted to students enrolled in the Education and Society Minor. Not eligible for CR/NCR option.
Arts and Science, Faculty of
NULL
St. George
1.0
Fall/Winter, Winter
environment, educat
SDG4, SDG13
X
X
EDS361H0
A Study of Chinese Literature and Culture
This course takes place on exchange in Beijing, China. This course will compare selected works of Chinese and Canadian authors with a view to the presentation of such writing in an educational setting.
Arts and Science, Faculty of
NULL
St. George
0.5
Winter
educat
SDG4
X
EDS363H1
Teaching Math: The JUMP Approach
This course will challenge the widely accepted idea that people need to be born with a special gift or natural ability to excel in mathematics. New research in education and cognitive science suggests that young learners often struggle in school because they are not taught in a way that allows their brains to work efficiently. This course will examine barriers that prevent students from learning and methods of teaching that can help all students reach their full potential (not only in math). Math lovers and math phobic students are welcome: the course aims to help students develop deeper levels of confidence and understanding in mathematics so they can become effective teachers themselves.
Arts and Science, Faculty of
NULL
St. George
0.5
Winter
educat
SDG4
X
EDS377H5
Why the First Year of University Matters: The Impact of Peer Mentoring
This course explores contemporary issues in higher education with a focus on experiences, issues and challenges commonly encountered by undergraduate students during their first year of university. Interdisciplinary in its focus, topics of exploration include an examination of adult and student development theories, models of student engagement and an investigation into mindset, levels of persistence, habits of mind and personality characteristics that impact student success. An internship component is required. Students taking the course will assume a peer-mentoring role to apply and contextualize theories and skills learned in the course. This is a closed course open only to those students who have successfully secured a peer-mentoring position with the First Year Peer Mentoring program. [12S]
University of Toronto Mississauga
Language Studies (UTM), Department of
Mississauga
0.5
Fall
educat
SDG4
X
EDS399H5
Research Opportunity Program
This ROP provides the opportunity for students to join a research team and assist on projects currently underway in Education Studies. The work will include preparing an impact study, conducting interviews and using a data-informed approach to investigate the impact of a range of programs and educational interventions. The work will involve conducting pre and post surveys, leading qualitative observational data collection, and producing an analysis. Project descriptions for participating faculty members for the following summer and fall/winter sessions are posted on the ROP website in mid-February and students are invited to apply at that time. See Experiential and International Opportunities for more details.
University of Toronto Mississauga
Language Studies (UTM), Department of
Mississauga
0.5
Winter, Fall
educat
SDG4
X
EEB197H1
Biodiversity and the City
Most of us are urban creatures, but we as people are not the only urban creatures. In this seminar we will explore the diversity of animal and plant species comprising the ecological community that we call "Toronto". We will learn their names, whether they are endemic (from here originally) or newcomers, general aspects of their biology that suit them to living in an urban environment, how natural selection shapes the traits similarly and differently for species in urban versus wilderness settings, and what happens when the wild and the domesticated members of the community meet one another. For non-science students in all years and disciplines. Restricted to first-year students. Not eligible for CR/NCR option.
Arts and Science, Faculty of
Ecology and Evolutionary Biology (FAS), Department of
St. George
0.5
Fall
ecolog, biodivers, environment, urban
SDG11, SDG13, SDG15
X
X
X
EEB198H1
Genes and Behaviour
In this course you will experience the new paradigm in behaviour genetic research. You will learn why the concept of a nature-nurture dichotomy is passé and that it has been replaced by a new understanding gained from animal and human research in the areas of gene by environment interaction and epigenetics. We will discuss how our genome listens to our environment and the effect this has on our health and behaviour. We will learn why our early experiences are critical for the development of our brains and our bodies. Together this new body of knowledge will help us understand how individual differences in behaviour and health arise. For non-science students in all years and disciplines. Restricted to first-year students. Not eligible for CR/NCR option.
Arts and Science, Faculty of
Ecology and Evolutionary Biology (FAS), Department of
St. George
0.5
Winter
environment, health
SDG3, SDG13
X
X
EEB199H1
Humans, Evolution and Ecology
Learn about the evolution and ecology of humans and other species. Through discussion, scientific literature research, seminal readings, written reports and presentations you will discover scientific answers to questions such as (topics vary among years): How did life originate? Why are there so many species? Where did humans come from? Will humans become extinct? How can we explain human DNA and human brain size? Need we worry about climate change? What is causing the sixth extinction crisis? Are there ecological limits to human population size? What will life be like in the Anthropocene? Are humans still evolving? For non-science students in all years and disciplines. Restricted to first-year students. Not eligible for CR/NCR option.
Arts and Science, Faculty of
Ecology and Evolutionary Biology (FAS), Department of
St. George
0.5
Winter, Fall
ecolog, climate
SDG13, SDG15
X
X
EEB208H1
Ecosystems and the Human Footprint
An introduction to the diversity of Earth's aquatic and terrestrial ecosystems (e.g., coral reefs, lakes, tropical rainforests); the history of industrialization and human population growth; how the human footprint impacts ecosystems (e.g., ecosystem function, biological diversity); and strategies to maintain, recover and restore ecosystems. This is a course for non-science students in all years and disciplines. For non-science students in all years and disciplines.
Arts and Science, Faculty of
Ecology and Evolutionary Biology (FAS), Department of
St. George
0.5
Winter
forest, industr
SDG9, SDG15
X
X
EEB225H1
Biostatistics for Biological Sciences
A statistics course designed especially for life science students, using examples from ecology and evolution where appropriate. Students learn to choose and use statistics that are appropriate to address relevant biological questions and hypotheses. Lectures and computer labs will be used to cover the following methods: sampling and experimental design, data exploration, correlation, regression, ANOVA, Chi-square, and other parametric tests.
Arts and Science, Faculty of
Ecology and Evolutionary Biology (FAS), Department of
St. George
0.5
Fall
ecolog
SDG15
X
EEB255H1
Essentials of Biodiversity Science and Conservation Biology
"Classical" and "new" concepts in biodiversity and conservation. Topics may include: evolution and ecology in the past (Holocene) and future (Anthropocene); levels and kinds of biodiversity; valuing biodiversity through ecological economics; causes of endangerment; predicting extinction; genetic and demographic theory; habitat protection and captive breeding; conservation policies and endangered species acts; designing future biodiversity.
Arts and Science, Faculty of
Ecology and Evolutionary Biology (FAS), Department of
St. George
0.5
Winter
ecolog, biodivers, conserv
SDG14, SDG15
X
X
EEB267H1
Animal Diversity: Vertebrates
Introduction to the diversity of chordate animals (vertebrates, tunicates, and lancelets), focusing on morphological, physiological, ecological and behavioural traits that make each group special and how those traits increase vulnerability to human-based exploitation. Labs involve living organisms whenever possible, but only for display purposes.
Arts and Science, Faculty of
Ecology and Evolutionary Biology (FAS), Department of
St. George
0.5
Winter
ecolog
SDG15
X
EEB268H1
Plant and Microbial Diversity
Introduction to the biology of algae, fungi, and land plants. Lectures and labs emphasize the diversity of organisms with a focus on life cycles, ecology, and evolution. (Lab Materials Fee: $26)
Arts and Science, Faculty of
Ecology and Evolutionary Biology (FAS), Department of
St. George
0.5
Fall
ecolog
SDG15
X
EEB313H1
Quantitative Methods in R for Biology
The quantitative analysis and management of biological data is crucial in modern life sciences disciplines. Students will develop skills with R as applied to problems in ecology and evolutionary biology to learn reproducible approaches for data management, data manipulation, visualization, modelling, statistical analysis, and simulation for solving biological problems.
Arts and Science, Faculty of
Ecology and Evolutionary Biology (FAS), Department of
St. George
0.5
Fall
ecolog
SDG15
X
EEB319H1
Population Ecology
Abundance and distribution of populations; population growth and regulation; fluctuations, stochasticity and chaos; meta-population persistence and extinction; age and stage-structured populations; interactions within and between species; optimal harvesting; spread of infectious diseases. Labs include experiments and computer simulations. (Lab Materials Fee: $26)
Arts and Science, Faculty of
Ecology and Evolutionary Biology (FAS), Department of
St. George
0.5
Winter
ecolog
SDG15
X
EEB320H1
Dynamics of Ecosystem Processes
This course explores the relationships and feedback between biological communities and the abiotic factors of ecosystems. The course will cover the biogeochemical dynamics of energy and nutrients through ecosystem development and the effects of global change on these processes. The lab component of the course will apply lecture concepts and tools to specific case studies. A field trip may be offered and a small fee may be charged for transportation.
Arts and Science, Faculty of
Ecology and Evolutionary Biology (FAS), Department of
St. George
0.5
Fall
energy
SDG7
X
EEB321H1
Community Ecology
Nature and analysis of community structure; disturbance and community development; species interactions; community assembly processes. Computer exercises in weekly labs provide training in sampling, simulation, and data analysis.
Arts and Science, Faculty of
Ecology and Evolutionary Biology (FAS), Department of
St. George
0.5
Winter
ecolog, urban
SDG11, SDG15
X
X
EEB322H1
Behaviour and Behavioural Ecology
A broad introduction to animal behaviour emphasizing concepts from ethology and behavioural ecology, including foraging, predation, mating systems, parental care and behaviour genetics. Field and laboratory studies are undertaken. (Lab Materials Fee: $26)
Arts and Science, Faculty of
Ecology and Evolutionary Biology (FAS), Department of
St. George
0.5
Winter
ecolog, labor
SDG15
X
EEB325H1
Evolutionary Medicine
How evolutionary principles can help us better understand health and disease. Concepts from evolutionary biology (e.g., life history theory, coevolution, genomic conflict, constraints and trade-offs) will be applied to key problems in medicine and public health, including antibiotic resistance, aging, cancer, autoimmune disease, and pathogen virulence.
Arts and Science, Faculty of
Ecology and Evolutionary Biology (FAS), Department of
St. George
0.5
Winter
trade, health
SDG3
X
EEB328H1
Physiological Ecology
An advanced treatment of the physiological mechanisms controlling plant and animal distribution and ecological success. Topics of focus include photosynthesis and resource balance, water and nutrient relations, temperature effects, and adaptations to abiotic stress. A fee of approximately $15 may be charged for field trip transportation.
Arts and Science, Faculty of
Ecology and Evolutionary Biology (FAS), Department of
St. George
0.5
Fall
ecolog, water
SDG6, SDG14, SDG15
X
X
X
EEB362H1
Macroevolution
Explores patterns and processes of large-scale evolutionary change, played out over large geographic expanses and extended periods of time. Integrates information from paleontology, phylogenetics, field studies, functional biology, and experiments to link emergent evolutionary patterns to underlying evolutionary processes. Topics include: speciation, phylogenetic inference, adaptive vs. non-adaptive evolution, evolutionary constraints, diversification and extinction, evolutionary innovations, historical biogeography, and the relationship between evolutionary history and ecology. Tutorials will illustrate common analytical approaches to macroevolutionary investigation and provide in-depth exploration of landmark studies in macroevolution.
Arts and Science, Faculty of
Ecology and Evolutionary Biology (FAS), Department of
St. George
0.5
Fall
ecolog, innovat
SDG9, SDG15
X
X
EEB365H1
Topics in Applied Conservation Biology
Applied conservation biology including management (at the level of species/populations, environments/landscapes, and ecosystems) and how to conserve and maintain biodiversity and ecosystem function (including species and ecosystem distribution modelling).
Arts and Science, Faculty of
Ecology and Evolutionary Biology (FAS), Department of
St. George
0.5
Fall
biodivers, conserv, environment
SDG13, SDG14, SDG15
X
X
X
EEB380H1
Diversity of Insects
Evolutionary history, morphology, physiology, development, behaviour, and ecological significance of insects. Labs focus on identification of major groups of insects found in Ontario and each student makes an insect collection. Insects are collected during field trips during class time and also on Saturday field trips early in the term. A fee of approximately $15 may be charged for field trip transportation. (Lab Materials Fee: $26)
Arts and Science, Faculty of
Ecology and Evolutionary Biology (FAS), Department of
St. George
0.5
Fall
ecolog
SDG15
X
EEB382H1
Diversity of Fishes
Systematics, morphology, ecology, behaviour, biogeography, and conservation of fishes. Identification of major groups of fish; what makes each group biologically special and how those unique traits might contribute to conservation concerns. Labs focus on exercises designed to highlight how ichthyologists actually do research. (Lab Materials Fee: $26)
Arts and Science, Faculty of
Ecology and Evolutionary Biology (FAS), Department of
St. George
0.5
Fall
ecolog, fish, conserv
SDG14, SDG15
X
X
EEB384H1
Diversity of Amphibians and Reptiles
Lectures and laboratories examine the natural history, morphology, behaviour, ecology, evolutionary relationships, and biogeography of amphibians (frogs and toads, salamanders, caecilians) and non-avian reptiles (turtles, the tuatara, lizards, snakes, and crocodilians). Ancillary fee of $25 to cover cost of arranging a live animal lab featuring living Ontario reptiles and amphibians. Students are also required to purchase a $25 lab manual.
Arts and Science, Faculty of
Ecology and Evolutionary Biology (FAS), Department of
St. George
0.5
Winter
ecolog, labor
SDG15
X
EEB386H1
Diversity of Birds
Avian ecology, behaviour, conservation, and functional morphology and evolution of avian flight. Labs focus on avian anatomy and song analysis, and an outdoor activity introduces students to basic avian identification and compiling a field journal.
Arts and Science, Faculty of
Ecology and Evolutionary Biology (FAS), Department of
St. George
0.5
Winter
ecolog, conserv
SDG14, SDG15
X
X
EEB388H1
Diversity of Mammals
Lectures and laboratories examine the natural history, morphology, classification, evolutionary relationships, reproduction, biogeography, and conservation of mammals. Labs focus on the identification of mammals and their diverse morphological adaptations including mammals of Ontario. Lab manual fee: $25.
Arts and Science, Faculty of
Ecology and Evolutionary Biology (FAS), Department of
St. George
0.5
Fall
conserv, production, labor
SDG15
X
EEB390H1
Vertebrate Paleontology: Major Transitions in Vertebrate History
The evolutionary history of vertebrates is recorded in their fossil record. Lectures highlight the origin and radiation of major vertebrate clades, and emphasize key events in vertebrate history, notably major ecological and evolutionary transitions, and mass extinctions. Practicals (at the Royal Ontario Museum) explore fossils that exemplify these themes.
Arts and Science, Faculty of
Ecology and Evolutionary Biology (FAS), Department of
St. George
0.5
Winter
ecolog
SDG15
X
EEB397Y1
Research Project in Ecology and Evolutionary Biology
An intermediate research project requiring the prior consent of a member of the Department to supervise the project. The topic is to be one mutually agreed on by the student and supervisor. They must arrange the time, place, and provision of any materials and submit to the Undergraduate Office a signed form of agreement outlining details prior to being enrolled. This course is open to highly self-motivated students who are in their Third Year and have a strong interest in ecology and/or evolutionary biology. Students are required to write up the results of their research in a formal paper, often in the format of a research article, and may be required to present the results at a poster session and/or participate in an oral presentation. Students should contact their potential supervisors over the summer before classes begin in September. Information regarding how to register for the course is available on the EEB website. Not eligible for CR/NCR option. Note: cannot enrol if already taken the fourth year research project course EEB498Y1/EEB499Y1.
Arts and Science, Faculty of
Ecology and Evolutionary Biology (FAS), Department of
St. George
1.0
Fall/Winter
ecolog
SDG15
X
EEB430H1
Modeling in Ecology and Evolution
Study of ecology and evolution uses models to explain biological phenomena including the maintenance of biodiversity, population growth, competition, eco-evolutionary dynamics, trait and molecular evolution, epidemiology, spatial ecology, phylogeny and extinction. Students will learn to develop, assess and apply analytical, simulation and statistical models for analysis and data interpretation.
Arts and Science, Faculty of
Ecology and Evolutionary Biology (FAS), Department of
St. George
0.5
Fall
ecolog, biodivers
SDG15
X
EEB440H1
Ecology and Evolution of Plant-Animal Interactions
Major concepts in ecology and evolution from the perspective of plant-animal interactions. The richness of interactions between plants and animals is explored including antagonistic interactions (e.g., herbivory), mutualistic interactions (e.g., pollination, seed dispersal, ant-plant associations), and interactions involving multiple species across trophic levels.
Arts and Science, Faculty of
Ecology and Evolutionary Biology (FAS), Department of
St. George
0.5
Fall
ecolog
SDG15
X
EEB488H1
Research Issues in Ecology and Evolutionary Biology
This course is taken concurrently by students who are enrolled in EEB498Y1 Advanced Research Project in Ecology and Evolutionary Biology, and uses a combination of seminars, discussions, and presentations (including presentations by students) designed to cover issues commonly encountered when conducting research in ecology and evolutionary biology. Topics may include experimental design, effective use of statistics, scientific writing and publishing, public communication, ethics, and career development. Students will be required to attend weekly departmental seminars. This half-course runs from September to April and lectures meet in alternate weeks.
Arts and Science, Faculty of
Ecology and Evolutionary Biology (FAS), Department of
St. George
0.5
Fall/Winter
ecolog
SDG15
X
EEB491H1
Seminar in Biodiversity and Conservation Biology
Seminar course in biodiversity and conservation biology, emphasizing critical thinking and the synthesis of ideas crossing disciplinary boundaries. Group discussions among peers, facilitated by faculty, and student presentations. Discussions include critical analysis of research and review articles in the primary literature, with a focus on recent developments in biodiversity science and conservation biology. Evaluation based on presentations, participation in class discussions, and written assignments. (Note: students may take this course only once)
Arts and Science, Faculty of
Ecology and Evolutionary Biology (FAS), Department of
St. George
0.5
Winter
biodivers, conserv
SDG14, SDG15
X
X
EEB495H1
Seminar in Ecology and Evolutionary Biology
Seminar course in ecology and evolutionary biology, emphasizing critical thinking and the synthesis of ideas crossing disciplinary boundaries. Group discussions among peers, facilitated by faculty, and student presentations. Discussions include critical analysis of research and review articles in the primary literature. Evaluation based on presentations, participation in class discussions, and written assignments. (Note students may take this course only once.)
Arts and Science, Faculty of
Ecology and Evolutionary Biology (FAS), Department of
St. George
0.5
Winter
ecolog
SDG15
X
EEB497H1
Research Studies in Ecology & Evolutionary Biology
An independent studies half-course allowing students to produce a literature review, which is supervised by a faculty member in the Department of Ecology and Evolutionary Biology. Highly motivated fourth-year students will work closely with a supervisor and be required to write up the results of their research in a final research paper. Students should contact a potential supervisor well before classes begin in the fall, winter, or summer session. Information on how to apply for the course is available on the EEB website. Students cannot take more than two independent research courses of EEB 497H1, 498Y1, and 499Y1, and the second project must be with a different supervisor. Students who apply to EEB497H1 in the fall session can also apply to enrol concurrently in EEB488H1Y. Not eligible for CR/NCR option.
Arts and Science, Faculty of
Ecology and Evolutionary Biology (FAS), Department of
St. George
0.5
Winter, Fall
ecolog
SDG15
X
EEB498Y1
Advanced Research Project in Ecology and Evolutionary Biology
An advanced research project (a literature review alone is not sufficient) requiring the prior consent of a member of the Department to supervise the project. The topic is to be one mutually agreed on by the student and supervisor. They must arrange the time, place, and provision of any materials and submit to the Undergraduate Office a signed form of agreement outlining details prior to being enrolled. This course is normally open only to highly self-motivated students who are in their Fourth-Year and have adequate background in ecology and/or evolutionary biology. Students are required to write up the results of their research in a formal paper, often in the format of a research article, and are also required to present the results at a poster session and/or oral presentation. The time commitment is approximately 8 hours per week. Students should contact their potential supervisors over the summer before classes begin in September. Information regarding how to register for the course is available on the EEB website. Students in this course are also concurrently enrolled in EEB488H1Y Research Issues in Ecology and Evolutionary Biology. Not eligible for CR/NCR option.
Arts and Science, Faculty of
Ecology and Evolutionary Biology (FAS), Department of
St. George
1.0
Fall/Winter
ecolog
SDG15
X
EEB499Y1
Advanced Research Project in Ecology and Evolutionary Biology II
Allows students to do another independent project, supervision of which must be different from EEB497H1/EEB498Y1. Operates in the same manner as EEB498Y1. Not eligible for CR/NCR option.
Arts and Science, Faculty of
Ecology and Evolutionary Biology (FAS), Department of
St. George
1.0
Fall/Winter
ecolog
SDG15
X
EESA01H3
Introduction to Environmental Science
The scientific method and its application to natural systems. The physical and biological processes which drive ecosystem functions. Anthropogenic changes in ecosystem functions at local and global scales. Emphasis on the degradation of the atmosphere, soil, water and biological resources caused by human activity. Renewable and non-renewable resource sustainability. Laboratories will include hands-on field and lab related practical experience.
University of Toronto Scarborough
Physical & Environmental Sciences (UTSC), Department of
Scarborough
0.5
Fall
environment, labor, renewabl, water
SDG6, SDG7, SDG8, SDG13, SDG14
X
X
X
X
X
EESA06H3
Introduction to Planet Earth
This general interest course explores the composition, structure and origin of the Earth and the tectonic, chemical and biological processes that have evolved over the last 4.5 billion years. It explains how planet "works" as a complex system. It provides a fundamental basis for understanding many of the environmental challenges faced by human societies especially natural hazards, water shortages, and climate change, and the importance of natural resources to our economy.
University of Toronto Scarborough
Physical & Environmental Sciences (UTSC), Department of
Scarborough
0.5
Winter
environment, climate, natural resource, water
SDG6, SDG12, SDG13, SDG14
X
X
X
X
EESA07H3
Water
This course consists of a survey of the planet's water resources and the major issues facing the use of water. Topics include: Earth, the watery planet; water, the last great resource; Canada's waters; Ontario's waters; water and man; water contamination; and protecting our waters. Case studies such as the Walkerton tragedy will be studied. No prior knowledge of environmental science is required.
University of Toronto Scarborough
Physical & Environmental Sciences (UTSC), Department of
Scarborough
0.5
Fall
environment, water
SDG6, SDG13, SDG14
X
X
X
EESA09H3
Wind
A survey of the science, history and applications of wind. Topics include storms including hurricanes, tornadoes and mid-latitude cyclones, global circulation, local circulations, measurement of winds, impact of winds on land surfaces, wind power, winds and pollution, historical and literary winds, and contemporary wind research. No prior knowledge of environmental science is required.
University of Toronto Scarborough
Physical & Environmental Sciences (UTSC), Department of
Scarborough
0.5
Fall
pollut, environment, wind
SDG7, SDG13, SDG14, SDG15
X
X
X
X
EESA10H3
Human Health and the Environment
Because of pollution, our surroundings are becoming increasingly hazardous to our health. The past century has seen intense industrialization characterized by the widespread production and use of chemicals and the intentional and unintentional disposal of a wide range of waste materials. This course explores the relationship between the incidence of disease in human populations and the environmental pollution. Emphasis will be placed on understanding where and what pollutants are produced, how they are taken up by humans and their long term effects on health; the role of naturally-occurring carcinogens will also be examined. The course will include a view of risk assessment and toxicology using case studies. No prior knowledge of environmental or medical science is required.
University of Toronto Scarborough
Physical & Environmental Sciences (UTSC), Department of
Scarborough
0.5
Winter
pollut, environment, waste, production, industr, health
SDG3, SDG9, SDG12, SDG13, SDG14, SDG15
X
X
X
X
X
X
EESA11H3
Environmental Pollution
This course illustrates the environmental effects of urban expansion, changing methods of agriculture, industrialization, recreation, resource extraction, energy needs and the devastation of war. Drawing on information from a wide spectrum of topics - such as waste disposal, tourism, the arctic, tropical forests and fisheries - it demonstrates what we know about how pollutants are produced, the pathways they take through the global environment and how we can measure them. The course will conclude with an examination of the state of health of Canada's environments highlighting areas where environmental contamination is the subject of public discussion and concern. No prior knowledge of environmental science is required.
University of Toronto Scarborough
Physical & Environmental Sciences (UTSC), Department of
Scarborough
0.5
Winter
forest, fish, pollut, environment, waste, urban, industr, energy, health, agricultur
SDG2, SDG3, SDG7, SDG9, SDG11, SDG12, SDG13, SDG14, SDG15
X
X
X
X
X
X
X
X
X
EESB03H3
Principles of Climatology
This is an overview of the physical and dynamic nature of meteorology, climatology and related aspects of oceanography. Major topics include: atmospheric composition, nature of atmospheric radiation, atmospheric moisture and cloud development, atmospheric motion including air masses, front formation and upper air circulation, weather forecasting, ocean circulation, climate classification, climate change theory and global warming.
University of Toronto Scarborough
Physical & Environmental Sciences (UTSC), Department of
Scarborough
0.5
Winter
ocean, weather, global warming, climate
SDG13, SDG14
X
X
EESB04H3
Principles of Hydrology
The water and energy balances; fluxes through natural systems. Process at the drainage basin scale: precipitation, evaporation, evapotranspiration and streamflow generation. The measurement of water fluxes, forecasting of rainfall and streamflow events. Human activity and change in hydrologic processes.
University of Toronto Scarborough
Physical & Environmental Sciences (UTSC), Department of
Scarborough
0.5
Fall
energy, water
SDG6, SDG7, SDG14
X
X
X
EESB15H3
Earth History
Planet Earth is at least 4,400 million years old and a geological record exists for at least the last 3,900 million years in the form of igneous, metamorphic and sedimentary rocks. The changing dynamics of convection deep within the Earth's mantle and associated super-continent assembly and breakup along with meteorite impacts, are now recognized as the major controls on development of the planet's atmosphere, oceans, biology, climate and geo-chemical cycles. This course reviews this long history and the methods and techniques used by geologists to identify ancient environments.
University of Toronto Scarborough
Physical & Environmental Sciences (UTSC), Department of
Scarborough
0.5
Fall
ocean, environment, climate
SDG13, SDG14
X
X
EESB16H3
Feeding Humans - The Cost to the Planet
Examines the origins and systems of production of the major plants and animals on which we depend for food. Interactions between those species and systems and the local ecology will be examined, looking at issues of over harvesting, genetic erosion, soil erosion, pesticide use, and impacts of genetically modified strains.
University of Toronto Scarborough
Physical & Environmental Sciences (UTSC), Department of
Scarborough
0.5
Winter
ecolog, production, food
SDG2, SDG12, SDG15
X
X
X
EESB18H3
Natural Hazards
This course is an investigation of the geological background and possible solutions to major hazards in the environment.
Environmental hazards to be studied include: landslides, erosion, earthquakes, volcanic eruptions, asteroid impacts, flooding, glaciation, future climate change, subsidence, and the disposal of toxic wastes. This may be of interest to a wide range of students in the life, social, and physical sciences; an opportunity for the non-specialist to understand headline-making geological events of topical interest. No prior knowledge of the Earth Sciences is required.
University of Toronto Scarborough
Physical & Environmental Sciences (UTSC), Department of
Scarborough
0.5
Fall
environment, climate, waste
SDG12, SDG13
X
X
EESB20H3
Sedimentology and Stratigraphy
Sedimentary basins hold the bulk of Earth's rock record and are fundamental in the study of past environments, tectonic evolution, climates, and biosphere. This course will explore different basin types and the nature of their infills. The course will also emphasize the economic resources within sedimentary basins and paleoenvironmental significance.
University of Toronto Scarborough
Physical & Environmental Sciences (UTSC), Department of
Scarborough
0.5
Winter
environment, climate
SDG13
X
EESC03H3
Geographic Information Systems and Remote Sensing
This course focuses on the use of Geographic Information Systems (GIS) and Remote Sensing (RS) for solving a range of scientific problems in the environmental sciences and describing their relationship with - and applicability to - other fields of study (e.g. geography, computer science, engineering, geology, ecology and biology). Topics include (but are not limited to): spatial data types, formats and organization; geo-referencing and coordinate systems; remotely sensed image manipulation and analysis; map production.
University of Toronto Scarborough
Physical & Environmental Sciences (UTSC), Department of
Scarborough
0.5
Winter
ecolog, environment, production
SDG12, SDG13, SDG15
X
X
X
EESC04H3
Biodiversity and Biogeography
Theoretical and practical aspect of the evolution of organismal diversity in a functional context; examination of species distributions and how these are organized for scientific study. Emphasis will be on the highly diverse invertebrate animals. Topics include biomes, dispersal, adaptation, speciation, extinction and the influence of climate history and humans.
University of Toronto Scarborough
Physical & Environmental Sciences (UTSC), Department of
Scarborough
0.5
Winter
biodivers, climate
SDG13, SDG15
X
X
EESC07H3
Groundwater
Groundwater represents the world's largest and most important fresh water resource. This basic course in hydrogeology introduces the principles of groundwater flow and aquifer storage and shows how a knowledge of these fundamental tools is essential for effective groundwater resource management and protection. Special emphasis is placed on the practical methods of resource exploration and assessment; examples of the approach are given for aquifers under environmental stress in southern Ontario, the US and Africa.
University of Toronto Scarborough
Physical & Environmental Sciences (UTSC), Department of
Scarborough
0.5
Fall
environment, water
SDG6, SDG13, SDG14
X
X
X
EESC13H3
Environmental Impact Assessment and Auditing
To familiarize students with the relevant legislation, qualitative and quantitative approaches and applications for environmental impact assessments and environmental auditing. The focus will be on the assessment of impacts to the natural environment, however, socio-economic impacts will also be discussed. Environmental auditing and environmental certification systems will be discussed in detail. Examples and case studies from forestry, wildlife biology and land use will be used to illustrate the principles and techniques presented in the course. Students will acquire "hands-on" experience in impact assessment and environmental auditing through case studies.
University of Toronto Scarborough
Physical & Environmental Sciences (UTSC), Department of
Scarborough
0.5
Winter
land use, forest, environment, socio-economic
SDG1, SDG13, SDG15
X
X
X
EESC16H3
Field Camp I
Many environmental problems can only be assessed by collecting geological and other environmental data in the field. This course will provide students with the necessary skills for fieldwork investigations in a range of environments. The camp is held annually either in May or late August. Locations for the camp include Costa Rica, Rockies, Arizona, and Appalachians.
University of Toronto Scarborough
Physical & Environmental Sciences (UTSC), Department of
Scarborough
0.5
Winter
environment
SDG13
X
EESC18H3
Limnology
North America is endowed with eight of the twelve largest lakes in the world. The origin and geological history, cycles of carbon, nitrogen and phosphorus, and structures of ecosystems of the North American Great Lakes will be used as examples of large lacustrine systems. Fundamental concepts of limnology will be related to features found in the Great Lakes. Topics include: lake origins, lake classification, lake temperature structure and heat budgets, seasonal water circulations, productivity, plankton ecology, food-web dynamics, exotic species invasions, eutrophication-related phenomena and water quality/fisheries management. Specific anthropogenic influences will be illustrated using case studies from the local environment, and students will be allowed to pursue their own interests through a series of short seminars.
University of Toronto Scarborough
Physical & Environmental Sciences (UTSC), Department of
Scarborough
0.5
Winter
ecolog, fish, environment, water, food
SDG2, SDG6, SDG13, SDG14, SDG15
X
X
X
X
X
EESC19H3
Oceanography
The world's oceans constitute more than 70% of the earth's surface environments. This course will introduce students to the dynamics of ocean environments, ranging from the deep ocean basins to marginal seas to the coastal ocean. The large-scale water circulation is examined from an observationally based water mass analysis and from a theoretical hydro-dynamical framework. The circulation of marginal seas, the role of tides, waves and other currents are studied in terms of their effects upon the coastal boundary.
University of Toronto Scarborough
Physical & Environmental Sciences (UTSC), Department of
Scarborough
0.5
Winter
ocean, environment, water
SDG6, SDG13, SDG14
X
X
X
EESC20H3
Geochemistry
The course will cover fundamental aspects of chemical processes occurring at the Earth's surface. Terrestrial and aquatic geochemical processes such as: mineral formation and dissolution, redox, aqueous-solid phase interactions, stable isotopes, and organic geochemistry in the environment will be covered.
University of Toronto Scarborough
Physical & Environmental Sciences (UTSC), Department of
Scarborough
0.5
Fall
environment
SDG13
X
EESC24H3
Advanced Readings in Environmental Science
An advanced supervised readings course that can be taken in any session. Students will follow structured independent readings in any area of Environmental Science. A description of the objectives and scope of the individual offering must be approved by the Supervisor of Studies. Two papers are required in the course; the supervisor and one other faculty member will grade them. The course may not be used as a substitute for EES Program requirements.
University of Toronto Scarborough
Physical & Environmental Sciences (UTSC), Department of
Scarborough
0.5
Winter
environment
SDG13
X
EESC30H3
Environmental Microbiology
This course examines the diversity of microorganisms, their adaptations to special habitats, and their critical role in the ecosystems and biogeochemical cycles. The course covers microbial phylogeny, physiological diversity, species interactions and state of the art methods of detection and enumeration.
University of Toronto Scarborough
Physical & Environmental Sciences (UTSC), Department of
Scarborough
0.5
Winter
environment
SDG13
X
EESC33H3
Environmental Science Field Course
A field course on selected topics in aquatic environments. Aquatic environmental issues require careful field work to collect related hydrological, meteorological, biological and other environmental data. This hands-on course will teach students the necessary skills for fieldwork investigations on the interactions between air, water, and biota.
University of Toronto Scarborough
Physical & Environmental Sciences (UTSC), Department of
Scarborough
0.5
Fall
environment, water
SDG6, SDG13, SDG14
X
X
X
EESC34H3
Sustainability in Practice
This course is intended for students who would like to apply theoretical principles of environmental sustainability learned in other courses to real world problems. Students will identify a problem of interest related either to campus sustainability, a local NGO, or municipal, provincial, or federal government. Class meetings will consist of group discussions investigating key issues, potential solutions, and logistical matters to be considered for implementation of proposed solutions. Students who choose campus issues will also have the potential to actually implement their solutions. Grades will be based on participation in class discussions, as well as a final report and presentation.
Same as ESTC34H3
University of Toronto Scarborough
Physical & Environmental Sciences (UTSC), Department of
Scarborough
0.5
Winter
environment
SDG13
X
EESC36H3
Petrology
This course surveys the processes that produce the chemical and mineralogical diversity of igneous, sedimentary, and metamorphic rocks including: the distribution, chemical and mineral compositions of rocks of the mantel and crust, their physical properties, and their relation to geological environments. Descriptive petrology for various rocks will also be covered.
University of Toronto Scarborough
Physical & Environmental Sciences (UTSC), Department of
Scarborough
0.5
Fall
environment
SDG13
X
EESD02H3
Contaminant Hydrogeology
Natural hydrochemical processes; the use of major ions, minor ions, trace metals and environmental isotopes in studying the occurrence and nature of ground water flow. Point and non-point sources of ground water contamination and the mechanisms of contaminant transport.
University of Toronto Scarborough
Physical & Environmental Sciences (UTSC), Department of
Scarborough
0.5
Winter
environment, water
SDG6, SDG13, SDG14
X
X
X
EESD06H3
Climate Change Impact Assessment
Climate change over the last 150 years is reviewed by examining the climate record using both direct measurements and proxy data. Projection of future climate is reviewed using the results of sophisticated climate modeling. The climate change impact assessment formalism is introduced and applied to several examples. Students will acquire practical experience in climate change impact assessment through case studies.
University of Toronto Scarborough
Physical & Environmental Sciences (UTSC), Department of
Scarborough
0.5
Winter
climate
SDG13
X
EESD07H3
Field Camp II
This field camp will familiarize students with several geological settings and modern environments.
The camp is held annually either in May or late August. Locations for the camp include Costa Rica, Rockies, Arizona, and Appalachians.
University of Toronto Scarborough
Physical & Environmental Sciences (UTSC), Department of
Scarborough
0.5
Winter
environment
SDG13
X
EESD09H3
Research Project in Environmental Science
This course entails the design, implementation, and reporting of an independent and substantial research project, under the direct supervision of a faculty member. Research may involve laboratory, fieldwork, and/or computer-based analyses, with the final products being presented primarily as a written thesis, although other course work, such as oral presentations of student research, may also be required. All areas of environmental science research that are supported by existing faculty members are permissible. The course should be undertaken after the end of the 3rd Year, and is subject to faculty availability. Faculty permission and supervision is required.
University of Toronto Scarborough
Physical & Environmental Sciences (UTSC), Department of
Scarborough
0.5
Fall/Winter, Winter
environment, labor
SDG13
X
EESD10Y3
Research Project in Environmental Science
This course entails the design, implementation, and reporting of an independent and substantial research project, under the direct supervision of a faculty member. Research may involve laboratory, fieldwork, and/or computer-based analyses, with the final products being presented primarily as a written thesis, though other course work, such as oral presentations of student research, may also be required. All areas of environmental science research that are supported by existing faculty members are permissible. The course should be undertaken after the end of the 3rd Year, and is subject to faculty availability. Faculty permission and supervision is required.
University of Toronto Scarborough
Physical & Environmental Sciences (UTSC), Department of
Scarborough
1.0
Fall/Winter
environment, labor
SDG13
X
EESD13H3
Environmental Law, Policy and Ethics
This course reviews the laws and policies governing the management of natural resources in Canada. It examines the role of law and how it can it can work most effectively with science, economics and politics to tackle environmental problems such as climate change, conservation, and urban sprawl at domestic and international scales.
University of Toronto Scarborough
Physical & Environmental Sciences (UTSC), Department of
Scarborough
0.5
Fall
conserv, environment, climate, natural resource, urban
SDG11, SDG12, SDG13, SDG14, SDG15
X
X
X
X
X
EESD15H3
Fundamentals of Site Remediation
This course consists of a study of the ways in which hazardous organic and inorganic materials can be removed or attenuated in natural systems. The theory behind various technologies, with an emphasis on bioremediation techniques and their success in practice. An introduction to the unique challenges associated with the remediation of surface and ground water environments, soils, marine systems, and contaminated sediments.
University of Toronto Scarborough
Physical & Environmental Sciences (UTSC), Department of
Scarborough
0.5
Fall
marine, environment, water
SDG6, SDG13, SDG14
X
X
X
EESD17Y3
Cohort Capstone Course in Environmental Studies
This course is designed to provide a strong interdisciplinary focus on specific environmental problems including the socioeconomic context in which environmental issues are resolved. The cohort capstone course is in 2 consecutive semesters, providing final year students the opportunity to work in a team, as environmental researchers and consultants, combining knowledge and skill-sets acquired in earlier courses. Group research to local environmental problems and exposure to critical environmental policy issues will be the focal point of the course. Students will attend preliminary meetings schedules in the Fall semester.
Same as ESTD17Y3
University of Toronto Scarborough
Physical & Environmental Sciences (UTSC), Department of
Scarborough
1.0
Fall/Winter
environment, socioeconomic
SDG1, SDG13
X
X
EESD18H3
Environmental Studies Seminar Series
This course will be organized around the DPES seminar series, presenting guest lecturers around interdisciplinary environmental themes. Students will analyze major environmental themes and prepare presentations for in-class debate.
Same as ESTD18H3
University of Toronto Scarborough
Physical & Environmental Sciences (UTSC), Department of
Scarborough
0.5
Winter
environment
SDG13
X
EESD19H3
Professional Development Seminars in Geoscience
This course consists of 12 lectures given by senior industry professionals to prepare students for a post-graduate career in environmental consulting. Lectures will convey the full range of consulting activities, including visits to environmental investigation sites in the Toronto area. Technical writing and oral communication skills will be stressed in assignments.
University of Toronto Scarborough
Physical & Environmental Sciences (UTSC), Department of
Scarborough
0.5
Winter
environment, industr
SDG9, SDG13
X
X
EESD20H3
Geological Evolution and Environmental History of North America
This course reviews the geological and environmental evolution of the North American continent over the past 4 billion years by exploring the range of plate tectonics involved in continental growth and how those processes continue today. It will explore major changes in terrestrial and marine environments through geologic time and associated organisms and natural resources of economic importance, and will conclude with an examination of recent human anthropogenic influences on our environment especially in regard to urban areas and associated problems of waste management, resource extraction, geological hazards, and the impacts of urbanization on watersheds and water resources. The course will include a weekend field trip to examine the geology and urban environmental problems of The Greater Toronto Area. It provides students in environmental science with a fundamental knowledge of the importance of environmental change on various timescales and the various field methods used to assess such changes.
University of Toronto Scarborough
Physical & Environmental Sciences (UTSC), Department of
Scarborough
0.5
Winter
marine, environment, natural resource, waste, urban, water
SDG6, SDG11, SDG12, SDG13, SDG14
X
X
X
X
X
EESD21H3
Geophysical and Climate Data Analysis
This course offers an advanced introduction to geophysical data analysis. It is intended for upper-level undergraduate students and graduate students interested in data analysis and statistics in the geophysical sciences and is mainly laboratory (computer) based. The goal is to provide an understanding of the theory underlying the statistical analysis of geophysical data, in space, time and spectral domains and to provide the tools to undertake this statistical analysis. Important statistical techniques such as regression, correlation and spectral analysis of time series will be explored with a focus on hypothesis formulation and interpretation of the analysis. Multivariate approaches will also be introduced. Although some previous knowledge of probability and statistics will be helpful, a review will be provided at the beginning of the course. Concepts and notation will be introduced, as needed.

Jointly offered with EES1132H.
University of Toronto Scarborough
Physical & Environmental Sciences (UTSC), Department of
Scarborough
0.5
Fall
climate, labor
SDG13
X
EESD31H3
Applied Climatology
This course will introduce and discuss the basic topics and tools of applied climatology, and how its concepts can be used in everyday planning and operations (e.g. in transportation, agriculture, resource management, health and energy). The course involves the study of the application of climatic processes and the reciprocal interaction between climate and human activities. Students will also learn the methods of analyzing and interpreting meteorological and climatological data in a variety of applied contexts. Topics include: Solar Energy; Synoptic Climatology and Meteorology; Climate and Agriculture; Climate and Energy; Climate and Human Comfort; Urban Effects on Climate and Air Pollution.
Jointly offered with EES1131H
University of Toronto Scarborough
Physical & Environmental Sciences (UTSC), Department of
Scarborough
0.5
Fall
pollut, climate, urban, solar, energy, health, agricultur
SDG2, SDG3, SDG7, SDG11, SDG13, SDG14, SDG15
X
X
X
X
X
X
X
EMU130Y1
Introduction to Music Education
An introduction to concepts and contexts to music education with an emphasis on a critical examination of current practice. Introduction to the basics of various approaches to music teaching and learning.
Music, Faculty of
NULL
St. George
0.67
Fall/Winter
educat
SDG4
X
EMU230H1
Voice Education
Introductory study of voice production with attention to breathing technique, tone development and vocal diction. This course focuses on the development of the singing voice for students seeking a basic understanding of how the voice works for singing. Recommended for music education, instrumental, keyboard and composition students interested in singing.
Music, Faculty of
NULL
St. George
0.17
Fall
production, educat
SDG4
X
EMU240H1
Theoretical Inquiry in Music Education
This course introduces students to theoretical inquiry in music education in the context of diversity related to students, teachers, music, and music educational settings. Through course readings, individual research, classroom interactions, presentations, and writing short essays, students critique existing theories, and develop concepts articulating their own theories of music education that take into account relevant social, political, and ethical questions.
Music, Faculty of
NULL
St. George
0.5
Winter
educat
SDG4
X
EMU245H1
Psychological Foundations of Music Education
This course provides an advanced study of the psychological bases of music education. Students will critically reflect on the strengths and weaknesses of prevailing psychological theories in the context of music teaching and learning. Through seminar presentations, research, and the examination of scholarly literature, students will explore the field of music psychology.
Music, Faculty of
NULL
St. George
0.5
Fall
educat
SDG4
X
EMU330Y1
Choral Music Education
The study and practice of choral music with an emphasis on teaching and learning in school and community choral settings. The course will focus on conducting, programming and score study with an emphasis on rehearsal pedagogy.
Music, Faculty of
NULL
St. George
1.0
Fall/Winter
educat
SDG4
X
EMU359H1
Jazz Education
Analysis, methods and materials for jazz education and improvisation techniques.
Music, Faculty of
NULL
St. George
0.5
Fall
educat
SDG4
X
EMU360H1
Improvisation for Music Education
Development of improvisation skills through applied performance and theoretical analysis in a variety of styles.
Music, Faculty of
NULL
St. George
0.5
Winter
educat
SDG4
X
EMU370Y1
Principles & Practice of Music Education for Children I
This course provides an introduction to the philosophical underpinnings and practice-based theories of music education for children. Students will have the opportunity to study the development of musicianship in childhood and explore common theories and educational approaches through seminars, observations, composition and performance experiences, and microteaching opportunities.
Music, Faculty of
NULL
St. George
0.67
Fall/Winter
educat
SDG4
X
EMU372Y1
Movement & Music: Dalcroze Eurhythmics
This course focuses on the pedagogy of Dalcroze Eurhythmics, a music education approach that examines the intrinsic relationships between physical movement and the learning/performing of music. Students make a kinaesthetic connection to a wide variety of music through invigorating combinations of free movement, choreography, singing, conducting, improvisation and music games.
Music, Faculty of
NULL
St. George
0.33
Fall/Winter
educat
SDG4
X
EMU401H1
Calls to Action through Music Education
This course takes the Calls to Action from the Truth and Reconciliation Commission as the Foundation for Curriculum and Pedagogy in Music Education. Students will lead seminars on topics related to their research interest and examine current issues facing Indigenous Peoples through the lens of Reconciliation.
Music, Faculty of
NULL
St. George
0.5
Fall
educat
SDG4
X
EMU410H1
Introduction to Research in Music Education
An introduction to modes of research in music education, with particular reference to principles of research design and effective research procedures. Students will prepare critiques of research material and will be guided in designing research projects.
Music, Faculty of
NULL
St. George
0.5
Fall
educat
SDG4
X
EMU425H1
Music and Urban Engagement
This course provides a reflective practicum experience in unique urban settings. Under the mentorship of professional community music teachers, students assist and lead music-making sessions with youth from the Regent Park School of Music and/or youth residing in detention centers. Students have the opportunity to investigate how music is an important tool for social justice.
Music, Faculty of
NULL
St. George
0.5
Winter
justice, urban
SDG11, SDG16
X
X
EMU435H1
Internship in Music Education
This course provides a community-based experience that will enable students to merge theory and practice in music education. Placements must be approved by the instructor during the first week of classes. Two options exist: (1) Students will volunteer for three hours a week in a community music or school setting of their choosing; or (2) Students receive lectures on anti-racist and anti-oppression approaches and undertake internship opportunities in partnership with the Marigold Group and GTA high schools identified as high needs.
Music, Faculty of
NULL
St. George
0.5
Winter
educat
SDG4
X
EMU461H1
Music Education in Cultural Perspective
A seminar exploring music's social nature, with special attention to the ways culture influences music perception, cognition, and value, and the way musical practices in turn influence culture and social relations. Issues addressed include: music education as intercultural education; music, gender, and power; the educational implications of cultural relativity; music education as an agent of social reproduction and/or transformation; social relations implicit in various musical and instructional practices; and music education's moral significance. Emphasis is placed on practical pedagogical applications of world music.
Music, Faculty of
NULL
St. George
0.5
Fall
production, gender, educat
SDG4, SDG5
X
X
EMU480H1
Child & Adolescent Development in Music Education
A critical examination of theories of musical development in relation to general intellectual, physical, social, emotional and moral development from early childhood through adolescence. Candidates explore how best to facilitate growth and learning in the area of music education. This course includes a field experience component.
Music, Faculty of
NULL
St. George
0.5
Fall
educat
SDG4
X
ENG196H1
Cook the Books
If, as Brillat-Savarin so famously said, "you are what you eat", then what are we? What do our eating choices reveal about us and what we value? In this class, we will examine stories about farming, cooking, and eating in order to understand how culture shapes culinary traditions and vice versa. But we don't stop there: through cooking and eating together, we will create new stories about our food and our relationship to the earth that sustains us. Co-taught with a professional chef, this course combines literary and historical analysis with hands-on cooking classes, shared meals, and food-oriented field trips. Restricted to first-year students. Not eligible for CR/NCR option. An additional fee to cover food and field trip costs is required.
Arts and Science, Faculty of
English (FAS), Department of
St. George
0.5
Fall
food
SDG2
X
ENG199H1
Tree Stories
Trees are all around us. We climb them, tell stories about them, write on paper, at desks, in homes made from them. But most people tend to take them for granted. This course considers how we imagine trees in works of art and legend and what trees can teach us about our own place in the world. We will read stories and poems as well as exploring the trees around campus and the environment we share. Restricted to first-year students. Not eligible for CR/NCR option.
Arts and Science, Faculty of
English (FAS), Department of
St. George
0.5
Fall
environment
SDG13
X
ENG202H5
British Literature in the World I: Medieval to Eighteenth-Century
This course serves as an introduction to influential texts that have shaped British literary history from Beowulf and Chaucer to Shakespeare, from Milton and Behn to Burney. Students will focus on questions such as the range and evolution of poetic forms, the development of the theatre and the novel, and the emergence of women writers. The course will encourage students to think about the study of English literatures in relationship to history, including the history of world literatures. [24L, 12T]
University of Toronto Mississauga
English and Drama (UTM), Department of
Mississauga
0.5
Fall
women
SDG5
X
ENG235H1
The Graphic Novel
An introduction to book-length sequential art, this course includes fictional and nonfictional comics, with a focus on formal properties such as narrative layout and text/art hybridity. Themes vary but may include superheroes; auto/biography; the figure of the outsider; women in comics; alienation and youth; and war reporting.
Arts and Science, Faculty of
English (FAS), Department of
St. George
0.5
Winter, Fall
women
SDG5
X
ENG269H5
Queer Writing
Introducing a lesbian, gay, bisexual, trans, and queer tradition in literature and theory, this course may explore texts from a variety of historical periods, from the classical to the contemporary. It will focus on a variety of genres, potentially including poetry, drama, fiction, criticism, and popular culture. [36L]
University of Toronto Mississauga
English and Drama (UTM), Department of
Mississauga
0.5
Fall
queer
SDG5
X
ENG273Y1
Queer Writing
Introducing a lesbian, gay, bisexual, trans, and queer tradition in literature and theory, this course explores classical, modern, postmodern, and contemporary literature, criticism, art, film, music, and popular culture.
Arts and Science, Faculty of
English (FAS), Department of
St. George
1.0
Fall/Winter
queer
SDG5
X
ENG275H5
Feminist Approaches to Literature
This course will consider the implications, for literary studies and for literary writing, of modern traditions of feminist and gender theory. Students will encounter the work of major feminist thinkers - e.g., Mary Wollstonecraft, Simone de Beauvoir, Alice Walker, Julie Kristeva, and Judith Butler - and texts by major women writers. The course will explore feminist approaches to literature, including those that borrow from post-structural, psychoanalytic, and contemporary gender, race, and queer theories. [36L]
University of Toronto Mississauga
English and Drama (UTM), Department of
Mississauga
0.5
Fall
queer, women, gender
SDG5
X
ENG307H5
Women Writers before Austen
A study of mystical writings, poems, plays, novels, letters, periodical essays, polemical works, and books for children by such writers as Julian of Norwich, Margery Kempe, Mary Sidney, Emilia Lanyer, Margaret Cavendish, Aphra Behn, Fanny Burney, and Mary Wollstonecraft. Topics may include patronage and publishing; nationality, class, and gender; and generic conventions. [36L]
University of Toronto Mississauga
English and Drama (UTM), Department of
Mississauga
0.5
Winter
women, gender
SDG5
X
ENG331H1
Drama 1485-1603
Plays and performance history across Britain, 1485 to 1603; the rise of London theatres and of named English and Scottish playwrights (Medwall, Redford, Marlowe, Shakespeare, etc.); anonymous sixteenth-century plays from Cheshire, Yorkshire, East Anglia, and Cambridgeshire; traces of lost performances in the archives.
Arts and Science, Faculty of
English (FAS), Department of
St. George
0.5
Winter
rights
SDG16
X
ENG335H1
Drama 1603-1642
This course explores English drama from the death of Queen Elizabeth I to the closing of the theatres, with attention to such playwrights as Jonson, Middleton, Shakespeare, Webster.
Arts and Science, Faculty of
English (FAS), Department of
St. George
0.5
Fall
rights
SDG16
X
ENG335H5
Jacobean Drama
This course explores English drama from the death of Queen Elizabeth I to the closing of the theatres, with attention to such playwrights as Jonson, Middleton, Shakespeare, and Webster. As part of this course, students may have the option of participating in an international learning experience that will have an additional cost and application process.
University of Toronto Mississauga
English and Drama (UTM), Department of
Mississauga
0.5
Fall
rights
SDG16
X
ENG352H5
Canadian Drama
Canadian plays, with emphasis on major playwrights and on developments since 1940, but with attention also to the history of the theatre in Canada. [36L]
University of Toronto Mississauga
English and Drama (UTM), Department of
Mississauga
0.5
Winter
rights
SDG16
X
ENG396H5
Literary Theory Now
This course will explore some of the most recent, provocative, and significant developments in literary theory, including work in such areas as eco-criticism, literary activism, critical race studies, Indigenous studies, queer and trans studies, and cognitive literary studies. [36L]
University of Toronto Mississauga
English and Drama (UTM), Department of
Mississauga
0.5
Fall
queer
SDG5
X
ENGA01H3
What Is Literature?
This course introduces the fundamentals of studying English at the university level, and builds the skills needed to successfully navigate English degree programs as well as a liberal arts education more broadly. Students will learn how to read texts closely and think critically; they will practice presenting their ideas in a clear, supported way; they will be exposed to a variety of texts in different forms and genres; and they will gain a working familiarity with in-discipline terminology and methodologies. Moreover, the course is an opportunity to explore the power exercised by literature on all levels of society, from the individual and personal to the political and global.
University of Toronto Scarborough
English (UTSC), Department of
Scarborough
0.5
Fall
educat
SDG4
X
ENGB25H3
The Canadian Short Story
A study of the Canadian short story. This course traces the development of the Canadian short story, examining narrative techniques, thematic concerns, and innovations that captivate writers and readers alike.
University of Toronto Scarborough
English (UTSC), Department of
Scarborough
0.5
Fall
innovat
SDG9
X
ENGB29H3
Shakespeare and Film
The history of Shakespeare and (on) film is long, illustrious—and prolific: there have been at least 400 film and television adaptations and appropriations of Shakespeare over the past 120 years, from all over the world. But how and why do different film versions adapt Shakespeare? What are the implications of transposing a play by Shakespeare to a different country, era, or even language? What might these films reveal, illuminate, underscore, or re-imagine about Shakespeare, and why? In this course, we will explore several different Shakespearean adaptations together with the plays they adapt or appropriate. We will think carefully about the politics of adaptation and appropriation; about the global contexts and place of Shakespeare; and about the role of race, gender, sexuality, disability, empire and colonialism in our reception of Shakespeare on, and in, film.
Pre-1900 course.
University of Toronto Scarborough
English (UTSC), Department of
Scarborough
0.5
Winter
gender
SDG5
X
ENGB35H3
Children's Literature
An introduction to children's literature. This course will locate children's literature within the history of social attitudes to children and in terms of such topics as authorial creativity, race, class, gender, and nationhood. Pre-1900 course.
University of Toronto Scarborough
English (UTSC), Department of
Scarborough
0.5
Winter
gender
SDG5
X
ENGB39H3
Tolkien's Middle Ages
This course will explore Tolkien's writing, including selections from the Lord of the Rings trilogy, together with the medieval poetry that inspired it. We will consider how the encounter with medieval literature shapes Tolkien's attitudes toward themes including ecology, race, gender, and history.
University of Toronto Scarborough
English (UTSC), Department of
Scarborough
0.5
Fall
ecolog, gender
SDG5, SDG15
X
X
ENGC01H3
Indigenous Literature of Turtle Island (Canada)
This course introduces students to a diverse selection of recent writing by Indigenous authors in Canada/Turtle Island, including novels, poetry, drama, essays, oratory and autobiography. Discussion of literature is grounded in Indigenous literary criticism, which addresses such issues as appropriation of voice, language, land, spirituality, orality, colonialism, gender, hybridity, authenticity, resistance, sovereignty and anti-racism.
University of Toronto Scarborough
English (UTSC), Department of
Scarborough
0.5
Fall
gender
SDG5
X
ENGC07H3
Canadian Drama
A study of major Canadian playwrights with an emphasis on the creation of a national theatre, distinctive themes that emerge, and their relation to regional and national concerns. This course explores the perspectives of Québécois, feminist, Native, queer, ethnic, and Black playwrights who have shaped Canadian theatre.
University of Toronto Scarborough
English (UTSC), Department of
Scarborough
0.5
Winter
rights, queer
SDG5, SDG16
X
X
ENGC12H3
Individualism and Community in American Literature
An exploration of the tension in American literature between two conflicting concepts of self. We will examine the influence on American literature of the opposition between an abstract, "rights-based," liberal-individualist conception of the self and a more traditional, communitarian sense of the self as determined by inherited regional, familial, and social bonds.
University of Toronto Scarborough
English (UTSC), Department of
Scarborough
0.5
Winter
rights
SDG16
X
ENGC15H3
Introduction to Theory and Criticism
A study of selected topics in literary criticism. Schools of criticism and critical methodologies such as New Criticism, structuralism, poststructuralism, Marxism, psychoanalysis, gender and sexuality studies, New Historicism, and postcolonialism will be covered, both to give students a roughly century-wide survey of the field and to provide them with a range of models applicable to their own critical work as writers and thinkers. Recommended for students planning to pursue graduate study in English literature.
University of Toronto Scarborough
English (UTSC), Department of
Scarborough
0.5
Winter
gender
SDG5
X
ENGC20H3
The Antihero in Literature and Film
This course traces the evolution of the antihero trope from its earliest prototypes in pre- and early modern literature, through its Gothic and Byronic nineteenth-century incarnations, twentieth-century existentialists, noir and Beat protagonists, and up to the "difficult" men and women of contemporary film, television, and other media. We will examine the historical and cultural contexts that enabled the construction and enduring popularity of this literary archetype, particularly in relation to gender and sexuality, race, class, religion, and (post-)colonialism.
University of Toronto Scarborough
English (UTSC), Department of
Scarborough
0.5
Fall
women, gender
SDG5
X
ENGC38H3
Novel Genres: Fiction, Journalism, News, and Autobiography, 1640-1750
An examination of generic experimentation that began during the English Civil Wars and led to the novel. We will address such authors as Aphra Behn and Daniel Defoe, alongside news, ballads, and scandal sheets: and look at the book trade, censorship, and the growth of the popular press.
Pre-1900 course
University of Toronto Scarborough
English (UTSC), Department of
Scarborough
0.5
Fall
trade
SDG10
X
ENGC44H3
Self and Other in Literature and Film
A study of the relation between self and other in narrative fiction. This course will examine three approaches to the self-other relation: the moral relation, the epistemological relation, and the functional relation. Examples will be chosen to reflect engagements with gendered others, with historical others, with generational others, and with cultural and national others.
University of Toronto Scarborough
English (UTSC), Department of
Scarborough
0.5
Winter
gender
SDG5
X
ENGD02Y3
Teaching Academic Writing: Theories, Methods and Service Learning
This course explores the theories and practices of teaching academic writing, mostly in middle and secondary school contexts as well as university writing instruction and/or tutoring in writing. Through its 60-hour service-learning component, the course also provides student educators with the practical opportunities for the planning and delivering of these instruction techniques in different teaching contexts.
University of Toronto Scarborough
English (UTSC), Department of
Scarborough
1.0
Fall/Winter
educat
SDG4
X
ENGD50H3
Fake Friends and Artificial Intelligence: the Human-Robot Relationship in Literature and Culture
This course will explore the portrayal of the human-robot relationship in conjunction with biblical and classical myths. The topic is timely in view of the pressing and increasingly uncanny facets of non-divine, non-biological creation that attend the real-world production and marketing of social robots. While the course looks back to early literary accounts of robots in the 1960s, it concentrates on works written in or after the 1990s. The course aims to analyze how a particular narrative treatment of the robot-human relationship potentially alters our understanding of its mythical intertext and, by extension, notions of divinity, humanity, gender, animality, disability, and relations of kinship and care.
University of Toronto Scarborough
English (UTSC), Department of
Scarborough
0.5
Winter
production, gender
SDG5, SDG12
X
X
ENGD71H3
Studies in Arab North-American Literature
A study of Arab North-American writers from the twentieth century to the present. Surveying one hundred years of Arab North-American literature, this course will examine issues of gender, identity, assimilation, and diaspora in poetry, novels, short stories, autobiographies and nonfiction.
University of Toronto Scarborough
English (UTSC), Department of
Scarborough
0.5
Fall
gender
SDG5
X
ENGD95H3
Creative Writing as a Profession
A practical introduction to the tools, skills and knowledge-base required to publish in the digital age and to sustain a professional creative writing career. Topics include: the publishing landscape, pitching creative work, and employment avenues for creative writers. Will also include a workshop component (open to all genres).
University of Toronto Scarborough
English (UTSC), Department of
Scarborough
0.5
Fall
employment
SDG8
X
ENT200H1
Innovation and Entrepreneurship
How do innovations become useful in society? What is needed for a company to use such innovations successfully? Why and how do individuals and companies commercialize new ideas or technologies? This course provides a broad introduction to entrepreneurship, entrepreneurial skills and the methodology used by entrepreneurs to start a new venture.
Arts and Science, Faculty of
NULL
St. George
0.5
Winter, Fall
innovat
SDG9
X
ENT391H1
Exploring New Ventures
This experiential learning course allows students to explore the inner working of new ventures or other innovative organizations. The majority of the course consists of activities applying entrepreneurial concepts within a local organization or the student's own venture, with oversight from the Centre for Entrepreneurship. In-class activities facilitate the application of entrepreneurial tools to develop the students' entrepreneurial skills.
Arts and Science, Faculty of
NULL
St. George
0.5
Winter
innovat
SDG9
X
ENV100H1
Introduction to Environmental Studies
An investigation of the relationship between human beings and their natural and built environments. This interdisciplinary course will draw from the sciences, social sciences and the humanities to explore major social, cultural, economic, regulatory, ethical, ecological and technological aspects of environmental issues.
Arts and Science, Faculty of
Environment (FAS), School of
St. George
0.5
Fall
ecolog, environment
SDG13, SDG15
X
X
ENV100Y5
The Environment
This introductory environmental science course examines large-scale features of Earth, natural hazards, Earth's climate and weather systems, energy and mineral resources, human population growth, extinction and biodiversity, environmental toxins, vanishing soils and expanding deserts, forests, urban environmental management, and food resources. Interdisciplinary interaction among Science, Social Science, and Humanities is a major theme. [72L]
University of Toronto Mississauga
Geography, Geomatics and Environment (UTM), Department of
Mississauga
1.0
Fall/Winter
biodivers, forest, weather, environment, climate, urban, energy, food
SDG2, SDG7, SDG11, SDG13, SDG15
X
X
X
X
X
ENV198H1
Environment & Mental Wellness
This foundations course is an introduction to Environmental Psychology and related disciplines. We will examine the mutual relationship between the human psyche and the environment, with a focus on mental wellness. Topics will include: psycho-evolutionary environments, place attachment and identity, neurological toxins and environmental health, the modern period, cultural perceptions on nature-psyche, climate anxiety and ecological grief, nature connectedness and restorative environments. As a foundations course, students will develop key academic skills such as academic literacy, communication and application, interdisciplinary critical thinking, as well as creative problem solving. Restricted to first-year students. Not eligible for CR/NCR option.
Arts and Science, Faculty of
Environment (FAS), School of
St. George
0.5
Fall
ecolog, environment, climate, health
SDG3, SDG13, SDG15
X
X
X
ENV199H1
Debating & Understanding Current Environmental Issues
The course examines current environmental issues for which there is no easy answer or consensus position. For instance, to help solve climate change should we generate more electricity from nuclear power-plants, which have no greenhouse gas emissions? Or instead, should we phase out nuclear plants because of possible accidents, costs and radioactive wastes? The seminar examines the scientific and political aspects of such issues and debates the pros and cons of each. Restricted to first-year students. Not eligible for CR/NCR option.
Arts and Science, Faculty of
Environment (FAS), School of
St. George
0.5
Winter
environment, greenhouse gas, climate, waste
SDG12, SDG13
X
X
ENV200H1
Assessing Global Change: Science and the Environment
The perspective which scientists bring to the understanding and resolution of environmental concerns having global implications: atmospheric systems and climate change, the biosphere and conservation of biodiversity. This living things and their environment breadth course is intended to fulfill the environmental literacy requirement for students in the BA programs of the School of the Environment or the living things and their environment breadth course requirement for Commerce, Humanities and Social Science students
Arts and Science, Faculty of
Environment (FAS), School of
St. George
0.5
Winter
biodivers, conserv, environment, climate
SDG13, SDG14, SDG15
X
X
X
ENV201H5
Environmental Management
(Formerly GGR234H5) Environmental management builds on topics discussed in ENV100 and GGR111/112, by focusing on conceptual frameworks and specific tools that can be used to formulate environmental management goals and support decision-making. Case studies will be used throughout to highlight different approaches, focusing primarily on Canadian examples. Topics include ecosystem and adaptive management, environment impact assessments, and the role of stakeholders. [24L, 9T]
University of Toronto Mississauga
Geography, Geomatics and Environment (UTM), Department of
Mississauga
0.5
Fall
environment
SDG13
X
ENV205H5
Sustainable Tourism
Tourism has long been an important industry around the world, but increasingly questions are being raised regarding the social and environmental sustainability of tourism. This course will look at the impacts (both negative and positive) that tourism has on the natural environment, society, and local economies. It will explore how tourism relates to mobility, globalization, recreation and outdoor activity, planning, the environment, cultural identities, protected areas, and wildlife conservation. This course begins with an introduction to tourism more generally and then focuses in on critical perspectives and the development of eco-tourism, cultural tourism, and volunteer tourism. As part of this course, students may have the option of participating in an international learning experience that will have an additional cost and application process. [24L]
University of Toronto Mississauga
Geography, Geomatics and Environment (UTM), Department of
Mississauga
0.5
Winter
conserv, environment, industr
SDG9, SDG13, SDG14, SDG15
X
X
X
X
ENV221H1
Multidisciplinary Perspectives on Environment
One of two foundation courses for the School's undergraduate program. Introduces students to ways in which different disciplines contribute to our understanding of environment. Instructors and guest lecturers are drawn from the sciences, social sciences and the humanities and will present subject matter, assumptions, conceptualizations and methodologies of their disciplines.
Arts and Science, Faculty of
Environment (FAS), School of
St. George
0.5
Fall
environment
SDG13
X
ENV222H1
Pathways to Sustainability: An Interdisciplinary Approach
ENV222H1 explores the concept and practice of sustainability by integrating scientific, technological, economic, political, psychological, historical, and ethical perspectives. The course begins by analyzing the challenges posed by the ecological crisis, including its historical roots. It then goes on to explore and evaluate a variety of approaches, strategies, and actions—at a personal, local, national, and global scale—that could move us towards authentic sustainability.
Arts and Science, Faculty of
Environment (FAS), School of
St. George
0.5
Winter, Fall
ecolog
SDG15
X
ENV223H1
Fundamental Environmental Skills
The practical, interdisciplinary and controversial nature of environmental issues, as well as the uncertainty that surrounds measures to address them demand mastery of a particular range of skills by environmental students. This course teaches the fundamental research, analysis and presentation skills required for effective environmental work. This course is for students enrolled in the Environmental Studies Major program, or permission of the Undergraduate Associate Director.
Arts and Science, Faculty of
Environment (FAS), School of
St. George
0.5
Fall
environment
SDG13
X
ENV234H1
Environmental Biology: Structure and Function of Ecosystems
This multidisciplinary course draws on elements from geology, soil science, and ecology to understand past and present environments and human impacts on landscapes and ecosystems. Emphasis on the structure, functioning and connectivity of aquatic and terrestrial ecosystems. Field trips and labs. Mandatory day-long field trip on a Friday or Saturday in late September or early October (students choose which day; a fee of $15 may be charged for transportation.) (Lab Materials Fee: $26)
Arts and Science, Faculty of
Ecology and Evolutionary Biology (FAS), Department of
St. George
0.5
Fall
ecolog, environment
SDG13, SDG15
X
X
ENV237H1
Physics of the Changing Environment A
The course will cover basic physics of environmental processes and of measurement techniques in the atmosphere, the ocean, lake-land-forest systems, and other biological systems. It will place its work in the context of climate change and other aspects of environmental change. This course is solely intended for students who have NOT completed a previous first year physics core course, who are in one of the following programs: Environmental Science Major or Minor, Environmental Geosciences Specialist or Earth and Environmental Systems Major.
Arts and Science, Faculty of
Physics (FAS), Department of
St. George
0.5
Winter
forest, ocean, environment, climate
SDG13, SDG14, SDG15
X
X
X
ENV238H1
Physics of the Changing Environment B
The course will cover basic physics of environmental processes and of measurement techniques in the atmosphere, the ocean, lake-land-forest systems, and other biological systems. It will place its work in the context of climate change and other aspects of environmental change. This course is solely intended for students who have completed a previous first year physics core course, who are in one of the following programs: Environmental Science Major or Minor, Environmental Geosciences Specialist or Earth and Environmental Systems Major.
Arts and Science, Faculty of
Physics (FAS), Department of
St. George
0.5
Winter
forest, ocean, environment, climate
SDG13, SDG14, SDG15
X
X
X
ENV261H1
Is the Internet Green?
The Internet has deeply penetrated most aspects of society and yet we are remarkably unreflective about its impacts and sustainability. This course challenges students to critically evaluate evidence regarding the environmental and social impacts of the Internet and how the Internet contributes (or not) to goals of environmental sustainability. (ENV261H1 is intended as a Breadth Requirement course in the Social Sciences.)
Arts and Science, Faculty of
Environment (FAS), School of
St. George
0.5
Fall
environment
SDG13
X
ENV307H1
Urban Sustainability
This course critically examines the concept of urban sustainability in theory and application. Case studies of ongoing urban sustainability programs in the developed and developing world help students assess the successes and failures of these programs. The course also examines the current state of research and implementation efforts toward urban sustainability. Toronto's urban sustainability and sustainable needs will be investigated through the use of Geographic Information Systems (GIS) during the course (previous experience with GIS is not required).
Arts and Science, Faculty of
Environment (FAS), School of
St. George
0.5
Winter
urban
SDG11
X
ENV310H5
Sustainability
The United Nations Commission on Environment and Development popularized the term sustainable development in its 1987 report, Our Common Future. How far have we come since then, as a global community, in implementing sustainability as a model for development? In this course we will examine the history, measurement, and present-day models and applications of sustainability and sustainable development in both the public and private spheres. Sustainability is an integrative concept that addresses social, cultural, political, and economic factors within the constraints of the biophysical environment.
University of Toronto Mississauga
Geography, Geomatics and Environment (UTM), Department of
Mississauga
0.5
Fall
environment, sustainable development
SDG8, SDG13
X
X
ENV316H1
Laboratory and Field Methods in Environmental Science
This course focuses on methods of sampling and analyzing natural air, water and solid Earth materials for physical, chemical and biological properties that are relevant to current environmental issues. It will integrate approaches from chemistry, physics, geology and biology, and cover techniques in field sampling, laboratory analyses and analyses of large environmental data sets. Basic concepts related to quality control will be emphasized throughout the course: sample collection and storage methods, calibration of field and lab instruments, analyses in complex matrices, errors (accuracy, precision), and detection limits. This course is for students enrolled in the Environmental Science Major program, or permission of the Undergraduate Associate Director. A fee of $25 will be charged for lab supplies, lab instrument charges and technical services.
Arts and Science, Faculty of
Environment (FAS), School of
St. George
0.5
Fall
environment, labor, water
SDG13
X
ENV320H1
National Environmental Policy
Examines ways in which governments develop and implement policy to protect the environment within their borders. Primarily Canada, plus comparisons with other countries. The focus is upon the politics of environmental policy making, which is understood by examining the interests and powers of the relevant state and non-state actors.
Arts and Science, Faculty of
Environment (FAS), School of
St. George
0.5
Winter
environment
SDG13
X
ENV320H5
Managing Our Waste
Garbage archaeologist William Rathje once said, "Garbage isn't generic junk. It's elements of our behavior all thrown together." The history of human civilization is reflected in what societies have thrown away over the ages. But in recent decades both the quantity and types of waste generated by human activities have changed radically. In this course we will address the philosophical, social, and management challenges associated with waste in Canadian and international contexts, as well as examining some of the technological and scientific aspects of specific waste management problems.
University of Toronto Mississauga
Geography, Geomatics and Environment (UTM), Department of
Mississauga
0.5
Fall
waste
SDG12
X
ENV322H1
International Environmental Policy
Examines the ways in which states negotiate and implement international agreements addressing global environmental issues, such as the United Nations Framework Convention on Climate Change. Focus is upon factors which determine the efficacy of multilateral environmental agreements and the prospects for stronger global environmental governance.
Arts and Science, Faculty of
Environment (FAS), School of
St. George
0.5
Fall
governance, environment, climate
SDG13, SDG16
X
X
ENV323H1
Ontario Environmental Policy
Introduces students to public policy and institutional foundations of public policy in Canada, with an emphasis on environmental policy in Ontario. Provides an insiders perspective on how environmental policy has been developed in Ontario.
Arts and Science, Faculty of
Environment (FAS), School of
St. George
0.5
Winter
institut, environment
SDG13, SDG16
X
X
ENV330H1
Waste Not: Faith-Based Environmentalism
This course explores religious environmentalism, its proponents and opponents, and its core values within the Abrahamic faiths of Judaism, Christianity and Islam. Religious environmentalists have used teachings from sacred texts as exemplars of sustainability. Some, however, claim that these texts teach domination, anthropocentrism and hierarchical values. Looking at a range of worldviews, we focus on the topics of wastefulness, consumption, and simplicity. Readings about barriers, motivations, and values that inform environmental behaviour are complemented with field trips to places of worship where we will hear religious leaders speak about the environmental initiatives undertaken in their communities and see sacred spaces.
Arts and Science, Faculty of
Environment (FAS), School of
St. George
0.5
Winter
environment, waste, consum
SDG12, SDG13
X
X
ENV330H5
Experimental Design in Environmental Science
This hands-on course introduces students to field methods and integrative problem solving in environmental sciences. Topics will include sampling methods and protocols employed in terrestrial, aquatic and atmospheric assessment and monitoring, as well as experimental design, data analysis and presentation. Practical sessions will involve outdoor field experiences on campus and neighboring areas.
University of Toronto Mississauga
Geography, Geomatics and Environment (UTM), Department of
Mississauga
0.5
Fall
environment
SDG13
X
ENV332H5
Practicum in Environmental Project Management
This course, offered in collaboration with campus administrative offices of the University of Toronto Mississauga and various community partners, provides Environment Students with practical collaborative work experience in preparation for upper-year field courses and internships. Students will work in teams to develop skills in communication, project management, interdisciplinary teamwork, problem identification, report writing and formal presentations while working on an environmental project on campus or in the local community. This course is strongly recommended for Specialist and Major students in any of the Environment Programs. [24S, 12P]
University of Toronto Mississauga
Geography, Geomatics and Environment (UTM), Department of
Mississauga
0.5
Winter
environment, labor
SDG13
X
ENV333H1
Ecological Worldviews
Approaches to environmental concerns are often marked by assumptions that reflect distinct worldviews positing particular understandings of the role of the human with respect to nature. This course explores sundry economic, political, scientific, religious, and moral worldviews pertaining to the environment, including environmental ethics, Gaia, ecofeminism, scientific cosmology, and indigenous perspectives.
Arts and Science, Faculty of
Environment (FAS), School of
St. George
0.5
Fall
ecolog, environment
SDG13, SDG15
X
X
ENV334H1
Environmental Biology: Applied Ecology
Applied issues in aquatic and terrestrial ecosystems, with an emphasis on land-use change and its impacts on watersheds. Topics include: ecology of agro-ecosystems and other human-managed ecosystems, bio-indicators of anthropogenic impacts, ecosystem restoration, and adaptive management. Group projects address local management/restoration issues.
Arts and Science, Faculty of
Ecology and Evolutionary Biology (FAS), Department of
St. George
0.5
Winter
ecolog, environment, water
SDG6, SDG13, SDG14, SDG15
X
X
X
X
ENV335H1
Environmental Design
Environmental design, in the context of this course, refers to design strategies that account for the ability of supporting ecosystems to continue to meet human needs and those of other lifeforms without diminishing biological diversity or environmental quality. This course takes a hands-on approach to investigating several environmental design issues: climate-responsive design, energy consumption, health and comfort, natural lighting and ventilation, and water management. Students will build up a design of a net-zero carbon residential building through several instructive design exercises during the semester, including hands-on measurement and calculation activities.
Arts and Science, Faculty of
Environment (FAS), School of
St. George
0.5
Winter
environment, climate, consum, energy, water, health
SDG3, SDG6, SDG7, SDG12, SDG13, SDG14
X
X
X
X
X
X
ENV337H1
Human Interactions with the Environment
The impact of 7 billion people on the planet is enormous and challenges future generations. What are these impacts today and in future? What solutions and tools can avert societal collapse? Using an integrated and interdisciplinary systems approach, we explore problems and solutions to the earth's limits to growth.
Arts and Science, Faculty of
Environment (FAS), School of
St. George
0.5
Winter
environment
SDG13
X
ENV341H1
Planetary Health
Examination of the linkages between human health and environment using an interdisciplinary, planetary health lens. Addresses basic public health and toxicological principles. Case studies are examined to highlight the multifaceted ways health and environment are interconnected and to understand key factors modulating environmental exposures and health outcomes in various populations.
Arts and Science, Faculty of
Environment (FAS), School of
St. George
0.5
Fall
environment, health
SDG3, SDG13
X
X
ENV346H1
Terrestrial Energy Systems
Various earth systems for energy transformation, storage and transport are explored. Geological, hydrological, biological, cosmological and oceanographic energy systems are considered in the context of the Earth as a dynamic system, including the variation of solar energy received by the planet and the redistribution of this energy through various radiative, latent and sensible heat transfer mechanisms. It considers the energy redistribution role of large-scale atmospheric systems, of warm and cold ocean currents, the role of the polar regions, and the functioning of various hydrological systems. The contribution and influence of tectonic systems on the surface systems is briefly introduced, as well the important role of energy storage processes in physical and biological systems, including the accumulation of fossil fuel reserves.
Arts and Science, Faculty of
Environment (FAS), School of
St. George
0.5
Fall
ocean, solar, energy
SDG7, SDG14
X
X
ENV347H1
The Power of Economic Ideas
This course examines the power of economic ideas in effecting environmental change. Topics include the relation of ecological economics to mainstream economics, as well as the role of financial incentives to move the environmental agenda forward.
Arts and Science, Faculty of
Environment (FAS), School of
St. George
0.5
Fall
ecolog, environment
SDG13, SDG15
X
X
ENV350H1
Energy Policy and Environment
The course addresses: (1) physical, technological and economic aspects of energy and electricity systems and their associated environmental impacts; (2) current international, Canadian and Ontario energy policy; (3) technological, economic and political factors influencing policy which could significantly reduce environmental impacts of energy use.
Arts and Science, Faculty of
Environment (FAS), School of
St. George
0.5
Fall
environment, energy
SDG7, SDG13
X
X
ENV361H1
Social Media and Environmentalism
This course examines the impacts of the internet on environmental thinking and policy-making. Topics include the use of social media as a tool for community-building and collaborative design, the sharing economy, online protest movements, mass surveillance and its implications, and the impact of misinformation on climate denialism.
Arts and Science, Faculty of
Environment (FAS), School of
St. George
0.5
Winter
environment, climate, labor
SDG13
X
ENV362H1
Energy & Environment: Transitions in History
An exploration of the interactions between humans and their environments in the Holocene, focusing on the contexts and consequences of changes in energy technologies. Includes consideration of changes in food production and processing, transport and power generation technologies from the adoption of agriculture to the twentieth century.
Arts and Science, Faculty of
Environment (FAS), School of
St. George
0.5
Winter
environment, production, energy, food, agricultur
SDG2, SDG7, SDG12, SDG13
X
X
X
X
ENV393H5
Environmental Assessment
The course focuses on the methodologies for measuring and predicting the impact of development on the bio-physical and socio-economic environments. Topics include environmental assessment, law and institutions, environmental mediation; Phase I, II, III environmental site assessment; monitoring; mitigation; evaluation; and risk assessment. The types of impact assessment (IA) methods examined vary from year to year (e.g. economic IA, ecological IA, social IA). [24L, 6P]
University of Toronto Mississauga
Geography, Geomatics and Environment (UTM), Department of
Mississauga
0.5
Fall
institut, ecolog, environment, socio-economic
SDG1, SDG13, SDG15, SDG16
X
X
X
X
ENV411H1
Sustainability Thinking
This capstone course for the Certificate in Sustainability will build on the guiding sustainability principles and journal reflections that began in in the foundational course, ENV222H1, and require students to reflect on the entirety of their sustainability education and experience.
Arts and Science, Faculty of
Environment (FAS), School of
St. George
0.5
Winter
educat
SDG4
X
ENV421H1
Environmental Research
A research course for all students in the School combining report writing, independent and group-based research on an interdisciplinary topic. This course is restricted to students enrolled in one of the Environmental Studies Major, Environmental Ethics Major, Environment & Health Specialist, Environmental Chemistry Specialist or Environment & Toxicology Specialist programs, or permission of the Undergraduate Associate Director. Not eligible for CR/NCR option.
Arts and Science, Faculty of
Environment (FAS), School of
St. George
0.5
Fall/Winter
environment, health
SDG3, SDG13
X
X
ENV422H1
Environmental Law
An introduction to environmental law for students in Environmental Studies; legal methods available to resolve environmental problems and the scope and limits of those methods; common law and statutory tools as well as environmental assessment legislation; the problem of standing to sue and the limits of litigation.
Arts and Science, Faculty of
Environment (FAS), School of
St. George
0.5
Fall
environment
SDG13, SDG16
X
X
ENV430H5
Environmental Law and Policy
This course introduces students to the challenges and opportunities of environmental law and policy. Students will learn how legal systems can address increasingly complex environmental challenges. This course will include an in-depth look at the toolbox of legal and policy instruments that decision makers have at their disposal to tackle major environmental problems. The focus is primarily Canada though international examples will also be touched upon. Case studies and examples will be used to connect theoretical and legal principals to real world situations.
University of Toronto Mississauga
Geography, Geomatics and Environment (UTM), Department of
Mississauga
0.5
Winter
environment
SDG13, SDG16
X
X
ENV432H1
Urban Ecology
The ecology of urban areas through consideration of the biological and physical environments, in particular how the human-constructed environment alters pre-existing biophysical conditions and interactions. Encompasses a comparative perspective to study the development of these emerging ecosystems of increasing importance given global urbanization. One or two Saturday field trips (a fee of approximately $15 may be charged for field trip transportation.)
Arts and Science, Faculty of
Ecology and Evolutionary Biology (FAS), Department of
St. George
0.5
Fall
ecolog, environment, urban
SDG11, SDG13, SDG15
X
X
X
ENV440H1
Professional Experience Course
Regular academic seminars complement off-campus work on an environmental project. The course enables students to gain practical experience of the needs and demands of professional environmental agencies. Students are given a choice of placements in a variety of sectors (such as government, NGOs, industry). Eligible students who wish to do a work placement in the upcoming summer or fall session are must submit an application form to the Placement Coordinator by mid-January of each year. Please contact the School of the Environment's Placement Coordinator, David Powell, at ug.office.env@utoronto.ca, or consult the School's undergraduate courses webpage for access to the application form, instructions and application deadline.
Arts and Science, Faculty of
Environment (FAS), School of
St. George
0.5
Fall
environment, industr
SDG9, SDG13
X
X
ENV451H1
Current Environmental Topics
This capstone course for the School's core programs will explore current environmental topics, with the goal of integrating the multi- and interdisciplinary strands of each student's learning to date. This course is for students enrolled in one of the School's BA programs, or permission of the Undergraduate Associate Director.
Arts and Science, Faculty of
Environment (FAS), School of
St. George
0.5
Fall
environment
SDG13
X
ENV452H1
Environmental Science Seminar
Scientists from within and external to the university share and discuss challenges, findings and opportunities. Specific topics (and speakers) vary from year to year but may draw from rehabilitation techniques, contaminants in our environment, environmental health, impacts on landscapes and communities, biodiversity, water, and modelling of environmental processes. This course is for students enrolled in the School of the Environment, Environmental Science Major BSc program, or permission of the Undergraduate Associate Director.
Arts and Science, Faculty of
Environment (FAS), School of
St. George
0.5
Winter
biodivers, environment, water, health
SDG3, SDG6, SDG13, SDG14, SDG15
X
X
X
X
X
ENV461H1
The U of T Campus as a Living Lab of Sustainability
Sustainability is a growing priority for universities all over the world. Many are developing strong operational sustainability goals and targets, and are giving increasing emphasis to teaching and research on sustainability issues. Yet few have committed at the executive level to integrating academic and operational sustainability in the context of treating their campus as a living laboratory of sustainable practice, research and teaching. Arguably, it is such living lab approaches that offer the largest potential for universities to play a significant role in the sustainability transition. This course will explore and apply the living lab concept, in the context of operational sustainability at the University of Toronto. We will begin by looking at the literature on university sustainability and the living lab concept. The bulk of the course will involve undertaking an applied research project on some aspect of campus sustainability, working in close partnership with operational staff at the University of Toronto. Students will develop the skills needed to work across disciplines and fields of study, and with non-academic partners. This course will put students to work on operational sustainability projects identified by the staff working in or with the Sustainability Office at the University of Toronto. Students will be organized into groups, each of which will be assigned one project, to be overseen by one or more U of T staff members. The bulk of the course will consist of regular meetings with the staff "clients", with instructors, and in small groups to undertake a group project. Each group will produce a mid-term and final report, and give a mid-term and final presentation. Each student will also submit two 360 reviews of the group process. A crucial aspect of this course is the ability of students to work collaboratively together in a group environment, and to work effectively with a university staff person acting as a "client" for their work. Students will be provided with a Handbook outlining information on working in groups and the focus of the class in the second week will be on this issue. The first 360 peer review will serve to provide information on how well each group is working. Students are encouraged to discuss and resolve group process issues in the weekly group meetings, and in their regular meetings with the instructor and TA. The second 360 review will occur at the end of the term. The results of the two 360 reviews will be used, where appropriate, to adjust individual marks from the group averages.
Arts and Science, Faculty of
Environment (FAS), School of
St. George
0.5
Fall
environment, labor
SDG13
X
ENV462H1
Energy and Environment: Economics, Politics, and Sustainability
This is an interdisciplinary course that examines key ideas in economics, politics and security that are essential to understanding energy and environmental issues. The course will cover energy markets, energy security, and the increasing role that sustainability plays in setting policies.
Arts and Science, Faculty of
Environment (FAS), School of
St. George
0.5
Winter
environment, energy
SDG7, SDG10, SDG13
X
X
X
ENV493H1
Independent Studies Project
A research project or selected topic in an area of environment not otherwise available in the Faculty, meant to develop skills in independent study of interdisciplinary topics. This course is restricted to students enrolled in a School of the Environment program. A written proposal co-signed by the student and supervisor must be submitted for approval by the Academic Associate Director of the School normally one month prior to commencing the course. Not eligible for CR/NCR option.
Arts and Science, Faculty of
Environment (FAS), School of
St. George
0.5
Fall/Winter, Winter, Fall
environment
SDG13
X
ENV495H5
Restoration Ecology I
Restoration ecology is an emerging cross-disciplinary field of study that concerns human activities undertaken to promote the recovery, health, integrity and sustainability of degraded ecosystems. This course introduces the fundamental concepts of ecological restoration, addressing topics such as assessing ecosystem health, resilience, resistance and stability; community structure and biodiversity; invasive species; ecosystem processes and functions; societal aspects of ecological restoration (e.g., the relationship between social, economic and environmental sustainability).
University of Toronto Mississauga
Geography, Geomatics and Environment (UTM), Department of
Mississauga
0.5
Fall
ecolog, biodivers, environment, resilien, health
SDG3, SDG11, SDG13, SDG15
X
X
X
X
ENV496H5
Restoration Ecology II
The follow-up course to Restoration Ecology I, ENV496 will build on its theoretical foundations to focus on student involvement in a variety of restoration projects planned or underway by Credit Valley Conservation and other groups in Mississauga and the greater Credit Valley watershed. The emphasis here is on planning and implementation of restoration projects; good scientific design; understanding policies and procedures; identifying and working with stakeholders, etc. Occasional field exercises may be scheduled during regular class meeting times. [12L, 24P]
University of Toronto Mississauga
Geography, Geomatics and Environment (UTM), Department of
Mississauga
0.5
Winter
ecolog, conserv, water
SDG6, SDG14, SDG15
X
X
X
ERS111H5
Earth, Climate & Life
Life as we know it is completely dependent on our planet. The Earth is an integrated system, where the ocean, atmosphere, life and planet interact with and affect one another. The evolution of the smallest organisms has drastically changed Earth's climate, and small changes in Earth's climate have a profound effect on the distribution of life. Understanding how organisms feed, breath, grow, and reproduce are integral to mitigating large-scale climate changes and organic cycles, and how this will affect the Earth as a system. Processes such as plate tectonics produces an ever changing surface, and has been a major control on how and when life evolved and flourished. After introducing how the Earth works, topics discussed will include how life on Earth has evolved, how large-scale geological processes affect climate and life and how ecosystems have changed in response to weather and climate change. We will also discuss the effect that our species has had on this planet; from the sudden shifts in stability of Earth's systems, to feedback cycles, to use of resources and sustainability.
University of Toronto Mississauga
Chemical and Physical Sciences (UTM), Department of
Mississauga
0.5
Fall
ocean, weather, climate
SDG13, SDG14
X
X
ERS211H5
Sedimentology and Stratigraphy
Sedimentology and stratigraphy concerns the origin, formation, accumulation, alteration, and preservation of sediments in the geological record. This course will focus on the reconstruction, correlation, and interpretation of ancient carbonate and siliciclastic paleoenvironments and facies based on the analysis of sedimentary structures, depositional environments, stratigraphic successions, and fossils. The interplay between biological and geological factors responsible for sedimentary deposits will form the core of the course, including the physical transport and biological accumulation of sediments, the effects of climate-driven sea-level change on sediment deposition, the importance of resource management and sustainability. This course will include a laboratory component with hand samples, thin sections, and physical models, in addition to a field trip, allowing for first-hand experience with describing and interpreting sedimentological units.
University of Toronto Mississauga
Chemical and Physical Sciences (UTM), Department of
Mississauga
0.5
Fall
environment, climate, labor
SDG13
X
ERS225H5
Field Methods
Fieldwork is at the heart of being a geologist. Skills gained during fieldwork are key as part of a Geologist's toolbox, and are highly regarded in a career. This course introduces fieldwork to students during a week-long fieldtrip in late August looking at outcrops of igneous, metamorphic and sedimentary rocks around Ontario. Skills taught will include basic geological observation, description and interpretation, the collection of field notes, geological measurements and presentation of the data. Enrolment approval into the course is by application only; Registration in ACORN is required; priority will be given to Earth Science Specialists, or Environmental Geoscience Specialists. Please see the UTM CPS Earth Science Fieldtrip page for more information. [66P]
University of Toronto Mississauga
Chemical and Physical Sciences (UTM), Department of
Mississauga
0.5
Fall
environment
SDG13
X
ERS311H5
Sedimentology and Basin Analysis
This course will focus on principles of correlation, facies concepts, dynamic processes, and their geologic records in modern and ancient sedimentary environments, with focus on basins. Factors that influence sedimentary formation and evolution will be investigated, including sea level and sediment supply. Emphasis will be placed on sequence stratigraphic approaches to the evaluation of sedimentary systems. Sustainable management of oil, water, and gas resources within sedimentary basins will be covered.
University of Toronto Mississauga
Chemical and Physical Sciences (UTM), Department of
Mississauga
0.5
Fall
environment, water
SDG6, SDG13, SDG14
X
X
X
ERS312H5
Oceanography
The world's oceans cover approximately 70% of the Earth Surface and Canada has extensive coastlines along three major ocean basins. This course will provide an understanding of chemical, biological, physical and geologic aspects of the oceans. Emphasis will be placed on the geological and geophysical processes that form and shape the ocean basins and continental margins. In addition, this course will offer an insight into the paleoceanographic evolution of our planet and present day environmental threats such as pollution, habitat destruction, acidification and ocean warming. Even though this course does not include specific lab or tutorial sessions, three relevant exercises will be included.
University of Toronto Mississauga
Chemical and Physical Sciences (UTM), Department of
Mississauga
0.5
Winter
pollut, ocean, environment
SDG13, SDG14, SDG15
X
X
X
ERS315H5
Environmental Geology
This course will focus on Earth processes as they relate to human activities. Topics include sustainability global climate change on short and long timescales; groundwater flow and contamination/human engineering of Earth processes; geological aspects of pollution and waste disposal; and environmental impact of extracting/using minerals, energy, soil, and other Earth resources. A field trip will give students a first-hand experience in aspects of human/planet interaction. [36L]
University of Toronto Mississauga
Chemical and Physical Sciences (UTM), Department of
Mississauga
0.5
Winter
pollut, environment, climate, waste, energy, water
SDG6, SDG7, SDG12, SDG13, SDG14, SDG15
X
X
X
X
X
X
ESC101H1
Praxis I
Praxis I is the cornerstone course of the Engineering Science Foundation Design sequence and introduces the foundational models and tools of engineering design, communication, teamwork, and professionalism that underlie design education within Engineering Science. In Praxis I students work both individually and in small teams to develop their knowledge and skills in through a combination of active lectures, structured interactive studios, and hands-on practical sessions. The design projects in Praxis I are scoped to the individual student and the broader University community. Each student and team is responsible for both defining and resolving their own opportunities. Praxis I also supports students as they transition into their engineering studies and into the Engineering Science learning community. This support integrates conceptual models, concrete techniques, and University resources, and addresses both academic and non-academic concerns. All courses within the Foundation Design sequence use engineering design to provide a context in which students integrate their knowledge, develop their emerging engineering identity, and codify their individual approach to engineering practice.
Applied Science & Engineering, Faculty of
Engineering Science (FASE), Division of
St. George
0.5
Fall
educat
SDG4
X
ESC203H1
Engineering and Society
Through this course, students will examine the relationship between engineering and society, emphasizing a humanities and social sciences perspective. Building on the Praxis courses, students will develop and apply an understanding of ethics and equity to broader sociotechnical systems and challenges. Using models of critical thinking, active learning activities and discussion seminars, students will develop an understanding of the social and environmental impacts of technology. Students will further develop their communication, teamwork and professional skills through persuasive writing, facilitation and formal debate. Upon completion of the course, students will have an appreciation for the complex interaction between human society and technology, and will be able to analyze and evaluate the social, technological, political, and ethical dimensions of technology.Humanities and Social Science elective.
Applied Science & Engineering, Faculty of
Engineering Science (FASE), Division of
St. George
0.5
Fall
environment
SDG13
X
ESC470H1
Energy Systems Capstone Design
A half-year capstone design course in which students work in teams to apply the engineering design, technical, and communication skills learned previously, while refining their skills in teamwork and project management. The course focus is on context-appropriate energy systems design and simulation, incorporating generation, transmission and storage of energy from across a range of traditional and alternative energy sources. Students identify, frame, and design solutions to problems that align with that focus, and the resulting designs are assessed on their engineering quality and design credibility. In addition, each student engages in individual critical reflection on their course activities, team performance, and on their growth as an engineering designer across their undergraduate program. Students are supported by a teaching team comprising both design and domain experts.
Applied Science & Engineering, Faculty of
Engineering Science (FASE), Division of
St. George
0.5
Winter
energy
SDG7
X
ESC472H1
Electrical and Computer Capstone Design
A half-year capstone design course in which students work in small teams to apply the engineering design, technical, and communication skills learned previously, while refining their skills in teamwork and project management. Each team is expected to design a complex engineered system, implemented (a) fully in software, (b) fully in hardware or (c) in a mixture of hardware and software, using concepts drawn from the ECE Major curriculum and resulting in a functional prototype. Teams are expected to integrate their design, technical, and complementary knowledge, to design for safety, and to consider relevant interdisciplinary factors such as economic, health, environmental, social, and similar concerns.In addition, each student will complete an individual critical reflection on their course activities, team performance, and on their growth as an engineering designer across their undergraduate program. This reflection is intended to prepare the student for the next stage of their engineering career
Applied Science & Engineering, Faculty of
Engineering Science (FASE), Division of
St. George
0.5
Winter
environment, health
SDG3, SDG13
X
X
ESS103H1
Geology in Public Issues
Geologic hazards: earthquakes, volcanoes, landslides, tsunamis. The distribution and politics of natural resources, including petroleum and ore deposits. Nuclear power and nuclear waste disposal. Global change: the geologic record of hot and cold climates, and how the earth survives. ESS103H1 is primarily intended as a science Distribution Requirement course for Humanities and Social Science, it will be taught in odd years.
Arts and Science, Faculty of
Earth Sciences (FAS), Department of
St. George
0.5
Fall
climate, natural resource, waste
SDG12, SDG13
X
X
ESS104H1
Controversies in Earth Science
The evolution of ideas about the origin and development of the earth from the Athenians to the 20th Century, with attention on the age of earth; on the evolution and disappearance of species; on the origin of oceans, continents and mountains; on climate change; and on the courage of scientists in confronting the religious and political views of their time. ESS104H1 is primarily intended as a science Distribution Requirement course for Humanities and Social Science students. Taught in even years.
Arts and Science, Faculty of
Earth Sciences (FAS), Department of
St. George
0.5
Fall
ocean, climate
SDG13, SDG14
X
X
ESS105H1
Our home planet
The nature and evolution of the Earth; plate tectonics; rocks and minerals; volcanism; geological time; fossils; geology of Ontario; environmental issues; and human interactions with the planet. ESS105H1 is primarily intended as a science Distribution Requirement course for Humanities and Social Science students
Arts and Science, Faculty of
Earth Sciences (FAS), Department of
St. George
0.5
Winter
environment
SDG13
X
ESS198H1
Resources and Sustainability
The rise of humanity is intricately linked to the exploitation of natural resources. From its earliest attempts to use fire and extract metals from rocks, to coal-fired steam that brought the industrial revolution, hydrocarbons that fuel international travel and trade, nuclear energy to produce electricity, and the reliance on smartphones in our daily lives, the planet's resources have brought innovation and problems and require us to ask questions regarding sustainability. This course will explore the gamut from resource extraction and trading, to its societal consequences including global politics, environmental pollution, and remediation. The course will involve reading of scientific literature, student-led discussions, oral presentations and research projects, and potentially field trips to sites in Southern Ontario. Restricted to first-year students. Not eligible for CR/NCR option.
Arts and Science, Faculty of
Earth Sciences (FAS), Department of
St. George
0.5
Winter
pollut, environment, natural resource, trade, industr, innovat, energy
SDG7, SDG9, SDG10, SDG12, SDG13, SDG14, SDG15
X
X
X
X
X
X
X
ESS199H1
Earth, Portrait of a Planet
Modern Earth Sciences touches on virtually all aspects of modern life, from the atmosphere to large scale natural disasters. This course will explore how earth sciences has shaped our society and our understanding of the earth as a system. Potential course topics will vary depending on the instructor, and include (but are not limited to) the great climate change crisis and what we know about climate change in the past to the literally earth moving ideas of plate tectonics (and the associated natural disasters). The course will involve reading of scientific literature, student-led discussions, oral presentations and research projects. Restricted to first-year students. Not eligible for CR/NCR option.

For further information, please contact the Student Affairs Coordinator (Scott Moore, Department of Earth Sciences, 22 Russell St. Earth Sciences Center, Room 1062 email: ugrad@es.utoronto.ca).
Arts and Science, Faculty of
Earth Sciences (FAS), Department of
St. George
0.5
Winter
climate
SDG13
X
ESS205H1
Confronting Global Change
The emergence of society as a major geological force is considered in terms of the evolving debate about the consequences of human activity for the habitability of our planet. Major issues such as climate change, environmental pollution, and depletion of natural resources are examined.
Arts and Science, Faculty of
Earth Sciences (FAS), Department of
St. George
0.5
Winter, Fall
pollut, environment, climate, natural resource
SDG12, SDG13, SDG14, SDG15
X
X
X
X
ESS262H1
Earth System Processes
An introduction to how our planet works, focusing on physical processes that govern the nature and composition of Earth with an emphasis on the dynamic nature of the planet. Topics include surface processes (e.g., weathering and erosion, ocean and atmospheric circulation, weather and climate), crustal processes (e.g., plate tectonics, earthquakes, volcanoes, biogeochemical cycles), and earth-environment interactions (e.g., natural hazards, resource development, and sustainability).
Arts and Science, Faculty of
Earth Sciences (FAS), Department of
St. George
0.5
Fall
ocean, weather, environment, climate
SDG13, SDG14
X
X
ESS311H1
Earth System Chemistry 2: Aqueous Geochemistry
An introduction to aqueous environmental geochemistry emphasising the importance of chemical equilibria, mass transport, and microbiological activity in regulating the chemical composition of natural and contaminated systems.
Arts and Science, Faculty of
Earth Sciences (FAS), Department of
St. George
0.5
Fall
environment
SDG13
X
ESS312H1
Hydrogeology
Groundwater flow, the role of groundwater in geologic processes, and physical, chemical and biological constraints on contaminant source transport and attenuation.
Arts and Science, Faculty of
Earth Sciences (FAS), Department of
St. George
0.5
Winter
water
SDG6, SDG14
X
X
ESS322H1
Igneous Petrology
An overview of the nature and origin of igneous rocks, with particular emphasis on the interpretation of textures and mineral assemblages as they reflect rock-forming processes. Topics include the physical and chemical properties of magma, origin, and evolution of different magmatic series in specific igneous/tectonic environments, geochemical and isotopic characteristics of igneous rocks, and the assimilation, fractionation & crystallization processes.
Arts and Science, Faculty of
Earth Sciences (FAS), Department of
St. George
0.5
Winter
environment
SDG13
X
ESS361H1
Atmosphere-Biosphere Interact
Theory on the exchange of energy and matter (carbon, water) between the land surface and atmosphere, with a focus on the implications of ecosystem-level processes for regional micrometeorology. Examples will be taken from research on contemporary as well as palaeoclimate systems. Case studies to include how changes in vegetation type alter surface radiation balance, hydrological cycling and heat transfer in soils. There is no formal textbook for this course. Lecture material will be augmented with assigned readings from the scientific literature.
Arts and Science, Faculty of
Earth Sciences (FAS), Department of
St. George
0.5
Fall
climate, energy, water
SDG6, SDG7, SDG13, SDG14
X
X
X
X
ESS362H1
Oceanography
An introduction to the physical, geological, chemical, and biological processes governing the world's oceans. The course emphasizes critical thinking, environmental issues, and interrelationships among scientific disciplines.
Arts and Science, Faculty of
Earth Sciences (FAS), Department of
St. George
0.5
Winter
ocean, environment
SDG13, SDG14
X
X
ESS431H1
Basin Analysis
Detailed study of each of the major sedimentary environments. Typical facies assemblages, cyclic sedimentation. Autogenic and allogenic processes. The principles of sequence stratigraphy. The history of the sequence concept; systems tracts and bounding surfaces. Sequence models. What causes sequences: mechanisms of change in base level and accommodation: – tectonism, climate change, eustatic sea-level change.
Arts and Science, Faculty of
Earth Sciences (FAS), Department of
St. George
0.5
Winter
environment, climate
SDG13
X
ESS461H1
Palaeoenvironmental Studies
The use of proxy data (terrestrial and aquatic microfossils) to infer past environmental conditions. The nature and extent of Quaternary environmental change is considered in the context of assessing current issues such as acidification, metal pollution, eutrophication and global climate change. Paleoenvironmental techniques are applied in the laboratory.
Arts and Science, Faculty of
Earth Sciences (FAS), Department of
St. George
0.5
Fall
pollut, environment, climate, labor
SDG13, SDG14, SDG15
X
X
X
ESS462H1
Global Biogeochemical Cycles
A seminar course focusing on the exchange of matter (i.e. elements, minerals) between the Earth's atmosphere, ocean, and biosphere. Course-related topics include global biogeochemical cycling of carbon, nitrogen, phosphorous, silicon, iron, and zinc (amongst other elements) and will include both terrestrial and marine ecosystems. Examples and case studies will be viewed from the paleo-, contemporary and potential future global change perspectives. The overall content of course readings will be determined by student interest, as students have the freedom to choose topics (readings) of personal interest. Offered in alternate years.
Arts and Science, Faculty of
Earth Sciences (FAS), Department of
St. George
0.5
Winter
marine, ocean
SDG14
X
ESS464H1
Biological Perspectives on Earth System Evolution
A seminar course focussing on ways that the Earth's biosphere (terrestrial and marine) has altered the overall functioning of the Earth System over geological time, including (1) influence of terrestrial vegetation on surface processes such as palaeosol development, river geomorphology, erosion, and cycling of major biogeochemical nutrients on land, (2) influence of the marine biosphere on the concentration of O2 and CO2 in the atmosphere, including the origin of the stratospheric ozone layer, and (3) the interactive influence of the terrestrial and marine biosphere on atmospheric moisture transport, production of latent relative to sensible heat fluxes, and the development of the planetary boundary layer. Offered in alternate years.
Arts and Science, Faculty of
Earth Sciences (FAS), Department of
St. George
0.5
Fall
marine, production
SDG12, SDG14
X
X
ESTB01H3
Introduction to Environmental Studies
This course introduces the Environmental Studies major and the interdisciplinary study of the environment through a team-teaching format. Students will explore both physical and social science perspectives on the environment, sustainability, environmental problems and their solutions. Emphasis will be on critical thinking, problem solving, and experiential learning.
University of Toronto Scarborough
Physical & Environmental Sciences (UTSC), Department of
Scarborough
0.5
Fall
environment
SDG13
X
ESTB02H3
Whose Land? Indigenous-Canada-Land Relations
Introduces students to the geography of Indigenous-Crown-Land relations in Canada. Beginning with pre-European contact and the historic Nation-to-Nation relationship, the course will survey major research inquiries from the Royal Commission on Aboriginal Peoples to Missing and Murdered Indigenous Women and Girls. Students will learn how ongoing land and treaty violations impact Indigenous peoples, settler society, and the land in Canada. Same as GGRB18H3
University of Toronto Scarborough
Physical & Environmental Sciences (UTSC), Department of
Scarborough
NULL
Fall
girl, women
SDG5
X
ESTC34H3
Sustainability in Practice
This course is intended for students who would like to apply theoretical principles of environmental sustainability learned in other courses to real world problems. Students will identify a problem of interest related either to campus sustainability, a local NGO, or municipal, provincial, or federal government. Class meetings will consist of group discussions investigating key issues, potential solutions, and logistical matters to be considered for implementation of proposed solutions. Students who choose campus issues will also have the potential to actually implement their solutions. Grades will be based on participation in class discussions, as well as a final report and presentation.
Same as EESC34H3
University of Toronto Scarborough
Physical & Environmental Sciences (UTSC), Department of
Scarborough
0.5
Winter
environment
SDG13
X
ESTC35H3
Environmental Science and Technology in Society
In this course students will engage critically, practically and creatively with environmental controversies and urgent environmental issues from the standpoint of the sociology of science and technology (STS). This course will contribute to a better understanding of the social and political construction of environmental science and technology.
University of Toronto Scarborough
Physical & Environmental Sciences (UTSC), Department of
Scarborough
0.5
Winter
environment
SDG13
X
ESTC36H3
Knowledge, Ethics and Environmental Decision-Making
Most environmental issues have many sides including scientific, social, cultural, ethical, political, and economic. Current national, regional and local problems will be discussed in class to help students critically analyze the roots of the problems and possible approaches to decision-making in a context of pluralism and complexity.
University of Toronto Scarborough
Physical & Environmental Sciences (UTSC), Department of
Scarborough
0.5
Fall
environment
SDG13
X
ESTD17Y3
Cohort Capstone Course in Environmental Studies
This course is designed to provide a strong interdisciplinary focus on specific environmental problems including the socioeconomic context in which environmental issues are resolved. The cohort capstone course is in 2 consecutive semesters, providing final year students the opportunity to work in a team, as environmental researchers and consultants, combining knowledge and skill-sets acquired in earlier courses. Group research to local environmental problems and exposure to critical environmental policy issues will be the focal point of the course. Students will attend preliminary meetings schedules in the Fall semester.
Same as EESD17Y3
University of Toronto Scarborough
Physical & Environmental Sciences (UTSC), Department of
Scarborough
1.0
Fall/Winter
environment, socioeconomic
SDG1, SDG13
X
X
ESTD18H3
Environmental Studies Seminar Series
This course will be organized around the DPES seminar series, presenting guest lecturers around interdisciplinary environmental themes. Students will analyze major environmental themes and prepare presentations for in-class debate.
Same as EESD18H3
University of Toronto Scarborough
Physical & Environmental Sciences (UTSC), Department of
Scarborough
0.5
Winter
environment
SDG13
X
ESTD19H3
Risk
A practical introduction to the concept of 'risk' as utilized in environmental decision-making. Students are introduced to risk analysis and assessment procedures as applied in business, government, and civil society. Three modules take students from relatively simple determinations of risk (e.g., infrastructure flooding) towards more complex, real-world, inclusive considerations (e.g., ecosystem impacts of climate change).
University of Toronto Scarborough
Physical & Environmental Sciences (UTSC), Department of
Scarborough
0.5
Winter
environment, climate, infrastructure, inclusiv
SDG4, SDG9, SDG13
X
X
X
ETH401H1
Seminar in Ethics
The seminar will expose advanced undergraduates to cutting edge research in ethics. It meets bi-weekly over the entire academic year. Participants will attend research presentations at the Centre for Ethics (topics have included bioethics, indigenous rights, equality and education, free speech, and workplace democracy). They will also meet individually with the instructor (the Centre's Director) to plan an independent research project related to the theme of the course. In the winter term, students will present their research and discuss it with the other students in the seminar. (Note that this is an "H1Y" course -- a half-credit course taught throughout both Fall and Winter terms.)
Arts and Science, Faculty of
Ethics (FAS), Centre for
St. George
0.5
Fall/Winter
rights, equality, educat
SDG4, SDG5, SDG16
X
X
X
EUR200Y1
Europe: Nation-State to Supranational Union
An analysis of the development of European political regimes from 1789 until the 2004 and 2007 enlargements of the European Union to include the countries of the former Soviet bloc. This course identifies the decisive forces and factors affecting the operation of constitutions and institutions within the countries which came to form the European Union: nationalism, multi-nationalism, internationalism and supranationalism.
Arts and Science, Faculty of
European, Russian and Eurasian Studies (FAS), Centre for
St. George
1.0
Fall/Winter
institut
SDG16
X
EUR498H1
Special Topics in European Studies: European Union
What is the European Union? Which are its core institutions and how do they work? What is the scope of its directives and programs, and how do they fit in with the member-states' policies? What is the role of the EU as an international actor? This course on Special Topics in European Studies aims at answering all these questions. The course will start with an introduction to integration in Europe, the development of the EU, and some theories and approaches to its study. It will then review the main political, economic, and judiciary institutions in the EU. Last, it will examine some important policy areas and challenges at the European level, including migration and asylum, social cohesion, counterterrorist initiatives, scenarios after Brexit, relations between the EU and its neighbours, and foreign policy. Special care will be given to explaining the political interaction between the EU institutions and the member-states, on the one hand, and the EU's Directives and policy frameworks and the members' policies, on the other hand.
Arts and Science, Faculty of
European, Russian and Eurasian Studies (FAS), Centre for
St. George
0.5
Winter
institut
SDG16
X
FAH199H1
Architecture of Toronto
The architecture of Toronto is characterized by artful and influential monuments as well as stylistically incoherent neighbourhoods, vibrant civic spaces alongside dysfunctional infrastructure. This course investigates how Canada's national metropolis came to embody such extremes of architectural richness and urban contradictions. The seminar focuses on how to "read" the buildings of Toronto and think critically about the forces that have shaped city planning, monuments, public space, and concepts of heritage. Readings and discussions will be combined with field trips, research on site or in the archives, and direct engagement with local communities and preservation initiatives. Restricted to first-year students. Not eligible for CR/NCR option.
Arts and Science, Faculty of
Art (FAS), Department of
St. George
0.5
Fall
urban, buildings, infrastructure
SDG9, SDG11
X
X
FAH272H1
Modern Architecture from 1750 to the Present
An introduction to the buildings, issues and ideas from Neoclassicism to the present.
Arts and Science, Faculty of
Art (FAS), Department of
St. George
0.5
Fall
buildings
SDG9
X
FAH273H1
Canada Buildings and Landscapes
An introduction to the traditions and patterns of building in Canada taking into account the unique landscapes, resources and history that comprise what is now a unified political entity. Lectures will pay special attention to the complexity of architecture throughout Canada including issues of land rights, natural resources, immigration, settlements and urban design, transportation, and heritage issues. A special feature of this class will be the opportunity to study Toronto first-hand through class projects. No previous architectural history study is required.
Arts and Science, Faculty of
Art (FAS), Department of
St. George
0.5
Fall
rights, natural resource, urban, buildings
SDG9, SDG11, SDG12, SDG16
X
X
X
X
FAH279H5
Baroque Art and Architecture
An introduction to art and society in Europe, ca. 1600 to ca. 1800 CE. Tensions between the Catholic Church and Protestantism; the rise of powerful, competing courts; the growth of increasingly complex urban centres; and the entry of the "wider public" into the art market all create new roles for representation in Europe. Developments in painting, prints, sculpture, architecture, urban planning, and festivals are considered. [24L, 12T]
University of Toronto Mississauga
Visual Studies (UTM), Department of
Mississauga
0.5
Fall
urban
SDG11
X
FAH310H5
Curating Matters: Contexts and Issues in Contemporary Curatorial Practice
This course will introduce students to the major critical texts, theories, and debates circulating in the burgeoning international field of contemporary curatorial studies. The course will include lectures, case studies, practice-related assignments, encounters with artists and art professionals, and student presentations that are intended to raise issues and engage debate about contemporary exhibition practices and account for theoretical perspectives and historical context. One objective of this course is to trouble preconceptions of the role of the curator in order to observe the complexity of curatorial models across and beyond art institutions. The class will address the implications of shifting cultural, social, and political contexts for artistic and curatorial practice and their sites. [24S]
University of Toronto Mississauga
Visual Studies (UTM), Department of
Mississauga
0.5
Fall
institut
SDG16
X
FAH314H1
Eroticism in Ancient Art
Erotic 'imagery' – sculptures, reliefs, paintings – is ubiquitous in ancient art, to a degree that modern viewers have often found disturbing. This course faces the challenge posed by the ancient predilection for such imagery and explores it from a critical and scholarly perspective. At its most basic level, it reassigns a seemingly universal segment of human 'nature' and experience to the realm of culture, by examining the imagery against the background of ancient constructions of sexuality, gender and the body. But it also explores the libidinal and hedonic structure of the works of art themselves and asks for the functions of erotic imagery in its respective contexts. The course will avail itself of the excellent research on gender, sexuality and eroticism in antiquity that has been produced over the past few decades, and it will also explore the topic's lateral connections with the thematic fields of ancient humour, the 'grotesque', apotropaism, myth and magic.
Arts and Science, Faculty of
Art (FAS), Department of
St. George
0.5
Fall
gender
SDG5
X
FAH325H1
Urban Islam
By challenging essentialist questioning of Islamic urbanism, this course considers the inter-animated and complex web of forces that drive cities forward by identifying repertoires of underlying logic. Through a deep and historically situated reading of Medieval Mecca, Medina, Damascus, Jerusalem, Baghdad, Cairo, and Cordoba, we will map and encode history on the urban scale to reveal what makes a city "Islamic." Visual mapping skill cultivation for communication purposes (both digital and analogue) will be taught throughout to enhance understandings of urban complexity in rich historical contexts.
Arts and Science, Faculty of
Art (FAS), Department of
St. George
0.5
Winter
urban, cities
SDG11
X
FAH340H1
17th-Century Art of the Netherlands
Concentration on the major painters of Holland's Golden Age, ca. 1580-ca. - 1700. Particular attention is paid to genre painting and the notion of "Dutch realism." Consideration of art within its social and political contexts. Notions of gender, of the historical past, of embodiment, and of contact with the non-western world will be discussed.
Arts and Science, Faculty of
Art (FAS), Department of
St. George
0.5
Fall
gender
SDG5
X
FAH355H1
Landscape to EcoArt
Ecological art is a focus in contemporary global art. We examine ecoart's antecedents in the landscape genre and Earth Art and the diverse theoretical and disciplinary perspectives that inform our understanding of these movements. Artists include Burtynsky, Eliasson, Long, Mendieta, Netco, Smithson, Turrell. Readings include Deleuze, Heidegger, Latour.
Arts and Science, Faculty of
Art (FAS), Department of
St. George
0.5
Winter
ecolog
SDG15
X
FAH373H1
Modern Architecture Since 1890
In-depth examination of the modern movement in architecture, with particular focus on European avant-gardes of the early twentieth century. Emphasis on close reading of buildings, architectural research methods, and writing skills.
Arts and Science, Faculty of
Art (FAS), Department of
St. George
0.5
Winter
buildings
SDG9
X
FAH388H1
Art History Theories and Practices
Investigates the development of art and architectural history as an academic discipline and method of analysis including discussion of varied approaches such as formalism, connoisseurship, post-colonialism, feminism, queer studies, psychoanalysis, and material studies. The course explores the relationship of art history to other disciplines including archaeology, literary criticism, film studies, and anthropology. Suggested for all Specialists and students considering graduate study in art history.
Arts and Science, Faculty of
Art (FAS), Department of
St. George
0.5
Winter
queer
SDG5
X
FAH440H1
Dutch Genre Painting of the 17th Century
Study of so-called "scenes of everyday life." Special attention given to cultural context and problems of constructions of gender and gendered relationships, of social and economic interests, of class conflict, of the relationship with broader European culture. Considerable attention will be paid to the work of Jan Vermeer.
Arts and Science, Faculty of
Art (FAS), Department of
St. George
0.5
Winter
gender
SDG5
X
FAH451H5
Curating Now: Turning Concepts into Curatorial Projects
Students will research and develop a curatorial project proposal in the form of an exhibition, a public installation, a public event, a performance, a website, etc., as the culminating assignment for the course. The emphasis of the course will be on the application of knowledge gained in FAH310 and consideration of the multi-level preparatory stages entailed in the mounting of a curatorial project, placing particular emphasis on conceptualization and methodology, and on the premise that curatorial practice is an intellectual endeavour that manifests its ideas in form. Students will learn how to turn a concept into a project proposal and become equipped to develop innovative solutions to future challenges in curatorial practice.[36S]
University of Toronto Mississauga
Visual Studies (UTM), Department of
Mississauga
0.5
Winter
innovat
SDG9
X
FAH488H1
Considering Sustainable Textiles and Fashions in the Age of Climate Crisis
This seminar looks at historic and contemporary global thinking about the production and consumption of textiles and fashions within the current climate change crisis, and over-production due to fast fashion. We question the notion of "in" and "out" of Western seasonal style and look at historic models to understand new economies of scale and value, issues of labour and natural resources. Through lectures, workshops, and seminars, the class will consider how to harness past models to attain the future of textiles and fashion and the context surrounding the 3 R's, reduce, reuse and recycle.
Arts and Science, Faculty of
Art (FAS), Department of
St. George
0.5
Winter
climate, recycl, natural resource, production, consum, labour
SDG8, SDG12, SDG13
X
X
X
FAS453H5
Art Education Practice
(Offered at Sheridan College) Students investigate the principles of educational theory and practice for teaching the visual arts to learners including children, adolescents and adults, within a variety of educational settings [24S, 12P]
University of Toronto Mississauga
Visual Studies (UTM), Department of
Sheridan
0.5
Fall
educat
SDG4
X
FCS199H1
Marketing in the French Speaking World
This course investigates sociocultural and linguistic issues surrounding market expansion and marketing of products and services to French-speaking audiences in Canada and elsewhere. Students consider challenges posed by increased globalization through comparisons of English- and French-speaking communities, while exploring basic marketing theory. Through case studies of successes and failures, students examine how companies develop and adapt branding and messaging for Francophone audiences by integrating differences in humour, values, politics, and financial considerations. Students thus develop an understanding of the Francophone consumer and gain skills for advertising and branding in a Francophone or bilingual environment. This course is taught in English. Restricted to first-year students. Not eligible for CR/NCR option.
Arts and Science, Faculty of
French (FAS), Department of
St. George
0.5
Fall
environment, consum
SDG12
X
FOR200H1
Conservation of Canada's Forests
Forest conservation issues in Canada; development of forest management philosophy in Canadian and temperate forest regions; and concepts of sustainability. Techniques for more sustainable forest management: structural retention; forest certification; old growth; value-added and non-traditional forest products. Field trip fee: $20.
Arts and Science, Faculty of
NULL
St. George
0.5
Fall
forest, conserv
SDG14, SDG15
X
X
FOR201H1
Conservation of Tropical and Subtropical Forests
The world's major tropical and subtropical forest biomes; prospects for conservation and sustainable management; consequences of different forest development strategies; tropical deforestation and selective logging; agroforestry; biodiversity and non-timber forest products; the fuelwood crisis; large carnivore conservation; ecological, economic and social perspectives.
Arts and Science, Faculty of
NULL
St. George
0.5
Winter
ecolog, biodivers, forest, conserv
SDG14, SDG15