As part of the Adams Sustainability Celebration, three grants of $5,000 each have been made available to U of T students each year since 2020 to advance sustainability on campus. The approach to sustainability we take here addresses both human and environmental wellbeing (instead of simply focusing on reducing environmental damage), in accordance with the United Nations' Sustainable Development Goals (SDGs).
These grants have awarded to current undergraduate or graduate students from any faculty and discipline across U of T with a concrete plan to advance sustainability on campus. See below for information on past winners.
Student Grant Winners
2022-23 Adams Sustainability Student Grant Winners
SDG Trivia Game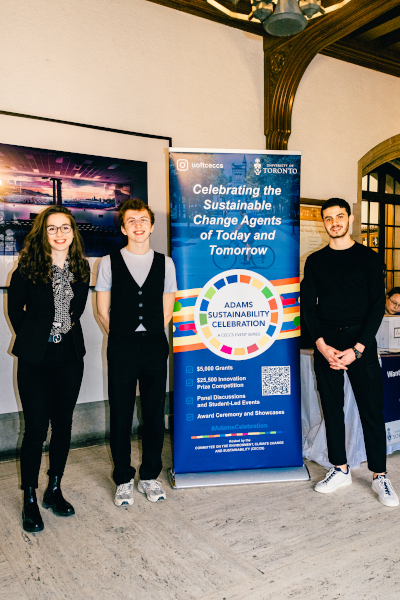 Dorottya Kiss, Hashem Hashem, Jacob Muller and Orly Sacke, John H. Daniels Faculty of Architecture, Landscape & Design.
This SDG Trivia Game is a fun and engaging educational tool to raise awareness of the United Nations' Sustainable Development Goals. This group of students will test pilot their game in April 2023 with students, staff, and faculty from all disciplines. Over the summer, they will hold workshops to engage students and fine-tune the game before unveiling the result in the fall.
Climate Change and Health Impacts – A Collaborative Learning Elective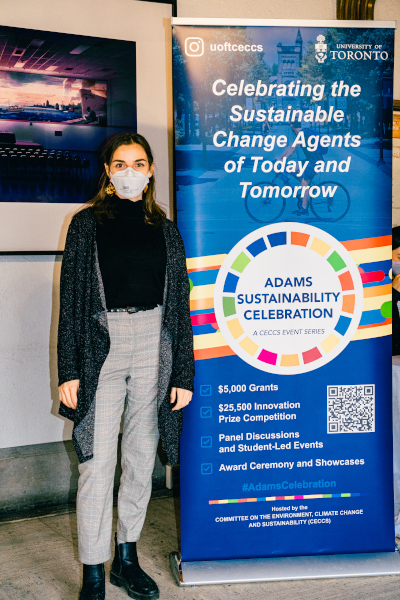 Andrea Alves, Amanda Hage-Hassan, Gurleen Kaur, Temerty Faculty of Medicine Centre for Advancing Collaborative Healthcare & Education
These students have helped design an Interprofessional Education (IPE) elective available to 4200 students across U of T's 11 healthcare programs to address health impacts and inequities of climate change and strategies to adapt clinical practice for sustainability.
UTSC Bike Clinic, Regenesis UTSC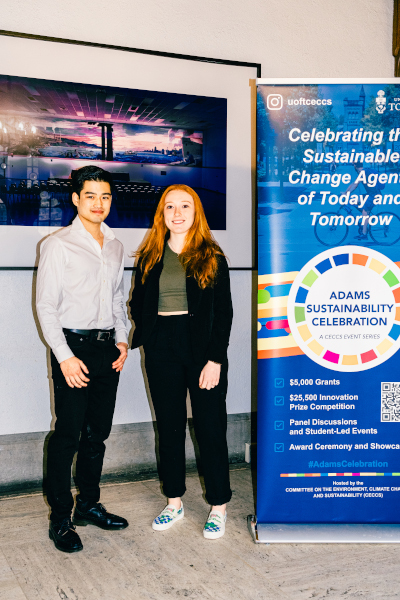 Andrew Cole and Charlotte Wargniez
The UTSC Bike Clinic will be a student-run community bike hub for cyclists and those interested in getting into biking. It will feature free to use equipment and student facilitators for do-it-yourself style bike repairs and a chance to meet with friends, discover local trails, and tips on safety. The Bike Clinic will operate during the UTSC Farmers Market once a week on Wednesdays, 2-5 pm in April-May and August-September annually. For 2023, the session will start in Aug 2023 and extend to May 2024 with exact dates TBD. The UTSC Bike Clinic will be supported by the student-run non-profit Regenesis UTSC.
2021-22 Adams Sustainability Student Grant Winners
U of T Sustainability Film Festival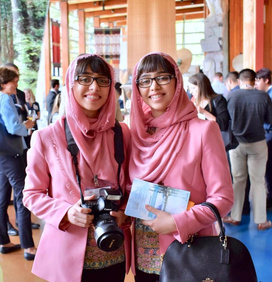 Nivaal Rehman and Maryam Rehman
The U of T Sustainability Film Festival aims to use the power of storytelling to raise awareness about sustainability on campus, and encourage students and faculty members to get involved and take action for the UN Sustainable Development Goals. The grant funding will help them achieve this mission by hosting a student short film competition, four virtual film events and a week-long film festival.
The Free Store at UTSC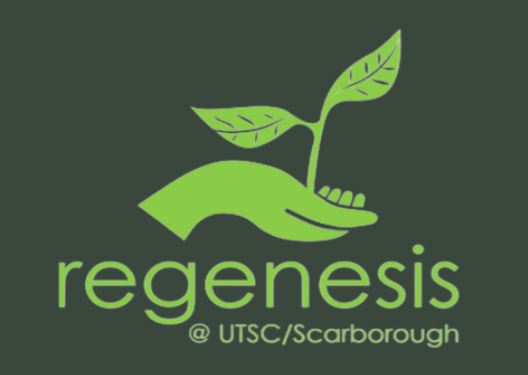 Sarah Gigi and Yaoyan Huang
Regenesis UTSC has secured space at a UTSC residence building for a Free Store, where items such as clothing, accessories, household goods and books are collected from donations and offered for free to students, faculty and the UTSC community. The Free Store helps promote education and awareness on anti-consumption and production and waste diversion. Funding from the Adams Sustainability Grant will assist in the hiring of a work-study position and a store coordinator who will collect donations from UTSC lost and found and residences, helping low-income students obtain items they need for free. More info on the UTSC Free Store is available here.
Tree Discovery Walk, UTSC Parks Canada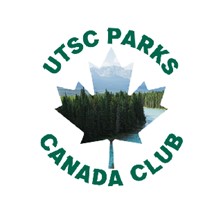 Devlin Grewal and Ayuni Ratnayake
Working in collaboration with the UTSC Department of Biological Sciences, the grant funding will assist in the design and implementation of an interactive tree walk through the UTSC Valley Trail, which will highlight tree species of ecological, cultural, and research significance via QR-codes and durable vinyl labels. The Tree Walk will facilitate curiosity and knowledge seeking through self-directed learning while nurturing physical and mental wellbeing.
2020-21 Adams Sustainability Student Grant Winners
SDG Student Hub at U of T

Sustainable Development Goals or SDG student hub has the mission of raising awareness and implementing solutions around the UN Sustainable Development Goals. Their work is guided by three pillars: education, community, and solutions.
The SDG student hub at U of T will be using their grant funding to spread out educational events throughout the year that expose hub members to specific SDGs, as well as NGOs and companies working to implement them. They will be holding a case competition in March that works with a local NGO, after which they intend to implement the winning solution to a community problem that drives impact and change in the community.
They are further developing a career development program that connects students to professionals through talks and networking events. Finally, their work also includes developing the first student journal at U of T that is focused solely on sustainability.
UTMSU Equity Team
UTMSU Equity Team seeks to address food insecurity on campus. They will be using their grant funding to develop a seed library at the UTM campus which offers community members access to free indoor-friendly seed gardening materials, rentable equipment, and educational workshops to challenge the social stigma of food insecurity and foster motivation in our community to help support food insecure Canadians.
Kat Dervenis
Kat Dervenis is a first year MBA student in Human Geography at the University of Toronto St. George whose research interests relate to environmental justice, social movements, and food sovereignty. She has a variety of experience working in the food justice world and supports grassroots community organizing around this issue.
Kat will be using her grant funding to support urban agriculture at U of T. She proposes that container gardening can be done in students' homes, supporting accessibility, local food production, and even mental health and wellbeing, especially in the context of Covid-19. She will be piloting an at-home container garden kit for students in need and those who have faced food insecurity. This kit will include soil seeds, an instruction document, and ways to reach out to students using list serves. Towards the end of the summer, once students have made progress on growing produce at home, they will have the opportunity to report on their food production experience, allowing for peer learning and ways to optimize the process in the future.