Sustainable Future – Challenge Accepted! Video Series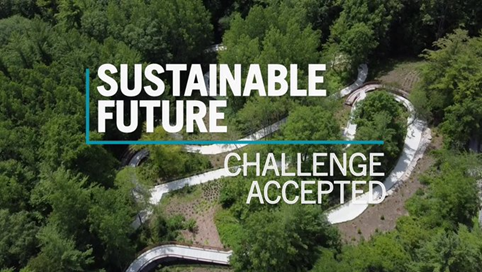 U of T community members are leading the way toward a more sustainable future! In April 2023, the first episode of the Sustainable Future – Challenge Accepted! video series was released.
Watch all episodes of the video series on YouTube or click the links to each episode below.
Episode 1, Changemakers, features alumni who are championing new discoveries and initiatives in climate innovation, social justice, green tech and more.
In Episode 2, Climate Resilience, UTSC students share their thoughts on eco-anxiety, the global impact of climate change and a path forward to sustainability.
In Episode 3, Green Tech & AI, researchers share how they are using artificial intelligence, machine learning, climate informatics and data crowdsourcing to help inform an equity-based response to the climate crisis.
Episode 4, Climate Justice, explores the climate justice work of Indigenous researchers at U of T, challenges they face and how they are leading change. In the land-based learning part, Liat Margolis – associate professor of the John H. Daniels Faculty of Architecture and CECCS member of the Teaching & Learning Subcommittee – is featured with her co-founder of the Nikibii Dawadinna Giigwag Youth Program at U of T.