Upcoming Events
There are currently no upcoming events.
Thank you to all the participants, applicants, speakers and judges who participated in our 2022-23 Adams Sustainability Celebration that took place from September 2022 – March, 2023. Scroll down for details on past Celebration related events.
---
Previous Events
2022-23 Adams Sustainability Celebration Award Ceremony and Innovation Prize Pitch Competition
Friday, March 3, 2023
TIME: 1:00-5:00pm
LOCATION: Hart House Great Hall, 7 Hart House Circle. Refreshments will be served.
Our third Adams Sustainability Celebration Innovation Pitch Prize Competition and Award Ceremony took place at the Hart House Great Hall and featured welcoming remarks from President Meric Gertler, our Innovation Prize Pitch Competition, Faculty, Staff and Student Grant Announcements, the Sustainability Office's Sustainable Action Award Announcements, networking and Sustainability Showcases.
---
Exploring the Potential of Transformative Sustainability Pedagogy
Thursday, February 16, 2023
This webinar co-organized with UofT's Community of Practice on Sustainability Teaching featured panelists Dr. Heather Burns (Portland State University) and Dr. Rob VanWynsberghe (UBC) discussing the potential of transformative pedagogy that is relational, community-engaged, justice-forward, and action-oriented to better align with the principles and practices of sustainability. Universities worldwide are considering the transformative role they can play in shifting their communities towards sustainability, but what commitment is higher education making to transform its approaches to teaching to align with this? Reflecting on curriculum and pedagogy in university courses focused on sustainability will help to avoid replicating the same approaches to teaching and learning that have contributed to the climate crisis in the first place.
---
Student-Led Event: Fossil Free Research Teach-In
DATE: Thursday, February 2, 2023
TIME: 5:00-6:30pm
LOCATION: SK 548, 246 Bloor St. West
DESCRIPTION: Climate Justice U of T hosts this presentation on the Fossil Free Research movement, the progress that has been made by the movement at U of T, and current plans for reducing the influence of fossil fuel companies on campus. Following the presentation, attendees can ask questions and engage in discussion with club members about the fossil free research movement and the role that the university can play in addressing the climate crisis.
Climate Justice U of T is dedicated to raising awareness about the role that fossil fuel companies and the university have in contributing to the climate crisis. We aim to revoke the social license of these companies on campus by organizing events and campaigns encouraging the divestment of fossil fuels, the rejection of funding from fossil fuel companies, and the adoption of renewable energy.
Fossil Free Research is a new international campaign to end the toxic influence of fossil fuel money on climate change-related research in universities. The campaign includes an Open-Letter with over 750 signatories across 130 academic institutions in the US, UK, and Canada. Climate Justice UofT has created a one-pager with answers to commonly asked questions regarding the campaign. Any additional questions not addressed can be directed to climatejusticeuoft@gmail.com.
REGISTRATION: RSVP to the Fossil Free Research Teach-In using this google form.
---
Student-Led Event: Interactive Workshop: Futuring Sustainability
DATE: Wednesday, February 1, 2023
TIME: 6:00-8:00pm
LOCATION: CG160, 14 Queen's Park Crescent
DESCRIPTION: Presented by the Master of Public Policy Student Association (MPPSA), this workshop introduces sustainable arts-based methodology as a basis for policy dialogue and community engagement. By cultivating a space to share stories and collectively imagine alternative futures through explorative arts processes, participants provide unique insights into the impacts of climate change policies, how they are responding to current realities and/or integrating sustainable development goals into their daily lives, and what their communities need to build a better future for people and the planet.
In this interactive session, participants will generate reflection through guided discussions and explorative arts processes from collage making, upcycling, photovoice and/or digital media as part of a qualitative inquiry about our environment to stimulate new forms of public dialogue drawing attention to storytelling for systems change and collective narratives. This space will provide students the platform to share the complexity of their lived experiences, empowering participants by 1) acquiring new knowledge and developing critical awareness of their built environment and the nuances of sustainability; and 2) integrating art and design in an attempt to demystify public policy.
Food and art supplies will be provided.
REGISTRATION: Interactive Workshop: Futuring Sustainability Tickets, Wed, 1 Feb 2023 at 6:00 PM | Eventbrite
---
Student-Led Event: 2023 SEA Conference – Back to the Future of Sustainable Urban Development
---
The Sustainable Development Goals and the Transformative Role of Universities
Wednesday, January 18, 2023
This online event featured CECCS Co-Chair and Professor John Robinson, Irena Creed (Professor and Vice Principal of Research & Innovation, U of T, Scarborough), Erica Di Ruggiero (Director of Center for Global Health, and Associate Professor, Social & Behavioural Health Science) and Andrea Cuesta Claros (PhD Student at Monash University). They discussed how universities are transforming themselves to meet the sustainability challenge at home and internationally. Speakers shared their visions and experiences of unfolding transformation within and beyond the boundaries of universities, explored the UN Sustainable Development Goal (SDG) framework, highlighted innovative examples of positive change and discussed opportunities for solutions co-creation with students, communities and others.
This event was co-hosted with the University of Toronto Scarborough Sustainability Office.
---
Our Climate is Changing: the story our data is telling us about climate in Mississauga
Tuesday, November 22, 2022
Held at the Kaneff Centre Rotunda at the University of Toronto Mississauga, this event included a keynote presentation on Our Climate is Changing, a StoryMap by Credit Valley Conservation about what our climate data is telling us about ecosystem health in the Credit River Watershed.
In addition to the keynote presentation and panel discussion, there was light refreshments and showcases from local organizations and student groups who are taking action on climate change.
Panel Participants:
• Dianne Zimmerman, Manager Environment section, City of Mississauga
• Tenley Conway, Professor, Acting Chair, ENV Management Program Advisor, Geography, Geomatics and Environment, UTM
• Yvette Roy, Senior Specialist, Landscape Science, Credit Valley Conservation
• Divya Arora, Community Engagement Organizer, Sustainable Communities, The David Suzuki Foundation
This event was co-hosted by the UTM Sustainability Office, with support from the UTM Principal's Sustainability Advisory Committee (PSAC) and the City of Mississauga.
---
PREVIOUS STUDENT-LED EVENTS
Upcycling Swap Shop
Date: Monday, November 21, 2022
TIME: 1:00-3:00pm
LOCATION: Board Room, UTM Student Centre, 1815 Inner Circle Rd
The Upcycling Swap Shop will be a two-part interactive event. The first half is a clothing swap/shop (we will have a free store table if participants do not have clothing to swap). The second half is an upcycling opportunity where participants can have fun learning about ways to upcycle and care for their clothing. The event will be co-hosted by UTM Regenesis and a peer local designer.
---
Baking Workshop: Pumpkin Pie and Sustainable Agriculture
DATE: Wednesday, October 26, 2022
TIME: 3:00-5:00pm
EVENT TYPE: Student-Led Event supported by CECCS
DESCRIPTION: A cooking workshop organized by Regenesis UTSC in partnership with SCSU Food Centre. Students learned basic cooking skills and enjoyed a tasty treat, followed by an educational piece by a guest speaker regarding sustainable agricultural practices and the importance of agroecology.
---
Healing Nature Walk
DATE: Monday October 17th
TIME: 4:30-6:00pm
EVENT TYPE: Student-Led Event supported by CECCS; Recreational guided walk and mental health share circle
DESCRIPTION: As part of Sustainability Week, UTSC Parks Canada in collaboration with The Mental Unity Group held an Outdoor Healing Walk at the UTSC Valley Trail on Monday October 17th at 4:30pm-6:00pm. Participants enjoyed an evening of nature and hot chocolate, as they explored a multidimensional approach to decolonizing health with a guided walk on edible plants in the valley, leading into a share circle at Miller lash to explore the relationship between the outdoors and mental health.
🍂This was a great opportunity to meet new people, enjoy some snacks and have a great time before the busy midterm season. 🍂
---
2022 Adams Sustainability Celebration Virtual Panel Sessions
The 2022 Adams Sustainability Celebration featured seven live virtual panel sessions from February 23 to April 9, 2022. They are listed below – click on the links to view the videos on our YouTube Channel.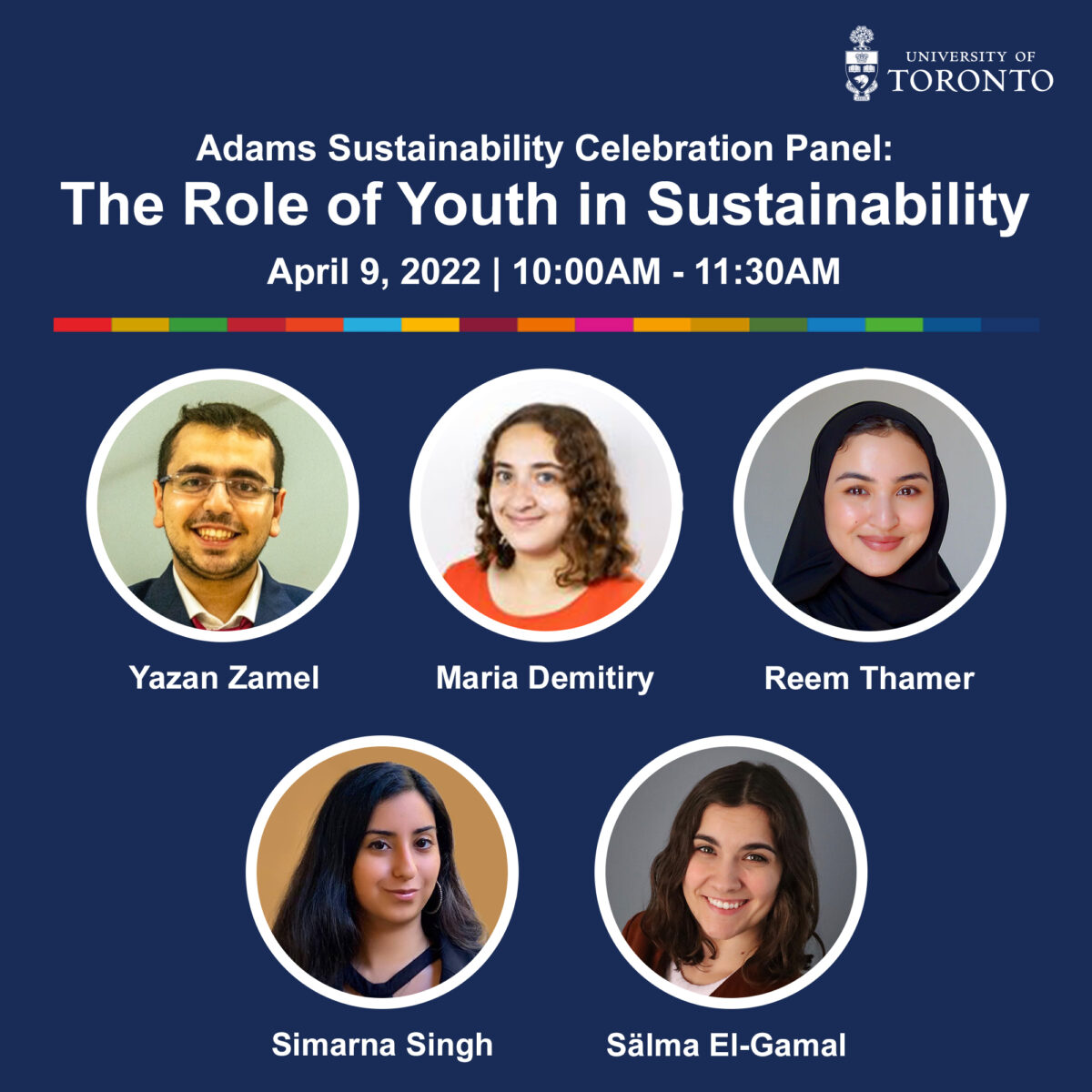 ---
2020-2021 Adams Sustainability Celebration Virtual Panel Sessions
The 2020-2021 Adams Sustainability Celebration featured six virtual panel sessions between September 2020 and January 2021. We welcomed panelists from across all three campuses, representing various departments and offices at U of T, and all of whom are working towards greater sustainability within the University, and through the broader community.
Take a look at our previous panel sessions:
The SDGs Paradigm at U of T: An Exploration of SDGs Embedding in Courses and Activities
Getting to Carbon Neutrality at St. George Campus
Post-COVID Travel and CECCS' Business Air Travel Report
UTM's Sustainability Strategic Plan: Fostering a Culture of Sustainability
Investing to Address Climate Change: In Conversation with President Gertler
UTSC's Sustainability Initiatives: 2020 and Beyond

The SDGs Paradigm at U of T: An Exploration of SDGs Embedding in Courses and Activities
October 6, 2020
The United Nations' 17 Sustainable Development Goals (SDGs) were adopted in 2015 as a global framework to achieve prosperity for people and the planet by 2030. The SDGs reflect sustainability in a holistic manner, calling for action on abolishing poverty, achieving gender equality, and combating the climate crisis. This new decade rings in a sense of urgency for the SDGs as their progress is currently not in line with 2030.
At U of T, actors and organizations from both academic and operational sides have adopted the SDGs to pursue important sustainability work in the social, humanitarian, environmental, and economic realms. This panel, which featured champions of SDGs embedding on campus, provided an insightful and in-depth exploration of how various initiatives have advanced U of T's commitment to the world's arguably most ambitious set of goals. Pertinent topics included past and current work, such as the creation of an SDG-based course inventory, a new university ranking system according to SDGs, and the advancement of SDG design-thinking through community engagement work. The panel also delved into new initiatives, such as the ambitious "17 Tables" events that featured 17 round tables of U of T researchers according to their SDG of focus, and OISE's Climate Action Plan to reduce its carbon footprint and work towards a sustainability mindset.
Panelists:
Kimberley Slater – PhD Candidate in the Department of Geography, Moderator
Hilary Inwood – Lecturer and Lead, Environmental & Sustainability Education Dept. of Curriculum, Teaching and Learning, Ontario Institute for Studies in Education (OISE), UTSG
John Robinson – Professor, Munk School of Global Affairs
Joseph Wong – Interim Vice-President, International, Ralph and Roz Halbert Professor of Innovation at the Munk School of Global Affairs, and Professor, Department of Political Science, UTSG
Paolo Granata – Assistant Professor, Book and Media Studies, St. Michael's College, UTSG
Simon Pratt – Director, Policy & Analysis, Planning & Budget Office, UTSG
Getting to Carbon Neutrality at St. George Campus
October 27, 2020
Sustainability and environmental stewardship are embedded in the fabric of our operations at U of T as we take action to meet the challenges of climate change. U of T has been working towards aggressively reducing its greenhouse gas emissions. In this session, Ron Saporta, Chief Operating Officer at U of T, and Marc Couture, Director of Energy & Sustainability go through U of T's sustainability goals, the Low Carbon Action Plan, and the proposed Utilities Master Plan to achieve carbon neutrality by 2050.
Panelists:
Adriana Dossena – Project Coordinator, Sustainability Office, UTSG
Jennifer Puskar – Project Coordinator, Sustainability Office, UTSG
Marc Couture – Director, Sustainability Operations and Services, UTSG
Ron Saporta – Chief Operating Officer, Property Services & Sustainability, UTSG
Post-COVID Travel and CECCS' Business Air Travel Report
November 3, 2020
The Covid-19 pandemic has resulted in a surge of online activity and reduction, and in most cases, elimination, of air travel for business. CECCS created a three part Air Travel Report in early 2020 as the beginning of a discussion around business air travel at U of T. The three areas of focus were: quantifying business air travel, reducing air travel through virtual conferences and other means, and mitigating air travel emissions through a bespoke initiative. This session goes through the Air Travel Report that was submitted to President Gertler in Spring 2020, and speaks broadly about the changing landscape of travel in a post-COVID landscape, including resources and supports for delivering engaging virtual events.
Panelists:
Garrett Morgan – Doctoral student, Department of Geography and Planning, Moderator
Andrea Muehlebach – Associate Professor, Anthropology, UTM
Eric Miller – Professor, Department of Civil and Mineral Engineering, FASE, UTSG
Vinita Haroun – Director for the Centre for Research & Innovation Support, UTSG
Ron Saporta – Chief Operating Officer, Property Services & Sustainability, UTSG
John Robinson – Professor, Munk School of Global Affairs
UTM's Sustainability Strategic Plan: Fostering a Culture of Sustainability
November 27, 2020
Sustainability is one of the five priorities of UTM's current academic plan. The Sustainability Pathways Working Group (SPWG) appointed by the Dean recommended, in September 2018, UTM should strive to become a global leader in sustainability by fostering a culture of sustainability. In Fall 2019, the Principal, UTM, constituted the Principal's Sustainability Advisory Committee (PSAC) to develop the Sustainability Strategic Plan, as recommended by the SPWG, to achieve its vision to become a global leader in sustainability.
The PSAC has passionate members of faculty, students, staff and community, and organized many focus groups, townhalls, and visioning sessions with members of the UTM to identify its ambitions, goals and targets for each of the five pillars of the plan – academic programs and curriculum, research, campus engagement, civic engagement, and human resource and infrastructure. The plan is organized around 26 goals which are aligned with the United Nations Sustainable Development Goals (UN SDGs) and the Sustainability Tracking, Assessment & Rating System (STARS 2.2) of the Association for the Advancement of Sustainability in Higher Education (AASHE).
This panel discusses sustainability being one of the priorities of UTM's academic plan, its vision of fostering a culture of sustainability, the process of developing the strategic plan, key features of the strategic plan, and steps for successful implementation.
Panelists:
Dr. Shashi Kant – Professor, Institute for Management & Innovation, UTM, Moderator
Amrita Danière – Professor, University of Toronto, Mississauga
Beverley Ayeni – Sustainability Manager, Strategic Initiatives, UTM
Saher Fazilat – Chief Administrative Officer, UTM
Investing to Address Climate Change: In Conversation with President Gertler
December 1, 2020
Earlier this year, the University of Toronto and more than a dozen Canadian universities signed a landmark charter that aims to tackle climate change through a commitment to responsible investing practices. U of T and McGill University initiated the charter, and more than a dozen other universities have joined the effort. It calls on universities to, among other things: incorporate environmental, social and governance (ESG) factors into investment practices; regularly measure the carbon footprints of investment portfolios and set meaningful targets to reduce them over time; and engage with companies to encourage them to reduce emissions.
Joining forces with other universities to address climate change through the charter is just the latest in a series of steps taken by U of T since the release of President Gertler's 14-point plan to take action on climate change in 2016.
This session will feature a discussion with President Gertler on the newly created "Investing to Address Climate Change" charter.
Panelists:
Dr. Meric Gertler, President, U of T
(Interviewer) Lisa DeMarco, Senior Partner, DeMarco Allen LLP
UTSC's Sustainability Initiatives: 2020 and Beyond
January 12, 2021
The University of Toronto's Scarborough (UTSC) campus has a long history and commitment to issues related to the environment, as well as social equity and inclusion, and this is now at the forefront of our priorities as a campus as part of our recently released Strategic Plan.
In the spring of 2019, eight working groups of students, staff, and faculty consulted with more than 1,100 people from inside and outside our campus, reviewed extensive data and other documents, discussed and debated ideas and ultimately, presented their findings. Through this inclusive process, we made a commitment to champion sustainable livelihoods, cultures, and ecosystems of local and global relevance and resonance in a manner that gives pride of place to Indigenous initiatives and expresses our collective values of equity, diversity, inclusion and accountable stewardship.
In developing our Strategic Plan, it became evident that 'sustainability' was the focus of numerous and diverse individuals and groups across the campus. To capture this diversity, we are currently creating an inventory and map of activities, programs, research, and academic networks as a basis for all future initiatives and programs at the campus. We are building on our legacy, while looking to the future.
During this session, our panelists will connect-the-dots between what is envisioned for the campus in our Strategic Plan, and what our mapping exercise has revealed, including any feedback we may receive from our community.
Panelists:
James MacLellan – Environmental Studies Program Director, UTSC
Jeffrey Miller – Manager, Sustainability Office, UTSC